Oct. 11 Lorenzo Cain and Alcides Escobar postgame interview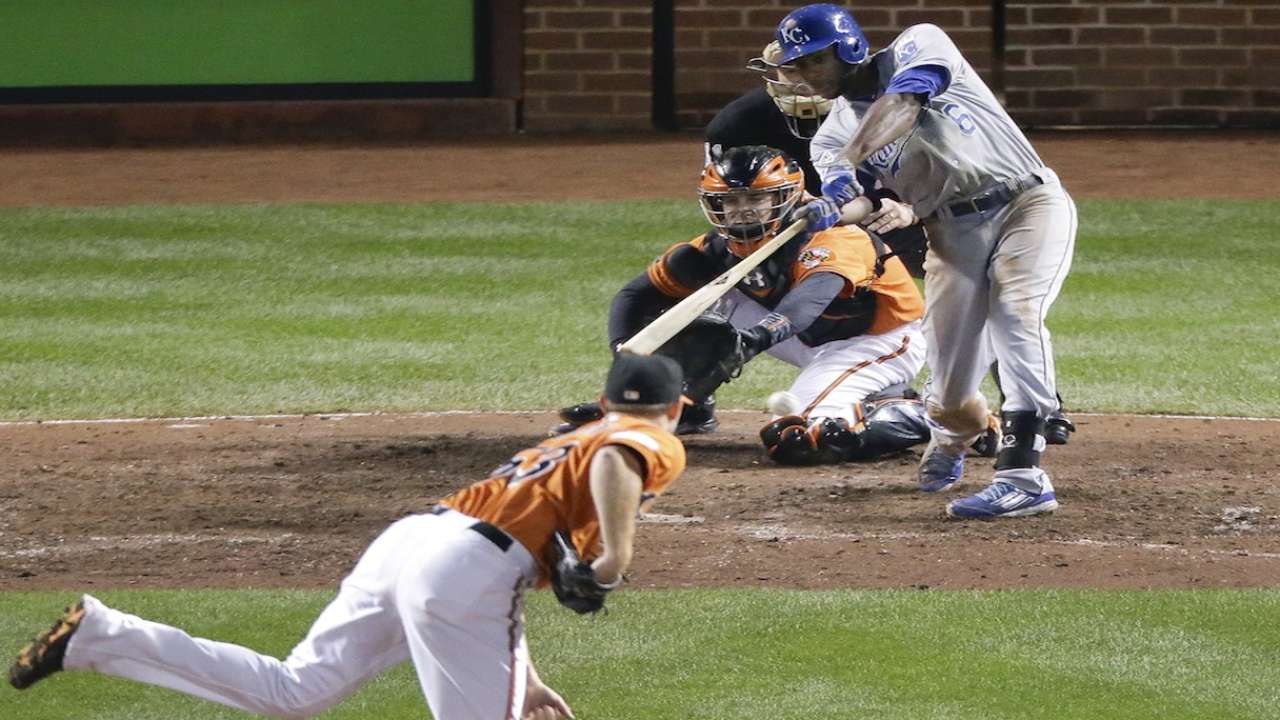 Q. Lorenzo, congratulations. Can you describe what this month has been like for you, with a newborn son and obviously the whole country is getting a chance to watch you play in postseason, and excel in both sides of the ball.
LORENZO CAIN: Definitely exciting having my son born a few days ago. To be here in the playoffs and enjoying this run where we are now is a blessing. Got to keep it going, keep fighting, keep pushing, and find a way to win ballgames.
Q. Is there any surprise that you obviously have confidence, 6‑0 in the postseason, any surprise at that level of success?
LORENZO CAIN: We're confident, you know. Our team is very confident. But at the end of the day you've got to go out and do it on the field. That's what we've been doing as of late. We've been on a nice run so far. Got to bounce back. We've got a day off tomorrow. And next day get back focused and get ready for the Orioles.
ALCIDES ESCOBAR: Like Lorenzo said, get ready and be ready at home, great that we're both going back to Kansas City, so happy.
Q. This is for both of you, when you got traded to Kansas City, obviously the Royals were one of the worst teams in baseball. What did you think at the time when you both got traded from the Brewers to the Royals, were you upset or happy or how did you take it?
LORENZO CAIN: For me, I didn't really know what to expect, because I had only had two months, you know, in the big leagues with Milwaukee. So just ‑‑ I played well when I was with them. I was going in the offseason just thinking, fight for a centerfield job in Milwaukee.
Once I found out I got traded it was mixed emotions. Once I got over here, these guys embrace you with open arms. The chemistry has been great from my teammates. And I'm having a blast right now. To be on this run is a lot of fun right now.
ALCIDES ESCOBAR: And for me, when I trade over here, I think like, wow, because in that year we were close to number one and I didn't know what was going to happen. I know that after that they wanted a trade a good pitcher like Zack Greinke and they wanted to take back the five best prospects.
Q. Were you trying to go the other way on that last at‑bat, can you walk us through your mindset?
ALCIDES ESCOBAR: No, always trying to hit it right centerfield in that situation. And the other game, 0‑for‑4, and looking for a fast one, and hit the ball right field line.
Q. Today you joined George Brett as the only players for the Royals to ever get four hits in the playoff game. What does that mean to you to be alongside him in a piece of team history?
LORENZO CAIN: I didn't know that. I got a chance to hang out with George this year and last year. He's a great guy. Definitely spent a lot of time with the guys, definitely willing to work with us. It's a great feeling to be alongside of one of the greats. So I'm just going to enjoy the moment for now but get back focused.
Q. You take more pride in what you did offensively today or defensively?
LORENZO CAIN: I want to be all‑around player. I want to be able to swing the bat, steal bases and play solid defense. That's what I pride myself on, just being a complete player. I've still got a lot of work to do. Still working to improve each and every day. Like I say, the hard work is definitely paying off right now. Definitely have to keep going.
Q. Can you walk us through the two spectacular catches, the one in centerfield and also right field?
LORENZO CAIN: Just trying to get a good jump. That's what I pride myself in and getting good reads. We have a great outfield coach in Rusty Kuntz. Just trying to get a good read like I've been doing all year. Just be a play maker for my pitchers, because they've been doing an outstanding job all year. Just laying out, willing to do anything to make a play. That's the kind of guy I am. I'm going to continue to play that way.