Sixth straight win puts Royals in rare company
Only fourth club in Major League history to start postseason 6-0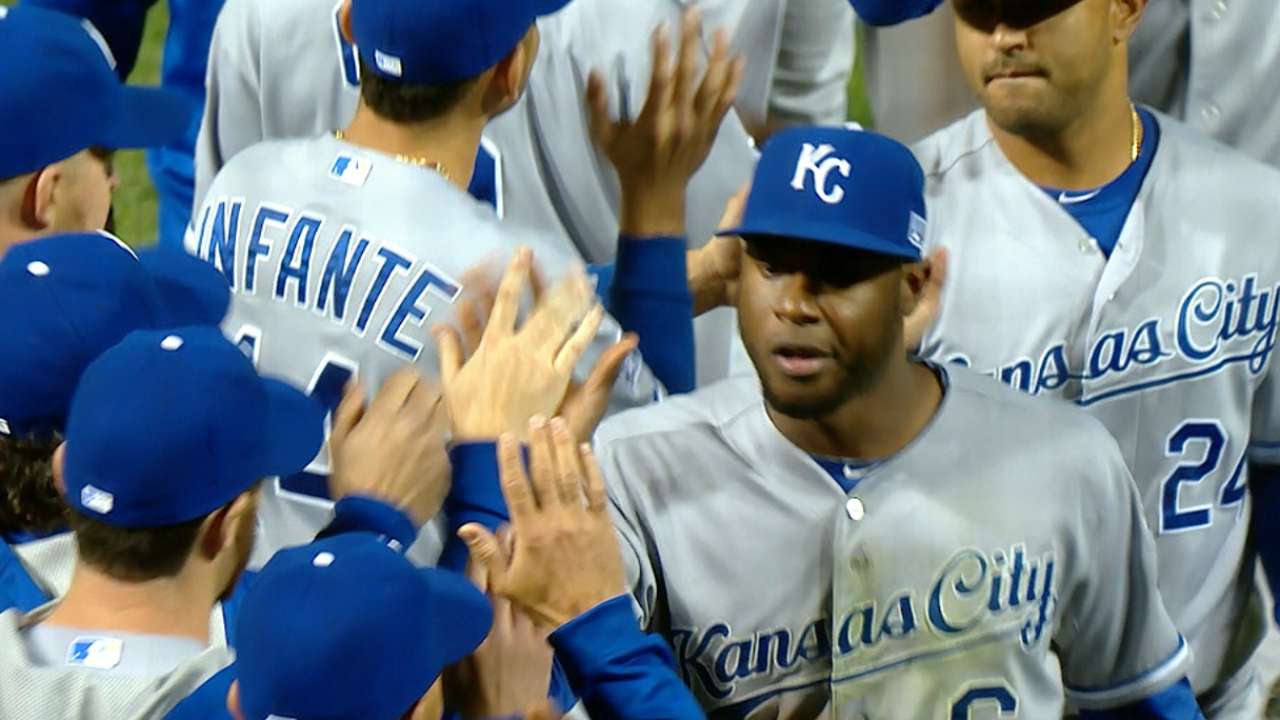 The Royals are certainly making the most of their first trip to the postseason in 29 years, becoming just the fourth team to start the postseason with six straight victories.
Kansas City earned yet another dramatic victory over the Orioles at Camden Yards in Baltimore on Saturday with a 6-4 triumph in Game 2 of the American League Championship Series. Not only have the Royals started the postseason with six straight victories, but they have not trailed at any point on the road through those six contests.
The Royals join the 2007 Rockies, 1976 Reds and 1970 Orioles as the only clubs to rattle off six straight wins to start the playoffs.
"We haven't lost a game yet. It just shows you we've matured in every area," Royals designated hitter Billy Butler said. "Everybody is doing their job. That's what we're supposed to do, go out there and get the job done. Everybody has got their role and they know what it is and we're getting it done."
As for the other three teams previously in this same position, the '76 Reds and '07 Rockies each extended their winning streaks to a record seven games, while the '70 Orioles came up short in their bid to do the same.
The Reds' seventh victory finished off a perfect postseason, as that run came during a time when the LCS was still a best-of-five series and the Division Series did not yet exist. Coincidentally, it was the Reds who had stopped the Orioles from accomplishing that same feat six years earlier, though Baltimore went on to clinch the World Series one game later.
As for the '07 Rockies, their seven straight victories were only good enough to get them to the World Series, where they were swept by the Red Sox.
The Royals will now head back home, looking to match that record with a seventh straight victory Monday night at 7 p.m. CT on TBS. It's a position that few expected the Royals to be in at this point -- and one that Yost isn't taking for granted.
"When you start this series playing against a ballclub of this caliber, I think when you go into a series like this, if you could go home 1-1, you're going to be really, really happy," Royals manager Ned Yost said. "If you can go home 2-0, that's as good as it gets."
Paul Casella is a reporter for MLB.com. Follow him on Twitter @paul_casella. This story was not subject to the approval of Major League Baseball or its clubs.