Oct. 11 Buck Showalter postgame interview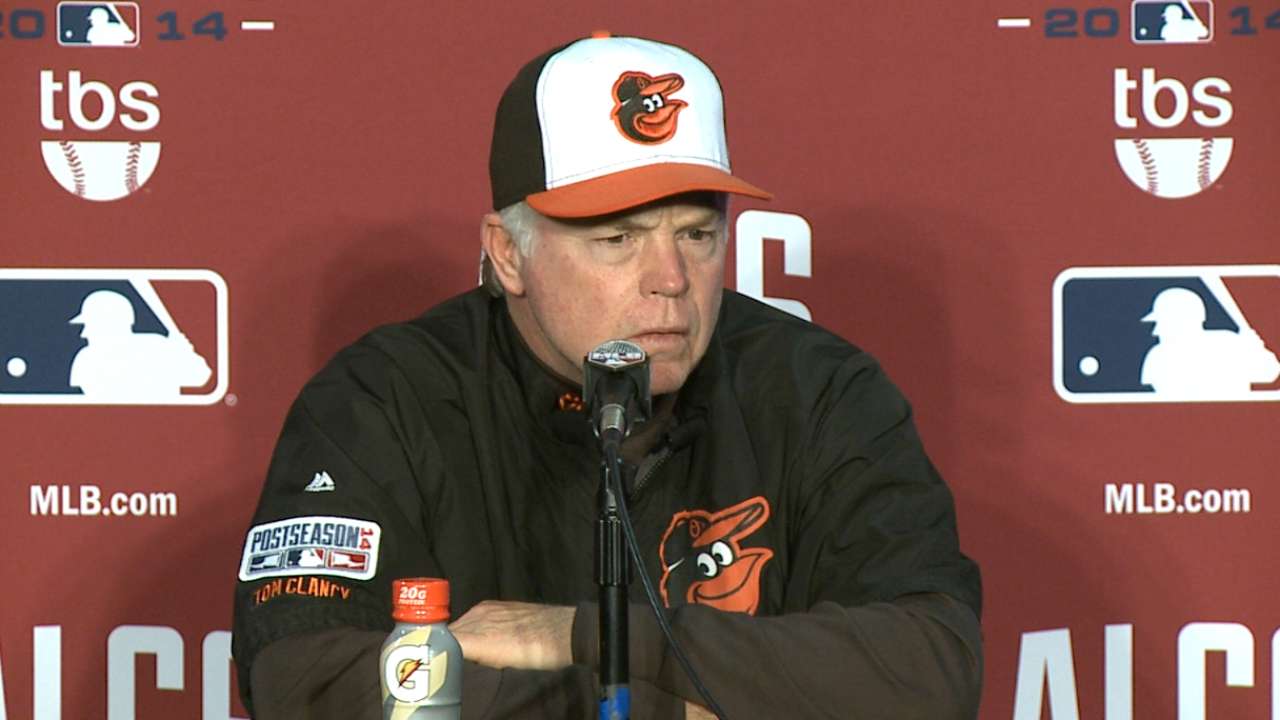 Q. You guys have faced adversity all season with key players being lost, and challenges to the schedule. How big a challenge is this now, being down 2‑0 going to Kansas City?
BUCK SHOWALTER: Well, Kansas City has faced challenges; it's what teams do at this level.
But you've got to win four games. You've got to keep from losing more than three. And that's obviously oversimplifying it. But you look at teams that compete during the course of the season, they compete on the road, too.
So got a lot of confidence in our guys that you can see this time of year what a sharp, razor thin line there is between the two. You've got to earn everything, every inning, every at‑bat. Like I said last night, you can't bottle the concentration level and everything that goes into these games, humanly you couldn't do it, for the 200 games we play a year.
You see at this time of year guys are firing, and you're getting the best from everybody. I was proud of us battling back. Their seventh, eighth and ninth, obviously they run some good arms out there, shouldn't feel like they're picking on us, they've been doing that most all season.
We did some good things pitching well, too. Brad was really good and so was Andrew. And Darren threw the ball well, the swing and bunt. And the bunt and ground ball down the first baseline, a ground ball into leftfield. Zach threw the ball good. After slipping around on the mound a little bit last night, he got back in step. Those are all good signs for us, we just ended up on the wrong side of the ninth inning.
Q. You were saying before the game, if your starter didn't get you into the sixth that is considered length.
BUCK SHOWALTER: No, I was saying in today's game it seems to be for both of us, all of us.
Q. In this postseason it's only happened for you guys once with Bud in Detroit. How much of a concern is that? Obviously you like your plan very much, but how much of a concern is you haven't gotten much length out of the starters?
BUCK SHOWALTER: You'd like to. It's always the tempo of the game.
But like I said, it's such a grind every out you get. And obviously these two games are operating at a high level, making you earn everything.
I like to think we've done the same. We had some people out there, and they made some really good pitches on us, that we get the ‑‑ I think the flare off Hosmer early in the game hurt. [He] made a really good pitch there.
We've had some of those, too. But hopefully if our guys stay true to what they've been doing this year they'll get rewarded for it.
Q. Caleb Joseph did some good things for you today. Was it more important for you to start seeing him swing the bat well or get that big caught stealing?
BUCK SHOWALTER: Caleb has swung the bat real well for an extended period of time. He hit so many home runs, that might have been the worst thing that happened to him. We kidded him about it.
That's part of this time of year. He's been doing this for X number of days, so that's going to carry over. I thought he had as good of at‑bats as anybody tonight. Caught real well, obviously threw well. I was proud of Caleb.
I said before the game, our guys like throwing to both of them. There's no discrepancy there. I really [wanted] to get him into the flow of the series tonight, and he responded.
Q. Talk about how close these games are going to be. In that seventh inning when you guys can't scrape a run across there, how much does something like that play in?
BUCK SHOWALTER: There's so many momentum changes in games like this. Last night we had a similar thing happen and Andrew went out and pitched a clean inning. Just because someone's on third and one out and just because ‑‑ it's like I had a choice to make, I think it was De Aza bunting a 99, 100 mile an hour fastball. It's hard. Holland is good. Davis is good. Herrera is good. And they've got some other arms down there that would be probably in a different role for somebody else. It's why they're playing this time of year, but it's also why we're playing this time of year.
Q. You've never had a lead in the two games. How surprising is that?
BUCK SHOWALTER: Not at all. Not really. We've had a tie. I would like to kiss my sister, but she's not here right now, one of the three.
But you brought it up. Let me think about it. What do you think? I don't know.
You've got to get to a tie when you're behind before you can take the lead. Like we said kind of last night, you see sometimes you spend so much energy and concentration trying to get back to that point, it's hard to take that next step. But I think about a hundred percent of that is what they're doing, not what we're not doing.
Q. Is that a tough choice to make -- in the ninth with first base open there -- whether to issue the walk or face the hitter there, Escobar?
BUCK SHOWALTER: You're talking about Escobar? Then you're going to bring Cain into play.
I could go over about a hundred decisions Ned and I and all the guys have to make, and the players, more importantly, have to make. What pitch to throw, what to look for as a hitter. There's so many things.
It can be kind of maddening if you let it, but you trust your instincts and know your guys. I'm really proud of Zach, [he] threw the ball really well. We had some ground balls find some holes, and got to keep grinding and some of those things will ‑‑ we've had some fortunate things happen to us, too.
I think probably one of the keys is probably the two plays that Cain made in the outfield, because he makes one in the center, then moving to the right, and makes one there. I expected him to make one in left field before the game was over.
Q. That was going to be half of my question, the impact of their outfield enforces you to hold up Markakis at third?
BUCK SHOWALTER: Well, I think they're not a hundred percent sure with the range of their shortstop, whether he's going to backhand that ball and back‑door you at third. So you've got to be a little bit cautious. I don't know if anybody is more of an accurate top of the hop thrower than Gordon. Obviously the Gold Glove is warranted, but I think a lot of it has to do with what a good thrower he is, too. A tribute.
We kept them from scoring some runs tonight by some things we did defensively. Ryan may have lost that ball in the lights, I don't know. But he'll never say.