Cain conquers Camden with blazing speed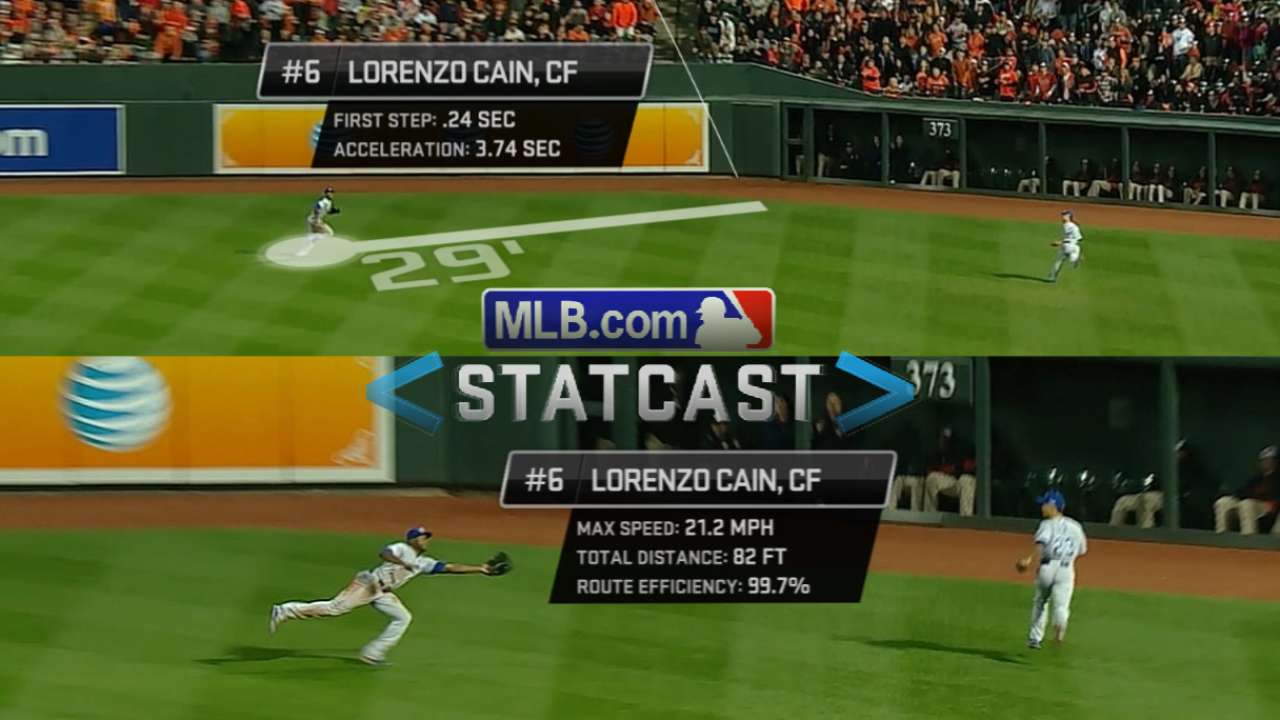 BALTIMORE -- The stage is big, the national-TV cameras are tuned in, the Royals keep winning and the world is starting to realize what everyone in that Kansas City clubhouse already knew: Lorenzo Cain is a darn good center fielder, and not just because of his defense.
"I think they have no choice but to [notice], if they're watching our games," Eric Hosmer said, smiling after Cain had his hands all over Saturday's 6-4 win from Oriole Park at Camden Yards, a night that gave the Royals a commanding 2-0 lead in the American League Championship Series.
"He's a game-changer," Royals third baseman Mike Moustakas said. "Any time he's in that lineup, he's a game-changer."
Cain has reached base in eight of 10 plate appearances during the first two games of this ALCS, scoring four of the Royals' 14 runs in back-to-back wins in Baltimore. On Saturday, he notched four hits, scored two runs, made highlight-reel catches from two different positions, stole a base and drove in a key insurance run in the ninth inning.
It's harder to figure out what he didn't do.
"I want to be an all-around player," Cain said. "I want to be able to swing the bat, steal bases and play solid defense. That's what I pride myself on, just being a complete player."
It starts with defense.
Unofficially, Cain has reeled in six head-turning catches in the Royals' last five postseason games, all wins. In Game 1 of the AL Division Series, he leaped up against the fence to take away a first-inning extra-base hit from Kole Calhoun and sprinted in to rob a third-inning single off the bat of Erick Aybar. In Game 3, he halted the Angels' momentum in the fifth, robbing Albert Pujols in the gap and Howie Kendrick in shallow center on a couple of diving catches with a couple of runners on.
In Game 2 of the ALCS, Cain was at it again, robbing Orioles shortstop J.J. Hardy of a couple of key hits.
In the sixth, he raced to the gap in right-center field and laid out full extension, robbing Hardy of a leadoff double to the surprise of the Royals' starter, Yordano Ventura, who had both hands raised high and a blank stare on his face.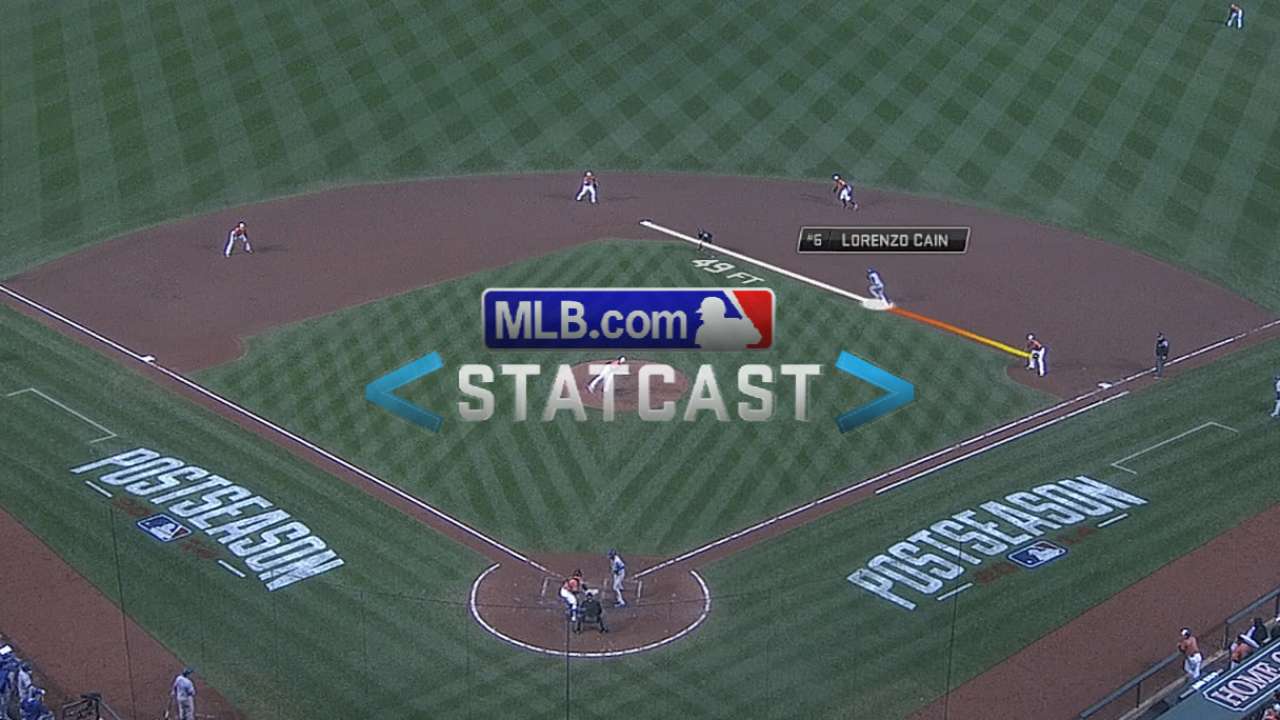 As Hosmer said, "That ball was almost in right field."
The other one was in right field, fading down the line, with the bases loaded and two outs in a tied game in the seventh. Cain, moved to right after Jarrod Dyson took his usual late-game spot in center, sprinted toward foul territory, made a running catch above the foul line, bounced off the fence, twirled and jogged back to the dugout, another would-be hit in his glove.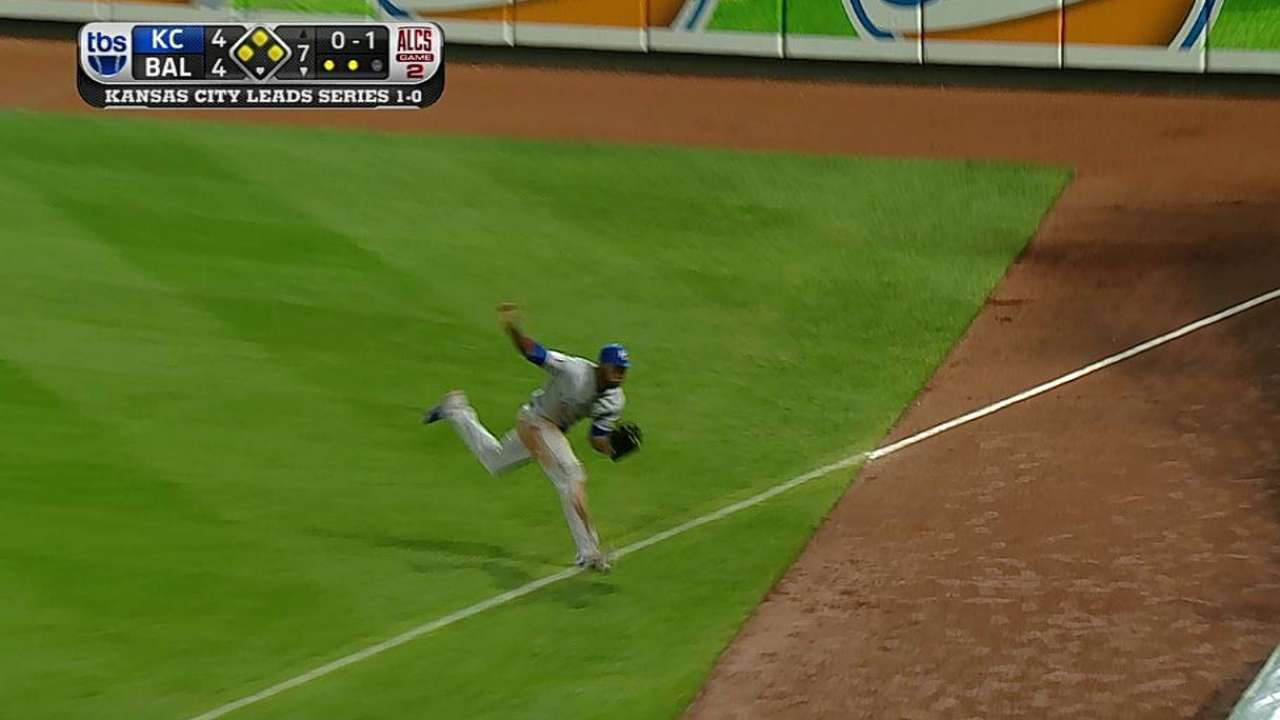 "I thought for sure that ball was going to drop when it first left the bat, and then all of a sudden here he comes and makes the play," Royals manager Ned Yost said. "The country is seeing a very exciting player in Lorenzo Cain."
They saw it in the first inning, when Cain doubled and then scored on Hosmer's bloop single to left, ultimately accelerating at a top speed of 20.5 mph -- 0.4 mph faster than Dyson when he was caught stealing in Game 1 -- according to Statcast.
They saw it in the third, when Cain hit a two-out single, reached third on Hosmer's single -- accelerating to 19.7 mph in 1.51 seconds -- and scored on Billy Butler's double.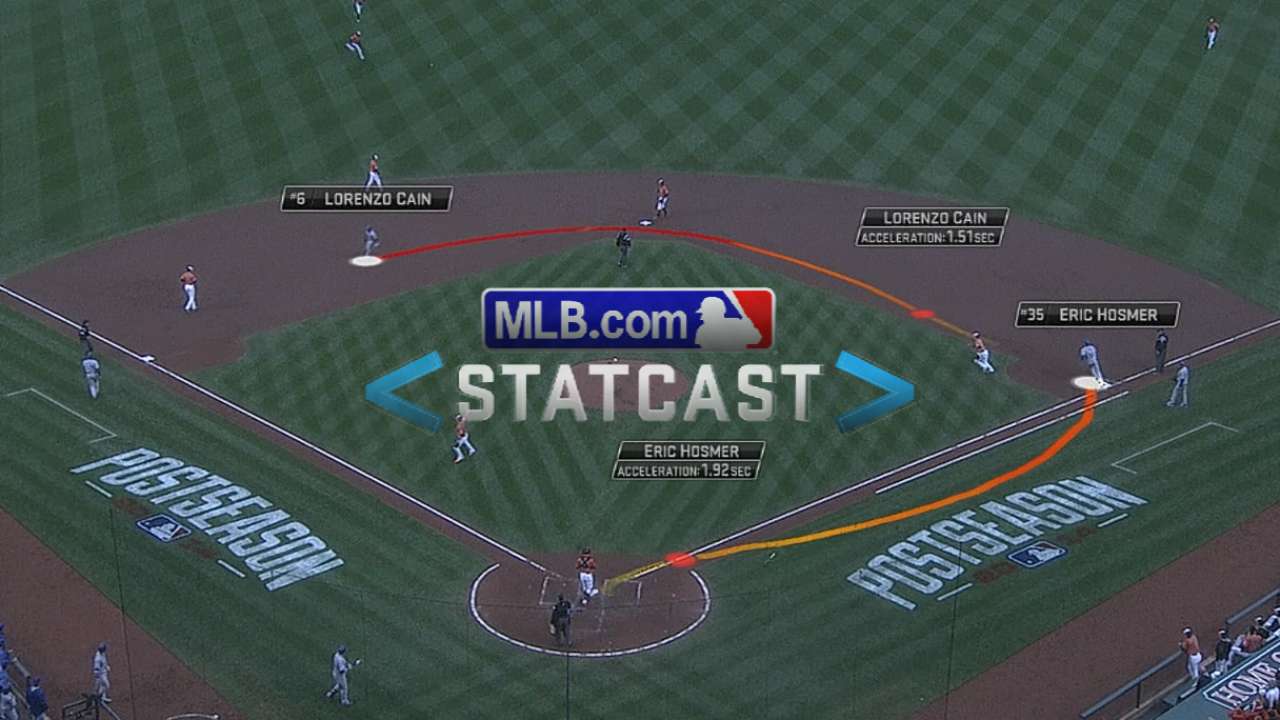 They saw it in the fifth, when Cain singled again, took a 12-foot lead, broke to second on a 94-mph fastball, reached a rate of 20.4 mph and picked up a stolen base -- the Royals' first on a 3-0 count all season.
And they saw it in the ninth, with runners on the corners and one out, when Cain drilled an 0-2 slider from Zach Britton through the left side, giving the Royals an added run two batters after Alcides Escobar's go-ahead hit.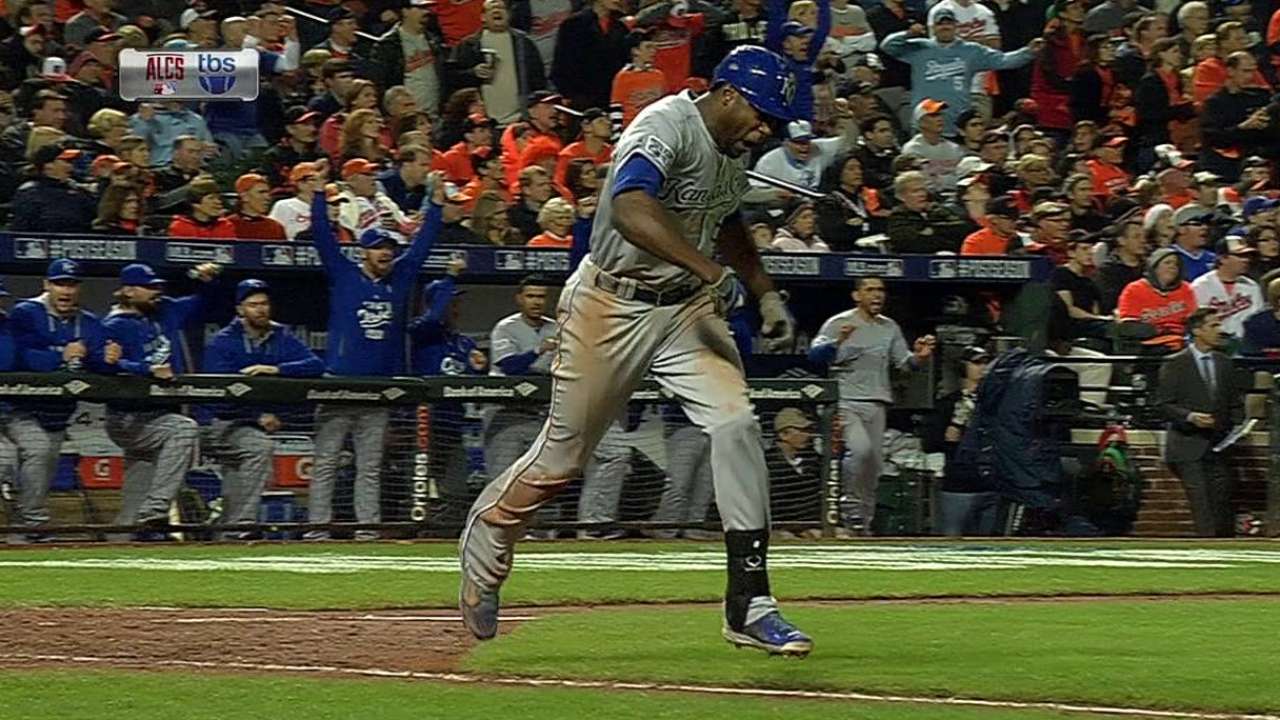 "You can't have a guy who's playing better on either side of the ball," Butler said. "He's playing Gold Glove defense, like he always does, but he's hitting at a high level, too."
Cain didn't even start playing baseball until his sophomore year at Madison County High School, near the Florida panhandle. He was taken by the Brewers in the 17th round of the 2004 First-Year Player Draft, came to the Royals -- along with Escobar -- in the December 2010 trade involving Zack Greinke and played in about half of the Royals' games from 2012-13, a stretch that saw him battle ailments to his groin, hamstring and oblique.
This year, Cain finally put it together, posting a .301/.339/.412 slash line at the plate, picking up 28 stolen bags and posting a 17.6 Ultimate Zone Rating in the field.
And now, the world is finally noticing.
"I've seen Cain play for a while now and I know what he's capable of," Moustakas said. "He's an unbelievable baseball player. He didn't start playing ball until his sophomore year of high school. To see where he's at now, it's awesome. And there's just so much more potential in him, to get better and better and better, and it's kind of scary seeing how good of a player he already is."
More postseason Statcast
ALCS Game 1: How Jarrod Dyson got caught stealing -- Dyson came in to pinch-run for Nori Aoki in the seventh, with none out and the score knotted at 5. After several pickoff attempts by Kevin Gausman, the speedy outfielder took off for second base. According to Statcast, Dyson reached a top speed of 20.1 mph, and had second base stolen easily, hitting the bag well before the one-hop throw of Orioles catcher Nick Hundley. But Dyson's foot came off the base for a split second, Jonathan Schoop kept his tag on Dyson's leg and second-base umpire Joe West signaled for the out.
ALCS Game 2: Dyson gets caught stealing … again -- Dyson again pinch-ran for Aoki in the seventh, and tried to swipe second off Andrew Miller with one out. There was not as much drama as there was in Game 1, however, as catcher Caleb Joseph gunned down Dyson without any controversy.
ALCS Game 2: De Aza shows off his wheels as he legs out a double -- The Orioles needed a spark in the third inning on Saturday, trailing the Royals, 3-1, and Alejandro De Aza provided it. He ripped a one-out double to right field off right-hander Yordano Ventura, setting up Adam Jones' game-tying two-run homer. The left-handed hitter pulled a hard ground ball past a diving Hosmer and down the line, accelerating to his top speed in 2.76 seconds as he approached first. De Aza moved as fast as 19.2 mph on the play.
ALCS Game 2: Terrance Gore shows off his wheels -- Gore was on second with one out in the ninth inning of a tied game. And because so much speed represented the go-ahead run in such a crucial juncture, Orioles second baseman Schoop had to watch Gore closely at second, which meant first baseman Steve Pearce had to shade well off first base, which opened up a gaping hole down the right-field line for the right-handed-hitting Escobar, who doubled home Gore to put the Royals ahead for good.
Alden Gonzalez is a reporter for MLB.com. Read his blog, Gonzo and "The Show", and follow him on Twitter @Alden_Gonzalez. This story was not subject to the approval of Major League Baseball or its clubs.