Peavy's postseason experience paying off
Giants' Game 2 starter excelling in reunion with manager Bochy
ST. LOUIS -- Thirteen years in Major League Baseball have done little to dull Giants starter Jake Peavy's emotions. Peavy may not show it on the mound as frequently as he used to, but in quieter moments, he still waxes poetic about pitching in a way that few of his contemporaries can or do.
Peavy understands the perfect storm that brought him to San Francisco this summer, reuniting him with former manager Bruce Bochy -- a man, in his words, who "believes in me like my high school coach believed in me, if that makes sense." Peavy understands that at 33 years old, winning a second consecutive ring would carve a new groove into his legacy. Peavy also understands that his performance in Game 2 of the National League Championship Series, scheduled for 5 p.m. PT today on FOX Sports 1, will go a long way toward determining how that legacy unfolds.
The Giants have a 1-0 lead in the series after Saturday night's 3-0 win over St. Louis in Game 1.
"I'll be fiery and I'll be emotional," Peavy said. "But I will be under control."
Admittedly, that has not always been easy for Peavy, whose early-career October struggles begot a reputation for folding in big games. In Game 1 of the 2005 and 2006 NL Division Series, Peavy gave up a total of 13 runs in 9 2/3 innings. The Padres lost both games and series. In 2007, he allowed six runs in a one-game NL Wild Card tiebreaker in Colorado; the Padres lost that one, too.
It was not until last year that Peavy pitched again in October, and while he was not without hiccups -- most prominently a three-inning, seven-run blowup in the American League Championship Series -- he managed to reverse his reputation. Peavy held the Rays to one run over 5 2/3 innings in his lone ALDS start, then gave up two runs over four innings in World Series Game 3. He has not looked back since. Last week, with Madison Bumgarner unavailable after pitching in the NL Wild Card Game, Peavy blanked the Nationals over 5 2/3 innings of NLDS Game 1.
"The more you do something, the more comfortable you get in that situation," Peavy said. "And certainly I had a few opportunities early in my career when I really ... had some health injuries, issues there. Up until last year, I had never really gotten an opportunity to pitch with the knowledge that I think I have now. I grew up a lot. So I think that experience, and being in so many different situations and getting your rear end kicked early in your career ... in all those different situations, you learn a little bit about yourself and what it takes to be successful.
"I'll try to take all that knowledge in with me [Sunday], be under control. This Cardinals team is such a professional team, but yeah, I feel as good as ever with what I will go out and try to do."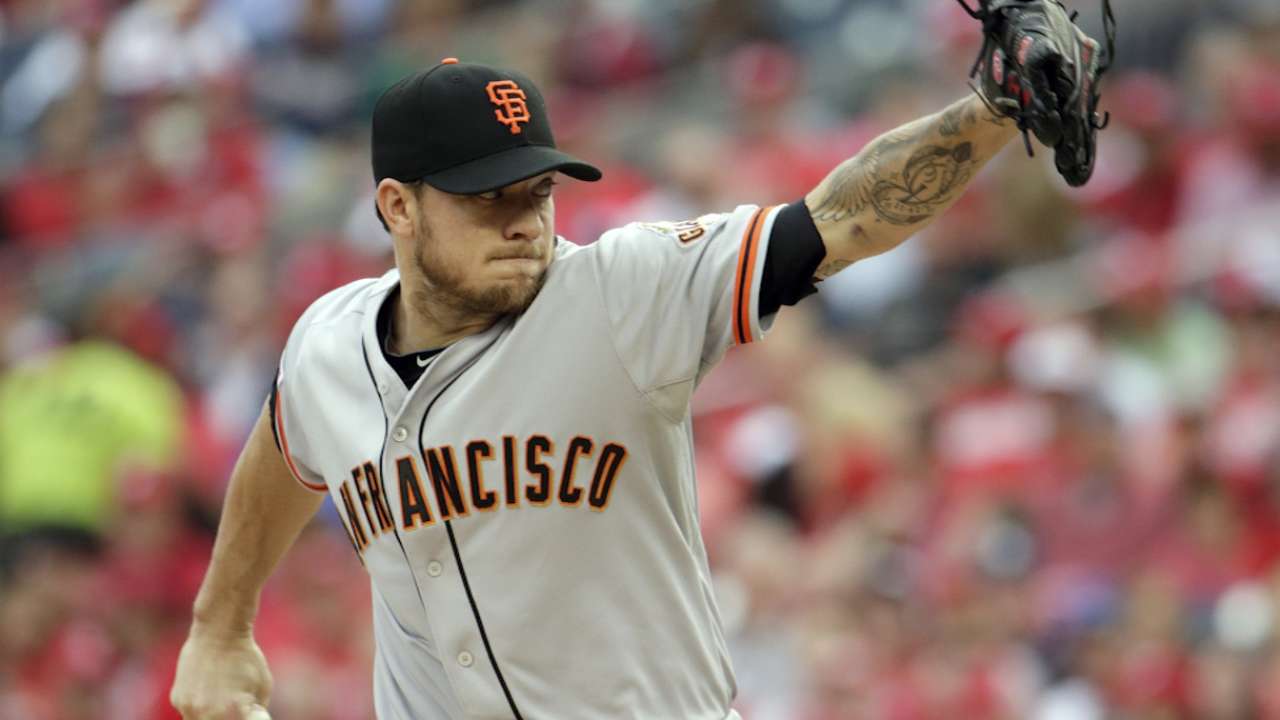 Playing within Bochy's bubble of trust, Peavy said, has helped him reignite his career. Throwing to All-Star catcher Buster Posey, he added, has been critical. Those are the things Peavy feels have enabled him to transform from the 1-9, 4.72 ERA pitcher he was in Boston to the 6-4, 2.17 ERA one he became following a midseason trade to San Francisco.
In turn, Peavy has given the Giants another veteran voice to speak alongside Tim Hudson, Tim Lincecum and others.
"It's always nice to have those intangibles that a certain player or pitcher will bring to the club, and he's done that for us," said Bochy, who managed Peavy from 2002-06 in San Diego. "I think he's helped guys elevate their games. He's turned up their intensity and he's a big reason why we're in this situation -- not just because of how he's pitched, but the energy and the enthusiasm and intensity, which are all contagious, that he's brought to the club."
How much more of that Peavy has within him could go a long way toward determining how far the Giants go this October.
"If you went and asked man for man, the guys in that clubhouse and the guys in our clubhouse ... expect to win," Peavy said. "They're not hoping to win. They expect to win. I expect [Sunday] night to help my ballclub beat the St. Louis Cardinals."
Anthony DiComo is a reporter for MLB.com. Follow him on Twitter @AnthonyDicomo. This story was not subject to the approval of Major League Baseball or its clubs.