Lynn seeks definitive postseason gem in Game 2
With stellar regular-season resume, Cards starter needs shutdown performance in playoffs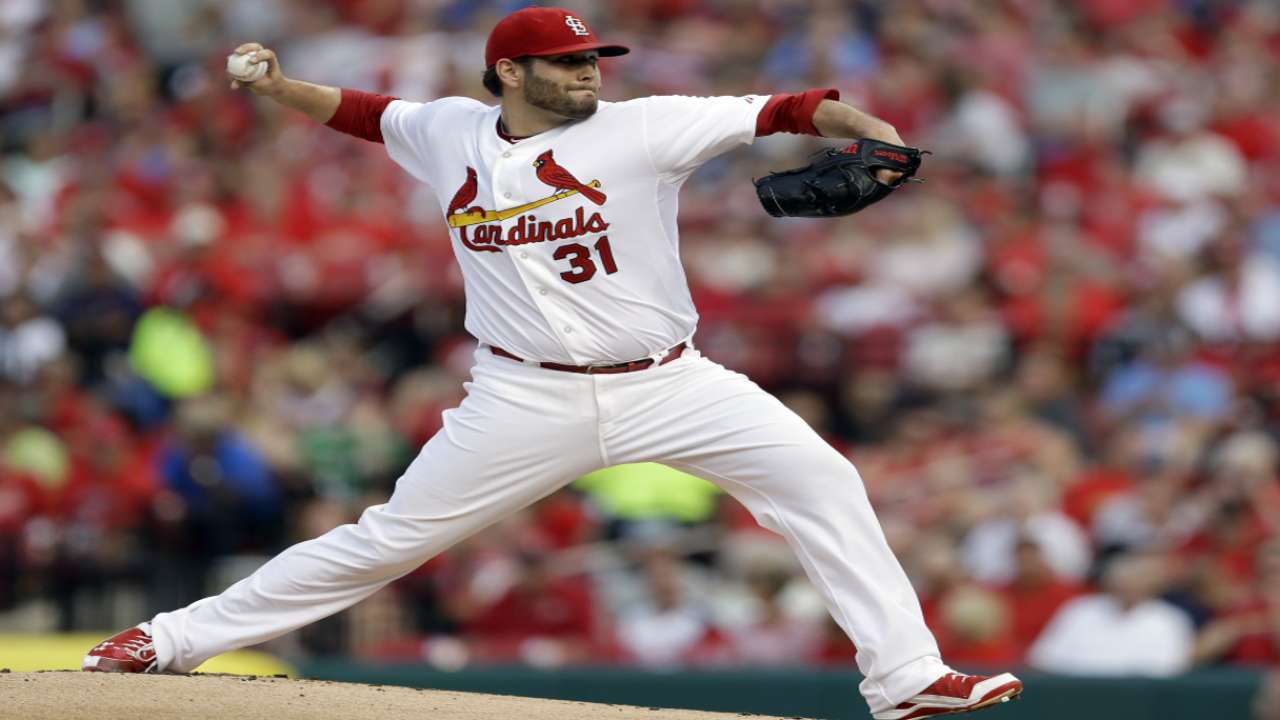 ST. LOUIS -- Jake Peavy witnessed an early version of the lights-out Lance Lynn, the version which has appeared more often in each of his four passing seasons with St. Louis, and the one the Cardinals hope shows up for Game 2 of the National League Championship Series against Peavy and the Giants tonight at Busch Stadium (7 p.m. CT on FOX Sports 1). St. Louis dropped a 3-0 decision in Game 1 on Saturday.
Peavy recalls June 13, 2012, here at Busch, where Lynn allowed three hits over 7 1/3 innings of a 1-0 win against Peavy's White Sox.
"I know Lance Lynn, know him very well, and I can vividly recall that game," Peavy said. "It was the first time I had seen Lance Lynn pitch in person, using an explosive fastball, and guys that I thought were good fastball hitters weren't able to get to it. He's a special, special arm."
That right arm has been among baseball's most successful over the past three seasons, at least in the regular season. Only Lynn, Max Scherzer and Zack Greinke have won at least 15 games in each of the past three years, and if wins aren't your game, then consider Lynn surrendered three or fewer runs in 27 of his 33 regular-season starts in 2014, surrendered the NL's third-fewest home runs per nine innings (0.57, trailing only Clayton Kershaw and teammate Adam Wainwright), and posted a 2.11 ERA over his final 16 starts to lead the Cardinals' staff.
By many measures, Lynn has developed into one of the NL's most formidable pitchers, though you rarely hear about it.
"I'll still say he's probably one of the most underrated pitchers in the game with what he's been able to do," Cardinals manager Mike Matheny said. "A lot of statistics people don't put weight on, but we do, and that's staying in there and fighting until you get a win. Lance has improved not just in that category, but in every category. Part of it's just the maturity process and having time and some hard lessons learned with trying to figure out the kind of pitcher he wanted to be -- a guy that can throw hard and overpower people and also has a good sinker.
"So he was kind of going back and forth, and also trying to control being a very intense, emotional style pitcher and how that was really reflecting on the bottom line. He took a lot of steps in the right direction, a more consistent approach on the mound with his stuff, with his demeanor, and just had a very, very good season for us."
• Video: Matheny on Lynn's progression
A very good regular season, to be precise, one in which Lynn pitched a career-high 203 2/3 innings and posted a career-best 2.74 ERA.
What continues to elude Lynn, who has already made more postseason appearances than any pitcher in Cardinals history (22, going on 23 tonight), is an October performance the likes of which shut down Peavy's White Sox back in 2012. Including Lynn's NL Division Series start against the Dodgers, he is 5-4 with a 4.57 ERA and a .282 opponents' average in the postseason.
"Now being this is my fourth straight NLCS, I have a little bit of a clue what's going on," Lynn said. "Still don't have it figured out, but I'm looking forward to this one."
Asked to explain his ascent over the last three seasons, Lynn said, "Confidence has never been a problem, that's for sure. I just go out and pitch, I don't worry about anything. Pretty simple."
The Giants present a particular challenge. Lynn is 0-3 with a 7.98 ERA against them in three regular-season starts, and 0-1 with a 4.91 ERA in two starts during the 2012 NLCS. Lynn took a no-decision in the Cardinals' Game 1 victory in that season, and pitched again in Game 5 with an opportunity to punch a World Series ticket. Lynn surrendered four runs in the fourth inning of the game and took the loss as the Giants overcame a 3-1 series deficit to advance.
That particular loss still stings.
"I know that we had a chance to win that series and I didn't get the job done," Lynn said. "Whenever you don't get the job done, it definitely is something that you don't forget."
Adam McCalvy is a reporter for MLB.com. Read his blog, Brew Beat, and follow him on Twitter at @AdamMcCalvy. This story was not subject to the approval of Major League Baseball or its clubs.