Ventura expects tight shoulder to recover quickly
Royals' rookie thinks he will be available for another postseason start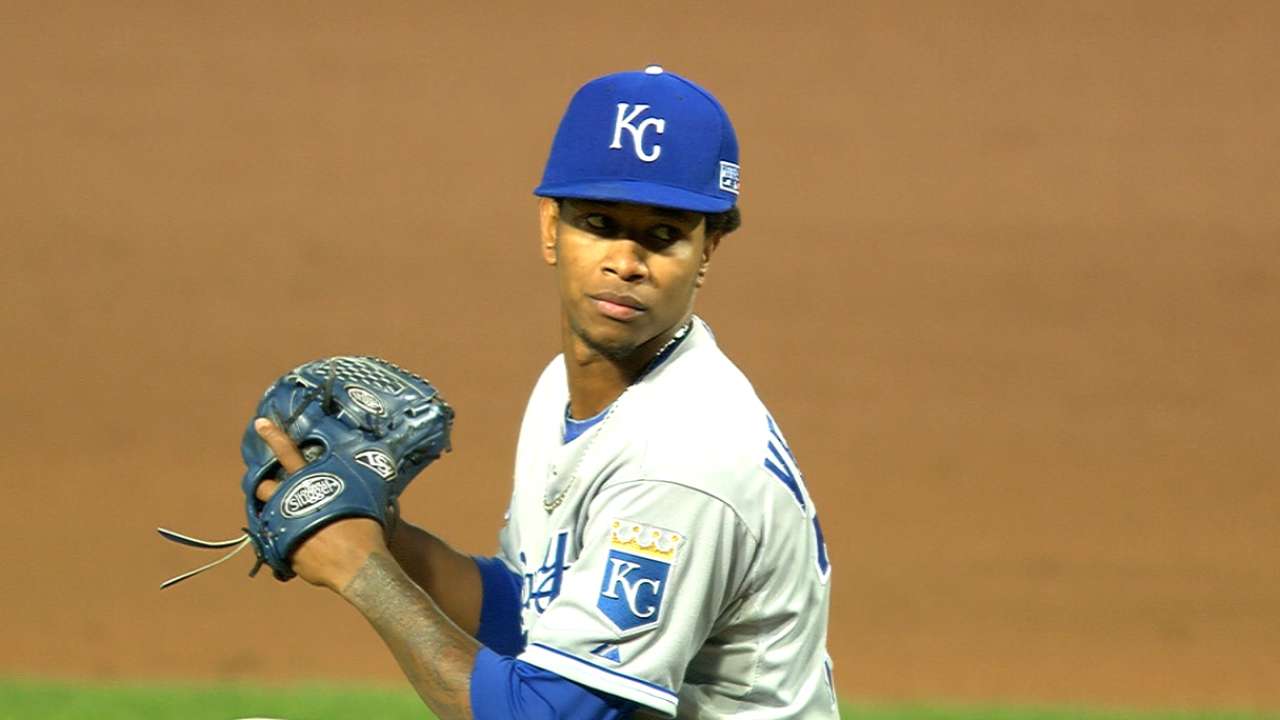 BALTIMORE -- Royals starting pitcher Yordano Ventura worked two outs into the sixth inning against the Orioles in Game 2 of the American League Championship Series on Saturday before departing with tightness in his right shoulder. It's considered a minor injury for the right-hander, who is not even scheduled for an MRI exam.
"I feel good, aside from the tightness, and I'm going to prepare for my next game," Ventura said through interpreter and teammate Jeremy Guthrie after the Royals' 6-4 victory.
"He's fine," echoed manager Ned Yost. "He developed a little shoulder stiffness right there, started to get a little bit tight, and we got him out of the game. I don't anticipate him missing his next start. We'll see how it goes day to day, but I think it will be all fine. He was all smiles at the end of the day. I think he felt pretty good about it." That's uplifting news for an already jubilant Royals club that's jumped out to a 2-0 lead in this best-of seven series. The team is undefeated in six games this postseason, two of them started by Ventura, who has a 3.55 ERA in that span. The 23-year-old opened the game with a 1-2-3 inning but often labored thereafter, at times flashing his enviable repertoire with ease while struggling to command it at others in chilly weather conditions. Ventura allowed four runs on five hits, including a two-run homer to
Adam Jones
. He walked three and struck out just as many, totaling 92 pitches in all -- 52 for strikes.
It was a gritty effort nonetheless, ending prematurely on a night Yost needed his rookie to go deep into the game, since a pair of his late-inning arms -- Kelvin Herrera and Wade Davis -- racked up two innings apiece in Friday's opener.
After getting the first two batters of the sixth on flyouts to center field, Ventura grimaced when throwing a second-pitch strike to Caleb Joseph in a 4-4 game. The right-hander was then greeted by a member of the club's medical staff, along with Yost, who called rookie Brandon Finnegan out of the bullpen to finish the inning.
Finnegan gave up a single to Joseph before getting out of the inning on a Jonathan Schoop groundout.
"The last three pitches I threw in that inning, I felt a little bit tired in the arm and tight, so I wanted the trainers to come out," said Ventura. "And, as a precaution, they wanted me to come out so I'd be ready to start another game in the series.
"I'm relieved that it was just tightness and feeling tired instead of soreness. I'm very confident that the trainers will be able have me ready for my next start."
Jane Lee is a reporter for MLB.com. This story was not subject to the approval of Major League Baseball or its clubs.