Cardinals' bats can't pick up Waino in NLCS defeat
Ace righty logs just 4 2/3 innings as offense shut down by MadBum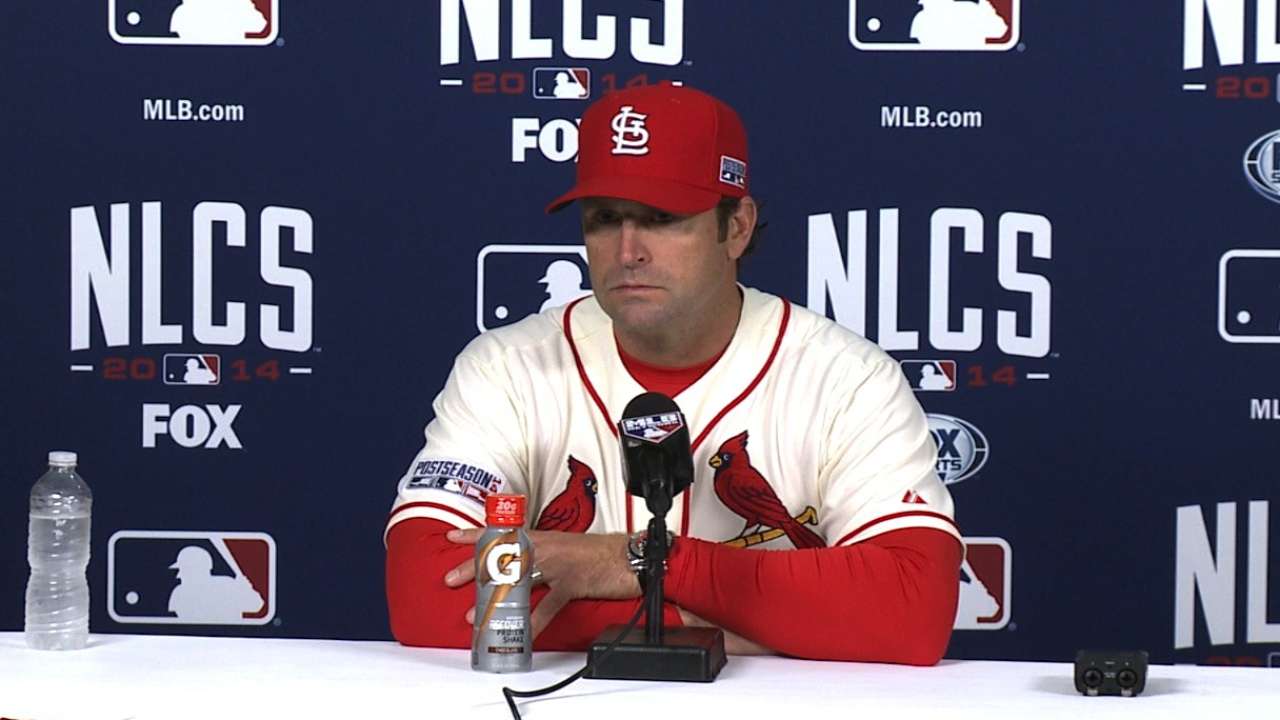 ST. LOUIS -- After all of the insistence on the eve of Game 1 in the National League Championship Series that concerns about his elbow had been widely overblown, Adam Wainwright offered insufficient on-field proof to confirm that all is indeed well.
Now winless in his last five postseason starts, Wainwright, for the second time this month, was chased before getting through five innings. His offense couldn't bail him out this time, either, leaving him to answer more questions about his health and the Cardinals staring at an early best-of-seven series hole with the Giants' 3-0 win on Saturday night at Busch Stadium.
San Francisco pounced on a laboring ace early and capitalized on a handful of defensive miscues to build the three-run lead before Wainwright could pocket his ninth out. An error by Matt Carpenter and Kolten Wong's inability to turn a double play led directly to two of those runs. Wainwright's night would end with two on and two out in the fifth, leaving him having thrown 200 pitches while allowing eight earned runs and 17 hits in nine innings this postseason.
"There was some bloops that dropped in, but you know what? When you make pitches in the middle of the plate, even though they're bloops, they find holes," Wainwright said. "Seemingly, there was some bad luck out there, but I know I can be a lot sharper."
The Cardinals, playing in the NLCS for the fourth straight season, had no answer offensively against Giants starter Madison Bumgarner, who dominated over 7 2/3 four-hit innings. History suggests, though, that the series is far from over. Of the previous six instances in which the Cardinals dropped the first game of the NLCS, they stormed back to take the series three times.
WHAT WENT WRONG
With Wainwright again searching for command of his fastball, the Giants staked their own ace to an early cushion, scoring twice in the second and once more in the third. It all may have played out differently had outfielder Randal Grichuk held onto the ball as he barreled into the right-field wall. Instead the ball squirted out, and Pablo Sandoval had a two-base hit to lead off the second.
Bloop hits and a walk compounded the inning, as did Carpenter's two-out error to allow the second run to score. An inning later, Brandon Belt delivered an insurance sacrifice fly after Wong was unable to get two outs on what should have been a tailor-made double play.
"We would have liked to have played a little better defense, and Adam would have liked to pitch better," Carpenter said, "but the difference was Madison and the way he threw, and we weren't able to score any runs off him."
Indeed, the Cardinals' offense never mustered enough traction to seriously scare the Giants after that point. The offense tallied four total hits, with only two of them coming in the same inning. That was the seventh, the inning in which the Cardinals enjoyed repeated success in the NL Division Series. This time, pinch-hitter Tony Cruz struck out to strand two in scoring position.
"We don't necessarily put a star by the seventh inning or anything else," manager Mike Matheny said. "We just know that we stay the course and we needed somebody to come up big there and get a big hit for us. And Madison Bumgarner was good today. He kept us from having that big inning."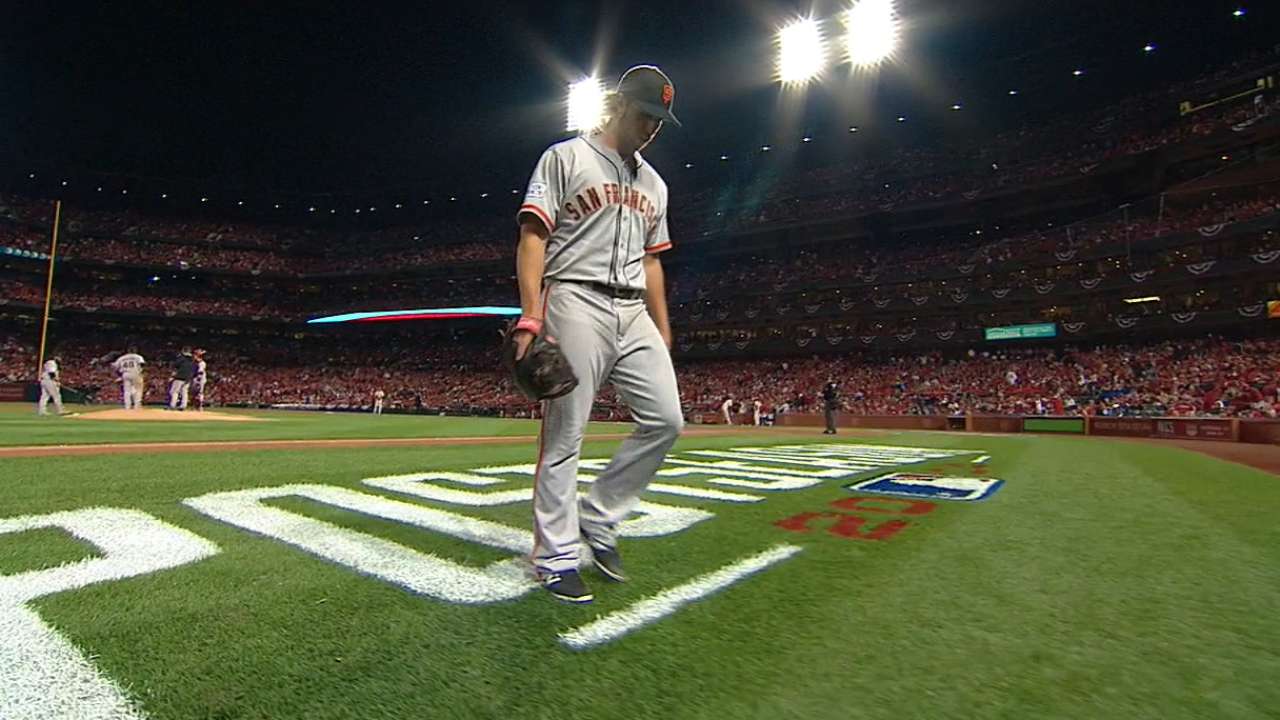 THE MOMENTS THAT MATTERED
First-inning fizzle: The Cardinals never got going offensively, but the night may have unfolded differently had Matt Holliday's deep drive to right-center dropped in the opening inning. With Carpenter on first, Holliday drove a first-pitch fastball to the warning track. But what looked like it could be a run-scoring hit off the bat was tracked down by center fielder Gregor Blanco.
Holliday ended up going hitless on the night, part of the 1-for-19 performance by the team's Nos. 1-5 hitters.
Fumbling in the field: A team that ranked second in the Majors with 64 defensive runs saved during the regular season gave three away on Saturday. Grichuk couldn't hang on after making a terrific catch attempt in right; Carpenter couldn't cleanly field a ground ball; and Wong couldn't turn a double play. The three plays directly led to all of the Giants' runs.
Those miscues also made an already-challenging night for Wainwright even more laborious. He needed 36 pitches to get through the second inning and threw another 18 in the third.
"It comes down to us doing the things we do on a consistent basis, and our pitchers need help at times," Matheny said. "If we make plays we typically make, you're looking at a 0-0 game."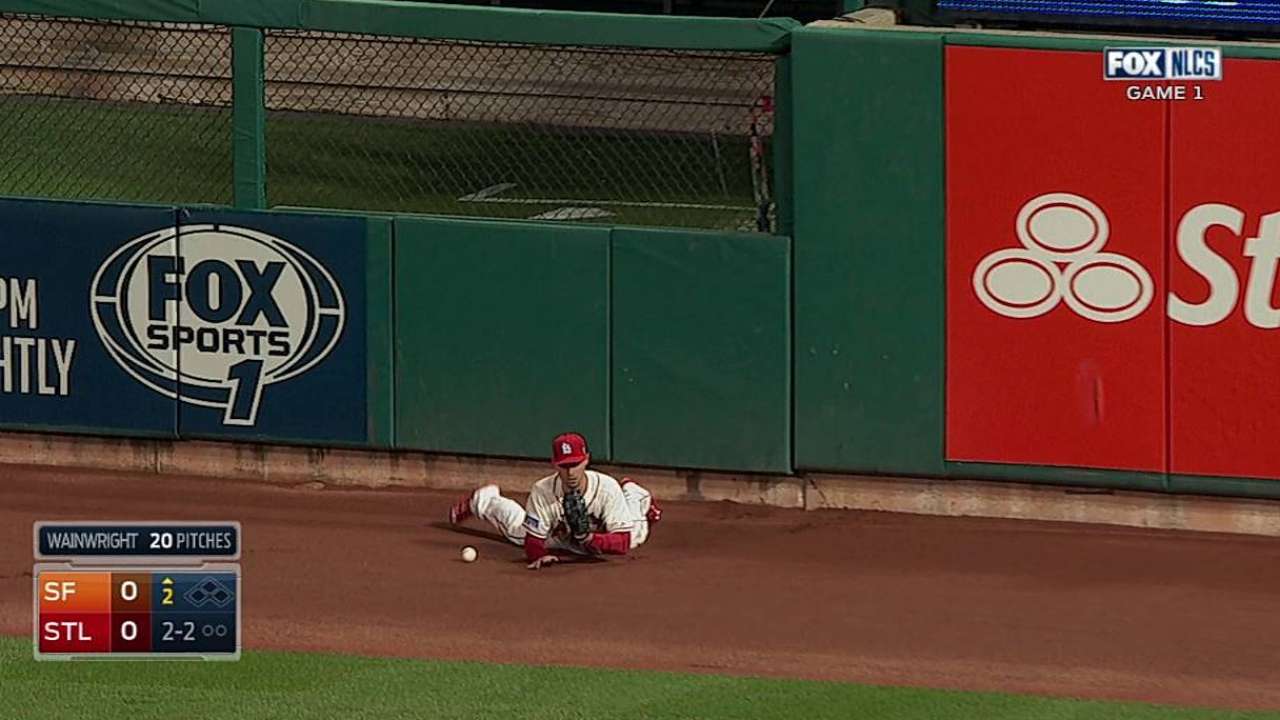 Contact play: Looking to sustain their first bit of offensive momentum, the Cardinals called upon instant replay hoping that it would award Wong first base in the seventh. Wong, who hit a slow roller to the first baseman, and Bumgarner, who took the throw, collided along the first-base line as Bumgarner ran in to make the tag. Matheny asked for a review of the play, thinking contact may have been made before Bumgarner had the ball.
It took only 52 seconds to determine that the correct call had been made on the field. Wong remained in the dugout and the rally fizzled.
"The video shows I couldn't get to first base because he cut me off," Wong said. "I saw him coming, and then I felt his shoulder go into my shoulder. I was standing there wondering if it was legal or not. But they [umpires] probably made the right call."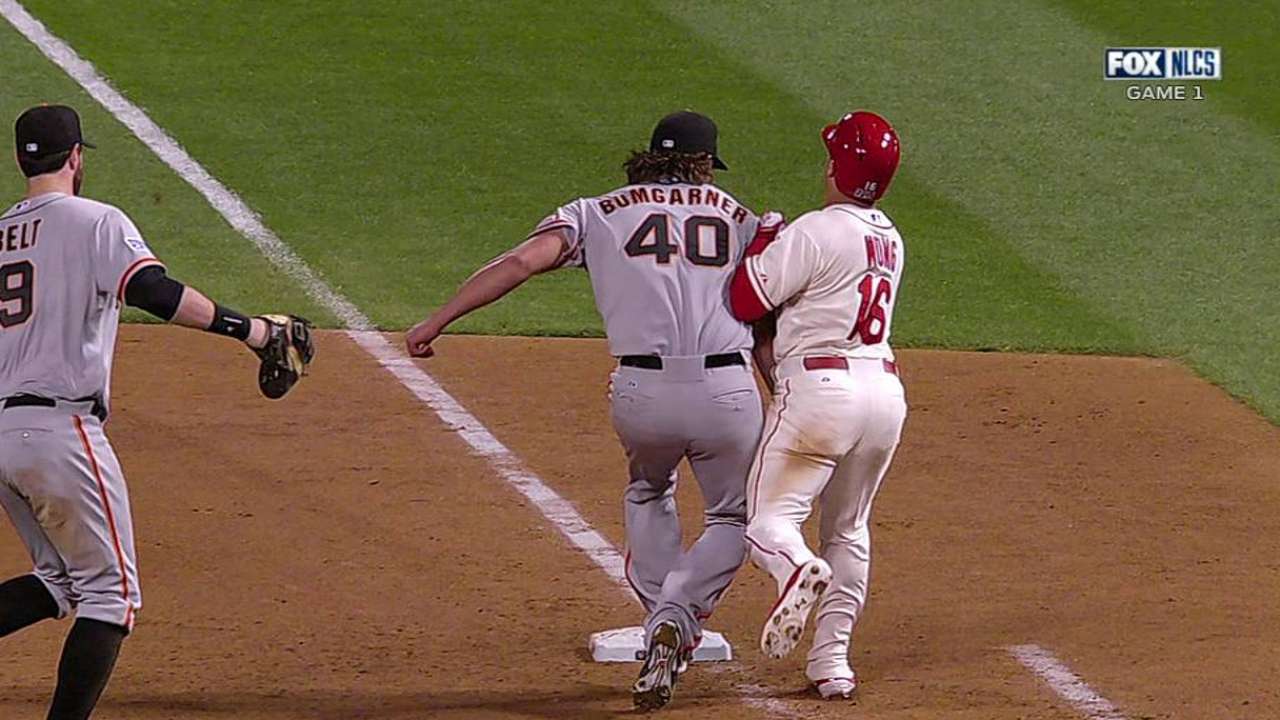 No balk call: While the Cardinals went hitless in their two seventh-inning chances with a runner in scoring position, they did believe they had a run taken away from them by a balk call not made. Before a pitch to Cruz, Bumgarner interrupted his motion in what potentially could have been a balk. It wasn't called, and Cruz proceeded to strike out.
"I thought he did," Cruz said. "I asked [home-plate umpire] Phil [Cuzzi] right away, and he said he thought he stepped off."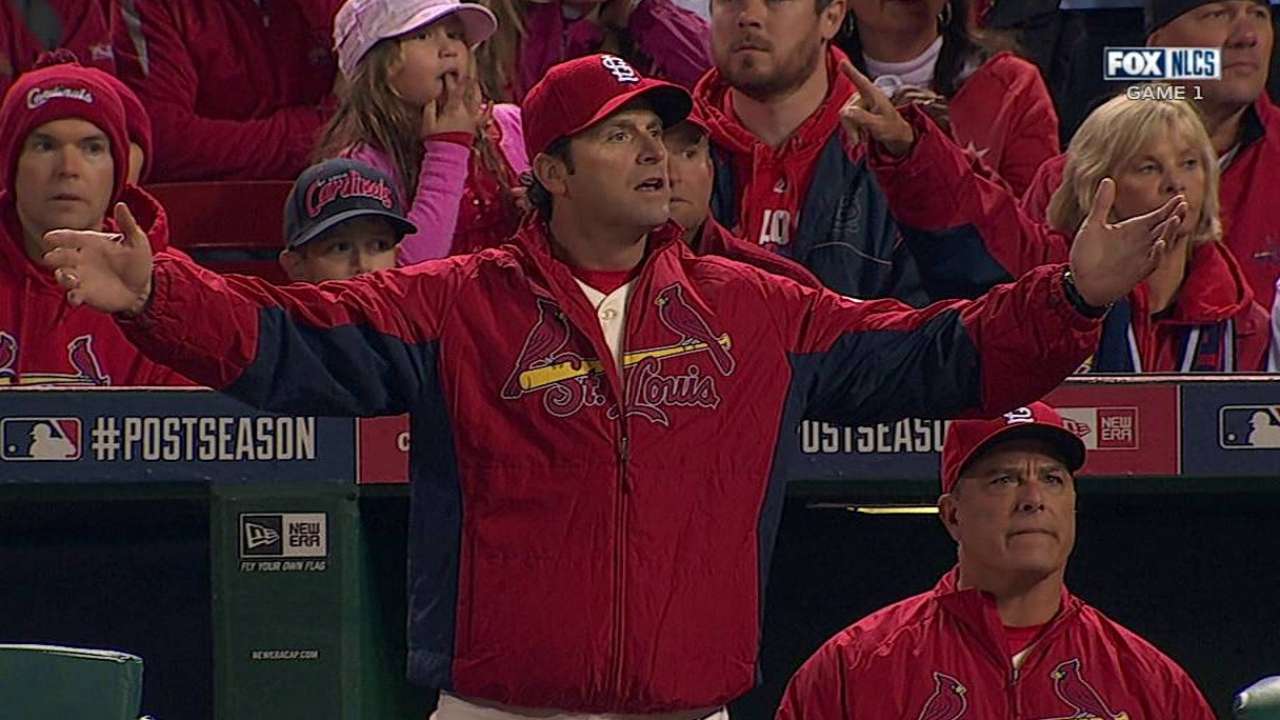 THE UNSUNG HERO
Pablo Sandoval: The Panda reached base four times in five plate appearances and was in the middle of both run-scoring innings for the Giants. His leadoff double in the second gave the Giants their first baserunner against Wainwright; Sandoval would score the first run. His single in the next inning advanced Buster Posey, who eventually came home on a sacrifice fly.
Sandoval, who has more multi-hit games (10) in the playoffs than anyone in Giants history, is a familiar postseason nemesis to the Cardinals. He went 9-for-29 with two homers, four runs and six RBIs against St. Louis in the 2012 NLCS.
KEY MANAGERIAL DECISION
Tapping Cruz to pinch-hit: In the team's only pinch-hit spot of the night, Matheny chose to send up Cruz with two out and two in scoring position against Bumgarner in the seventh. The only one of the team's six bench players with any notable success against Bumgarner was Daniel Descalso, though Matheny noted afterward that the Giants' ace "is a tough assignment for a lefty."
With that taking Descalso, A.J. Pierzynski and Oscar Taveras out of the mix, Matheny selected Cruz over Peter Bourjos (0-for-2 against Bumgarner) and Pete Kozma (1-for-4). Cruz, taking his first in-game at-bat since Sept. 28, struck out on the sixth pitch of the at-bat.
"We need one of our guys to come up big," Matheny said. "Tony had a nice swing on a foul ball. His timing was right on, but ended up chasing a high one late."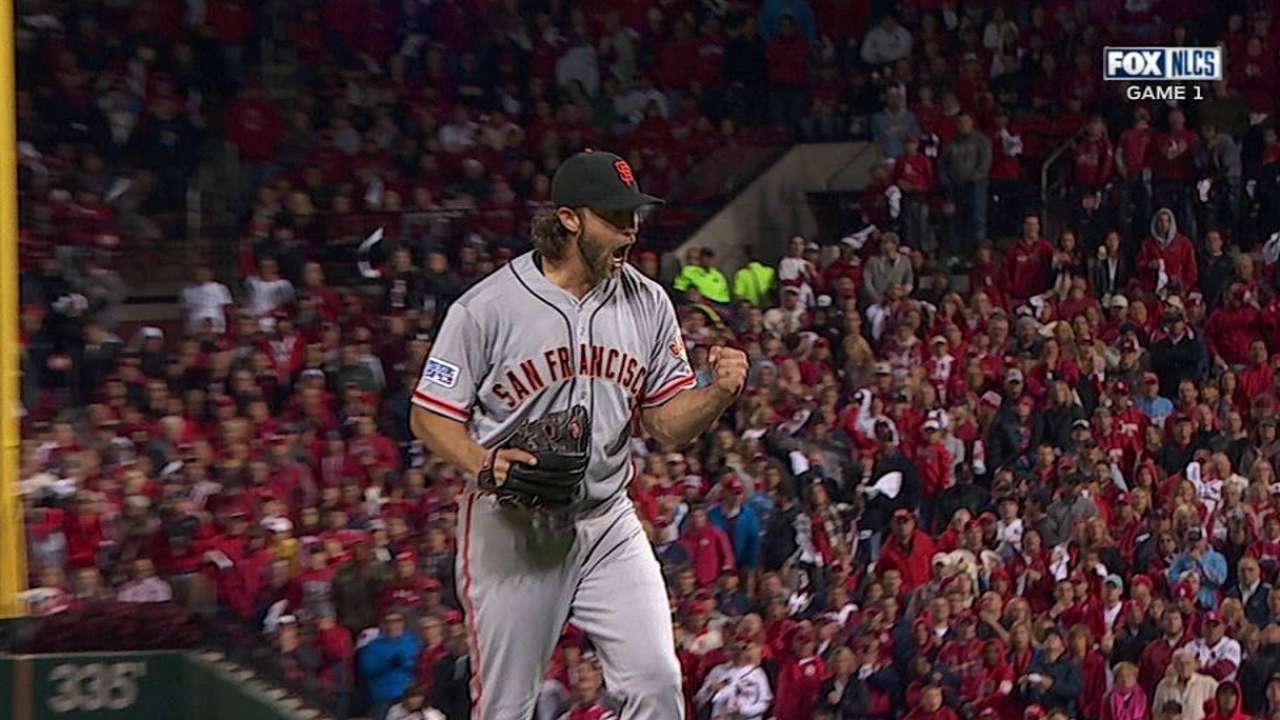 SOUND SMART WITH YOUR FRIENDS
• The Cardinals had won each of their three previous NLCS Game 1s at Busch Stadium (2013, '05 and '04) before Saturday. The last such loss was in '02, also coming to the Giants. San Francisco ended up advancing to the World Series that year.
• Saturday's was the Giants' 10th postseason shutout since 2010, the highest total in the Majors during that span. The Cardinals and Tigers rank second with four. The Cardinals were last shut out in the postseason by the Dodgers in Game 3 of the 2013 NLCS.
• Yadier Molina collected his 88th career postseason hit, tying him with Albert Pujols for the most in Cardinals history. His .289 postseason batting average is the sixth-highest mark by a catcher in Major League history.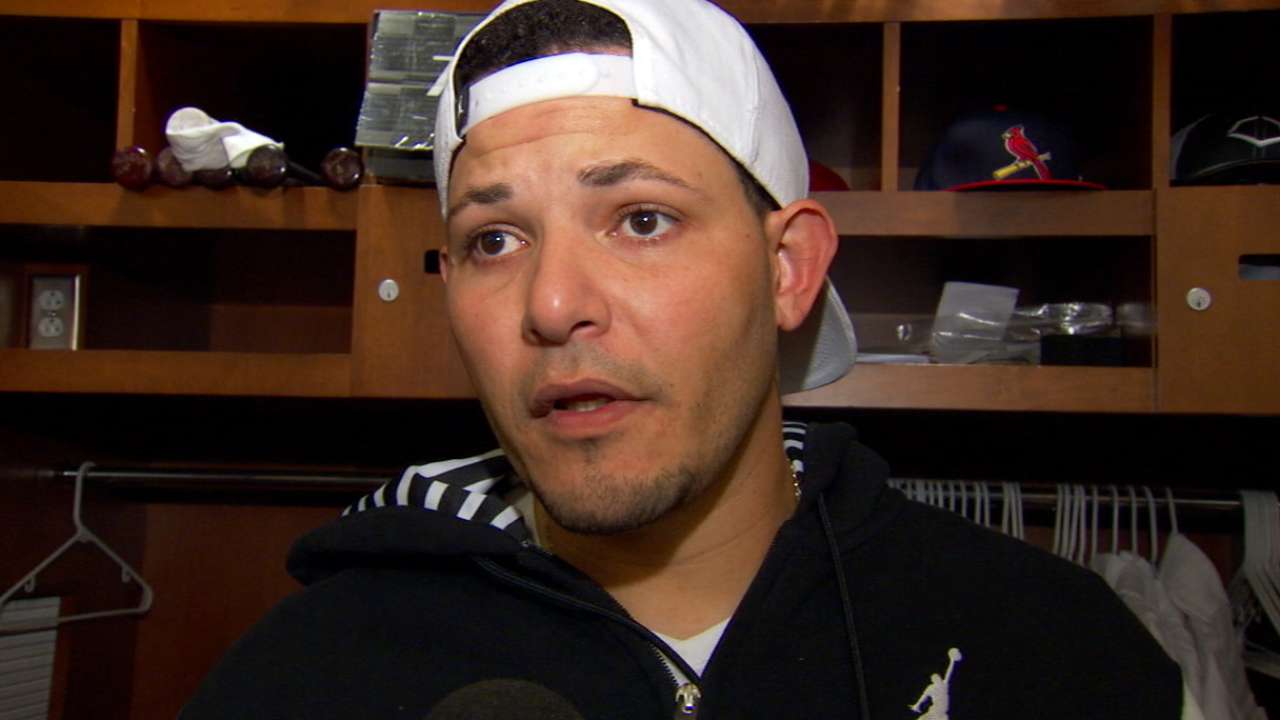 ONE FOR THE HISTORY BOOKS
No seventh heaven: After scoring 13 of their 18 NLDS runs in the seventh inning, the Cardinals could muster no such magic on Saturday. The best they managed was twice bringing the potential tying run to the plate. Keeping the Cardinals from another seventh-inning stirring was Bumgarner, who extended his postseason scoreless-innings streak on the road to a Major League-record 26 2/3 innings
NEXT GAME
The first pitch of NLCS Game 2 is scheduled for 7:07 p.m. CT on Sunday at Busch Stadium on FOX Sports 1. Lance Lynn will be making his franchise-most 23rd postseason appearance when he starts opposite San Francisco's Jake Peavy.
Jenifer Langosch is a reporter for MLB.com. This story was not subject to the approval of Major League Baseball or its clubs.