Road warrior: Bumgarner leads Giants to Game 1 win
Lefty sets playoff mark with 7 2/3 scoreless; bats chase Wainwright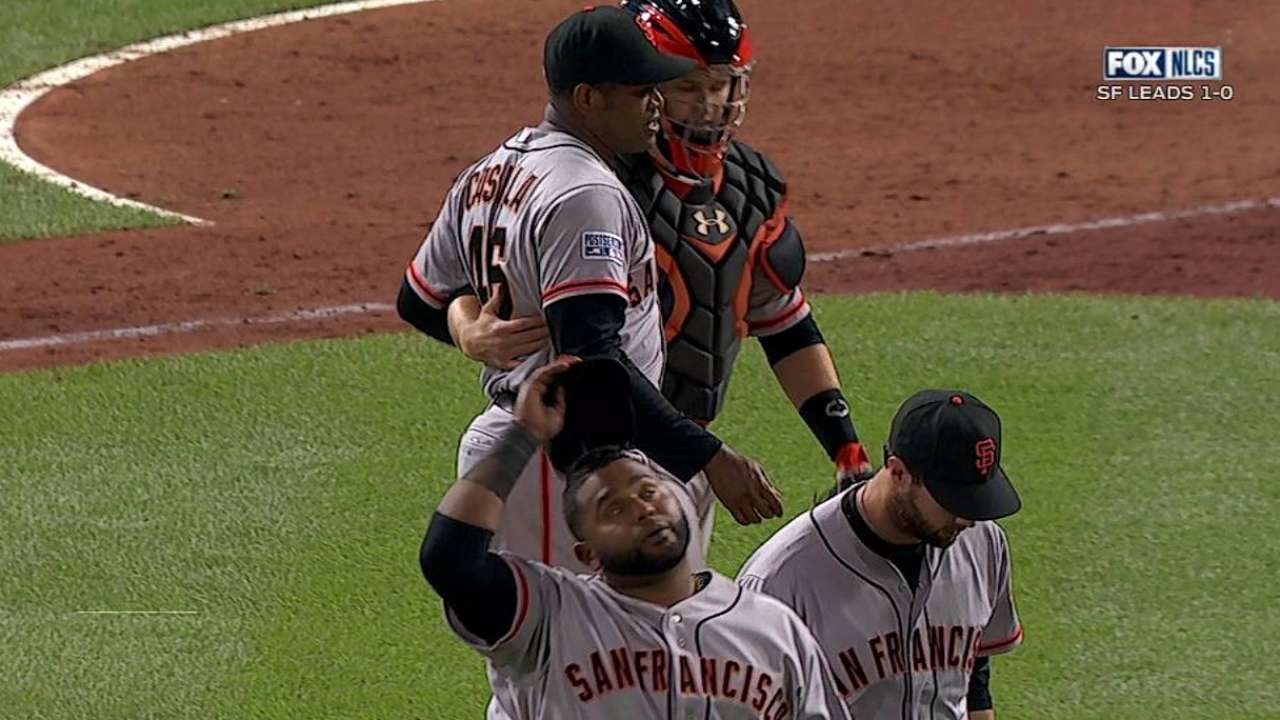 ST. LOUIS -- Madison Bumgarner's traveling show made another successful one-night stand Saturday as the Giants stifled the St. Louis Cardinals, 3-0, in Game 1 of the National League Championship Series.
Bumgarner surrendered four hits in 7 2/3 innings, extending his streak of consecutive scoreless postseason innings on the road to a Major League-record 26 2/3. The left-hander, who allowed three Cardinals to reach scoring position, improved to 4-0 with a 0.59 ERA in four career postseason starts away from home.
A pair of St. Louis mistakes -- third baseman Matt Carpenter's second-inning fielding error and second baseman Kolten Wong's fumbling of a potential double-play grounder in the third inning -- helped the Giants notch three runs off St. Louis ace Adam Wainwright, who lasted 4 2/3 innings.
Santiago Casilla pitched a perfect ninth inning to record his third save of this postseason and seal the Giants' seventh postseason victory in a row on the road. The Giants have won 12 of their last 13 postseason games overall.
HOW THE GIANTS WON
Bumgarner delivered a typically stubborn effort, retiring 10 of 11 batters after Carpenter singled to lead off St. Louis' first inning. Displaying his signature command, Bumgarner walked one and struck out seven while becoming a 20-game winner of sorts. He's 2-1 in the postseason after finishing 18-10 in the regular season.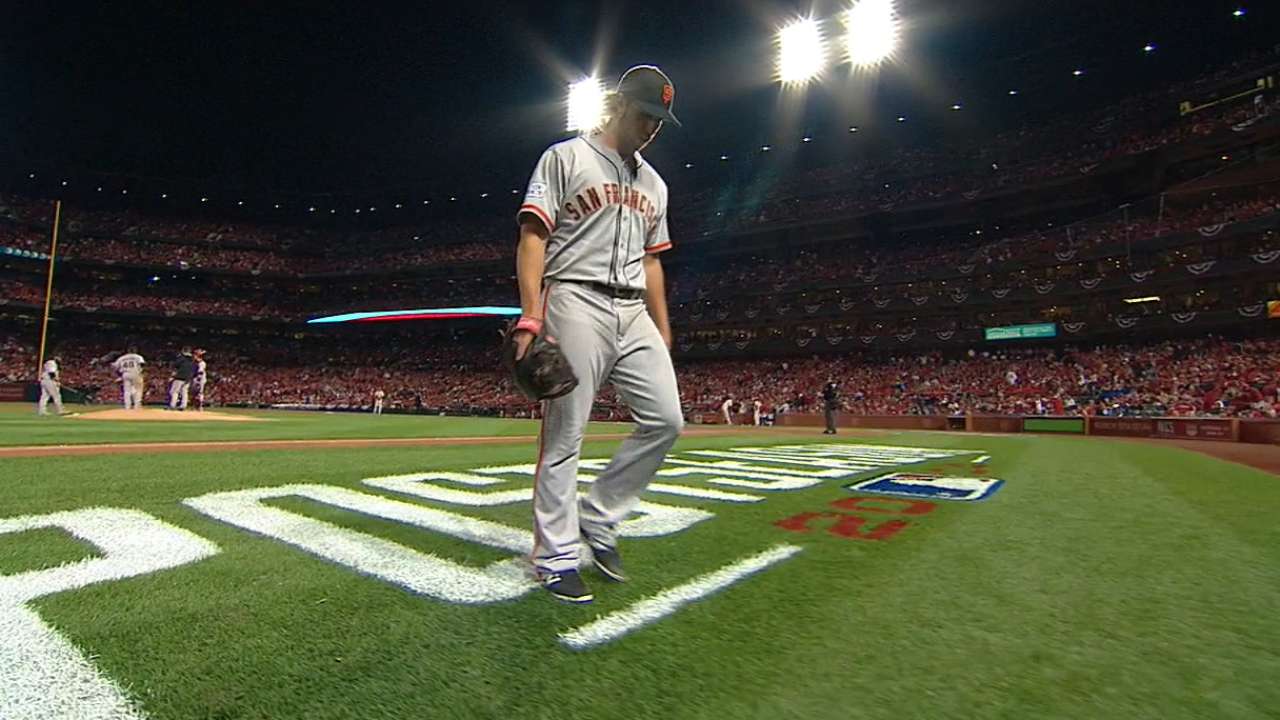 Bumgarner sounded proud of his scoreless-innings mark but, in characteristic fashion, didn't get carried away with himself.
"I found out about the record after the game," he said. "You know, that's pretty cool, obviously, to have any kind of record. But there are stats for everything nowadays."
Giants first baseman Brandon Belt praised his teammate. Asked where Bumgarner ranks among baseball's elite pitchers, Belt said, "In my book, he may not be No. 1. But he's in the top two."
THE MOMENTS THAT MATTERED
On contact: Bumgarner's physical putout on Wong drew a protest from Cardinals manager Mike Matheny. Obstruction is a judgment call of the umpires and thus not reviewable. But Matheny challenged the ruling anyway, and the out was confirmed on replay.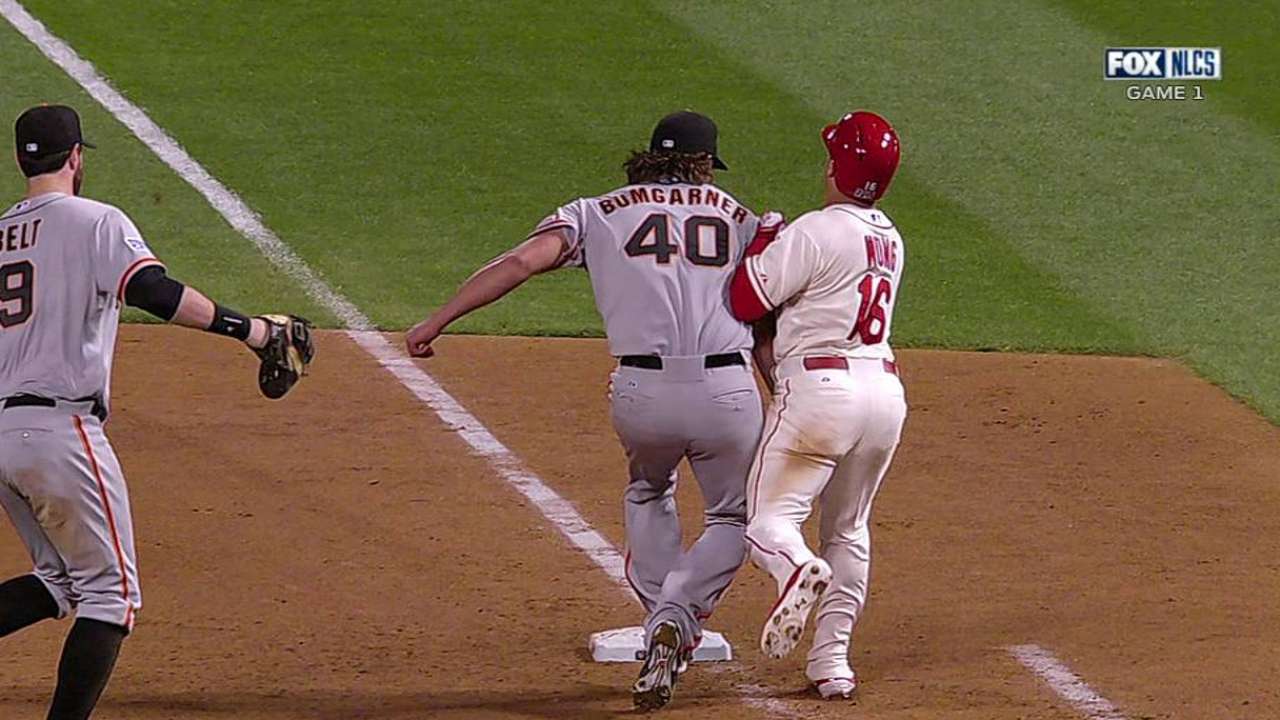 "I didn't think that would be overturned," Giants manager Bruce Bochy said. "We tagged the runner and then ran into him. That's what it looked like from the dugout and that's what you want your pitcher to do."
Bumgarner was at his toughest in the seventh inning, which happened to be the same inning when St. Louis sustained torrential rallies against Los Angeles' Clayton Kershaw, the NL's presumptive Cy Young Award winner, during the Division Series.
Yadier Molina and Jon Jay singled with one out. Belt fielded Wong's grounder and flipped the ball to Bumgarner as the pitcher rushed to beat the runner to the bag. Bumgarner tagged Wong on the thigh a few feet in front of first base, adding a shove and a hockey-style hip-check for emphasis. Bumgarner struck out Tony Cruz to end the threat.
"I've watched the games, and I knew that was a big inning for us," Bumgarner said.
To balk or not to balk: Wong's groundout left runners on second and third with two outs. While facing Cruz, Bumgarner suddenly backed off the pitching rubber. The Cardinals howled for a balk call, but none was forthcoming. Bumgarner proceeded to fan Cruz on the next pitch.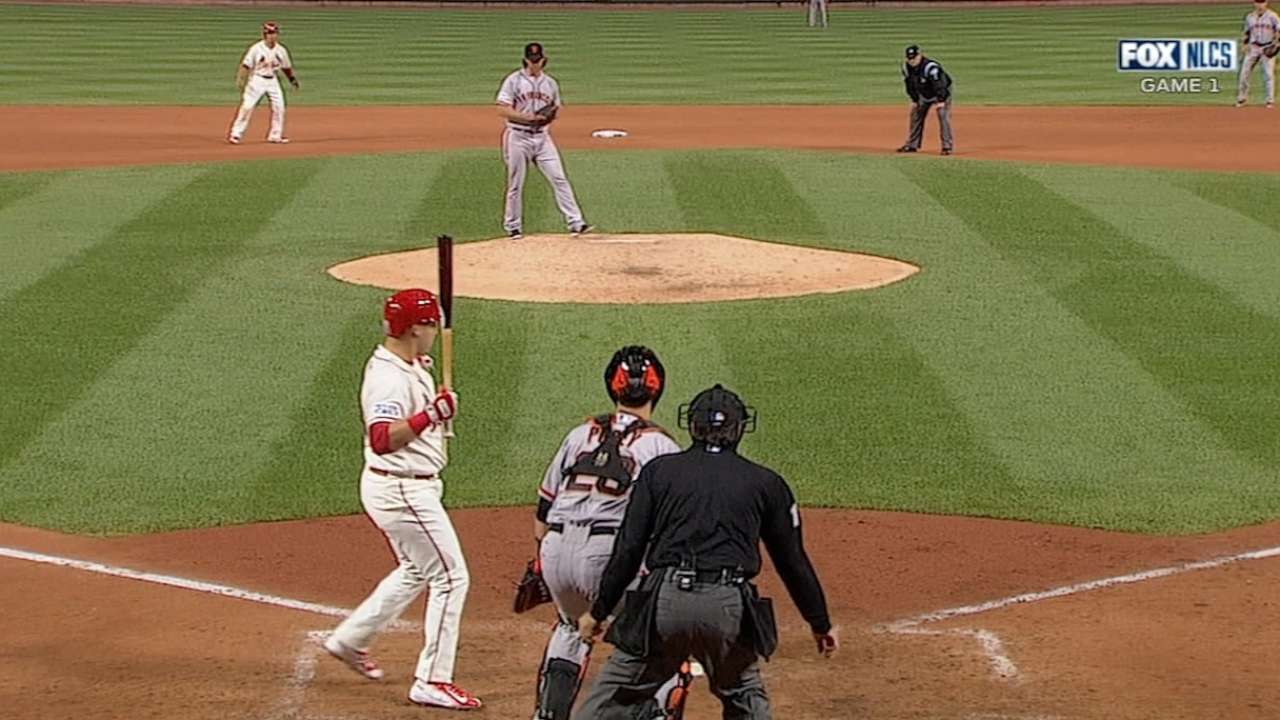 Bumgarner explained that he feared he might have "crossed up" Buster Posey by preparing to throw a different pitch than the one the catcher ordered.
"Obviously, you don't want to do that," Bumgarner said. "So I stepped off. But it was right before I was getting ready to deliver. It was close, no doubt about it. I can see why they might have a problem with it. But in my mind, I don't think that I balked."
"I know it looked funny," Bochy said. "But it's a quick step back, and you're allowed to do that."
Matheny tried to remain calm afterward.
"A balk call would help only to the point of [scoring a run], and then that's a momentum shifter, for sure. So that did hurt."
Pablo comes through: San Francisco scored twice in the second inning, which began with Pablo Sandoval's double. Right fielder Randal Grichuk appeared to catch Sandoval's drive, holding onto it after colliding with the wall. But the ball trickled from his glove after he fell to the warning track. Hunter Pence walked and Belt singled to load the bases before Travis Ishikawa's bloop single scored Sandoval. With two outs, Carpenter couldn't pick up Gregor Blanco's sharp grounder, chasing home Pence. Sandoval also singled in the third when the Giants tacked on another run with the help of a mishandled double-play grounder by Wong.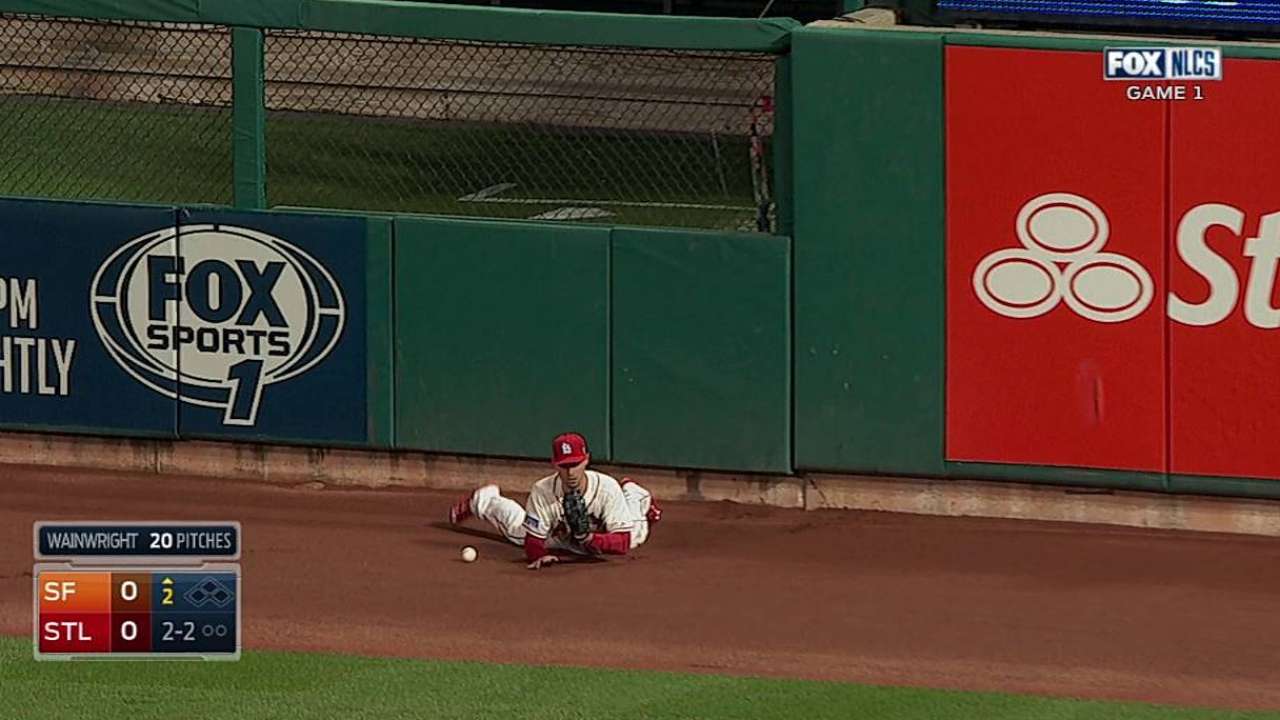 Sandoval went 3-for-4 and walked once in five plate appearances. He recorded his 10th multi-hit game in the postseason, the most in franchise history since the Giants moved to San Francisco in 1958.
"Man, it's exciting to be in October," Sandoval said. "Last year I was home watching the game on TV."
UNSUNG HERO
Ishikawa, who contemplated quitting baseball this summer while languishing in Triple-A, started his fifth postseason game in left field. Besides contributing his RBI single, Ishikawa made a daring diving catch of Molina's line drive to end the fourth inning.
"It was just one of those plays where I saw the ball off the bat pretty well," Ishikawa said. "I don't know if the dive was necessary. I think it was more of a result of making sure I didn't trip over my own feet. I knew I had to go low to catch it."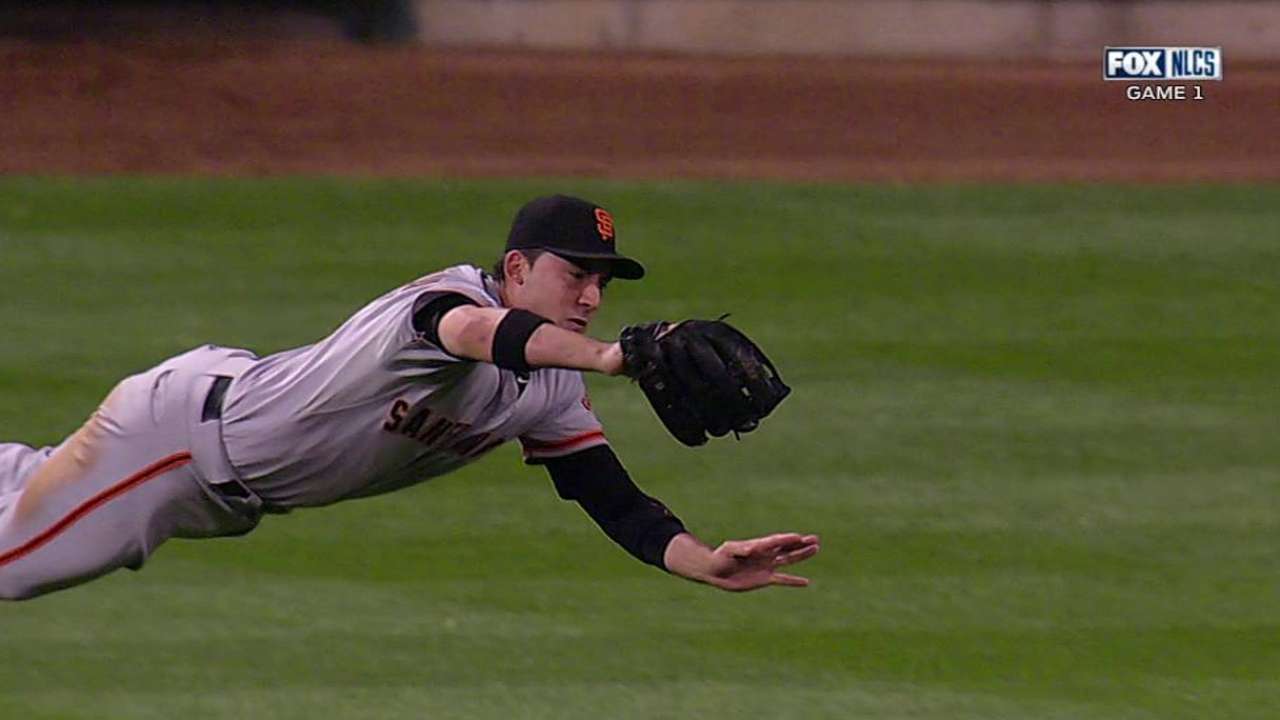 Of his run-scoring hit off Wainwright that landed in short left field, Ishikawa said, "I was trying to be aggressive, not let a first-pitch strike go by. You can't give him too many pitches. He's too good. He actually made a good pitch to jam me. I was able to just get enough [of the bat on the ball] to get it over Carpenter's head."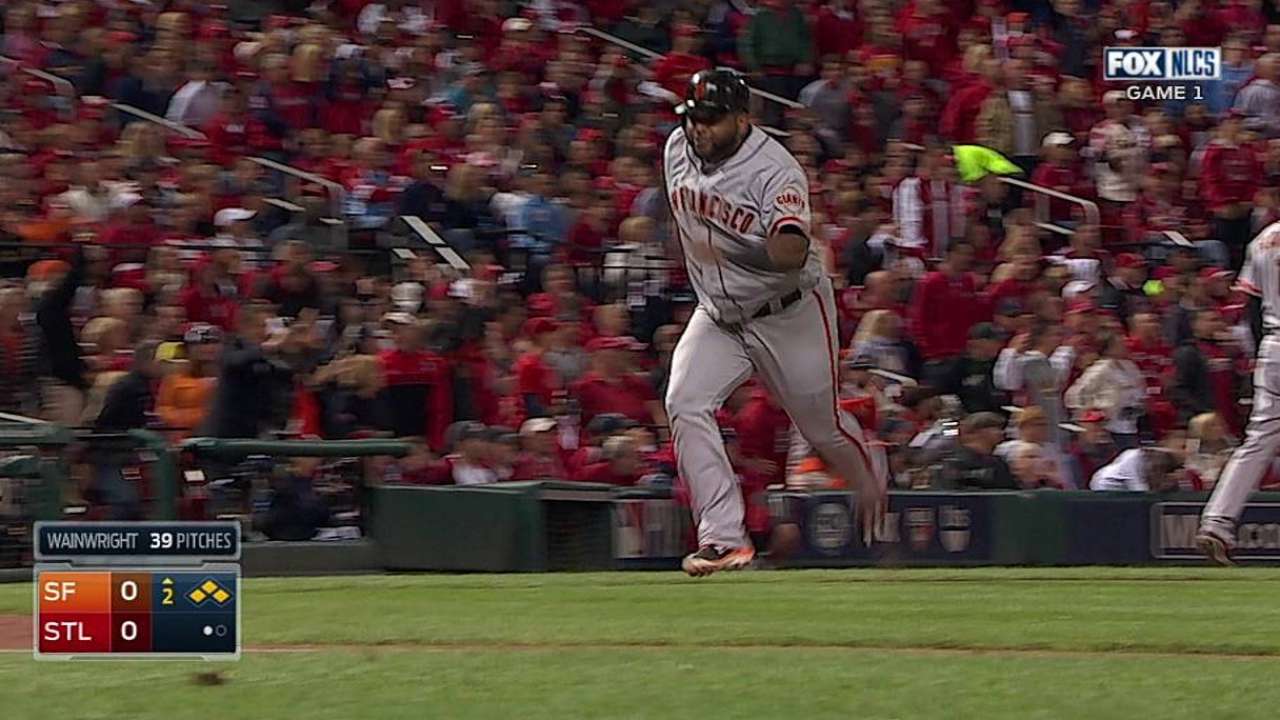 SOUND SMART WITH YOUR FRIENDS
• The NLCS Game 1 winner has advanced to the World Series in 17 of 22 seasons since 1991.
• Posey extended his postseason hitting streak to seven games, dating back to Game 4 of the 2012 World Series. He's batting .344 (11-for-32) during this stretch.
• Since the start of the 2010 postseason, San Francisco's pitching staff has fashioned 10 shutouts, by far the most in the Majors. Detroit and St. Louis have four apiece since then.
NEXT GAME
Sunday's Game 2 rematch at St. Louis' Busch Stadium is scheduled for 5 p.m. PT, with San Francisco's Jake Peavy opposing St. Louis' Lance Lynn. FOX Sports 1 will handle the telecast.
Chris Haft is a reporter for MLB.com. Read his blog, Haft-Baked Ideas, and follow him on Twitter at @sfgiantsbeat. This story was not subject to the approval of Major League Baseball or its clubs.