Lineups breakdown: Giants vs. Cardinals, Game 1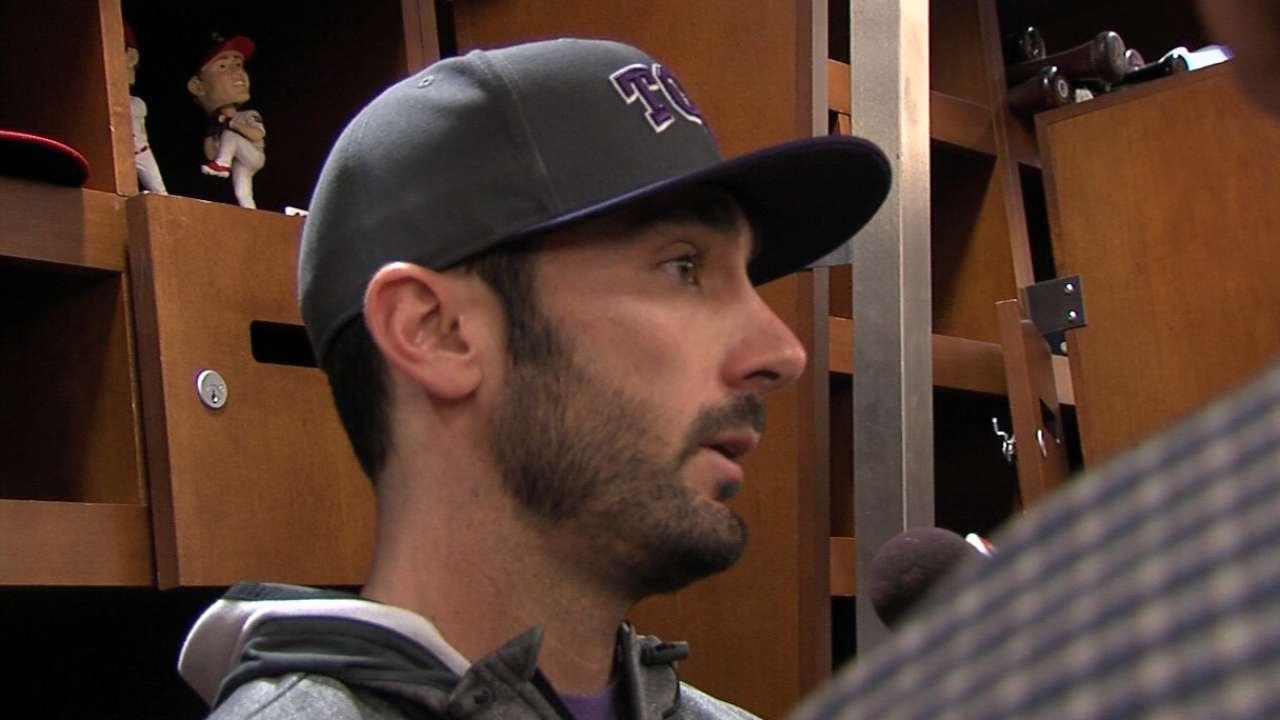 The Giants and Cardinals are back on baseball's biggest stage in October. No surprise there. San Francisco is looking for its third National League crown in five years, and St. Louis is making its fourth straight appearance in the NL Championship Series.
The battle for a spot in the World Series begins tonight with Game 1 of the NLCS (8 p.m. ET on FOX), with staff aces Madison Bumgarner and Adam Wainwright prepared to take the mound. Here's a look at the lineups they'll be facing.
GIANTS
There's nothing too shocking about manager Bruce Bochy's lineup card: This is the same squad the Giants have trotted out against right-handed starters throughout the postseason, including the NL Wild Card Game and the first three NL Division Series games.
The only difference this time around is Bochy now has the power-hitting Michael Morse available off the bench if a need arises, particularly in a late-game situation against a left-handed reliever.
As one might suspect, the Giants haven't had much success individually against Wainwright, the Cardinals' ace right-hander. Hunter Pence, batting fifth, has fared better than any of his teammates, going 15-for-54 with three homers and four doubles in his career off Wainwright. Pence went 5-for-18 with two doubles in the NLDS.
Catcher Buster Posey, batting third, put together the most productive NLDS among the Giants' hitters. Posey finished 7-for-18 with a walk and a strikeout, leading the club's regulars with a .389 average. He's just 2-for-14 lifetime against Wainwright.
And hey, don't forget about the pitcher. Bumgarner hit .258 with four homers and 15 RBIs this season. Furthermore, he's a lifetime .500 hitter against Wainwright -- granted, that means he's 3-for-6, but he can hardly be written off at the bottom of the Giants' lineup.
Leadoff man Gregor Blanco has struggled as much as anyone against Wainwright, collecting only three hits -- none of them for extra bases -- in 21 career plate appearances. He finished the NLDS just 2-for-18 at the plate.
1. Gregor Blanco, CF
2. Joe Panik, 2B
3. Buster Posey, C
4. Pablo Sandoval, 3B
5. Hunter Pence, RF
6. Brandon Belt, 1B
7. Brandon Crawford, SS
8. Travis Ishikawa, LF
9. Madison Bumgarner, LHP
CARDINALS
The Cardinals' hottest hitters in the NLDS are also their best matchups, historically, against the left-handed Bumgarner.
Matt Carpenter, batting leadoff, went 6-for-16 with three doubles, three homers and seven RBIs in the Cardinals' series victory over the Dodgers. He's only logged six plate appearances against Bumgarner, but he's 3-for-5 with two doubles and a walk in those six trips, and there's certainly no sign he'll slow down any time soon.
Center fielder Jon Jay, slotted in the seventh spot in the lineup, had five hits in 11 at-bats in the NLDS. He's 6-for-14 with three doubles in his career when facing Bumgarner.
Left fielder Matt Holliday, batting third, doesn't boast impressive numbers against Bumgarner -- he's just 3-for-18 with five strikeouts and no extra-base hits -- but he managed four hits and three RBIs in the NLDS.
Shortstop and cleanup hitter Jhonny Peralta has struggled against the Giants' lefty ace despite the obvious platoon advantage, recording only one hit in 11 trips to the plate against Bumgarner -- but that one hit was a home run, the only one any of the current Cardinals' hitters have ever managed against Bumgarner.
1. Matt Carpenter, 3B
2. Randal Grichuk, RF
3. Matt Holliday, LF
4. Jhonny Peralta, SS
5. Matt Adams, 1B
6. Yadier Molina, C
7. Jon Jay, CF
8. Kolten Wong, 2B
9. Adam Wainwright, RHP
Adam Berry is a reporter for MLB.com. Follow him on Twitter at @adamdberry. This story was not subject to the approval of Major League Baseball or its clubs.