Yost sets Royals' likely rotation through Game 4
Guthrie starting third contest, with Vargas slated to follow on Tuesday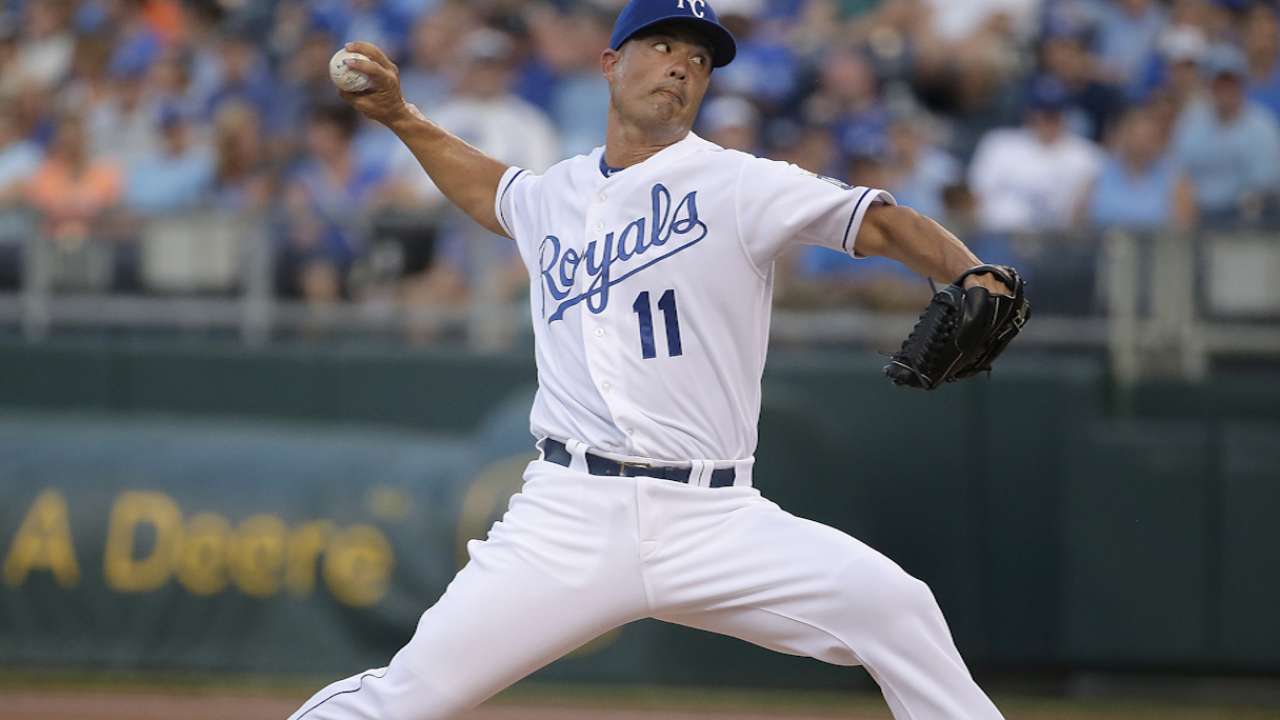 BALTIMORE -- The Royals' pitching seems set for the first two games in Kansas City, with Jeremy Guthrie starting Game 3 on Monday and Jason Vargas starting Game 4 on Tuesday.
The nomination of Vargas comes with a typical Ned Yost qualification -- "Yeah, probably," the manager said -- but it's pretty solid, because he also indicated that starter Danny Duffy would be operating out of the bullpen.
With James Shields pitching Game 1 and Yordano Ventura going in Game 2, that covers the starting rotation assignments so far in the American League Championship Series against the Orioles.
Because the Royals are carrying 11 pitchers on the 25-man roster instead of 12, Duffy's role is likely going to be in relief, as Yost said: "We like having that extra power arm down there."
Guthrie will be starting with 16 days of rest since he last pitched at Chicago on Sept. 26, shutting out the White Sox for seven innings in the Wild Card-clinching victory for the Royals. He ended the season with three straight victories (20 1/3 innings), giving up one earned run in that span.
But Guthrie hasn't pitched yet in the postseason, and he's not sure how the long layoff will affect him.
"I've never had this much time between starts, aside from being on the DL," Guthrie said. "So I don't view it one way or another. I was able to throw a simulated game, which at least gave me the opportunity to go out there and face hitters and treat them like I would in a game. That went well. I had a feel for my pitches. I don't think you'll see too much difference."
Yost said he's not concerned about the long layoff.
"This time of year, Jeremy has done better with a little extra rest. So he's strong, healthy, ready to go," Yost said.
Vargas started Game 1 of the AL Division Series at Anaheim and gave up two runs on three hits in six innings. That was a snap back from his previous four starts, all Royals losses, in which he had a 9.00 ERA (18 earned runs over 18 innings).
Duffy, who last started on Sept. 27 at Chicago, has been in the bullpen since the postseason began. He worked in one game, the ALDS opener against the Angels, and picked up the victory with a scoreless 10th inning in the 11-inning, 3-2 win.
Dick Kaegel is a reporter for MLB.com. This story was not subject to the approval of Major League Baseball or its clubs.