Tale of the tape: Orioles-Royals, Game 3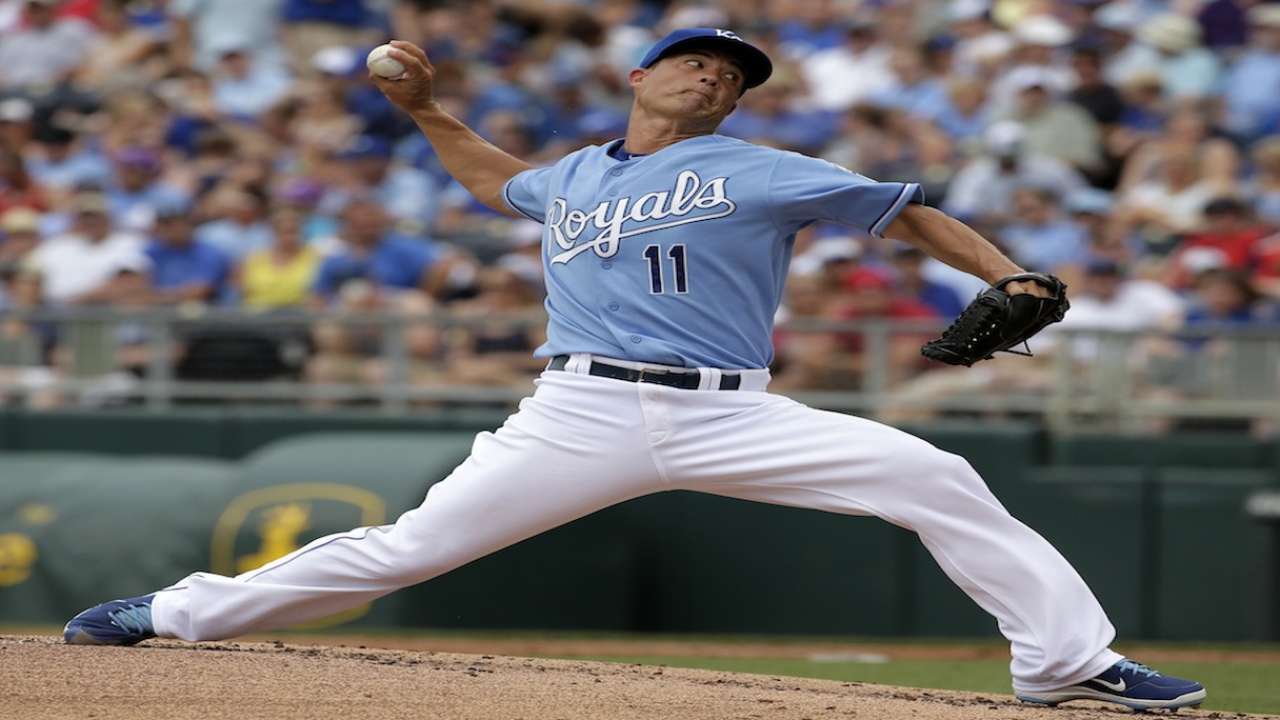 Jeremy Guthrie, Royals
Against the Orioles
2014: 2 GS, 0-1, 3.60 ERA
Career: 4 GS, 2-1, 2.67 ERA
Loves to face: Adam Jones, 1-for-12, 2 K
Hates to face: Alejandro De Aza, 8-for-32, 4 BB
Game breakdown
Why he'll win: As an Oriole from 2007-11, Guthrie knows this team well. He also enters Game 3 with a 0.44 ERA in his last three starts. No current Oriole with more than five plate appearances against him has had any real degree of success.
Pitcher beware: Guthrie struggled against some of the American League's best offensive teams this season. He twice allowed eight runs to Detroit (second in the AL in runs), and surrendered six runs to Oakland (3rd) and five to Minnesota (5th). Now, he faces the club that led the Majors in home runs (211) during the regular season.
Bottom line: Manager Ned Yost showed faith in Guthrie by selecting him as his Game 3 starter. The 11-year vet should reward him with a quality outing.
Wei-Yin Chen, Orioles
Against the Royals
2014: 2 GS, 1-0, 2.19 ERA
Career: 6 GS, 1-1, 4.17 ERA
Loves to face: Salvador Perez, 2-for-13
Hates to face: Billy Butler, 8-for-18, 2 HR, 2 2B
Game breakdown
Why he'll win: An impressive month of September (2.05 ERA, five starts) bodes well for Chen. He also excels on the road -- sporting a 3.33 ERA, compared to a 3.76 ERA at Camden Yards.
Pitcher beware: Five of the Royals' regulars have succeeded against Chen in the past. Eric Hosmer (7-for-17, two homers), Alcides Escobar (5-for-17), Alex Gordon (5-for-16), Lorenzo Cain (4-for-12) and Butler are all batting .294 or higher against the left-hander.
Bottom line: Chen must shake off a rough outing in Game 2 of the AL Division Series versus the Tigers -- where he allowed more than four runs for the first time since June 28 -- and revert back to the formula that worked for him in September.
Jackson Alexander is an associate reporter for MLB.com. This story was not subject to the approval of Major League Baseball or its clubs.