Royals take the Lo road, grab 2-0 ALCS advantage
Two-run ninth secures win; Cain goes 4-for-5, makes diving catch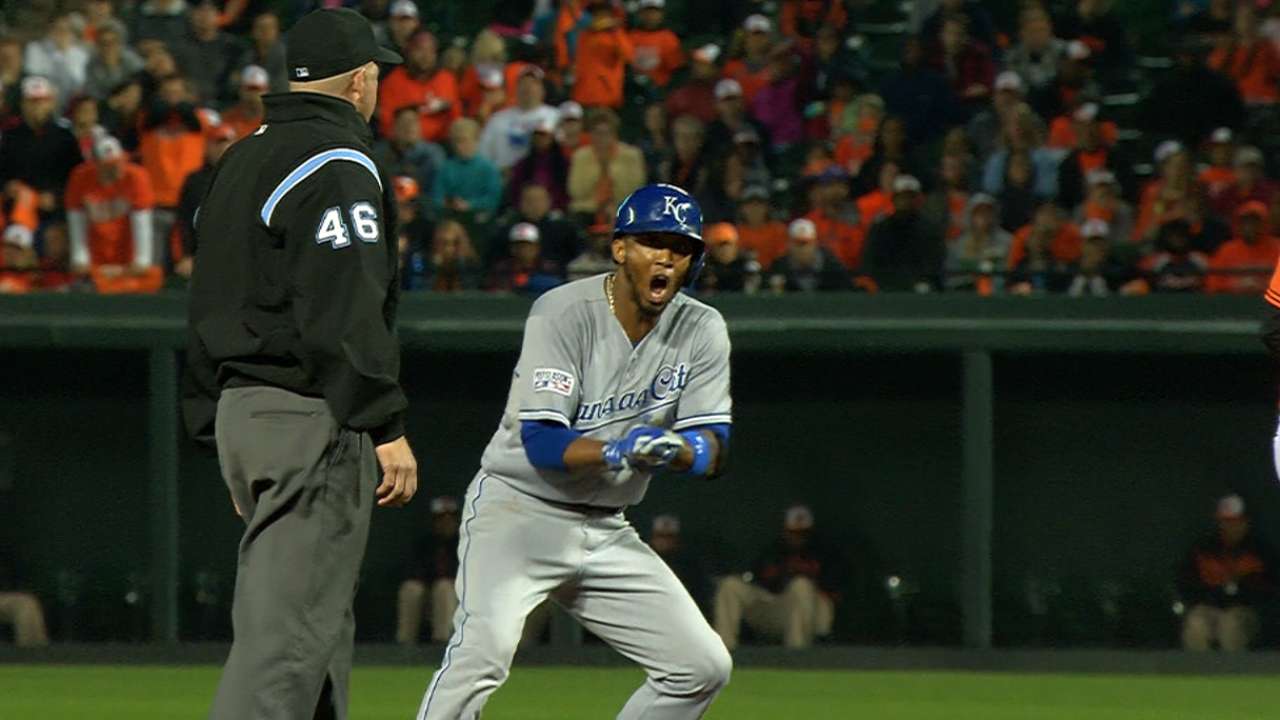 BALTIMORE -- It was yet another gripping, spectacular night of October baseball at Camden Yards on Saturday, as the Royals once again went to the wire to defeat the Orioles, 6-4, to take a 2-0 lead back home in the American League Championship Series.
The Royals struck for two runs in the ninth inning to break a 4-4 tie and disappoint most of 46,912 fans at orange-hued Camden Yards. The Royals now can take the best-of-seven ticket to the World Series by winning two of a possible three games at Kauffman Stadium.
"With their crowd rocking the way it was, it was awesome to come in here and get two wins. We're not done yet. We've got work to do," said third baseman Mike Moustakas.
"I know you get tired of hearing it, but I just stay focused on today," manager Ned Yost said after his club's victory. "And again, when you start this series playing against a ballclub of this caliber, I think when you go into a series like this, if you could go home 1-1, you're going to be really, really happy. If you can go home 2-0, that's as good as it gets.
"Going home 2-0 with our crowd for the next three days is going to be exciting."
The Orioles had not lost two games in a row at Camden Yards since June 28-29, when they lost twice to Tampa Bay.
"We're going to keep fighting because we're going to the World Series," said reliever Kelvin Herrera. "That's in our mind right now."
HOW THE ROYALS WON THE GAME
In the top of the ninth, Omar Infante reached on an infield single and pinch-runner Terrance Gore was bunted to second by Moustakas, a left-handed hitter, with lefty closer Zach Britton on the mound.
"Britton is really tough on lefties," Yost said. "We had a decision to make right there. If Omar got on, do we pinch-hit [Christian] Colon and bunt him over or do we try to create a little havoc and pinch-run for Omar and let Moose bunt. That was the direction we took, and it worked out great for us."
On Britton's next pitch, Alcides Escobar hit a sharp grounder just inside the first-base bag and down the right-field line to score Gore. Jarrod Dyson then reached on an error and Lorenzo Cain singled in Escobar with his fourth hit, a single, to provide an insurance run.
THE MOMENTS THAT MATTERED
Good read by Cain: Cain followed Nori Aoki's first-inning single with a double to right field. Cain correctly judged that Eric Hosmer's floater into short left field would fall safely just out of shortstop J.J. Hardy's reach. So, thanks to his good read, Cain was speeding right on Aoki's heels and both scored on the bloop single for a 2-0 lead.
"We'll take anything we can get like that," Yost said. "Anytime it hits the outfield grass, we'll take it."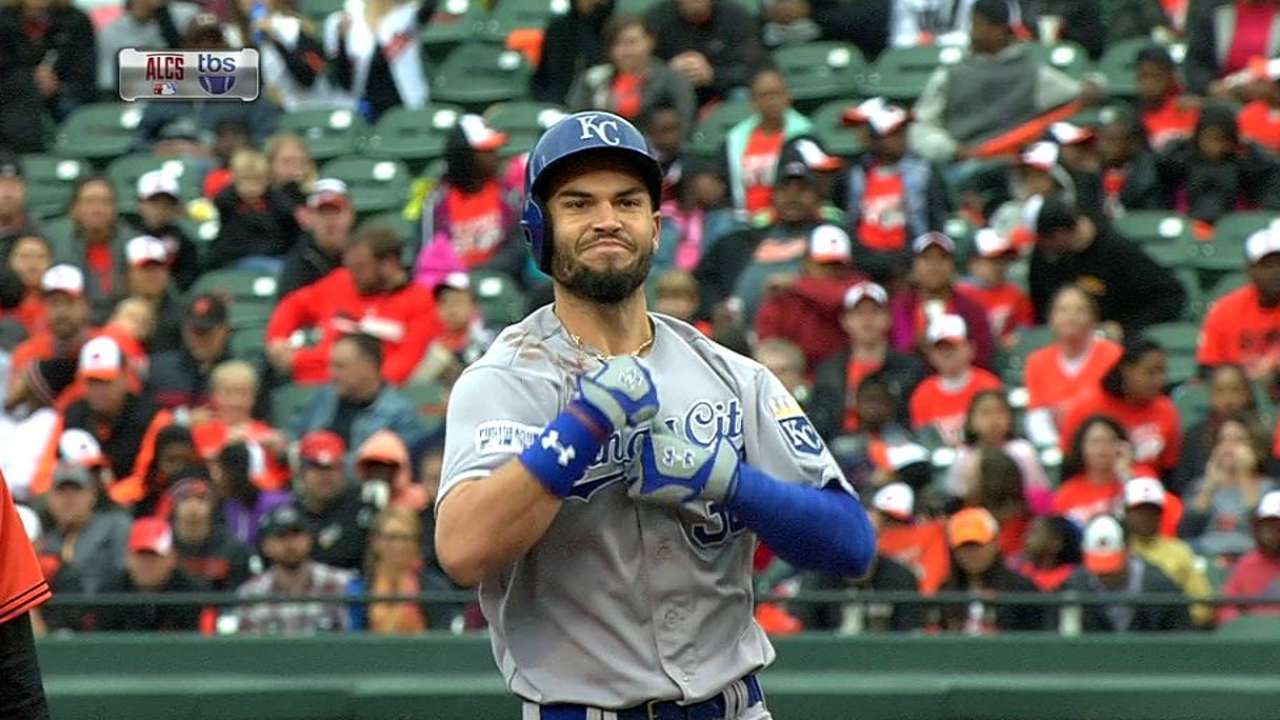 Orioles find range: Out-homered three-to-none in Game 1, Adam Jones finally put the Orioles on the four-base list in the third inning. He deposited a Yordano Ventura pitch into the left-field stands, and the two-run blast created a 3-3 tie.
Moose on the loose: Moustakas hammered his fourth home run in six postseason games, teeing off on Orioles starter Bud Norris for a solo shot to right field in the fourth. That broke the 3-3 tie. Later, he put down a sacrifice bunt to help get the decisive ninth going.
"We've won ballgames a ton of different ways. We can pitch and play some defense, or we can go out and score some runs," Moustakas said. "If we need it, we can drag, we can hit and run, we can do all those things and push a couple runs across. That's just a tribute to everyone in this clubhouse and how hard we've worked."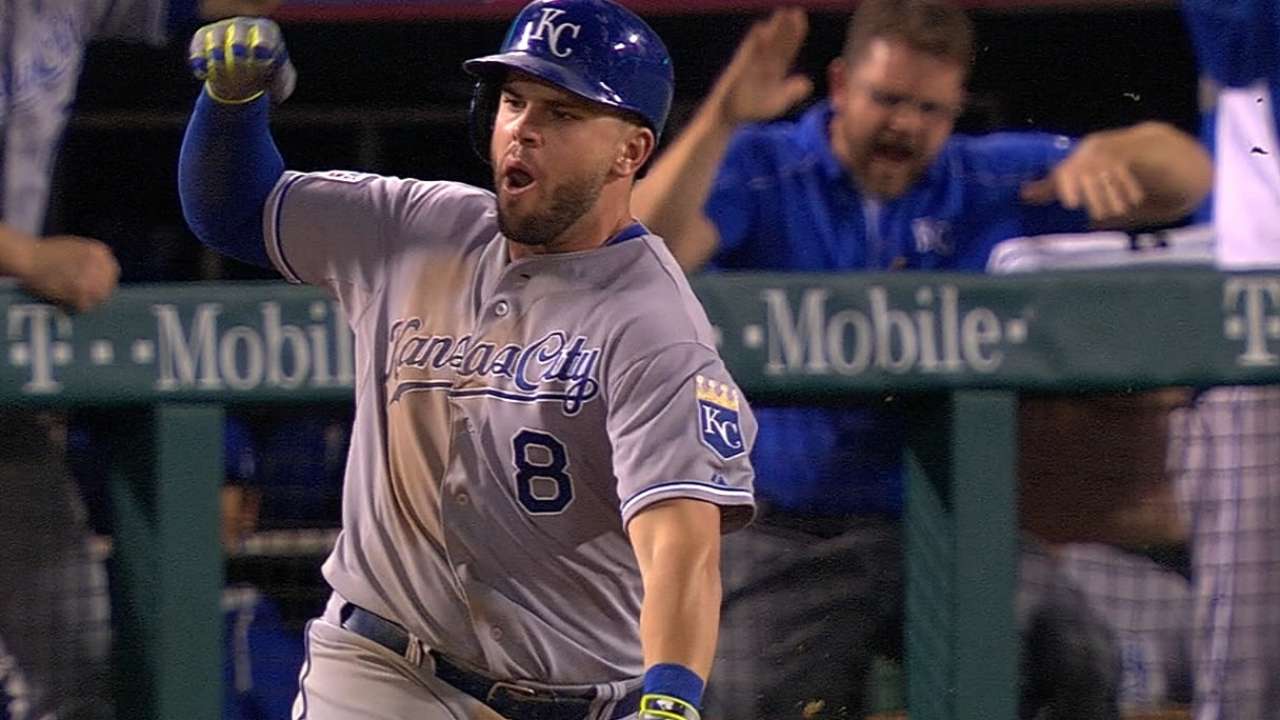 MEDICAL REPORT
Ventura got through 5 2/3 innings before indicating that something was wrong. Catcher Salvador Perez, the infielders, head trainer Nick Kenney and Yost all converged on the mound and Ventura came out of the game.
The Royals reported that Ventura left with right shoulder tightness and afterward the right-hander insisted he was fine.
"I'm relieved that it was just tightness and feeling tired instead of soreness. I'm very confident that the trainers will be able to have me ready for my next start," he said.
Ventura gave up four runs, five hits and three walks and said he was having trouble gripping the ball the mid-50s temperatures.
"I remember some of the first places I played in Class A, they had weather like this, but it's been a while," he said "This is a different experience from what I've been used to recently."
UNSUNG HERO
Wade Davis pitched a scoreless eighth inning to pick up the win, giving him the win in both Games 1 and 2 of the ALCS. He's the first to accomplish that feat since Atlanta's Alejandro Pena beat the Rockies in the first two games of the 1995 National League Division Series. Baltimore's Darren O'Day took the loss for the second straight game, making him the first to do so since Dodgers reliever Dave Stewart lost the first two games of the 1981 NLDS at the Astrodome.
Davis allowed just one hit on Friday, one night after throwing two scoreless innings of relief in Game 1. He has pitched in all six Royals postseason games.
"It's hard. Holland is good. Davis is good. Herrera is good," Orioles manager Buck Showalter said. "And they've got some other arms down there that would be probably in a different role for somebody else. It's why they're playing this time of year."
MEMORABLY BIZARRE
Reliever Herrera, covering first base on Nick Markakis' seventh-inning bouncer, took first baseman Eric Hosmer's throw but missed touching the bag by maybe an inch or two. Yikes!
"I was running too hard to first, I was so excited, and when I realized I was too far, it was too late. It was a mental error there," Herrera said.
So naturally, the Orioles went on to load the bases on a walk and a one-out single, but Herrera escaped on two short flyouts. The last, by Hardy, required a mad dash to the right-field line by Cain.
"That guy's unbelievable, he's got such great range. He doesn't look fast but he gets to that ball quick," Herrera said. "For me, he's one of the best outfielders in the big leagues, no doubt."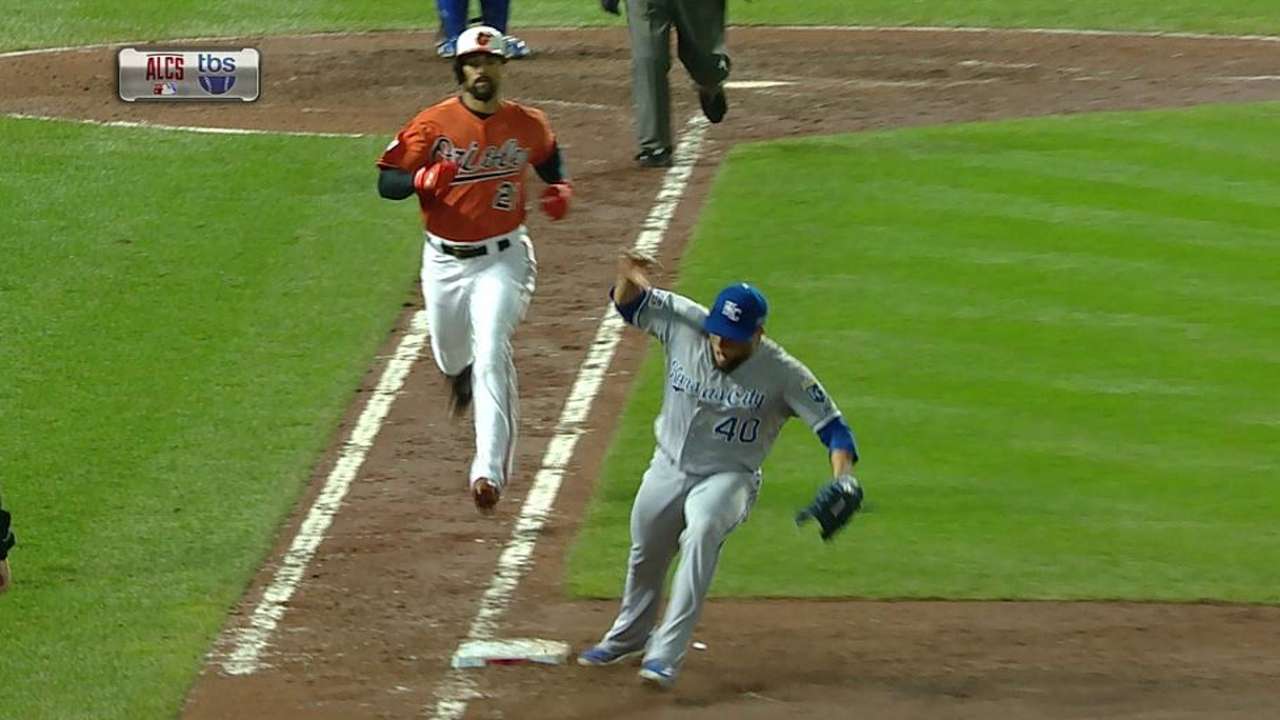 NOT THE WAY IT WAS PLANNED
With the score 4-4 in the seventh, Aoki walked and, as usual, Dyson was sent out to pinch-run. Showalter brought in left-hander Andrew Miller, the better to hold Dyson on base. Cain popped out and, with Hosmer at the plate, Dyson took off -- and was thrown out by catcher Caleb Joseph. It was the second straight night that Dyson was cut down. That's not what speed supposed to do.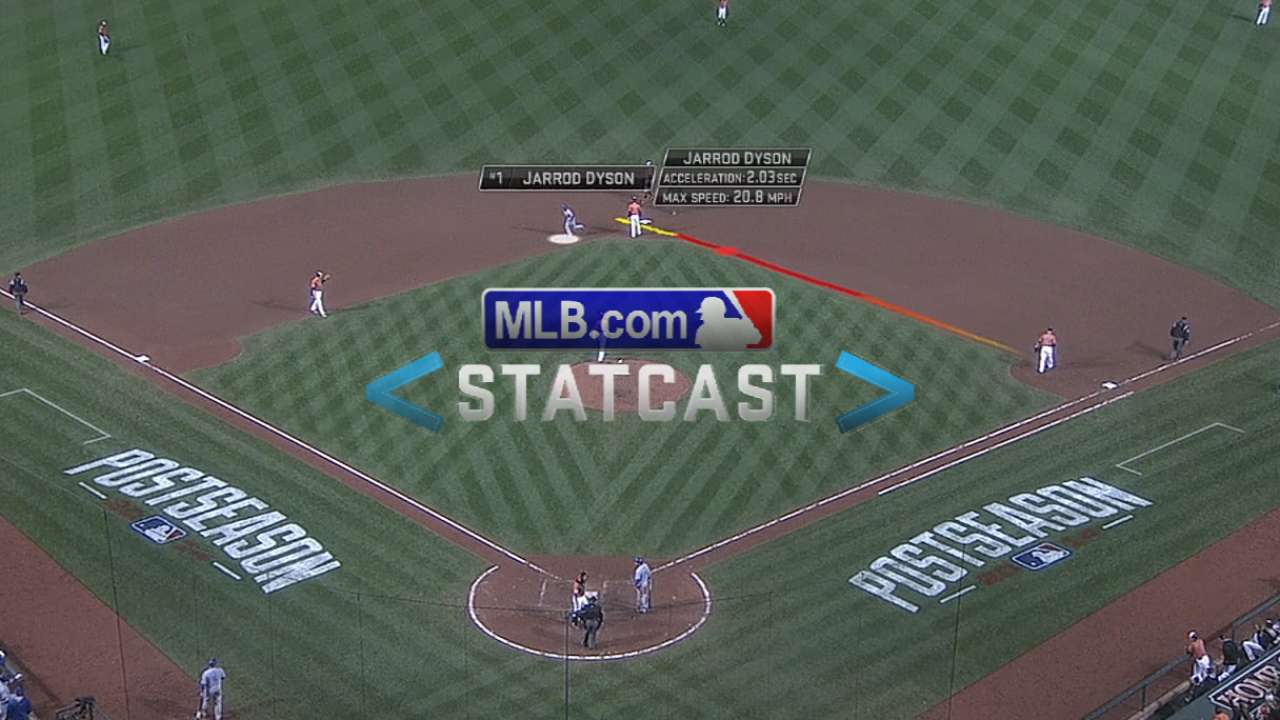 WHAT'S GOING ON HERE?
In the midst of the Royals' big Saturday night, team leader Alex Gordon, who had four RBIs and a homer in Friday night's 8-6 win, struck out in all four plate appearances.
"If I can strike out four times and we win, I'm all for it," Gordon said.
SOUND SMART WITH YOUR FRIENDS
• There has never been a team to get a runner on base in each of the first 17 innings of a postseason series before the Royals in the ALCS. The streak ended with a 1-2-3 eighth. The previous record was 15 by the 2002 A's -- Oakland had a runner on base in each of their first 15 innings against the Twins to start the Division Series.
• The Orioles had not lost two games in a row at Camden Yards since June 28-29 when they lost twice to Tampa Bay.
• Counting 1985, the Royals have won nine straight postseason games, including six this year. It's the longest active streak in the Majors.
NEXT GAME
Game 3 of the ALCS will be at Kauffman Stadium in Kansas City on Monday at 7 p.m. CT on TBS. Right-hander Jeremy Guthrie will start for the Royals and left-hander Wei-Yin Chen will go for the Orioles.
Dick Kaegel is a reporter for MLB.com. This story was not subject to the approval of Major League Baseball or its clubs.