Oct. 11: Guthrie ALCS interview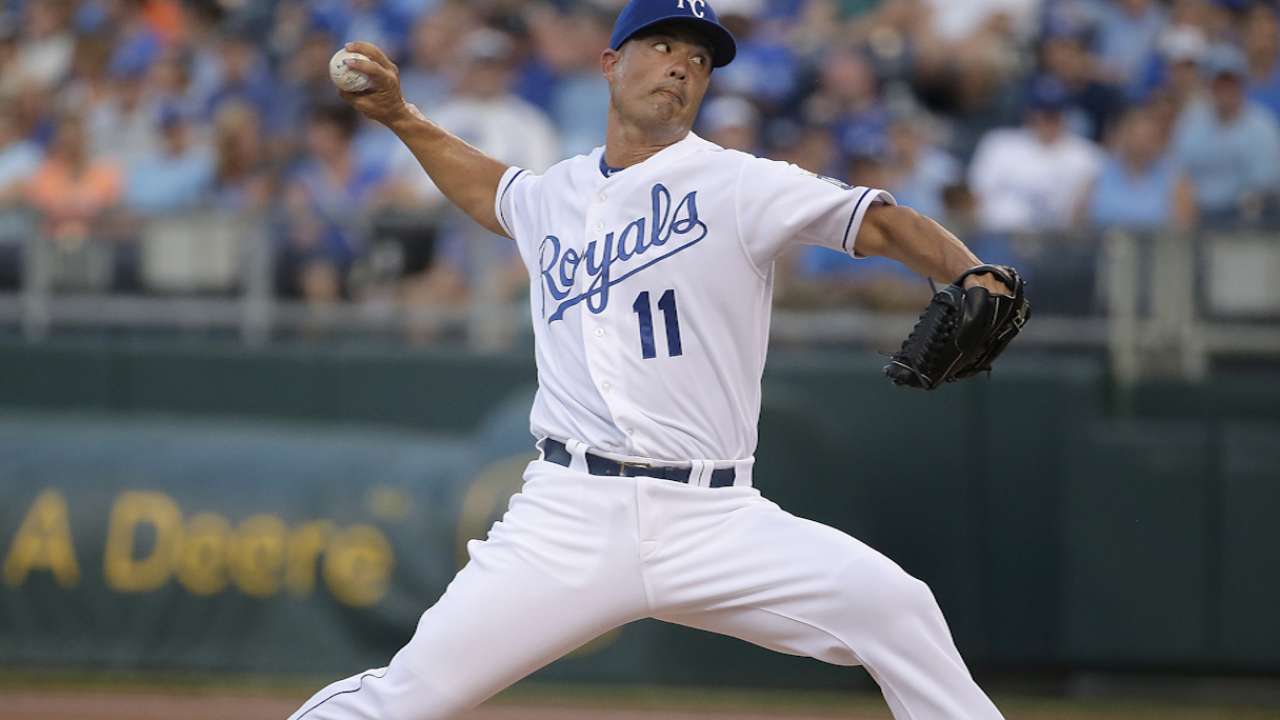 Q. When you were pitching for the Orioles in some very, very difficult years, could you have pictured that you'd be pitching against them when things got good for them in the playoffs?
JEREMY GUTHRIE: I think this is very serendipitous that I leave a franchise that I was a part of for five years and had had a long drought of being in the playoffs, but had a storied history and past, and end up on a team with another rich history, as well, but an even longer drought.
To be in the playoffs with Kansas City is very exciting. And then to come back and play against a team that I played with before makes it even that much more interesting and ironic, I think.
Q. Some of the players in the Baltimore lineup were guys you played with, a couple of them. Has it been too much time from what you might have known about them a few years ago that it may not help you on Monday or does what you learned here with them sort of play a role?
JEREMY GUTHRIE: Every pitcher uses their experience -- both from the past, as well as competing against those players -- to develop a game plan and develop what they feel is their best opportunity to succeed. I was traded three seasons ago, but I've had the chance to compete against the Orioles four separate starts now.
Whether I played with them or not, I've played against them twice this year, twice last year.
Q. How did you have some patience to not necessarily know when you were going to pitch and now you're going to pitch? Were there any moments you're like, "I had good success this year, I was good down the stretch, why am I not pitching?"
JEREMY GUTHRIE: No, no moments like that. An understanding of what's going on is key.
When we played in the ALDS, they told us right up front that we would have James [Shields] pitch -- sorry, [Jason] Vargas pitch Game 1 and then [Yordano] Ventura and James. Naturally, I planned and I prepared to pitch Game 4, if necessary, and fortunately for us it wasn't.
With all the time off, it was anticipated and expected that James again would get the nod as soon as he was available, which was Game 1 in this series. And Ventura has done everything to earn that No. 2 spot.
At that point, I was really expecting Game 3 or 4. Had I been given Game 4, that would have made sense -- having Jason pitch like he did in the ALDS game.
So there's no surprises. I understand, looking from the outside in, what's going on and what we're doing to try to give our team the best chance to win each series. And I was on the side getting the work done that I needed to hopefully prepare myself to pitch well when given the opportunity.
Q. The fact that you have made four starts against them since being traded, does that take the emotional component out of Monday and, obviously, does that help you in pitching a game like this?
JEREMY GUTHRIE: Yeah, I think the emotion will come, obviously, from the playoff game. I think history will be put not even on a back burner, but on some kind of like rotating kitchen, what do they call it, lazy Susan or something. So this is a playoff game, and each one of us is preparing to play a very good team on the other side.
And whether there's history or not, I think each player -- myself included -- has put that on the lazy Susan for the time being.
Q. I know, obviously, you want to go as deep as you can any start that you make. [Orioles manager Buck] Showalter was just in here making the point with the depth of the bullpens at this stage and the number of off-days, length from a starter could be getting in at the sixth inning. Is the pace for a starting pitcher any different? Can you be more max effort, maybe earlier in the game, than a regular-season game, knowing what's coming behind you? Is it any different at all?
JEREMY GUTHRIE: Anyone who has seen the vein in my neck when I pitch probably recognizes that I'm usually max effort -- whether it's April 3 or Oct. 10, 12, 15 -- whatever the day is going to be on Monday. I apologize for not knowing the date.
My approach will be as it always has been. I feel like that gives me the best chance for success. This is new territory for me, but my intent will be to treat it and prepare and pitch as though it's any other game.
Q. Just looking at the matchups against the Orioles' hitters, your numbers against [Adam] Jones and [Nelson] Cruz, in particular, are very good. What is it about your repertoire that's allowed you to have great success against two hitters?
JEREMY GUTHRIE: A lot of it is fortune, guys playing good defense behind me. Sometimes it's executing pitches and other times it's having a good game plan. There's a number of things that go into those at-bats.
These are some of the hottest, best hitters in baseball -- not just of the four teams left, but even at the end of the regular season.
So our work is cut out for us. We have to go out there, I personally have to go out there, and prepare. I need to throw my pitches where I feel like they give me the best chance to succeed. And I'll identify those spots and those pitches and hopefully those counts and be able to do that.
Q. Does the extra time off give you any benefit at all?
JEREMY GUTHRIE: I'm not sure. I've never had this much time between starts, aside from being on the DL. So I don't view it one way or another. I was able to throw a simulated game, which at least gave me the opportunity to go out there and face hitters and treat them like I would in a game. That went well. I had a feel for my pitches.
I don't think you'll see too much difference. But hopefully being on the mound a number of times as I have been -- pitching that game and going through the normal routine -- will allow me to go out there and feel just like I do when I pitch every five days.