Oct. 11: Adam Jones ALCS pregame interview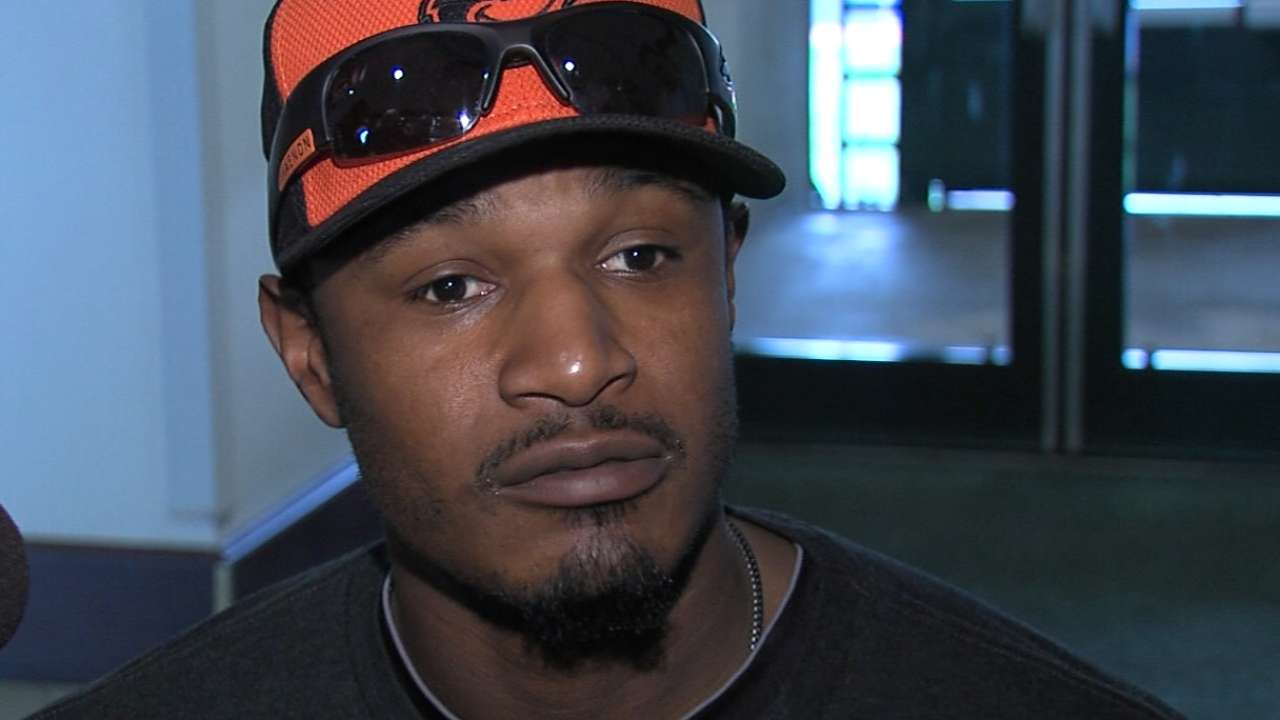 Q. Adam, talk about how easily and quickly you've been able to shake off disappointing losses during the regular season? Is that tougher in postseason?
ADAM JONES: Obviously the games are more important now. But the mindset is the same. They got last night, great game.
But today is a new day. Today is a new opportunity for us to even the series. And the guys in that clubhouse, seems like a normal day at the office to us. We're showing up, we're all the same mindset, the same attitudes we always have. And we've got to go out and play a Big League game.
Q. How tough was it to stay patient during your early years with the Orioles in terms of the team results, and what gave you the faith it was all going to work out?
ADAM JONES: When I first came over here I was 22, and the opportunity to play every day, I just wanted to play. As you get a little older you realize the game is about winning.
You win, you have a city like Baltimore, very prideful. You have a city like Kansas City, very prideful, also. A rich baseball tradition.
But the fans have to have a certain level of expectations. And over the last few years we've built those expectations back up. So it's good to come to every Spring Training knowing that our fans are counting on us to make them smile, make them happy, make them sell out Camden Yards and field a good baseball team.
Q. You told me last week that when you get in trouble as a hitter is when you try to do too much.
ADAM JONES: Right.
Q. Do you think you've been at all guilty of doing that in the postseason?
ADAM JONES: I just think that what I do in the regular season, I think I need to cut back a little bit more in the postseason, the aggression in the regular season. I think it intensifies when the postseason comes on, the strike zone is smaller. Every pitch is that more of importance. And you've got to lock in better. It's the same game, it's just the focus has to be stronger.
Q. In the at bat against Herrera, I believe it was the 6th, did he do anything that surprised you in terms of how he approached you in that particular at bat last night?
ADAM JONES: No, Herrera, we know what he's going to do, he's going to be mid to upper 90s, he's got a good curveball and change up. He's going to come after you with his heater. He establishes that. The ball runs, he's got a lot of movement on that ball. Me and Cruz were trying to have real good at bats. Men on first and second, we want to obviously get the runs in, drive the runs in.
He made some good pitches. The ball that Cruz hit for a double play, the ball was hit really, really hard. Escobar made a really good play and they were able to turn it.
Q. Just a thought about Ventura today and what you saw from him this year in the times you faced him?
ADAM JONES: Ventura is going to come at you, he's an aggressive pitcher. I think that's their whole style. They establish their fastballs and then they work off of that.
I seen on one of the reports that he now has a cutter. I think you might want to attribute that to James Shields, because that's one of his bread and butters over the past few years.
He has electric stuff. That's the beauty of it. Their pitching staff, they've got good arms over there. At 22 years old for him, he's on a big stage and he's throwing mid to upper 90s with a good curveball and a good change up.
I think we need to make him uncomfortable, get some runs early, and let Norris settle in. And just try and score every opportunity we can. Because it's not going to be easy against that pitching staff.
Q. When you guys were able to get Andrew Miller at the trade deadline, how big a daily deal was that, from what you knew about him?
ADAM JONES: Huge deal. First off he solidified the lefty lefty matchups. Obviously our closer is left handed. We've got Matusz and McFarland. But he's been in the role of throwing bigger pitches than mostly everybody here in our organization.
Him as a teammate, great teammate. I think he's really meshed well with our clubhouse. He's solidified getting the ball to Britton or giving it to O'Day. And he's made our team that much better.
Q. In the course of regular season you win games, you lose games. Until last night you've gone almost two weeks without losing a game. Is there a feeling like last night you came back and scored 5 5, you're almost surprised that you didn't win?
ADAM JONES: Well, we went down 4 0, had a pitching change. We said, Now let's chip away at this. It's not going to be easy. But let's chip away. We end up scoring one, we end up scoring three. We kept chipping away.
That's how the team was made. We're down, the game is not over, there's still a lot of outs to be played. Delmon didn't even start off, you have Flaherty and then Paredes trading opportunities to get Delmon up with the tying run, he gets a hit.
We continuously grind and hustle and play the game right to put ourselves in good situations. Obviously we lost last night, but we brought the go ahead run to the plate, the winning run to the plate. And against a closer like Holland with a 3 1 lead, it doesn't happen very often.