Guthrie looks to give Royals commanding ALCS lead
Veteran right-hander facing an Orioles team he pitched for from 2007-11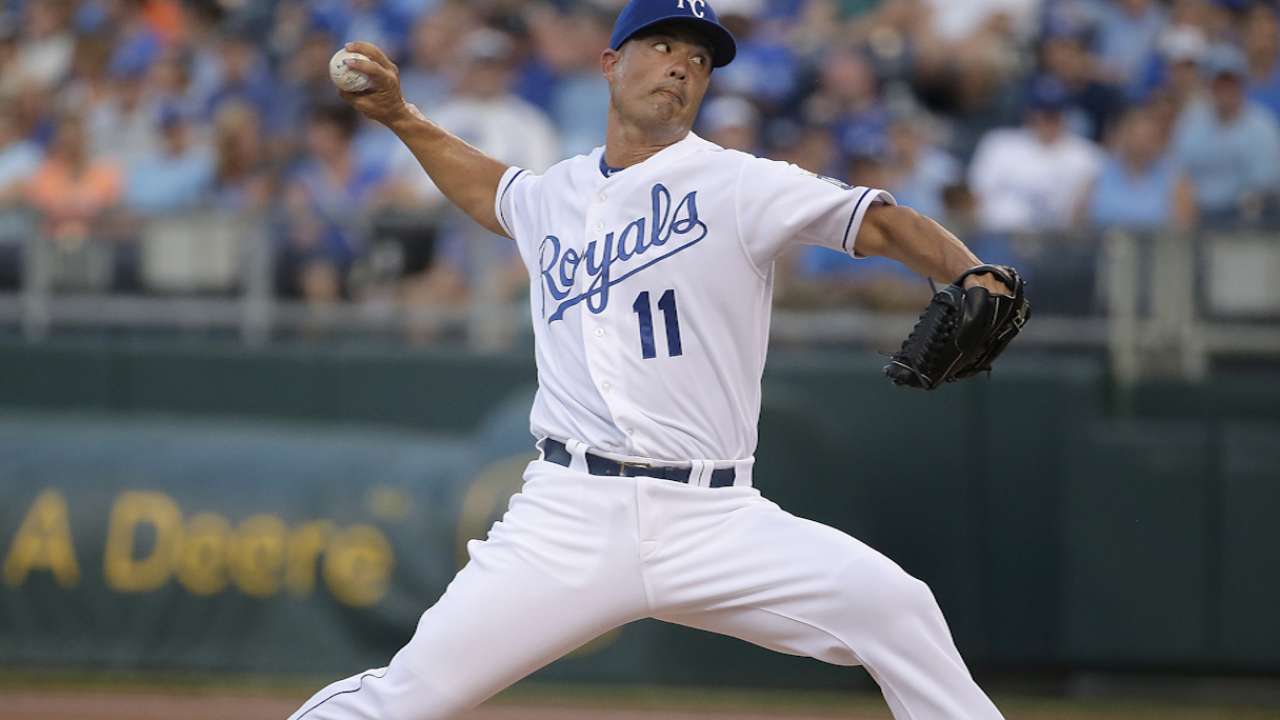 KANSAS CITY -- Jeremy Guthrie has gone through 11 years in the big leagues and nearly two weeks of inactivity, waiting until he can finally make his first start in the postseason.
So, what's one more day?
Game 3 of the American League Championship Series at Kauffman Stadium was rained out on Monday, pushed to Tuesday at 7 p.m. CT on TBS. But that doesn't change the fact that Guthrie will take the ball for the Royals with a chance to give his team a commanding 3-0 lead, and that his postseason debut will come against an Orioles club with which his career took off, a franchise he pitched for from 2007-11.
"This is very serendipitous," said Guthrie, who will match up against Orioles left-hander Wei-Yin Chen. "To be in the playoffs with Kansas City is very exciting. And then to come back and play against a team that I played with before makes it even that much more interesting and ironic, I think."
Guthrie, now 35, was claimed off waivers by the Orioles leading up to the 2007 season and given a chance to find himself in the big leagues as a 28-year-old rookie with all of 16 prior appearances with the Indians.
Guthrie won 47 games, averaged 197 innings per season and posted a cumulative 4.12 ERA during a five-year stint on Orioles teams that never won as many as 70 games. He was dealt to the Rockies before the 2012 season, then signed a three-year, $25 million deal with the Royals in November 2012.
History won't be on the proverbial backburner, "but on some kind of rotating kitchen," Guthrie said, trying once again to find the right words. "What do they call it, a Lazy Susan or something?
"Whether there's history or not, I think each player -- myself included -- has put that on the Lazy Susan for the time being."
Guthrie is coming off a regular season in which he posted his best strikeout-to-walk ratio (2.53) since his first year in Baltimore, while adding his best WHIP (1.30) since 2010, topping 200 innings for the fifth time in six years (202 2/3) and posting a 4.13 ERA.
He was ready to pitch Game 4 of the AL Division Series -- which never occurred because the Royals swept the Angels in three -- and will take the mound in Kansas City on an uncommon 17 days' rest. Aside from a stint on the disabled list, Guthrie has never had this much time off between starts. But he recently took part in a simulated game, and Royals manager Ned Yost said there's "no concern" about the long layoff.
"He threw really good during the sim game -- and I mean command, action on his pitches," Yost said of Guthrie, who also threw a bullpen session on Friday.
"Hopefully being on the mound a number of times as I have been," Guthrie said, "and pitching that [sim] game and going through the normal routine will allow me to go out there and feel just like I do when I pitch every five days."
But it won't be like any other five days, because this is the playoffs, and on the other side will be a lot of familiarity.
Guthrie has faced the Orioles four times over the past two years, posting a 2.67 ERA in 27 innings. He played with Adam Jones, J.J. Hardy and Nick Markakis, and he's had success against several of Baltimore's biggest threats. That includes Delmon Young (.148 batting average in 27 at-bats), Alejandro De Aza (.250 average in 32 at-bats), Nelson Cruz (.250 average in 24 at-bats), Hardy (.214 average in 14 at-bats) and Jones (.083 average in 12 at-bats).
"A lot of it is fortune, guys playing good defense behind me," Guthrie said of limiting Cruz and Jones, in particular. "Sometimes it's executing pitches, and other times it's having a good game plan. There's a number of things that go into those at bats. These are some of the hottest, best hitters in baseball -- not just of the four teams left, but even at the end of the regular season. So, our work is cut out for us."
Alden Gonzalez is a reporter for MLB.com. Read his blog, Gonzo and "The Show", and follow him on Twitter @Alden_Gonzalez. This story was not subject to the approval of Major League Baseball or its clubs.