Set for crucial Game 3 start, Chen keeping cool, calm
Lefty, O's confident he'll deliver with club trailing Royals 2-0 in ALCS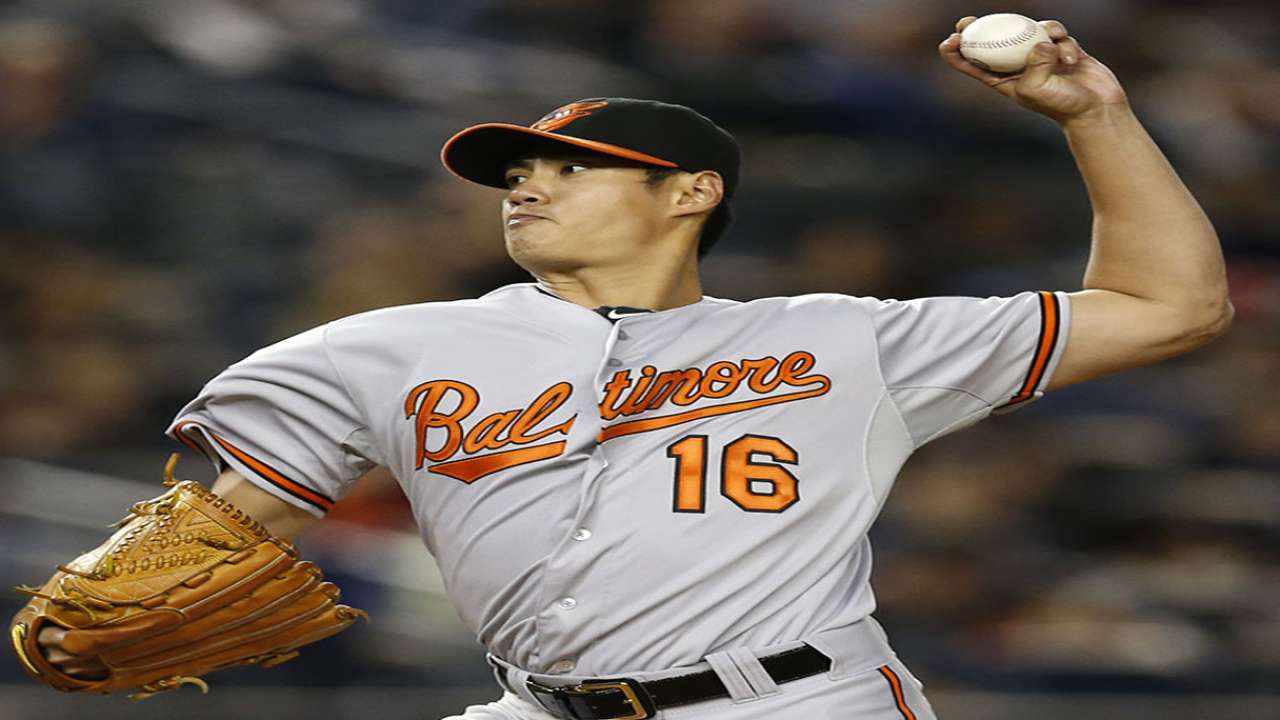 KANSAS CITY -- Approaching the biggest start of his career, Orioles lefty Wei-Yin Chen had to wait one more day. It poured all day in Kansas City on Monday, and Game 3 of the American League Championship Series got pushed back to Tuesday (8 p.m. ET, TBS).
But Chen appears to be in a good frame of mind as he plays the waiting game. Ask anyone around the Orioles, and Chen always appears upbeat.
Take Sunday, for example, when he lounged in the clubhouse with a big smile on his face as he played cards with teammate Alejandro De Aza, offering no hint of the pressure that awaits him in his next start.
Though Chen does his interviews through an interpreter, he speaks freely in English around the Orioles.
If there were cultural barriers when Chen came over from Taiwan and joined the Orioles in 2012, they are hard to find now. One offseason, Chen gallivanted to Las Vegas to spend a few days of fun with some of his Baltimore teammates.
Down 2-0 to the Royals in this best-of-seven series, the O's have full confidence in what Chen can do in this sticky spot.
"Well, we need a big start out of him, that's obvious," said Orioles center fielder Adam Jones. "We have to do what we have to do as an offense. We know what we're going to get out of Chen. He's going to be aggressive. We have to play good defense and score some runs."
Chen has pitched well at Kauffman Stadium, posting a 2.84 ERA in two starts.
"For me, I want to keep it simple," said Chen. "It doesn't matter to me if we're ahead or behind. For me, my job is to go out and pitch a good game. It doesn't change whether it's 0-2 or 2-0, I just want to go out and pitch a good game."
Whatever pressure Chen faces for Game 3 probably doesn't compare with what it was like to enter completely foreign surroundings at the start of his career with the Orioles.
O's manager Buck Showalter always reminds his players to consider what it would be like for them to be in the shoes of someone like Chen.
"Can you imagine going over there not knowing the language, the food, the culture," Showalter said. "He's done a much better job than we have. I had a good conversation with him very early on, tried to get a feel for where he was coming from. He's been solid."
Though it doesn't necessarily come across in his interviews with the media, which are translated by an interpreter, Chen is known to be one of the funnier players in Baltimore's clubhouse.
"Personality? Well, he's very engaging," said Showalter. "His English is a lot better than he may let on. But he's a great player to have around. Very athletic. He takes care of himself. He has good interaction with his teammates. Our guys went out of the way to make his path easier, too."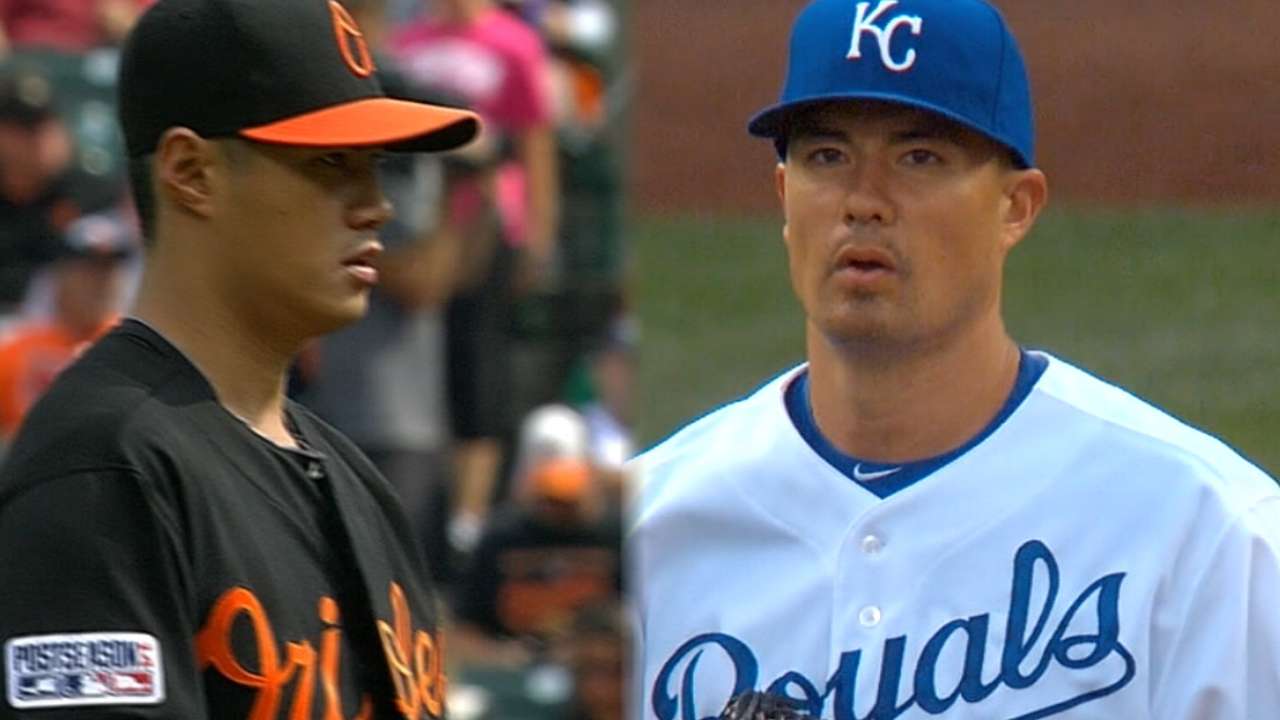 Though Chen struggled in his AL Division Series start against the Tigers, his teammates prefer to look at his overall body of work.
"He had 16 wins," said Orioles first baseman Steve Pearce. "I like when he's on the mound. He throws strikes. He battles and he'll probably be more effective in their ballpark, big ballpark; he's a fly-ball pitcher. I like the matchup."
What the Orioles would love to see more than anything from Chen is for him to pitch into the sixth or seventh inning. Chris Tillman and Bud Norris were unable to get through the fifth in the first two games, putting undue pressure on the bullpen.
Coming off a career-best 16-6 season, perhaps Chen is well-positioned to give Baltimore the kind of start it needs.
"Absolutely," said Norris. "Chen has been great for us all year. He's won a lot of ballgames. He knows how to pitch. His first one wasn't the way he wanted it to go, so he's excited to get back out there. The guys lean on him and we're going to expect another good one out of him."
The Royals have been relentless and timely at the plate during October, and Chen will do what he can to put a stop to it.
"I don't see that much different from what they've done during the season. They got great speed. They try to mess up your rhythm on the mound," said Chen. "For me, the last two games they faced right-handed pitchers and I'm a lefty, so I hope that will give them something different to deal with. So I hope I can do better this time."
Ian Browne is a reporter for MLB.com. Read his blog, Brownie Points, and follow him on Twitter @IanMBrowne. This story was not subject to the approval of Major League Baseball or its clubs.