Lineups breakdown: Royals vs. Orioles, ALCS Game 2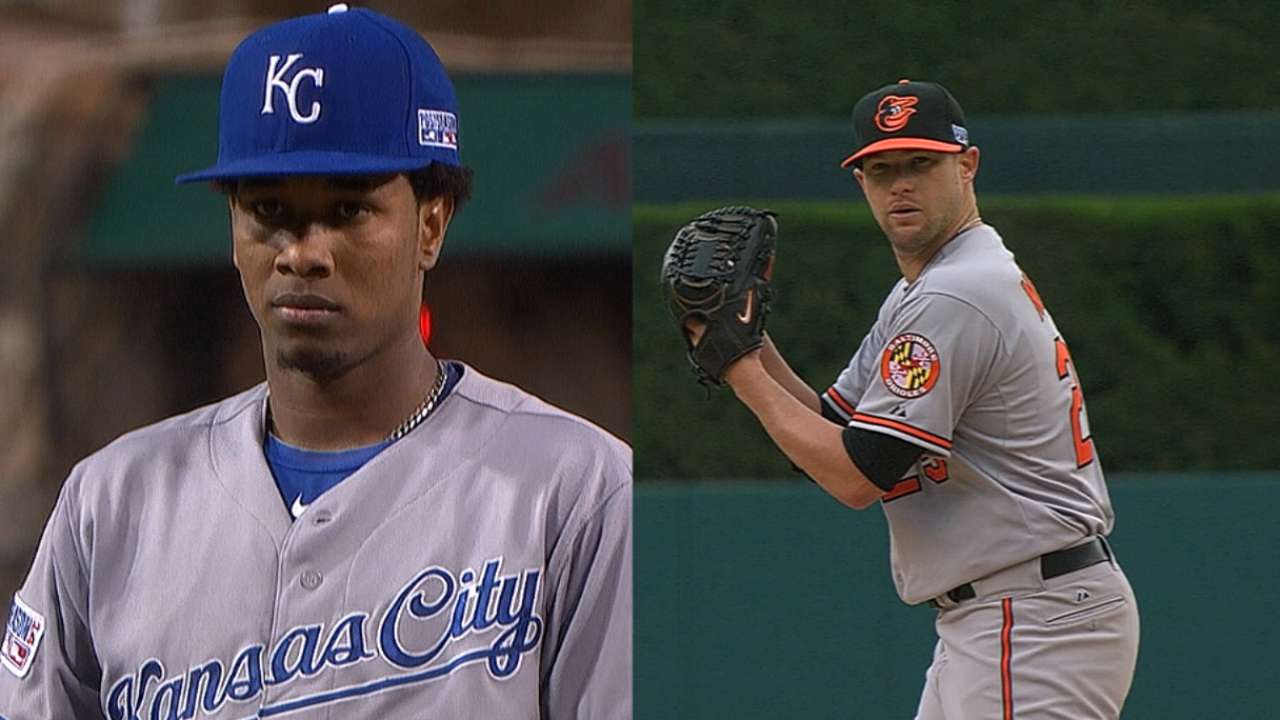 The Royals gained the upper hand in the American League Championship Series on Friday night, escaping with an 8-6 win over the Orioles in 10 innings. All of a sudden, the clubs seemed to swap identities, with Kansas City launching three homers and Baltimore stealing two bases.
Let that serve as another reminder that anything can happen in the postseason. Here's a look at the lineups for Game 2 today (4 p.m. ET on TBS).
ROYALS
Manager Ned Yost is sticking with the same lineup, and it's hard to argue with the Royals' production as of late. Kansas City has scored 32 runs in five postseason games.
The Royals haven't seen much of Orioles starter Bud Norris, and they've had very little success against the right-hander. Collectively, the Royals have hit .224/.274/.224 -- that's 13-for-58 with no extra-base hits in 64 plate appearances -- off Norris in their careers.
Left fielder Alex Gordon, the hero of Friday night's Game 1 victory, has fared better than any of his teammates, going 3-for-6 against Norris. Billy Butler, batting fifth, is 2-for-6.
Second baseman Omar Infante, batting eighth, has seen Norris the most (14 plate appearances), but he's just 3-for-13 off him.
1. Alcides Escobar, SS
2. Nori Aoki, RF
3. Lorenzo Cain, CF
4. Eric Hosmer, 1B
5. Billy Butler, DH
6. Alex Gordon, LF
7. Salvador Perez, C
8. Omar Infante, 2B
9. Mike Moustakas, 3B
ORIOLES
The Orioles made only one adjustment from their Game 1 lineup for today's contest, swapping in catcher Caleb Joseph for Nick Hundley.
Neither Hundley nor Joseph has ever faced Royals starter Yordano Ventura. In fact, the Orioles don't have much experience at all against the flamethrowing right-hander. Baltimore's hitters have combined to face Ventura 44 times, with none of them owning more than seven plate appearances against him.
Orioles shortstop J.J. Hardy, batting sixth, is 4-for-6 with a walk against Ventura. Leadoff man Nick Markakis, who went 3-for-6 on Friday night, also has four hits and a walk off Ventura. Designated hitter Nelson Cruz is 1-for-6 with a homer and three strikeouts off Ventura.
Third baseman Ryan Flaherty, batting seventh, went 3-for-5 with two RBIs in Game 1 and has two hits in six at-bats against Ventura.
Center fielder Adam Jones remains in the No. 3 spot in the Orioles' lineup. He's 0-for-7 in his career against Ventura and has struggled this postseason, going just 3-for-16 in four games. That brings Jones' career postseason line to 5-for-42 with no extra-base hits, one walk and 11 strikeouts.
1. Nick Markakis, RF
2. Alejandro De Aza, LF
3. Adam Jones, CF
4. Nelson Cruz, DH
5. Steve Pearce, 1B
6. J.J. Hardy, SS
7. Ryan Flaherty, 3B
8. Caleb Joseph, C
9. Jonathan Schoop, 2B
Adam Berry is a reporter for MLB.com. Follow him on Twitter at @adamdberry. This story was not subject to the approval of Major League Baseball or its clubs.