O's escape ninth-inning jam with slick moves
Pearce, Hundley nab runner at plate; O'Day induces DP to keep game tied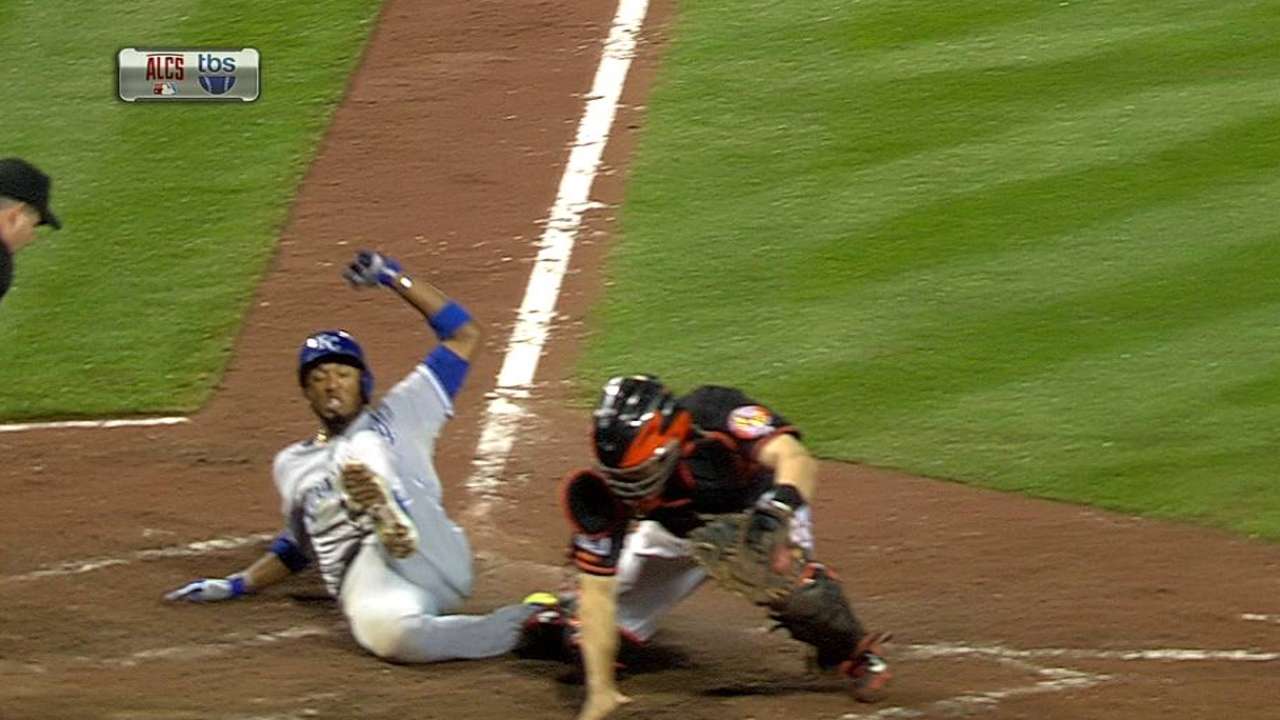 BALTIMORE -- If only the Orioles had been able to complete their comeback in Game 1 of the American League Championship Series on Friday night, their amazing escape in the top of the ninth could have become the stuff of legend.
But even after the 8-6, 10-inning loss, the zany top of the ninth was still worth dissecting, given everything that went on.
The highlight of the escape was a tremendous tandem play by first baseman Steve Pearce and catcher Nick Hundley to cut down a run at the plate.
First, there was a rare control meltdown by Orioles closer Zach Britton, who walked three straight Royals to load the bases with nobody out in a tie game.
"I wasn't that far from the zone," said Britton. "I think you give their hitters credit for not swinging at those pitches. At the same time, I've got to throw strikes. There's a fine line between giving in and trying to get them to swing at my pitch. I didn't do it."
Britton had thrown 11 straight balls when Eric Hosmer ended that streak by swinging at a 1-0 pitch out of the strike zone.
Backed into a corner, Britton got the ground ball he needed, but Hosmer hit it slower than the Orioles would have preferred.
Pearce, standing right next to the first-base bag when he fielded it, alertly did not step on the base before firing to the plate. If Pearce had stepped on the bag, the force at home would have become a tag play.
The hurried throw was a bit off the plate, to the first-base side, but Hundley snared it and stepped on home just in time to get Alcides Escobar, just one of the many burners on the Royals.
"With Britton on the mound, you know you're going to get a ground ball," said Pearce. "Man, Hundley made a great stop. He picked me up. I just tried to get rid of that ball as fast as I could because the ball wasn't hit that hard. He made a great pick."
It was Pearce who gave Hundley a chance in the first place, as his quick release was the only way the O's could get the pivotal out.
"That was a great play," said Hundley. "He's been playing great D. Everybody talks about his offense but his defense has been outstanding. Just have to make a play. Nothing else matters but getting an out."
Even then, there were still two more outs to get, and the Royals still had the bases loaded.
Out of the bullpen came Darren O'Day to face the slow-footed Billy Butler.
Butler had never put down a sacrifice bunt in his career, which is why manager Ned Yost didn't call for one in that situation. And Butler played right into Baltimore's hands, banging into a 6-4-3 double play.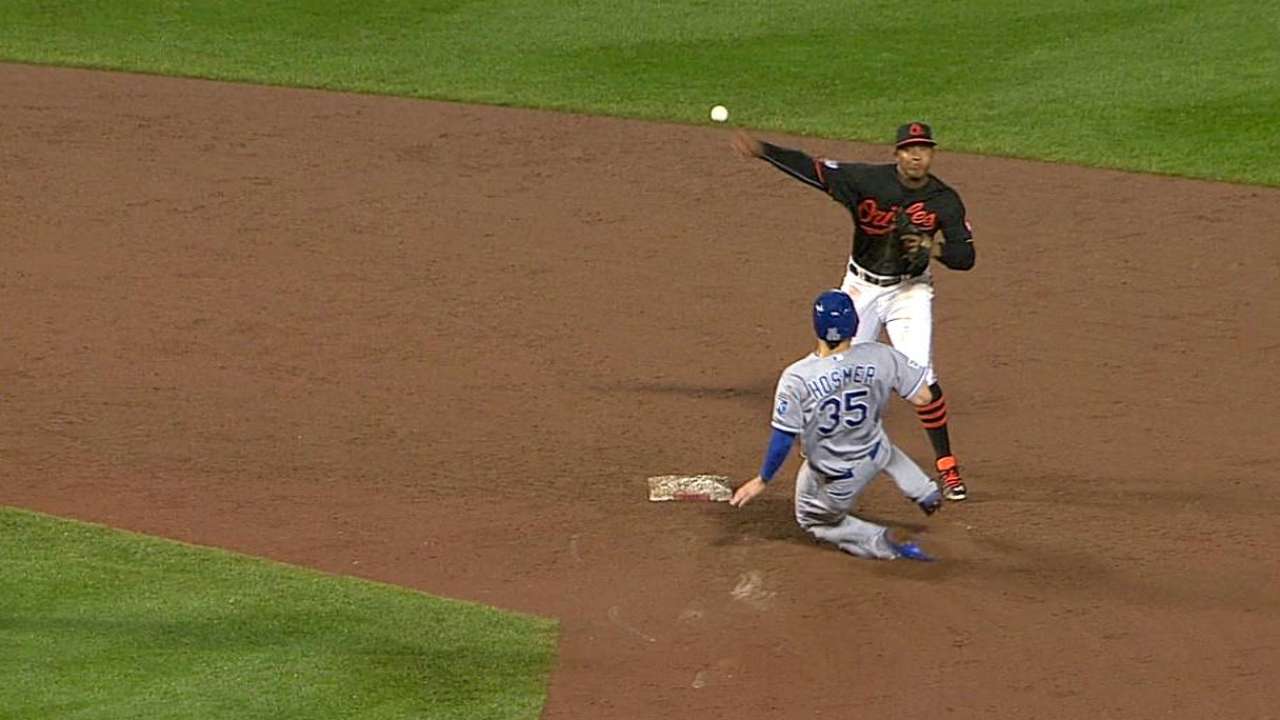 "Darren comes in and does an amazing job to get us out of the inning," said Hundley.
Such a squander would have been crushing for most teams. But the 2014 Royals don't seem to have deflation in their vocabulary.
"Our guys, we've done that a few times this year, bases loaded, nobody out and not scored," said Yost. "We're a little used to that, too. But our guys come in and they stay focused in those situations. They don't get down in those situations. They don't get defeated."
The Orioles, however, went down 1-2-3 in the ninth. And the night took a bitter turn for O'Day in the top of the 10th when he served up a go-ahead home run to Alex Gordon.
"That's tough," said O'Day. "It's a hard-fought game by both teams. It's really tough. It's the highs and lows of playoff baseball. You come in the inning before and you get out of a situation you don't expect to get out of, and then I give up a home run."
Ian Browne is a reporter for MLB.com. Read his blog, Brownie Points, and follow him on Twitter @IanMBrowne. This story was not subject to the approval of Major League Baseball or its clubs.