MLB.com Columnist
Anthony Castrovince
Orioles' glass slipper a better fit for Royals in Game 1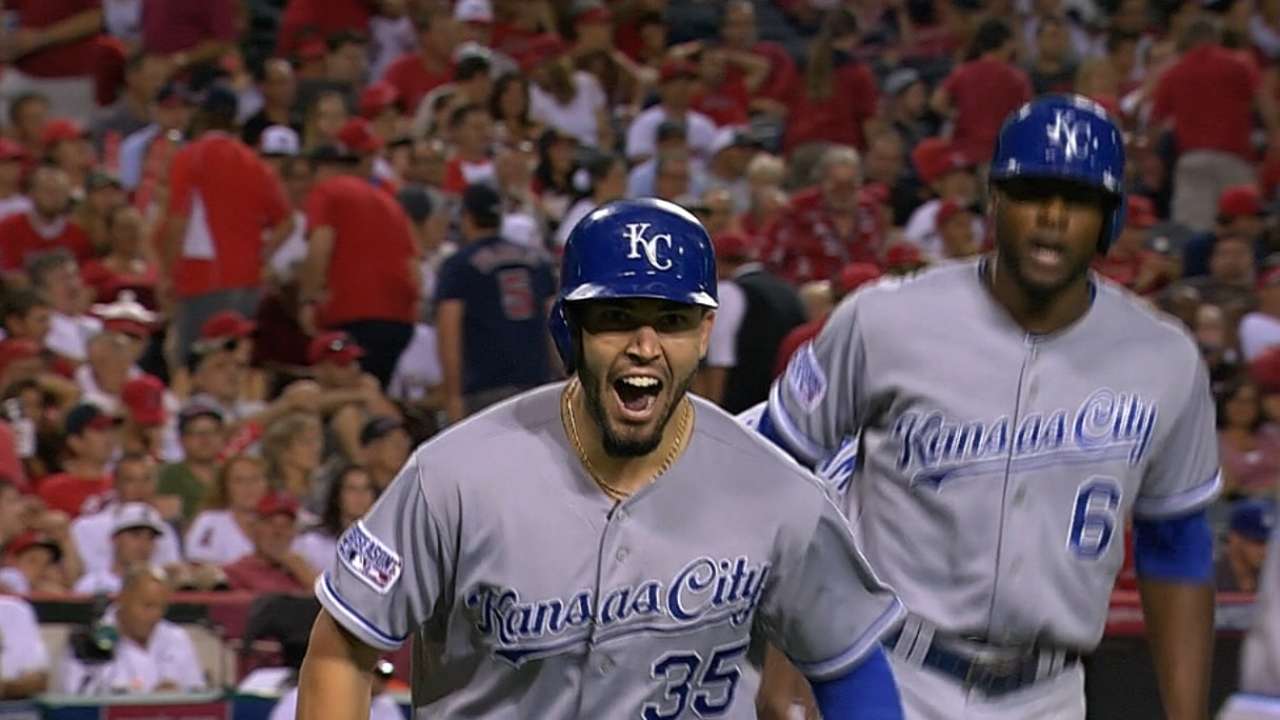 BALTIMORE -- There was that striking screen shot, and perhaps you caught it on the TBS broadcast. It was of a female Orioles fan in that moment after Alex Gordon's go-ahead homer in the top of the 10th of an eventual 8-6 Royals win, and the look on her face -- beyond the chill illustrated by her reddened nose -- was some mixture of sadness, surprise and pure befuddlement. While a picture might, indeed, say a thousand words, this snapshot from a rainy Camden Yards on Friday night really only registered one:
Huh?
The Orioles -- these mighty, magical Orioles -- lost Game 1 of the American League Championship Series?
Really?
On a night when Alejandro De Aza somehow hit a game-tying RBI single between the pitcher's mound and second base? On a night when Steve Pearce made that perfect play at first -- avoiding the bag and throwing home to get the force -- and Darren O'Day got the double-play ball out of Billy Butler to escape the bases-loaded jam left behind by an oddly walk-prone Zach Britton? On a night when the O's scored six runs?
They lost?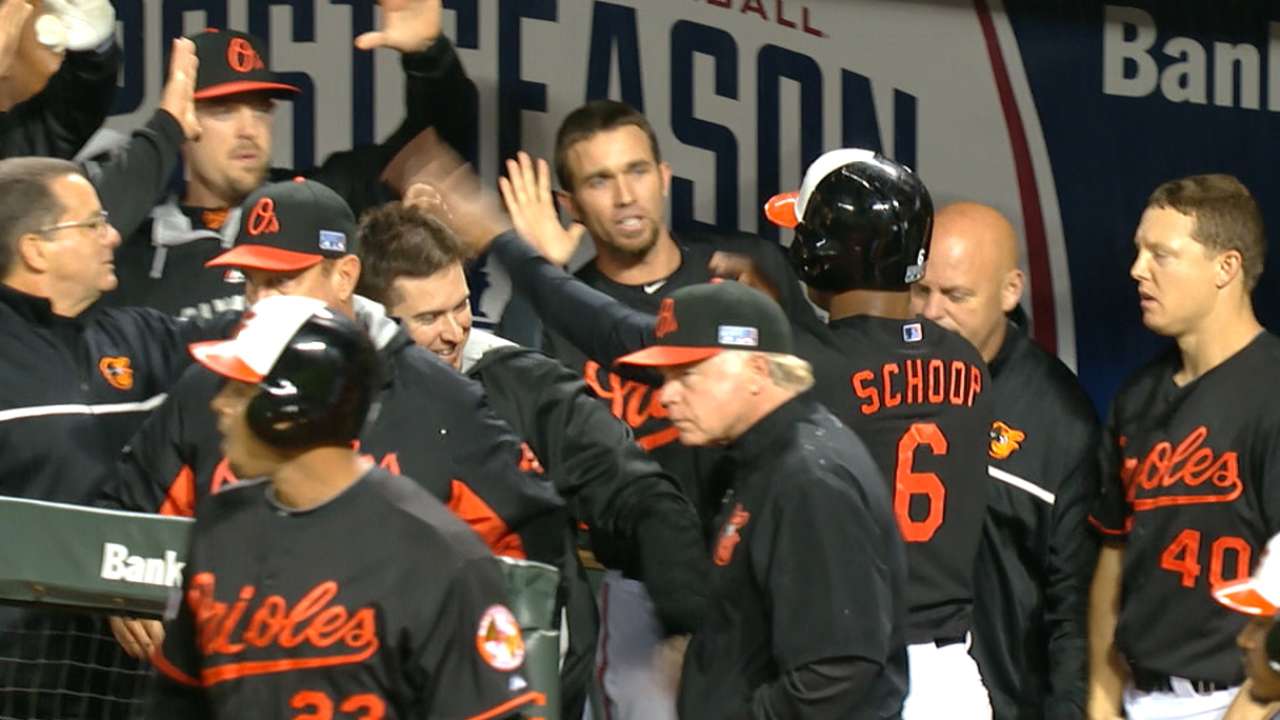 • Video: O's adventurous sixth inning
Yes, and the oddity of the outcome only underscored the quality of the competition.
While I don't mean to be dismissive of the length and grind of the regular season, the O's, relatively speaking, coasted to the AL East crown. And then they trampled a Tigers team with a wealth of experience and a world of expectation. None of this came easy, of course, but Baltimore made it look like easy and did it in ways that inspired belief that there are higher powers at play.
And that's the inherent cruelness of this ALCS arrangement. Because the Royals inspire that kind of belief, too. They were, really, the only postseason entrant that could have (and did) usurp "people's champion" status from this truly likable O's club, and the way they knocked
Chris Tillman
around and rattled a stout Baltimore bullpen served as an unnecessary reminder that theirs is a dynamic offense that's going to be tough to tangle with in this best-of-seven set. "They're playing great," Tillman said. "They came in confident. One through nine, they grind through their at-bats. So it was tough. We've got to be a little better at executing."
Tillman didn't execute very well, but he didn't have much luck working for him either. He hung a fastball to Alcides Escobar in the third, and Escobar -- Escobar! -- pounded it out to left for a solo shot. Next thing you knew, the Royals had put two more runners aboard and, with two out, the blazing speed of Billy Butler -- Butler! -- on a grounder to short prompted a rushed throw from J.J. Hardy that Pearce couldn't keep a glove on.
Yep, Escobar's power and Butler's speed, making things happen. October's weird.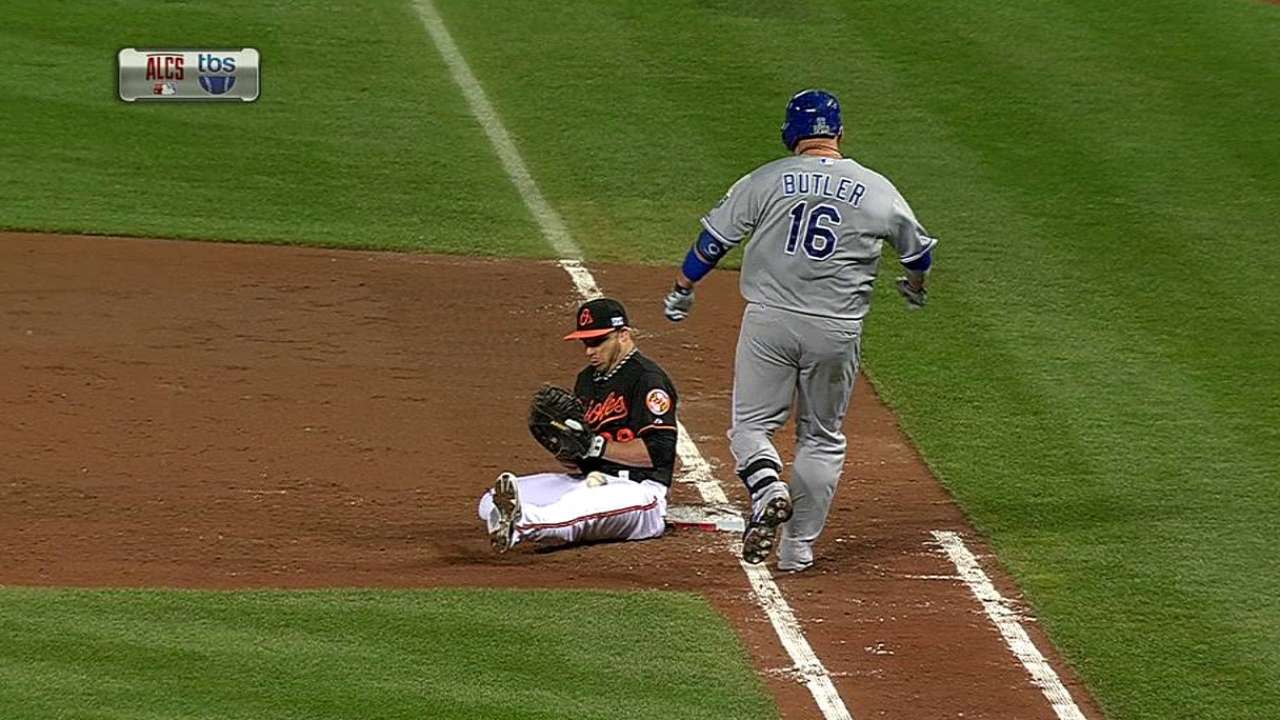 • Video: Butler's infield single
It got weirder still when Gordon flared a broken-bat double to no man's land in shallow right, and all three runners scooted home to make it 4-0. Camden Yards was quiet, which was not something that could be said at any moment, really, in Games 1 and 2 of the Division Series against Detroit.
"That's what's so unfair sometimes," Buck Showalter said. "The game is not always fair. You make a real good pitch ..."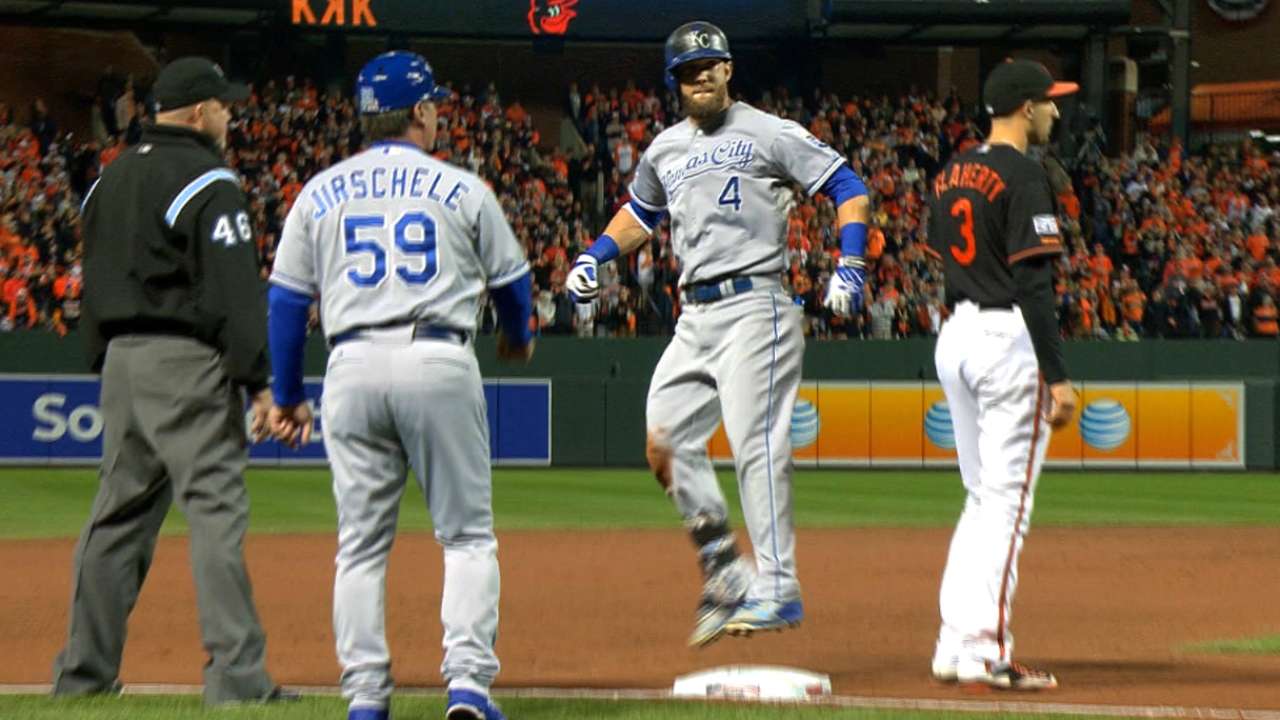 • Video: Must C -- Gordon clears the bases
It was 5-1 by the time the O's came to bat in the fifth, and they did what we've come to expect from them. They dug in against "Big Game" James Shields -- a man whose nickname, at this point, is more rhyme than reason -- and strung a rally together, with Nelson Cruz continuing his torrid October with an RBI double and Ryan Flaherty ripping a two-out, two-run single to bring the O's within a run. They tied it the next inning, when De Aza blooped a ball to probably the only spot that Kansas City's able infield can't cover to bring home Jonathan Schoop and make it 5-up.
The O's had to win this game, right? Their bullpen, you figured, is too good, their offensive attack is too contagious and Camden Yards was too darn loud for you to believe otherwise. And that belief was only boosted by the rope-a-dope they pulled in the ninth. Britton was uncharacteristically wild and the bases were uncharacteristically loaded with walks by a Royals team that, like the O's, usually likes to hack.
"I wasn't that far from the zone," Britton said. "They were pretty patient today, not swinging at pitches I think they normally would have swung at."
But then Britton got Eric Hosmer to chase outside the zone and, eventually, ground over to Pearce at first. Rather than step on the first-base bag, Pearce kept the force alive by firing home, beating a streaking Escobar by an inch -- with help from a great tag by catcher Nick Hundley. Showalter then went into matchup mode by bringing in ground-ball specialist O'Day to face double-play specialist Billy Butler for the intended result.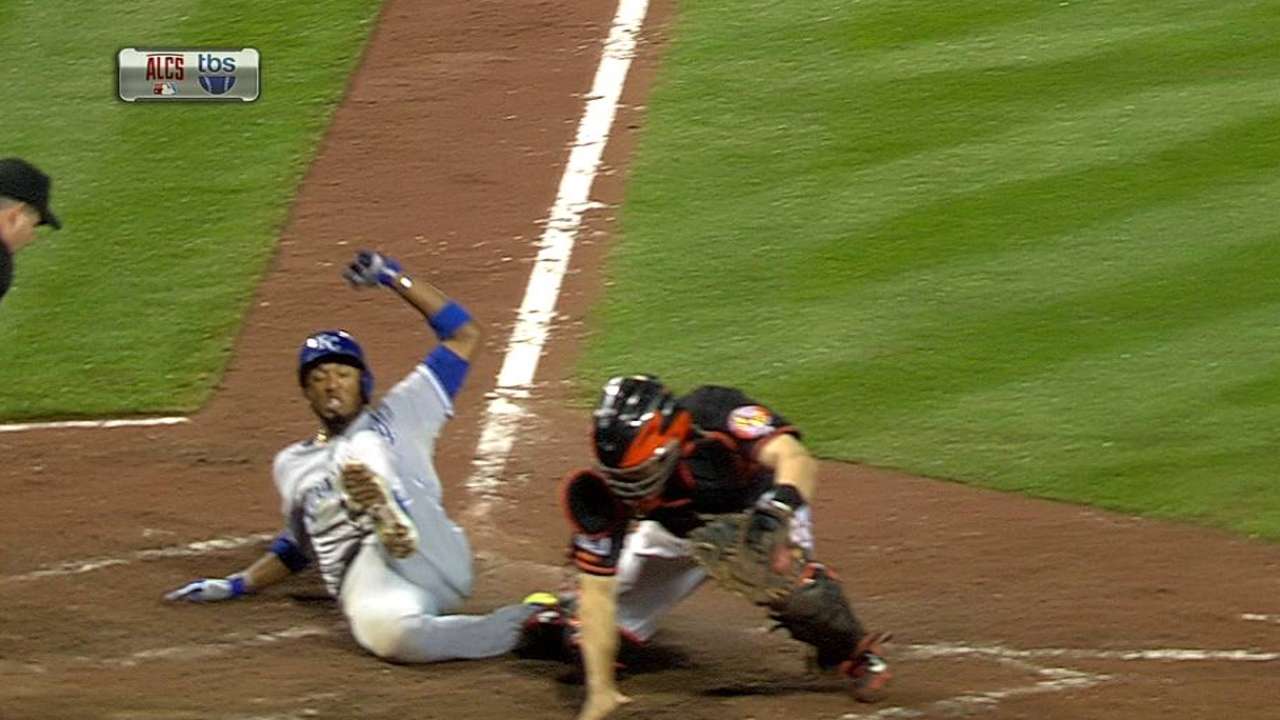 • Video: Pearce keeps game tied
So, yes, the Orioles had to win. Or at least that's how it seemed. But as you no doubt noticed, they didn't win. Cruz, his shirt untucked and his growing legend suddenly silenced, struck out against Wade Davis in the ninth, just as De Aza and Adam Jones had done. This was a reminder that we're not in Joba Chamberlain territory any longer, kids. Davis gives up an extra-base hit maybe once every couple months, and he hasn't given up a home run all year.
Further affirmation that the O's have met their match in magic arrived quickly in the 10th. O'Day, who has suddenly been a bit homer-prone in recent weeks (five in his last seven home innings), got torched by Gordon for that soul-crushing, fan-wrenching solo shot. And later in the inning, Mike Moustakas took Brian Matusz deep to make it a three-run Royal lead.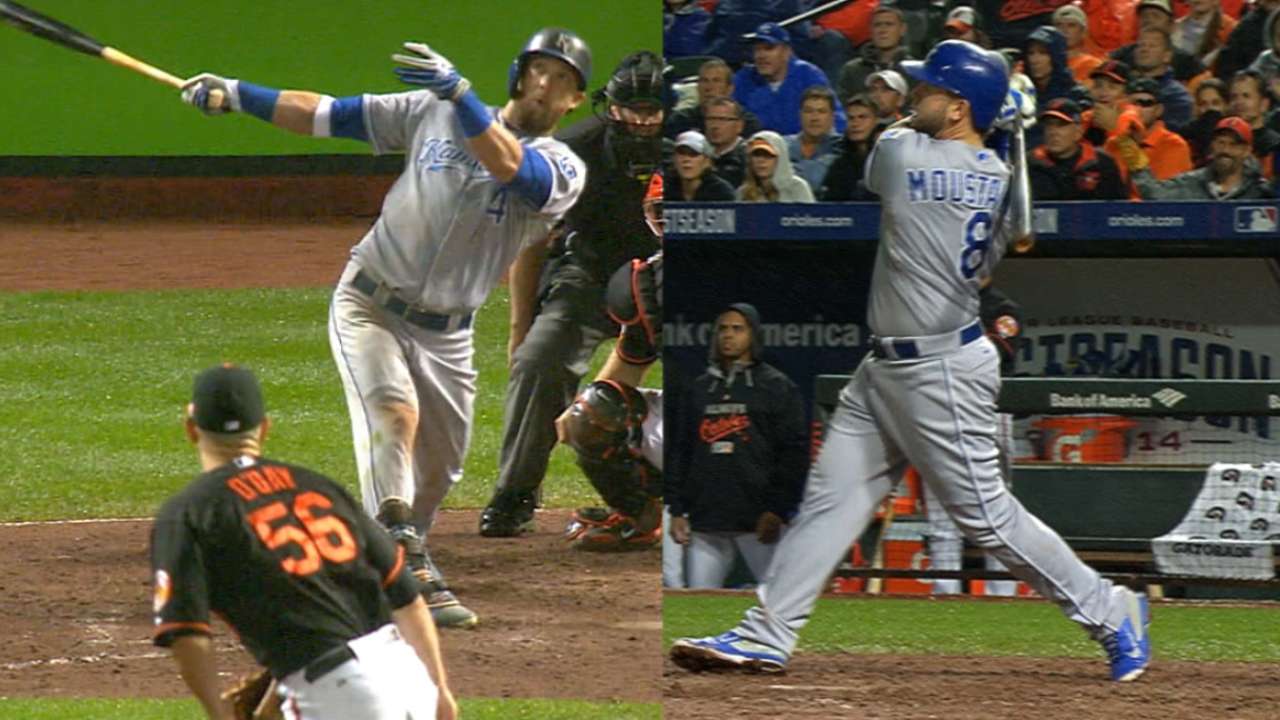 • Video: Must C -- Royals tee off in 10th
That the O's scored once in the bottom of the inning and brought the winning run to the plate didn't register as a shock to anybody other than those fans who committed the cardinal October sin of leaving early. That Greg Holland was able to escape the jam was no shock, either.
Look, it's not a news flash to suggest a team that reaches the LCS round is good, but this isn't even about being good. This is about being the kind of club smiled upon by the baseball gods, the kind of club the otherwise independent portion of the nationa rallies around. Under just about any other circumstance, the O's would probably be that team right now, especially considering the NL installment of this round is comprised of two clubs who appear to have a lifetime LCS pass.
But Game 1 took 4 hours, 37 minutes to confirm what the O's are up against here. They're not just playing a good team, a dynamic team. They're playing a team capable of matching their magic. The good news is we can expect Showalter and Co. to respond with something other than purely puzzled faces.
Anthony Castrovince is a reporter for MLB.com. Read his columns and follow him on Twitter at @Castrovince. This story was not subject to the approval of Major League Baseball or its clubs.