Royals-Orioles ALCS Game 1: Did you know?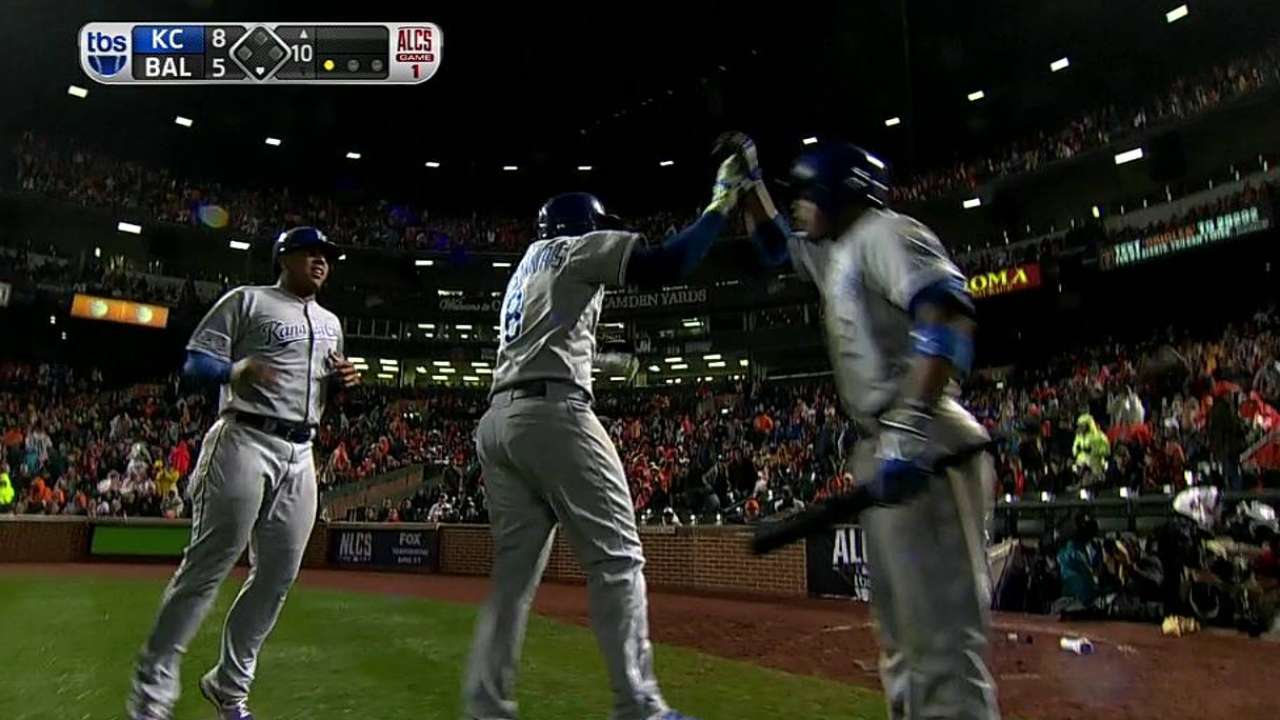 The Royals find themselves in good company following their record-setting, 8-6 extra-inning victory over the Orioles in Game 1 of the American League Championship Series on Friday night.
Of the previous 13 teams that won Game 1 of an LCS matchup in extra innings, all 13 have gone on to win that series. The Royals, who on Friday night became the first team to win four extra-inning games in a single postseason, will now set their sights on continuing that trend.
Here are some other interesting stats from Kansas City's series-opening victory:
• The Royals clubbed two more homers in the 10th inning. After hitting just one extra-inning homer in the entire regular season, the Royals now have four over their first five postseason games. They are the first team in history to hit four extra-inning homers in a single postseason. In fact, only three teams -- the Yankees (11), Red Sox (7) and Braves (6) -- have hit more such home runs in all postseasons combined.
• Royals third baseman Mike Moustakas also joined a select group of players who have hit multiple extra-inning postseason homers. With what proved to be a difference-making, two-run homer in the top of the 10th inning, Moustakas joined Javy Lopez, Bernie Williams, David Ortiz and Nelson Cruz as the only players to ever hit two extra-inning postseason homers. Moustakas' other such homer came in Game 1 of the AL Division Series against the Angels.
• Speaking of home runs, Alcides Escobar's third-inning homer not only put the Royals on the board, it put Escobar in some elite company. Escobar became just the second Royals leadoff hitter to homer in a postseason game, joining Hall of Famer George Brett. Brett hit three such homers, all of which came in Game 3 of the 1978 ALCS against the Yankees off of fellow Hall of Famer Catfish Hunter.
• Orioles closer Zach Britton did not walk more than one batter in any of his 71 outings during the regular season, yet he walked each of the first three hitters he faced in the ninth inning in Game 1. The Orioles miraculously escaped the jam, only to lose one inning later.
• With his rocky outing, Britton became just the 12th reliever in postseason history to walk three or more batters, while recording no more than one out. In all but one of those 12 instances, that reliever's team went on to lose the game.
• Another one of the Orioles' top relievers, Darren O'Day, continued his recent struggles to keep the ball in the park. O'Day served up a leadoff homer to Alex Gordon in the top of the 10th, marking the fifth home run O'Day has allowed in his 13 appearances since Sept. 1, including his second in as many postseason outings. O'Day allowed just three home runs in his 57 appearances prior to September.
• Long before that home run to start the 10th inning, Gordon also delivered a big three-run double in the third inning, marking the second straight game in which he stepped in with the bags full and cleared them with a double. He also did it in the Royals' ALDS-clinching victory over the Angels, making him just the second player in Major League history with multiple three-run doubles in the same postseason. Graig Nettles of the Yankees also accomplished the feat in Games 1 and 3 of the 1981 ALCS.
• Gordon also became the first player to turn in back-to-back games with three or more RBIs in the same postseason since 2007 when Boston's Mike Lowell and Manny Ramirez had three RBIs each in Games 1 and 2 of the '07 ALCS against the Indians.
• It wasn't all positive, however, for Gordon on Friday night. Following Gordon's fifth-inning single, one of his three hits on the night, Gordon was picked off for the first time since 2012. Gordon, who had not been picked off once over the last two seasons, was caught leaning by Orioles reliever Tommy Hunter to end the frame. Making the play all the more surprising, Hunter had not picked off a baserunner since 2011 as a member of the Rangers.
• Two batters prior to Gordon's bases-loaded double, Orioles starter Chris Tillman recorded a relatively rare strikeout of Royals first baseman Eric Hosmer. The strikeout itself wasn't necessarily rare -- Hosmer had 93 during the regular season and Tillman recorded 150 -- but the fact that it came after a 3-0 count was indeed a rarity. Hosmer struck out just one time all season after getting ahead 3-0 in the count, while Tillman battled back to strike out only three batters after being behind by that same count.
• Tillman conceded five earned runs over just 4 1/3 innings. Tillman had gone 21 straight starts, dating back to June 5, without allowing more than four earned runs. The 4 1/3 innings also marked his shortest outing since that same day when he lasted just one inning in a loss to the Rangers. This was also the first time all season that Tillman allowed more than four earned runs in a home outing.
• Friday night marked only the fourth time in ALCS history that both Game 1 starters pitched only five innings or less. Tillman's night ended after 4 1/3 innings, while Royals starter James Shields pitched an even five frames. It also happened in 2011 (Tigers-Rangers), 2006 (Tigers-Athletics) and 1970 (Orioles-Twins).
• Orioles outfielder Cruz matched an all-time record in Game 1 with his fifth straight multi-hit postseason game, dating back to the 2012 Wild Card Game. By going 2-for-5 on Friday night, Cruz became just the 10th player to accomplish the feat and the first since Boston's Kevin Youkilis from Oct. 16-24, 2007.
• Teams that win Game 1 in the LCS are 56-32 all-time when it comes to winning that series. When the road team wins Game 1 as the Royals did on Friday night, that team has gone on to advance to the World Series 27 out of 42 times.
Paul Casella is a reporter for MLB.com. Follow him on Twitter @paul_casella. This story was not subject to the approval of Major League Baseball or its clubs.