Shields dances out of trouble for Royals in fifth
Yost leaves starter in to get out of jam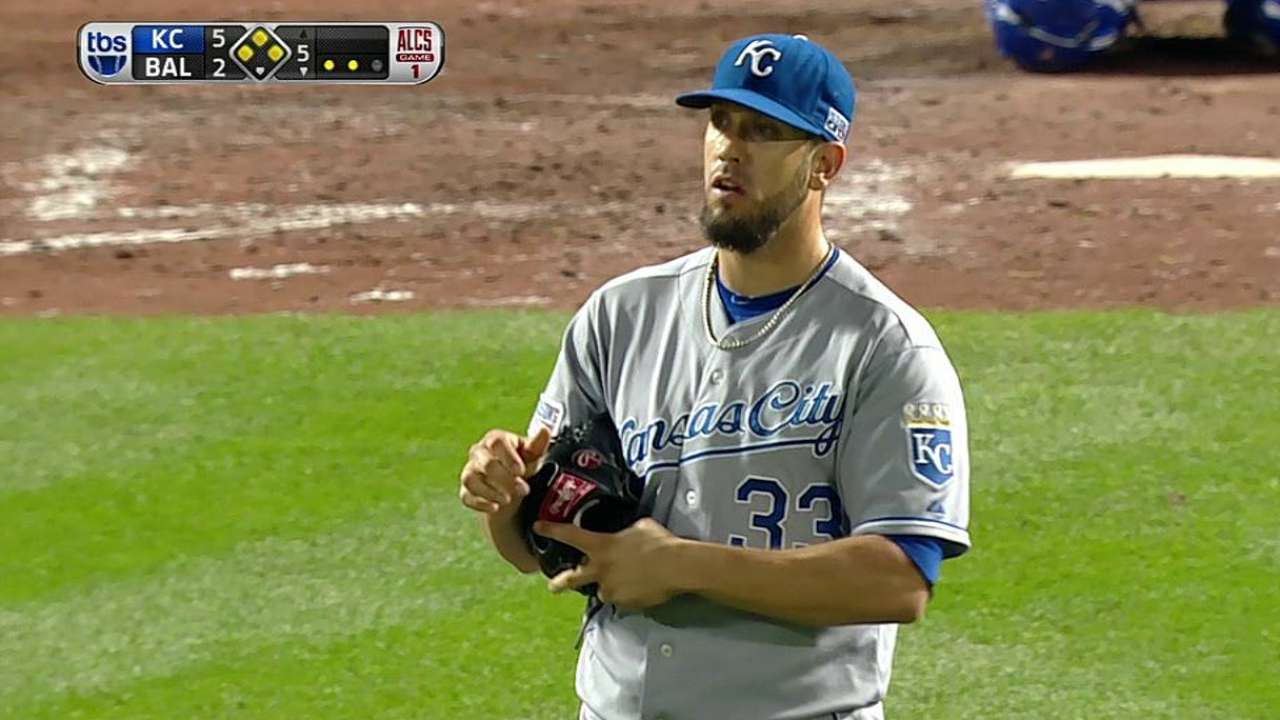 BALTIMORE -- With his starting pitcher beginning to tire and the Orioles putting together a rally in the fifth inning of Game 1 of the American League Championship Series -- a game Kansas City would go on to win, 8-6, in 10 innings Friday night -- Royals manager Ned Yost faced a tough choice: stick with James Shields, or hand the ball over to his dependable bullpen.
Yost went with the former.
"We were going to stick with him all the way," Yost said.
Every game in the postseason is magnified, which means each difficult decision a manager makes is under the microscope.
In this instance, the Royals had a 5-1 lead when Shields took the mound in the bottom of the fifth, his pitch count a modest 62.
Nick Markakis
greeted him with a leadoff single to left.
Alejandro De Aza
followed with a single through the right side of the infield.
The bullpen sat dormant with the heart of the Baltimore order due up, a sign Yost was confident Shields would get the job done.
Shields induced a ground ball from No. 3 hitter Adam Jones, with third baseman Mike Moustakas fielding the ball and stepping on the bag to get the lead runner. Nelson Cruz then ripped a double off the wall in left, scoring one to make it 5-2 and bringing a sellout crowd to its feet at Camden Yards.
Yost got rookie left-hander Brandon Finnegan up in the bullpen. Shields then walked Steve Pearce to load the bases with one out, prompting a mound visit from pitching coach Dave Eiland.
Shields rebounded with a called third strike on J.J. Hardy. Ryan Flaherty, a left-handed batter, stepped to the plate. Yost did not call on Finnegan, sticking with his starter. Flaherty drove in two runs with a single, the tying run advancing to third base.
With two more right-handed bats in Nick Hundley and Jonathan Schoop due up before a pair of lefties at the top of the order (Markakis and De Aza), Yost felt his best option was to keep Shields in the game.
"We were going to stick with him all the way -- once we got to Flaherty, we were going to stick with him down to the next two right-handed hitters, have Finnegan ready if we got there for Markakis," the manager explained. "He ended up getting Hundley out to end the inning. ... We thought at that point, or I thought he was starting to labor, he was starting to get pitches up. Finnegan would be a good matchup for those guys knowing we would back him up with [Kelvin] Herrera."
Shields did not return for the sixth inning and would settle for a no-decision. He threw 90 pitches and allowed four runs on 10 hits with three strikeouts against one walk.
Austin Laymance is a reporter for MLB.com. Follow him on Twitter at @jalaymance. This story was not subject to the approval of Major League Baseball or its clubs.