Oct. 10: Alex Gordon postgame interview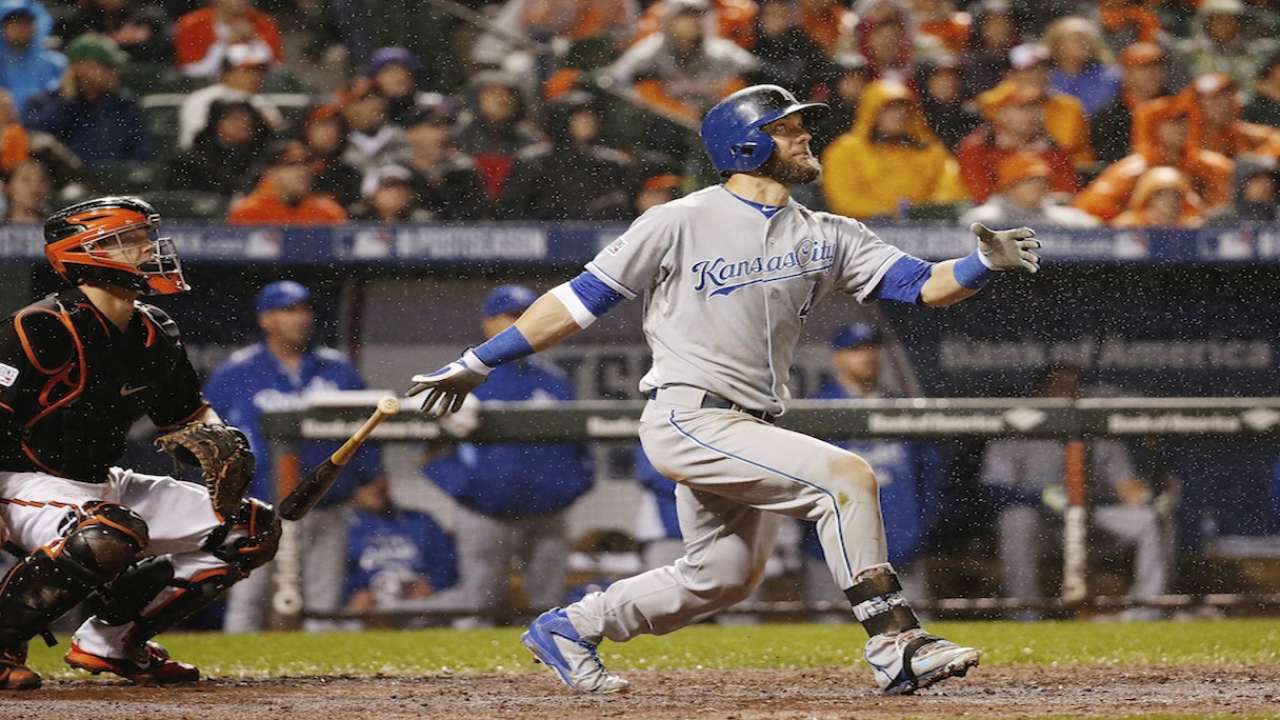 Q. Alex, how frightening was that hit by the pitch, 97 miles an hour? What was that initial moment like as you recovered and what was the conversation like that allowed you to stay in the game?
ALEX GORDON: It was frightening with him pitching that big tall lefty. He's tough on lefties, so it's kind of hard to pick up. And saw it coming at my head and just for a second just turned the back of my head and luckily it got most of my helmet.
So it stung a little bit but nothing serious. It was just precautionary when the trainer came out.
Q. We talked to you before the game and you mentioned your dad and brother have been Orioles fans and you wanting to add to your great memories here. That must go right to the top of the heap?
ALEX GORDON: Definitely. All these games are big. And there's a lot of emotions in it. Our team is just having fun with it and seems like every night there's somebody else stepping up. So it's good to see. And my brother was here, so it was good to do it in front of him.
Q. How do you read the play that you made in the field early in the game to make that diving catch?
ALEX GORDON: On Pearce?
Q. Yes.
ALEX GORDON: With the crowd noise you've really got to double check with your outfielders. When it was in the gap I had a look at Lorenzo to make sure he wasn't around. When I saw him kind of looking at me I knew it was my ball. I think it kind of came back to me a little bit and just tried to make the catch at the last second. Our defense has really been doing that all year. Our outfield has been great this year, so it's good to see.
Q. Were you aware of the struggles O'Day has had recently with some left‑handers hitting home runs or were you just looking to get a good pitch to swing at it or hit it out?
ALEX GORDON: Just trying to put a good at‑bat together, get on base any way I could. And sometimes you just get a good pitch to hit and you put a good swing on it and those things happen. So usually when you're not trying to hit a home run is when you do it.
I was just trying to get a base hit. I didn't know he was struggling at all. Every time we face O'Day he seems to get us out. He's a tough pitcher and I'm sure he'll be tough the rest of the series.
Q. On the bases loaded double, didn't look like you wound up with much bat left in your hand. Did you think it was going to hook foul?
ALEX GORDON: I've been known to break a couple of bats here and there. With two strikes you just want to put it in play. I think my first at‑bat I took a pitch down the middle with two strikes. I just wanted to make something happen.
That's part of baseball. Sometimes you don't hit it that great and you find a hole and good things happen. Guys did a great job of getting on base for me, and I was able to work it at 3‑2 and just try to get a good pitch to hit. It was a tough pitch but I was able to make good contact.
Q. You did say, I think, that you have Orioles fans in your family, your father and brother. What's the exchange been like between you with them obviously pulling for you, but also being Orioles fans, has there been any joking or sort of good natured give and take? Who are they rooting for?
ALEX GORDON: No, they're rooting for us, for sure. We just enjoyed watching Brooks Robinson, Cal Ripken, some of those guys were their favorite players. So well‑respected players and we just loved watching them play. So it's pretty cool to share it with my brother up here now. Cool experience.
Q. You gave up a couple four‑run leads in the top of the 9th. Is what you had already done this postseason, does that make it easier to get through that stuff?
ALEX GORDON: Maybe a little bit. Every game is different. But being in those situations we know that we always have a chance to win, and especially with our bullpen, it seems to give our offense a chance to win, even though we might not do it right away. They keep shutting the door and giving our offense second and third chances to get the job done. So some of our hitters look like heroes, but it's them stepping up and keeping them there.
Q. Which of your brothers is the Orioles fan of your brothers?
ALEX GORDON: The older one, the big guy.
Q. This is your first time in the postseason and I know a lot of guys struggle the first time through. But you seem like you're just a natural in these games, that you're not at all affected by the pressure. Why is that when you haven't had this experience before?
ALEX GORDON: I just ‑‑ I don't think it's me. I think it's our team. We have a great chemistry in the clubhouse, we're all pulling for each other. And it's really a lot of fun right now. We're all going out there having fun, even though it's on a big stage with big crowds. We're all fighting for each other. I don't think it's me, it's the whole team. And we're just pulling for one another. I think that's what makes it look like it's not easy, but not pressing or anything like that.
Q. The Orioles have twice as many home runs as you guys. Are you starting to show with what you did against the Angels and what you're doing now that this team is a power threat regardless of what you do during the regular season?
ALEX GORDON: We know we're capable of hitting home runs. We didn't do it during the regular season. But it doesn't really matter. This is the postseason and we're starting to swing the bats better now. It's good to see. I think the last month of the year during regular season, guys started swinging it well, and our offense started to gel. Up and down the lineup we're feeling good and where we're at.