Royals' relief crew wins Round 1 vs. Orioles' 'pen
Trio of Herrera, Davis, Holland locks it down to help KC take series lead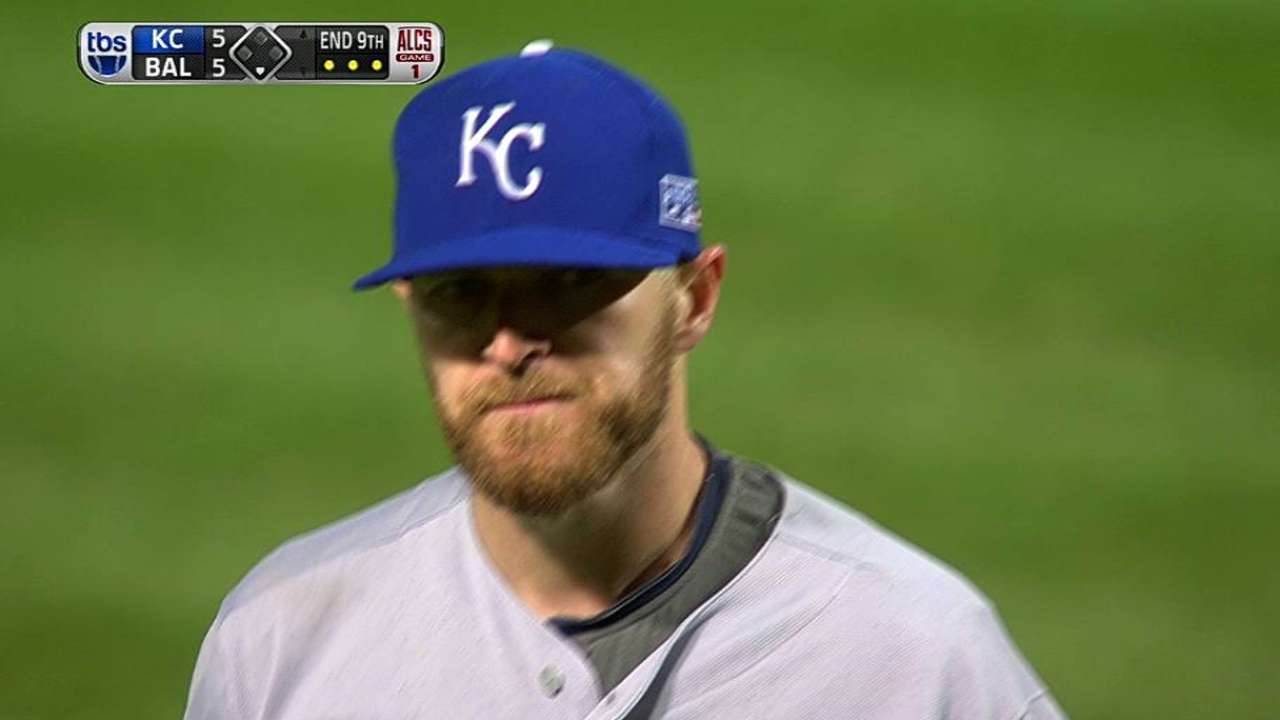 BALTIMORE -- Both the Royals and Orioles got to the American League Championship Series in large part because of their formidable bullpens. Kansas City's relief corps won the first of what's sure to amount to many late-inning battles, outlasting Baltimore's in 10 innings on Friday in an 8-6 roller-coaster win.
The Royals' bullpen was responsible for half of those frames, after starter James Shields departed at the end of five. Rookie Brandon Finnegan proceeded to surrender the game-tying run without recording an out, but the fearsome trio that is Kelvin Herrera, Wade Davis and Greg Holland righted the ship -- retiring 12 in a row at one point -- and commandeered the Royals into extra innings, culminating in their three-run 10th inning.
The trio combined for seven strikeouts.
"We felt that was the best opportunity to give us a chance to win the ballgame," manager Ned Yost said.
"That's the kind of stuff we expect to see from these guys," said third baseman Mike Moustakas, who followed Alex Gordon's go-ahead homer with a two-run shot in the 10th to cap the scoring. "We're stoked that they're on our side. Going out and doing what they did is not an easy job, especially against the lineup over there."
Herrera had plenty of reason to sport the wide smile he was wearing after the lengthy affair. The righty, entering the game with one out and runners on first and second in the sixth, quickly induced a crucial forceout at third. And with two runners still on, he got yet another grounder from the typically homer-happy Nelson Cruz, this one an inning-ending double play to keep the score tied.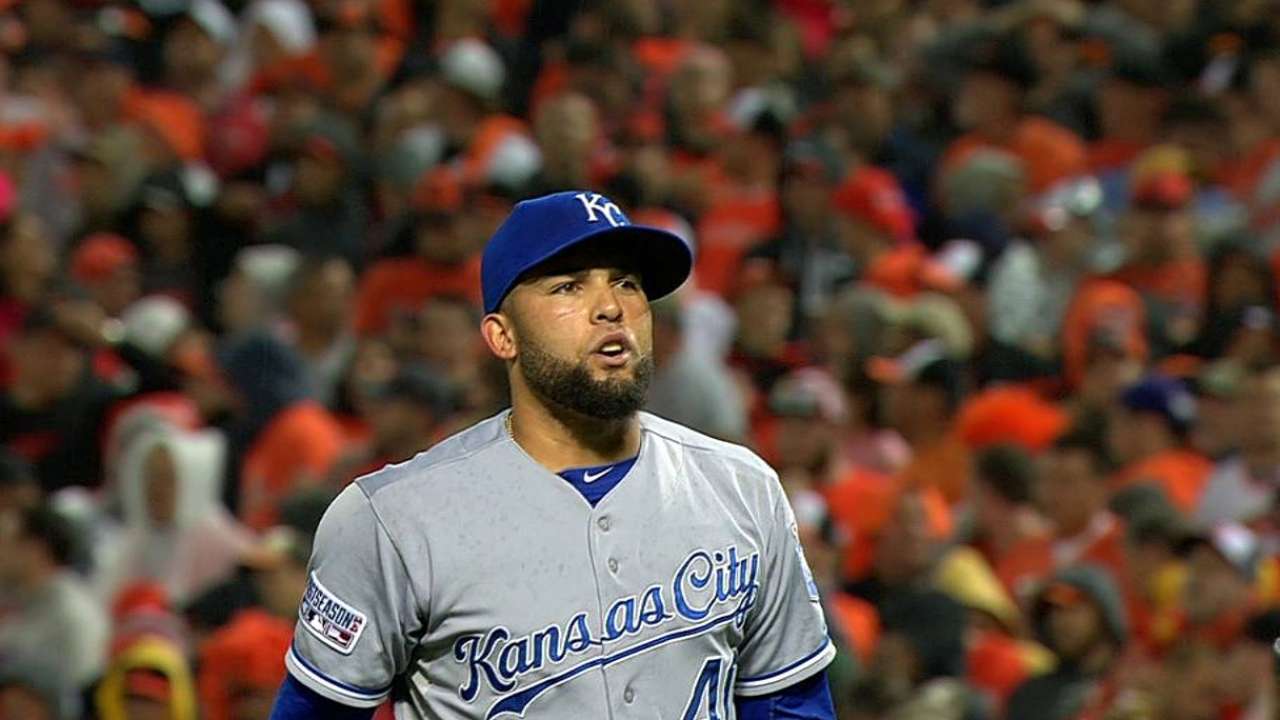 "I was happy to keep my team in the game, get that job done quickly," Herrera said. "Challenging Cruz like that, that was pretty fun. I was pretty excited. I just tried to get a double play, that way I could go back to the seventh inning and keep my team going."
Herrera did, paving the way for Davis' entrance in the eighth. He, too, racked up two innings of work, the last a three-strikeout performance that fueled his club into the 10th, sparked by a pair of homers from Gordon and Moustakas.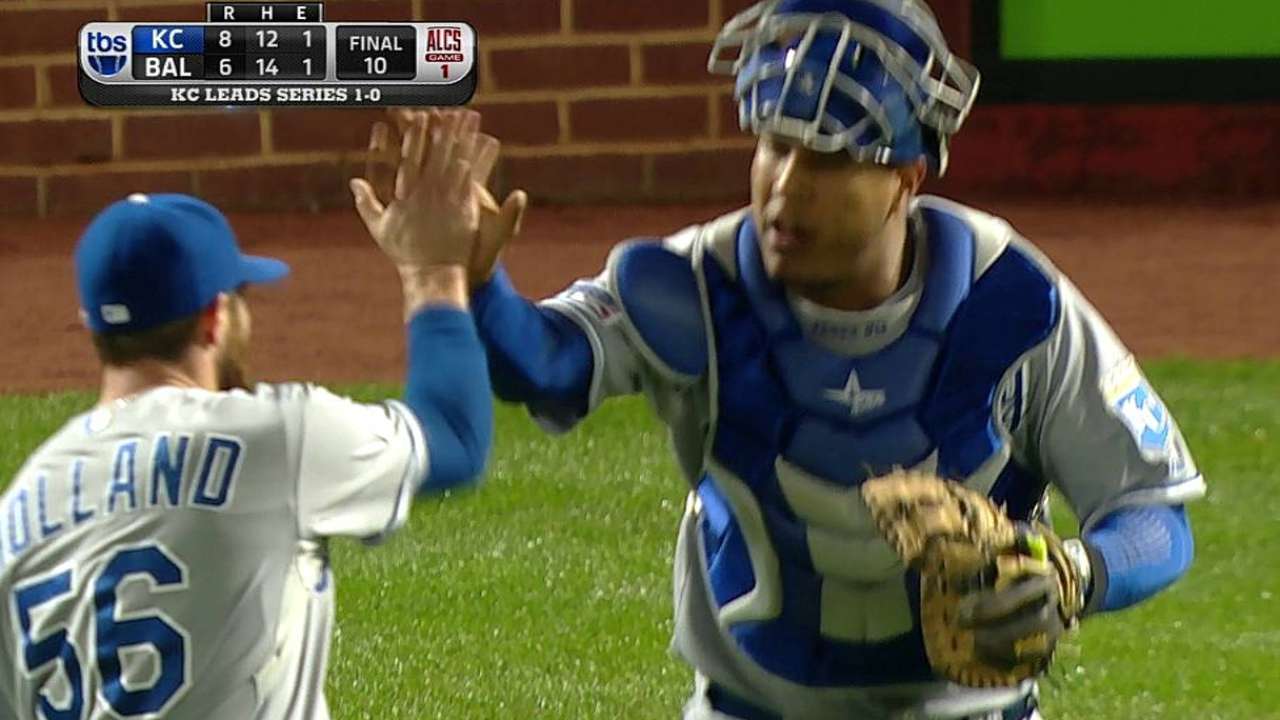 Holland gave up a single Orioles run but locked down the save, clinching the Royals' fourth extra-inning postseason win in five games.
"The impressive thing is they're doing it with their backs against the wall pretty much the whole postseason," first baseman Eric Hosmer said. "It's pretty impressive the way they're doing it. They really shut those guys down."
"Wade with that huge shutdown inning, really didn't even give them a chance. That really shifted the energy and momentum to our side."
"I knew we were going to score some runs after Wade did that," Herrera said.
It was just the fourth time all year that Davis had compiled two innings in a game. He was ready for a third if asked.
"That felt good to get the team back in there quick," Davis said. "Those aren't easy guys to get out. To have a quick inning like that was huge."
"For them to come through and give us those innings, they went all out for us tonight," Moustakas said. "We definitely needed it. Huge win for the boys."
Jane Lee is a reporter for MLB.com. This story was not subject to the approval of Major League Baseball or its clubs.