Royals' extra power & might edge Orioles
Gordon, Moustakas homer in 10th to steal dramatic series opener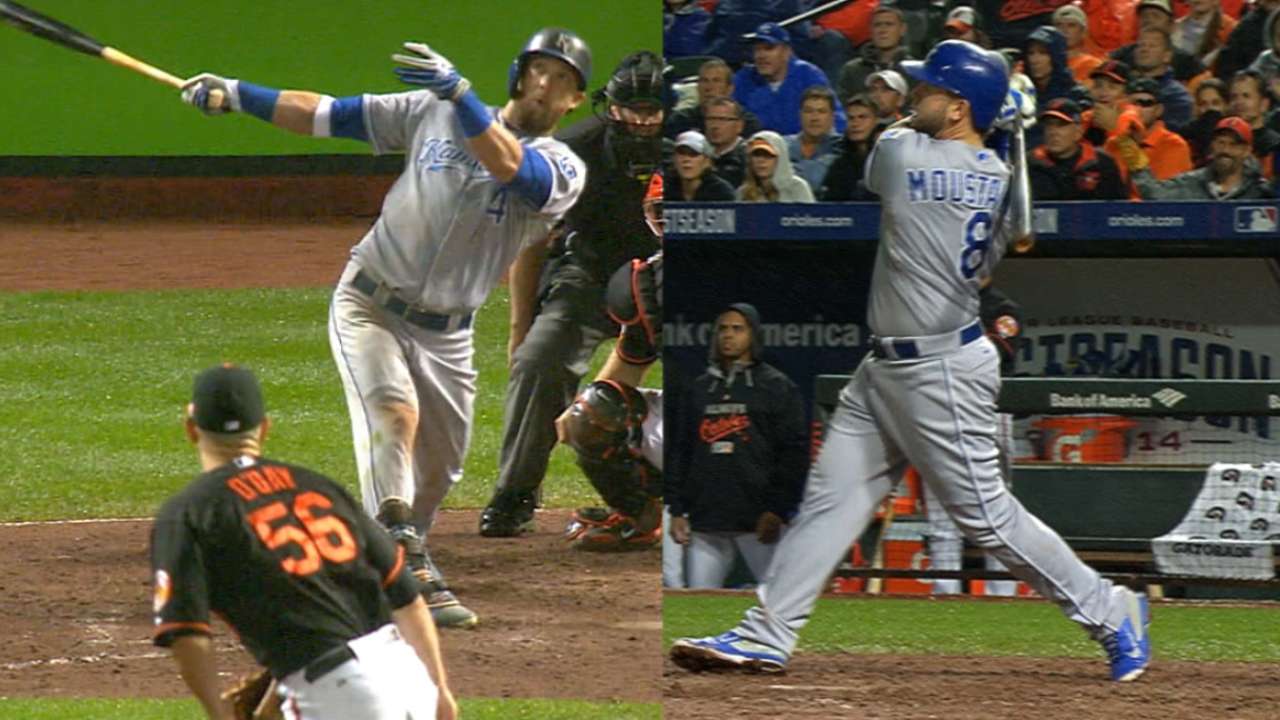 BALTIMORE -- Pitching? Check. Defense? Check. Speed? Check. Power? Check -- wait a minute. These are the Kansas City Royals we're talking about. They don't hit home runs. Except they hammered three on Friday night, with the last two being 10th-inning shots from Alex Gordon and Mike Moustakas to give the Royals a thrilling 8-6 victory over the Orioles on a soggy Friday night in the opener of the American League Championship Series.
For a team that wasn't given much credence upon getting into the postseason for the first time in 29 years, the Royals have shown a combative, resilient nature that has made them the first team in baseball history to notch four extra-inning victories in a single postseason. And they've done it in five postseason games -- the AL Wild Card Game over the A's, then a sweep of the AL-best Angels in the Division Series and now Game 1 of the ALCS.
"That's what this team does," Moustakas said. "We overcome obstacles that are put in front of us every time. That just goes back to us believing in each other."
HOW THE ROYALS WON THE GAME
Gordon drove in four runs, the first three with a bases-loaded, broken-bat double down the right-field line in the third inning off Orioles starter Chris Tillman. Then he topped that with a leadoff home run in the 10th into the right-field seats off right-handed sidearmer Darren O'Day to snap a 5-5 tie.
After Salvador Perez walked, O'Day got one out and was relieved by a left-hander, Brian Matusz, to neutralize lefty Moustakas. That didn't work, as Moustakas hammered a two-run homer to right field, his third of the postseason.
"We find ways to win ballgames," manager Ned Yost said. "And sometimes it's hitting home runs, sometimes it's stealing bases and manufacturing runs. And most of the time it's with good pitching and defense."
Good thing that Moustakas added those two runs because closer Greg Holland, after getting two outs in the bottom of the 10th, gave up a run before shutting down the Orioles.
No homers for the Orioles, who led the Majors with 211 this season; three homers for the Royals who were last with just 95, but now have seven in their five postseason games.
THE MOMENTS THAT MATTERED
Dyson's theft stymied: Jarrod Dyson, pinch-running for Nori Aoki in the seventh inning, seemed to have second base stolen, but overslid the bag as Jonathan Schoop applied a firm tag and was out. It was a chance lost because Hosmer followed with a single.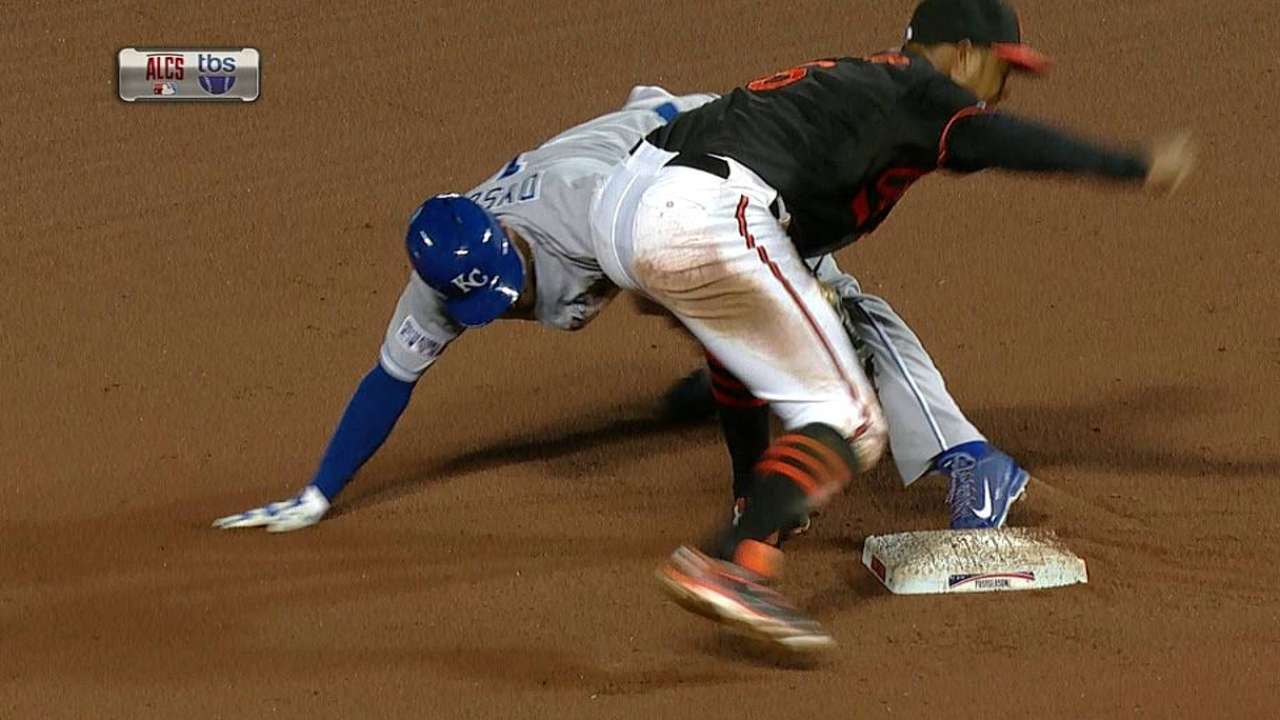 • Video: Statcast, for first time ever in postseason, breaks down Dyson's steal attempt
• Dyson's caught stealing thwarts Royals' rally
Big third inning: Alcides Escobar, who had just three homers all season, led off the third against Tillman with a home run that soared into the left-field seats. Then the Royals loaded the bases and, with two outs, Gordon cleared them with a broken-bat double down the right-field line.
"That's a great team, a homer team, and for us, everybody is talking about speed. But everybody can hit the ball, like Gordon and Moose," Escobar said. "For me, I was just trying to put the ball in play."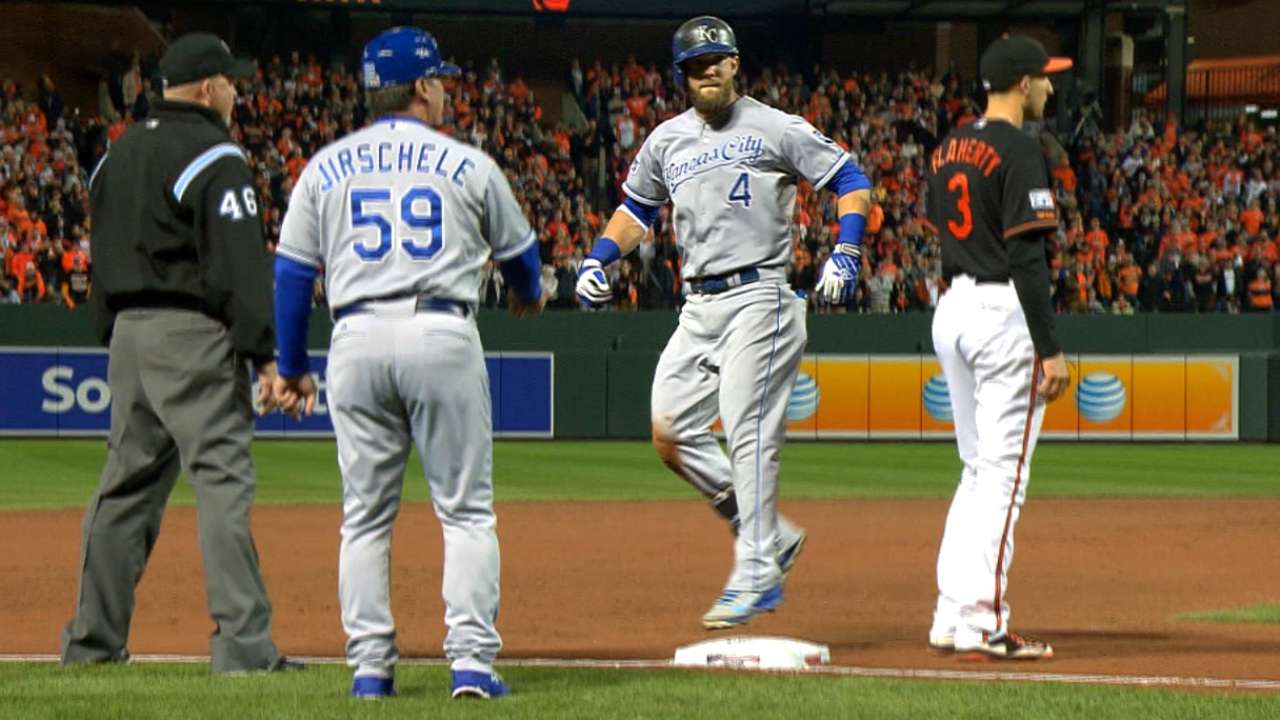 • Video: Gordon's bases-clearing double
• Royals able to flip power script to burn Orioles
Gordon's Gold Glove catch: The Orioles scored one run and were intent on more as Steve Pearce sent a drive into deep left-center in the third inning. Right on cue, Gordon dove to make yet another highlight catch as pitcher James Shields raised his hand jubilantly on the mound.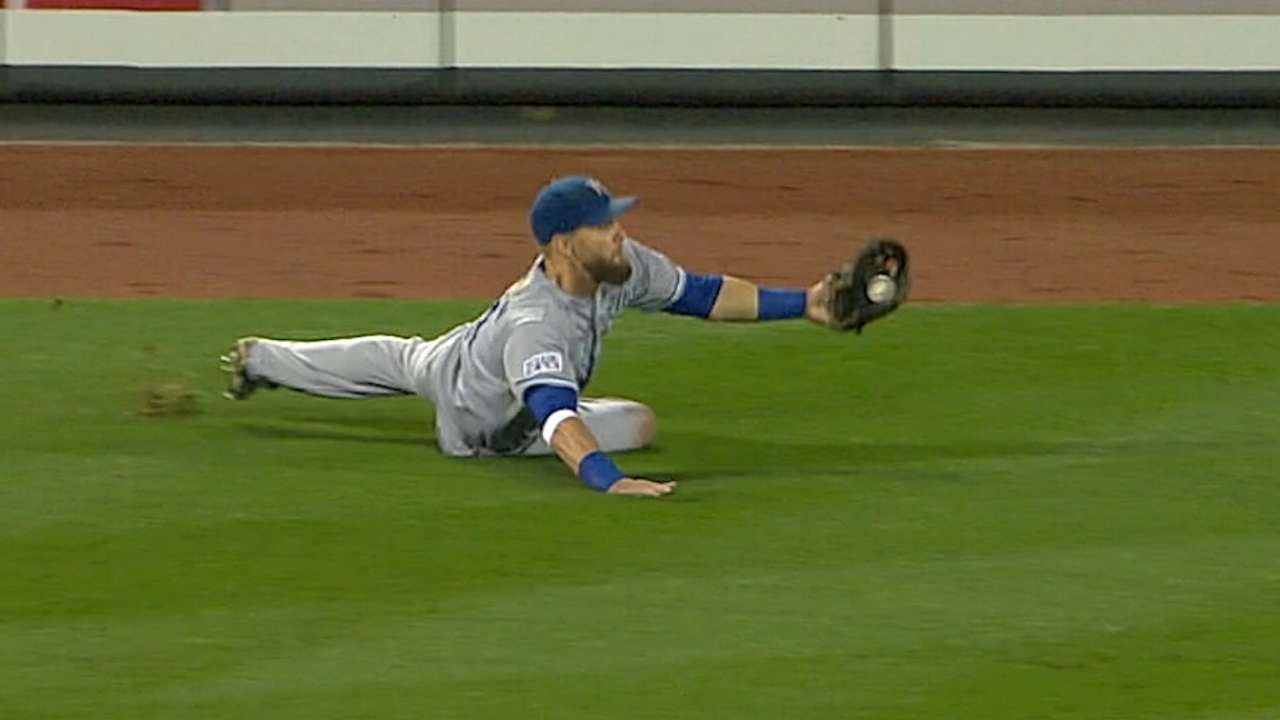 • Video: Gordon makes a diving catch
• Gordon's Royal efforts help take down Orioles
Big chance fizzles: The Royals seemed all set to jump ahead in the ninth when Orioles closer Zach Britton loaded the bases with no outs on three straight walks. But Eric Hosmer hit into a forceout on an incredible play at the plate by Orioles catcher Nick Hundley, and Billy Butler bounced into a double play. So it was still 5-5.
"We were still in a tie ballgame, just try to get through the bottom of the ninth, and we put three up in the 10th," Butler said. "It's not the end of the world."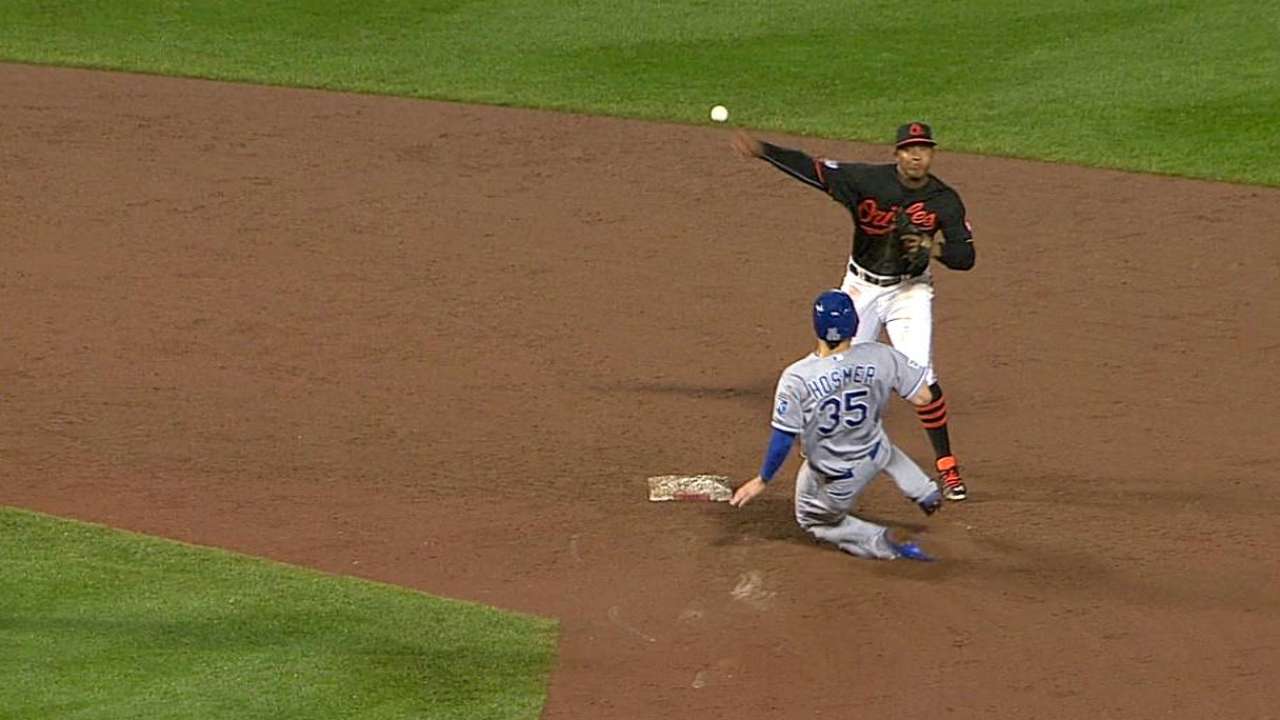 • Video: Orioles turn two to escape in the ninth
• O's escape ninth-inning jam with slick moves
Shields loses big lead: Starter James Shields was given leads of 4-0 and 5-1 but the cushion melted away. The Orioles came up with three runs in the fifth -- Nelson Cruz had an RBI double and Ryan Flaherty a two-run single -- to cut the lead to 5-4.
Rookie Brandon Finnegan took over in the sixth and gave up a walk and a single. Royals catcher Salvador Perez had Schoop picked off second when Alejandro De Aza pulled his bunt attempt. But after Perez' throw to shortstop, Escobar's relay to third hit Schoop in the back, allowing him to reach third. Schoop then scored on De Aza's bloop over the mound as back-to-back odd plays cost the Royals a run in the sixth, tying the game at 5.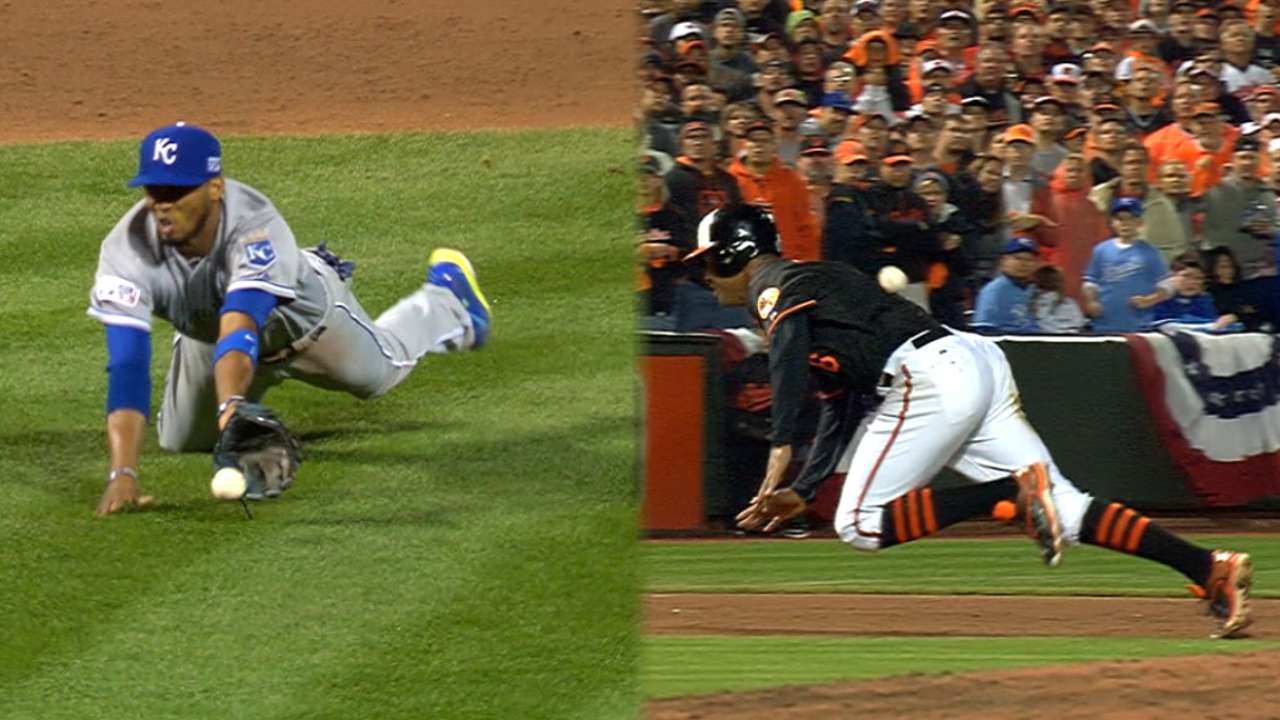 • Video: Schoop's odd sequence
• Orioles employ Royals' tactics in wild sixth inning
A knock in the neck: Gordon was drilled in the neck by an Andrew Miller pitch in the eighth, but, after being examined by the trainer, shook it off and stayed in the game. "It stung a little bit but nothing serious," he said.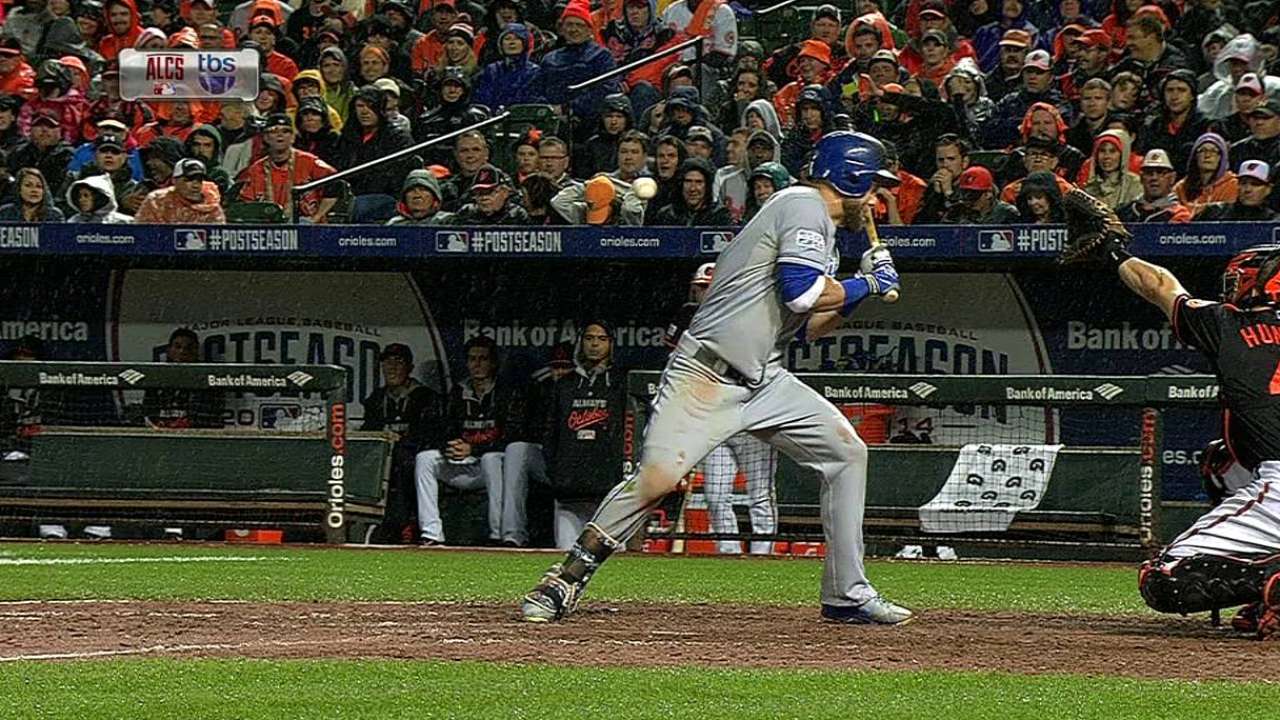 • Video: Gordon gets plunked in the neck
• Rogers: Gordon the perfect hero for Royals
UNSUNG HEROES: HERRERA, DAVIS
Relievers Herrera and Wade Davis are used to pitching one inning each, but on Friday night they both recorded two scoreless innings. Herrera took over from Finnegan in the sixth and escaped a two-on, no-out jam, then he worked a perfect seventh with two strikeouts. Davis worked a perfect eighth and, when the Royals failed to score in the ninth, he blew through the bottom half with three strikeouts. That gave him four in his six outs.
"We extended both of those guys two innings, but the job they did managing their pitch count was phenomenal," Yost said. "It will allow them to be available [today]."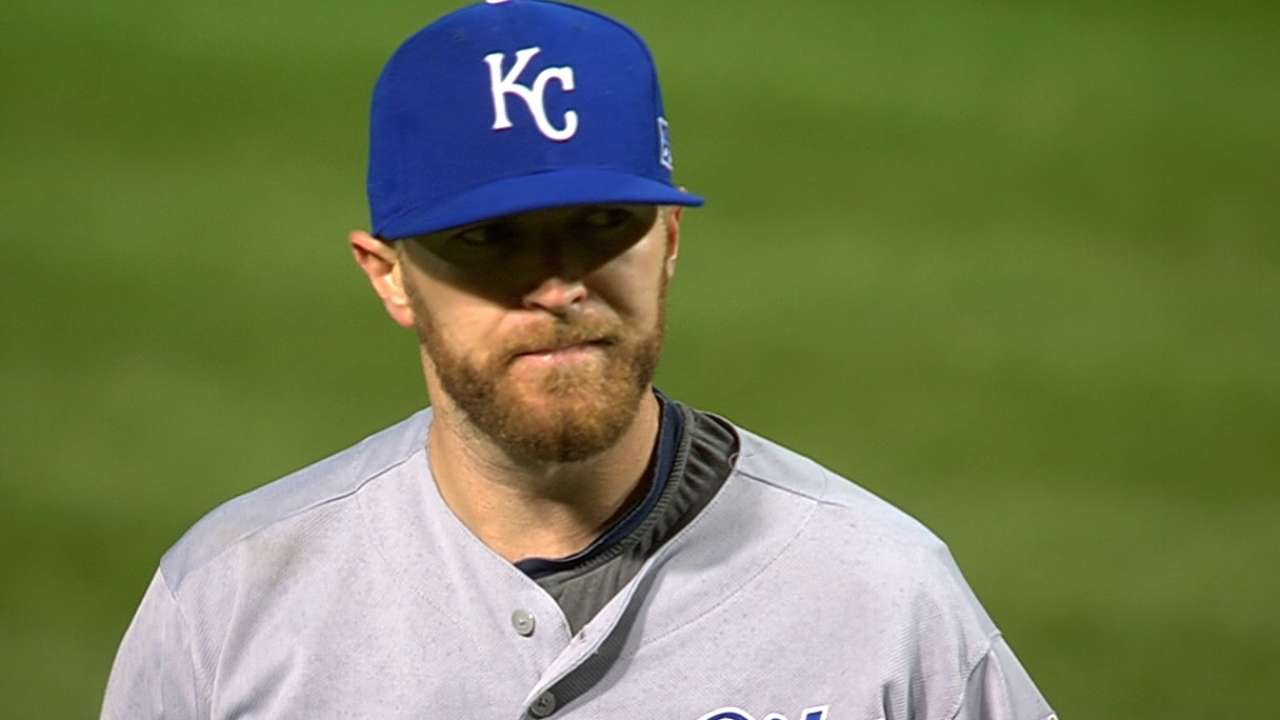 • Video: Davis tosses two perfect innings
• Royals' relief crew wins Round 1 vs. Orioles' 'pen
SOUND SMART WITH YOUR FRIENDS
• Escobar's home run made him only the second Royals leadoff hitter to hit one in a postseason game. The other was George Brett, and he hit three -- with all of them coming off Catfish Hunter in Game 3 of the 1978 ALCS. Brett led off 39 times that season and twice in the playoff against the Yankees.
• The LCS Game 1 has gone to extra innings 13 times before, and the winner of that game has won the LCS all 13 times.
• Gordon is only the second player in history with multiple bases-loaded, bases-clearing doubles in the same postseason. The only other player to do that was the Yankees' Graig Nettles in Games 1 and 3 of the 1981 ALCS.
• Game 1: Did you know?
NEXT GAME
Game 2 of the ALCS will be at Baltimore on Saturday at 3 p.m. CT on TBS. Yordano Ventura will start for the Royals against Orioles right-hander Bud Norris.
Thrilling ALCS continues as Norris faces Ventura
Dick Kaegel is a reporter for MLB.com. This story was not subject to the approval of Major League Baseball or its clubs.