Orioles victim of Royals' extra-innings magic in Game 1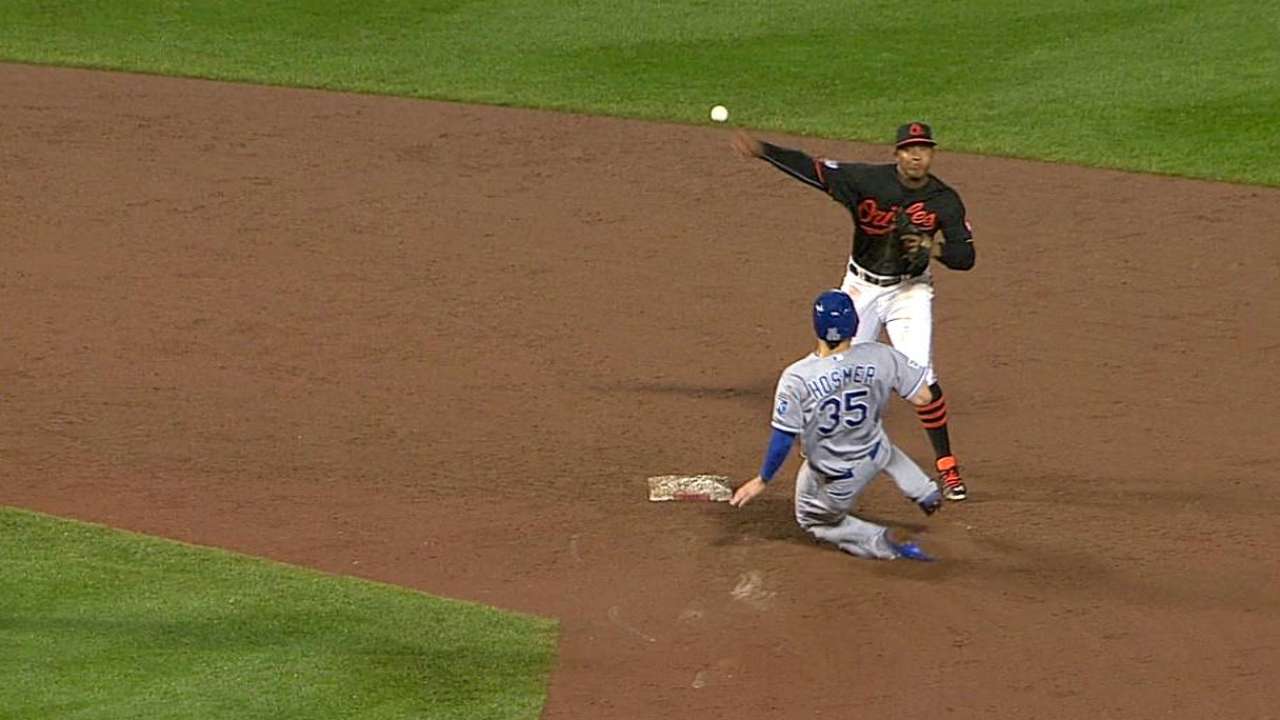 BALTIMORE -- No one said this would be easy.
After cruising to a sweep of the Tigers in the American League Division Series, the Orioles knew coming into Game 1 of the AL Championship Series that facing a red-hot -- and also unbeaten in October -- Royals club would prove to be a tough task. And Friday's wild Game 1 lived up to the billing in a thrilling back-and-forth contest between two clubs almost no one predicted to be here. In the end, though, it was the O's bullpen that broke down first, in Baltimore's 8-6 loss in 10 innings in the opener of the best-of-seven set.
"We got to win four, and it doesn't matter what four you win," Orioles closer Zach Britton said of a series with a quick turnaround this afternoon for Game 2. "So we will bounce back tomorrow. We've done it before."
WHAT WENT WRONG
Alex Gordon drove a 1-1 pitch from right-hander Darren O'Day into the seats in right-center to start the bottom of the 10th inning and deliver the decisive blast. It was followed by Mike Moustakas' two-run shot off lefty Brian Matusz, marking the Royals' third homer of the night.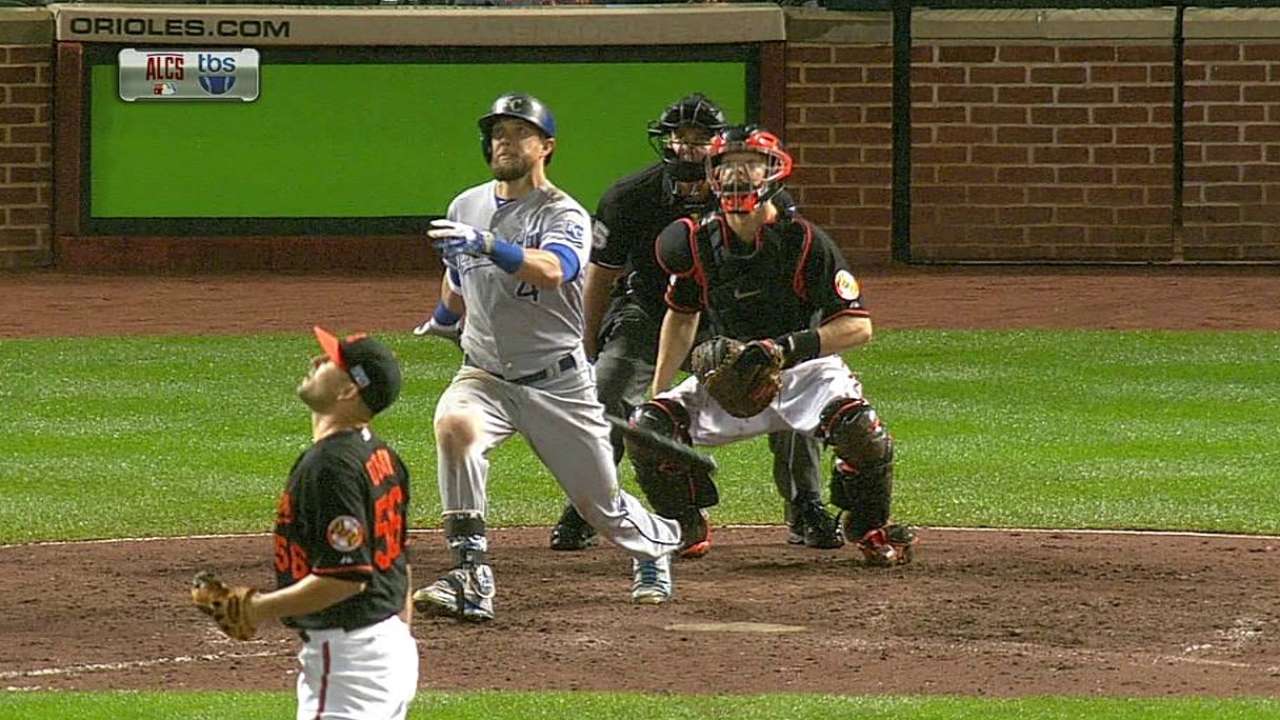 THE MOMENTS THAT MATTERED
O'Day saves the day: O'Day may have given up the game-winning homer, but he was also the reason the game continued. In with the bases loaded and one out in the ninth inning, O'Day got Billy Butler to ground into a double play to keep the score tied.
"Darren, no concern after he got a big double-play ball off a good hitter in Butler," manager Buck Showalter said of O'Day's role reversal. "They're good hitters and they're good pitchers, and sometimes it doesn't work out."
The ninth-inning mess started when Britton issued walks to the first three batters he faced in an uncharacteristically wild outing. Britton, who threw 12 consecutive balls, exited after a fine defensive play kept the score tied. First baseman Steve Pearce, fielding Eric Hosmer's grounder, came up and fired home to catcher Nick Hundley, who corralled the off-target throw and kept his foot on the plate to keep Alcides Escobar from scoring.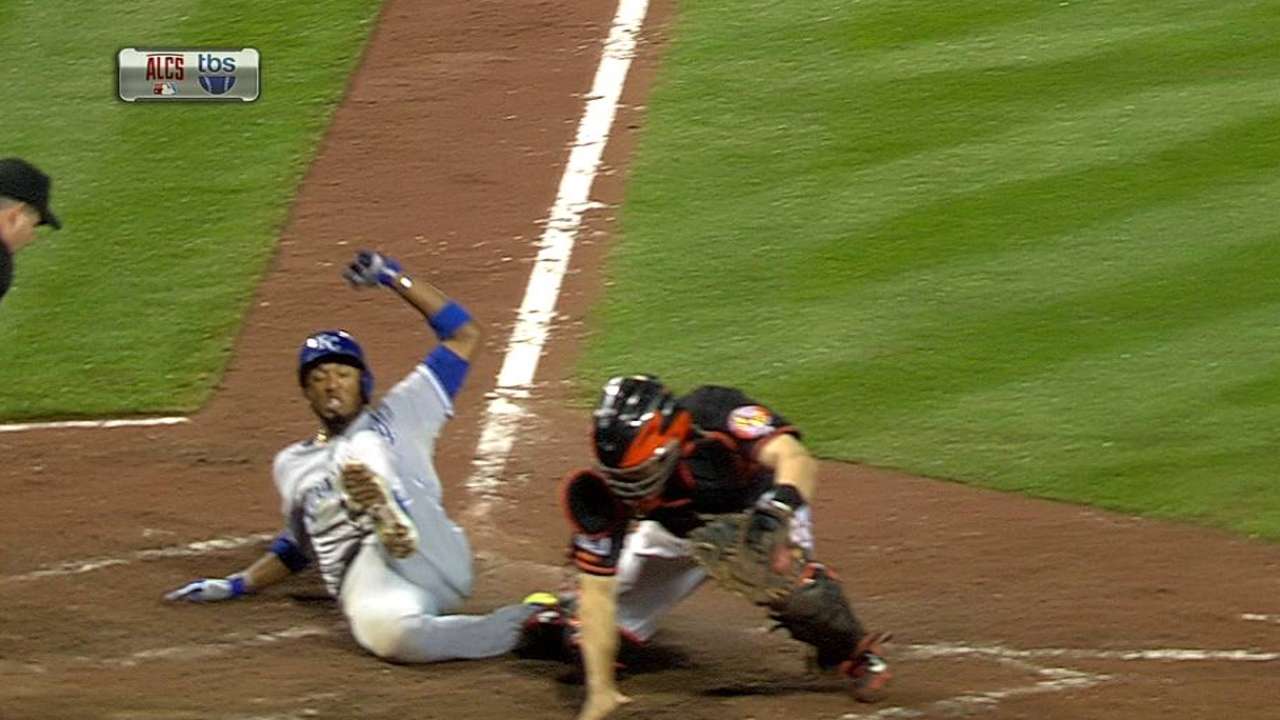 "He's been a rock all year for us," infielder Ryan Flaherty said of Britton. "And Darren came in and did what Darren did best and let us live another day."
No Zoom: Jarrod Dyson, who has the word Zoom shaved into the side of his head, entered as a pinch-runner for Nori Aoki in the top of the seventh inning, ready to steal. But the O's got a big break, as Dyson -- who easily beat the throw from Hundley -- overshot second base and took his foot off the bag briefly.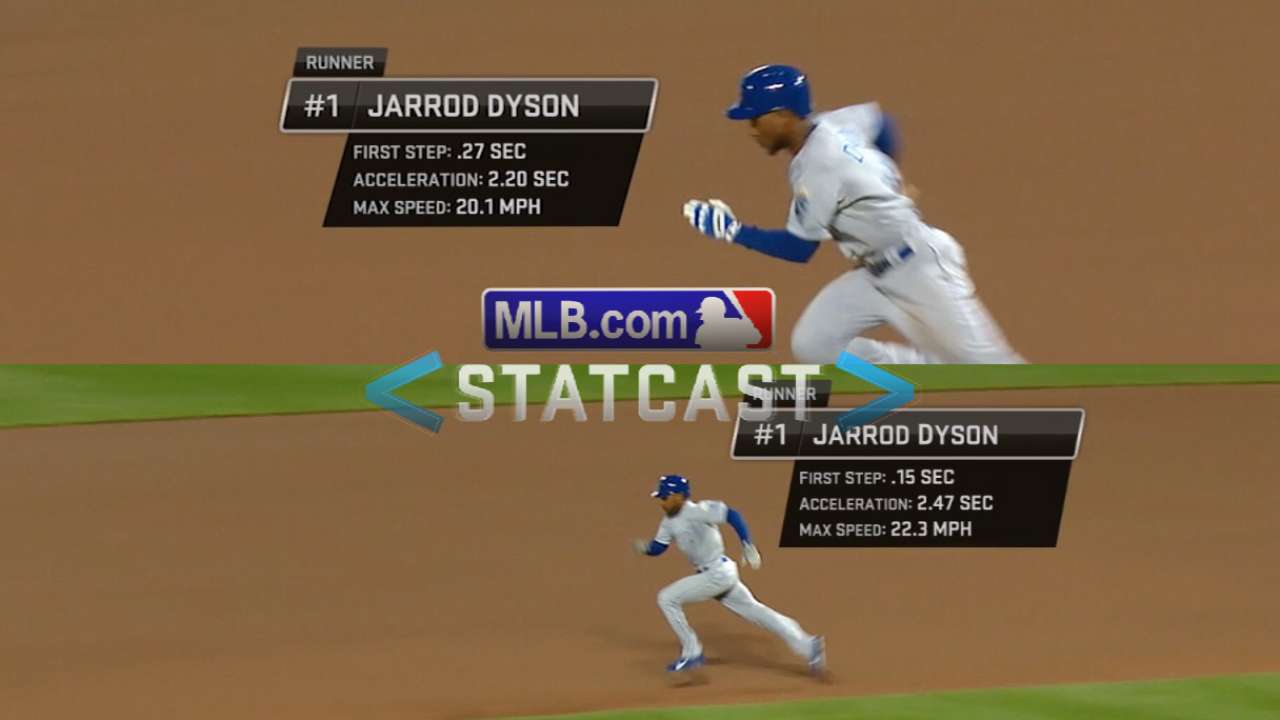 That was enough for second-base umpire Joe West to call him out, with O's second baseman Jonathan Schoop ensuring that his glove stayed on Dyson the entire time.
Speedy Schoop: The rookie Schoop, who popped up to strand the bases loaded in the second, got some redemption by almost single-handedly manufacturing a run in the sixth inning to tie the score at 5. After drawing a leadoff walk from Royals rookie Brandon Finnegan and advancing to second on a Nick Markakis single, Schoop was caught dead to rights on a big lead off the bag when Alejandro De Aza missed a bunt attempt but opted to take the gamble and head for third on catcher Salvador Perez's throw to second.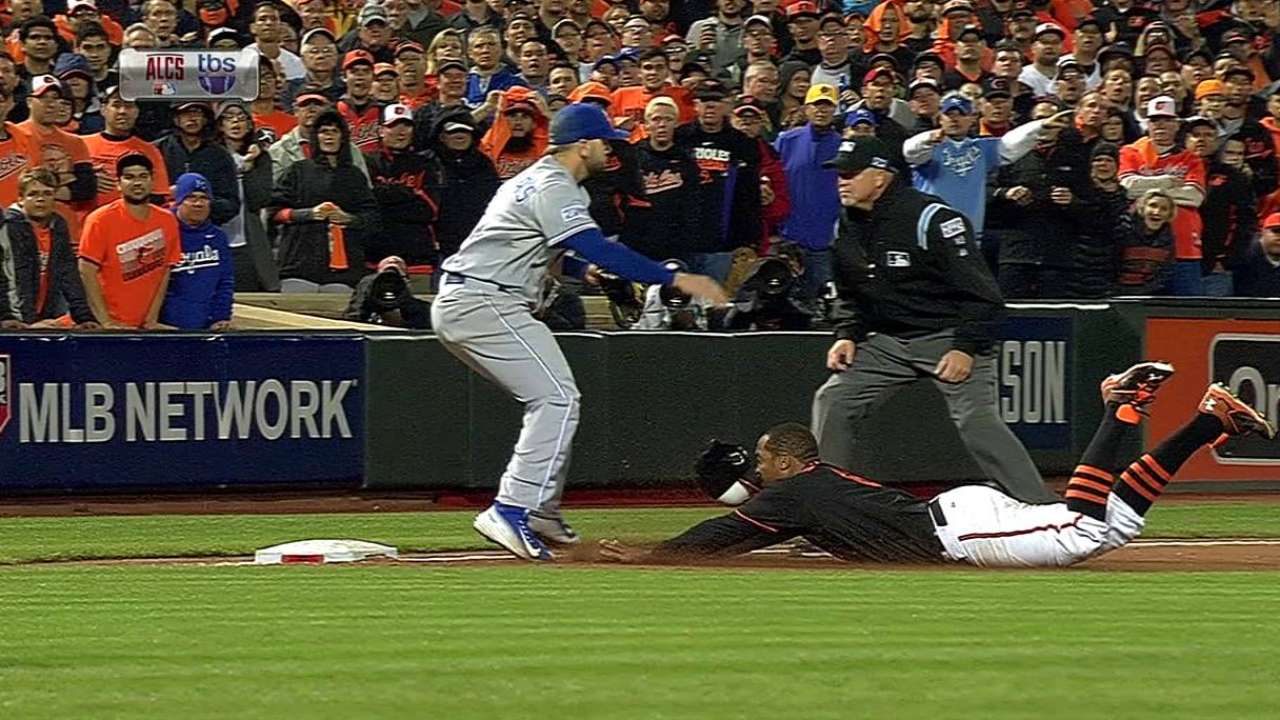 The throw from shortstop Escobar hit Schoop in the back, and he reached third safely. He then scored on De Aza's weak blooper, which dropped in behind the mound, completing a series of bizarre events.
Flash 'em: Ryan Flaherty's two-out, two-run single in the fifth inning brought the Orioles within a run and ensured they wouldn't waste another bases-loaded spot. Flaherty had three hits and has played well at third base in the wake of Chris Davis' suspension.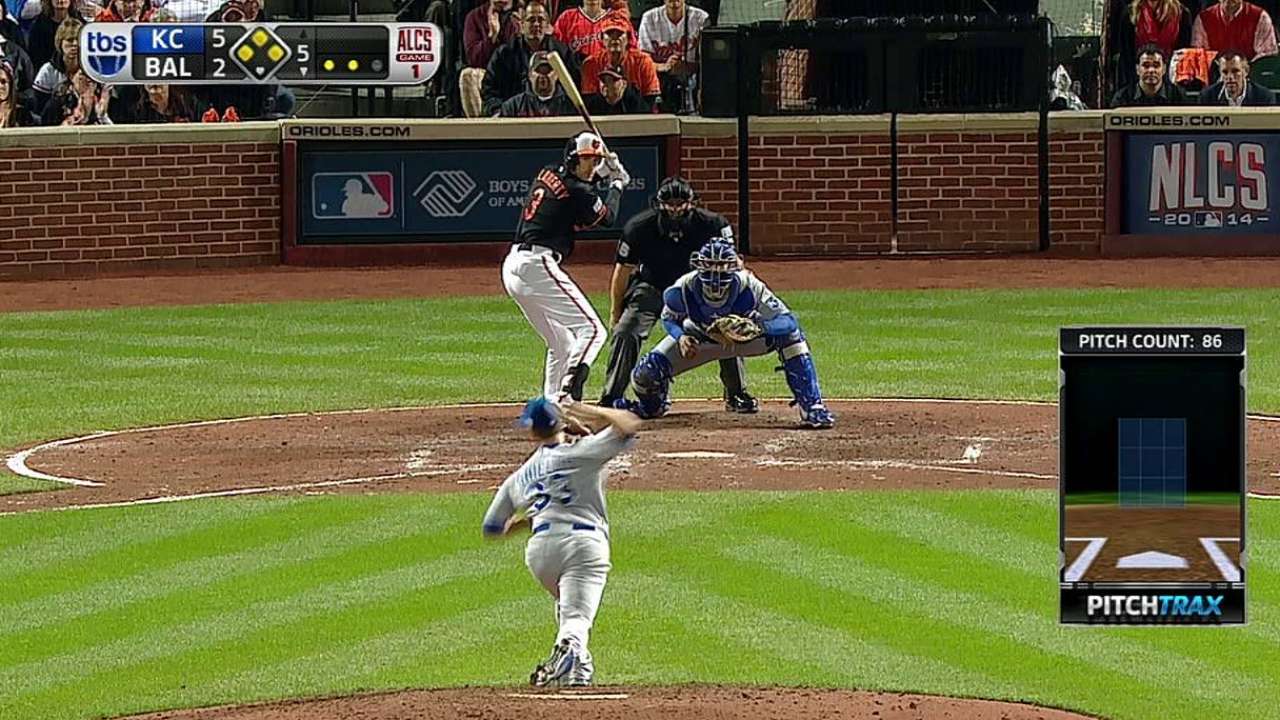 "It felt like a boxing match," Flaherty said of the four-hour-plus contest. "We got knocked down early, clawed our way back in there. Were a hit away from ending the game."
Tillman unravels: After dominating for the first two innings, starter Chris Tillman lost his command in a four-run third that included Alex Gordon's bases-clearing broken-bat double. Tillman was charged with five earned runs over 4 1/3 innings in a disappointing outing.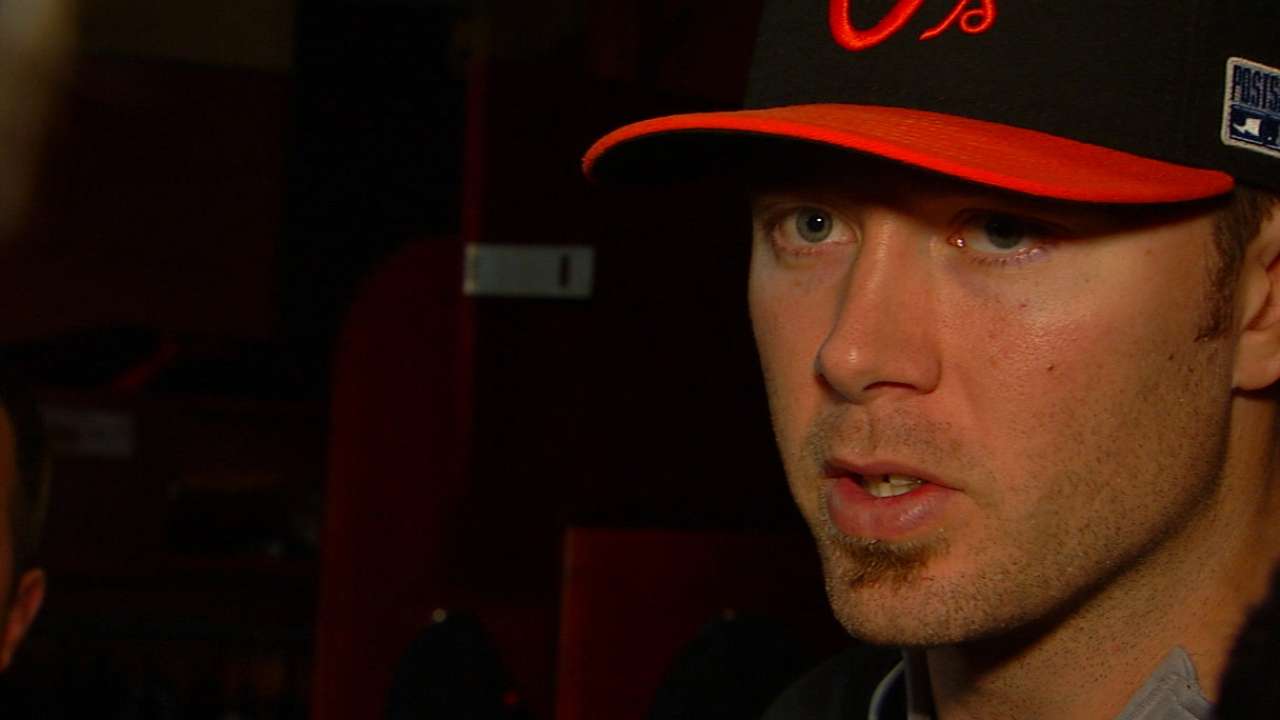 "It was a struggle," said Tillman, who also allowed a solo homer to Escobar in the third. "Physically, I felt pretty good. My pitches weren't where they needed to be. Poor execution on my part. If I limit the damage more in the big inning, it's a whole different ballgame."
SOUND SMART WITH YOUR FRIENDS
• Friday marked the 14th time that a Championship Series Game 1 has gone to extra innings. In the previous 13, the winning team went on to win the entire series.
• Nelson Cruz has at least two hits in each of his four games to start the 2014 postseason, becoming only the ninth player to open a single postseason with multiple hits in four straight games. No player in history has begun a single postseason with multiple hits in five straight games.
• Tommy Hunter's pickoff of Gordon in the fifth inning was the Orioles' first in the postseason since Alan Mills picked off the Mariners' Ken Griffey Jr. in Game 3 of the ALDS on Oct. 4, 1997. The last time the Orioles recorded a pickoff play in an LCS game was on Oct. 5, 1974, when Mike Cuellar picked off the Athletics' Bert Campaneris in Game 1.
• Game 1: Did you know?
NEXT GAME
Game 2 will take place today in Baltimore at 4 p.m. ET on TBS. The Royals' Yordano Ventura will get the ball opposite right-hander Bud Norris.
• Thrilling ALCS continues as Norris faces Ventura
Brittany Ghiroli is a reporter for MLB.com. Read her blog, Britt's Bird Watch, and follow her on Facebook and Twitter @britt_ghiroli. This story was not subject to the approval of Major League Baseball or its clubs.