Statcast: How Dyson got caught stealing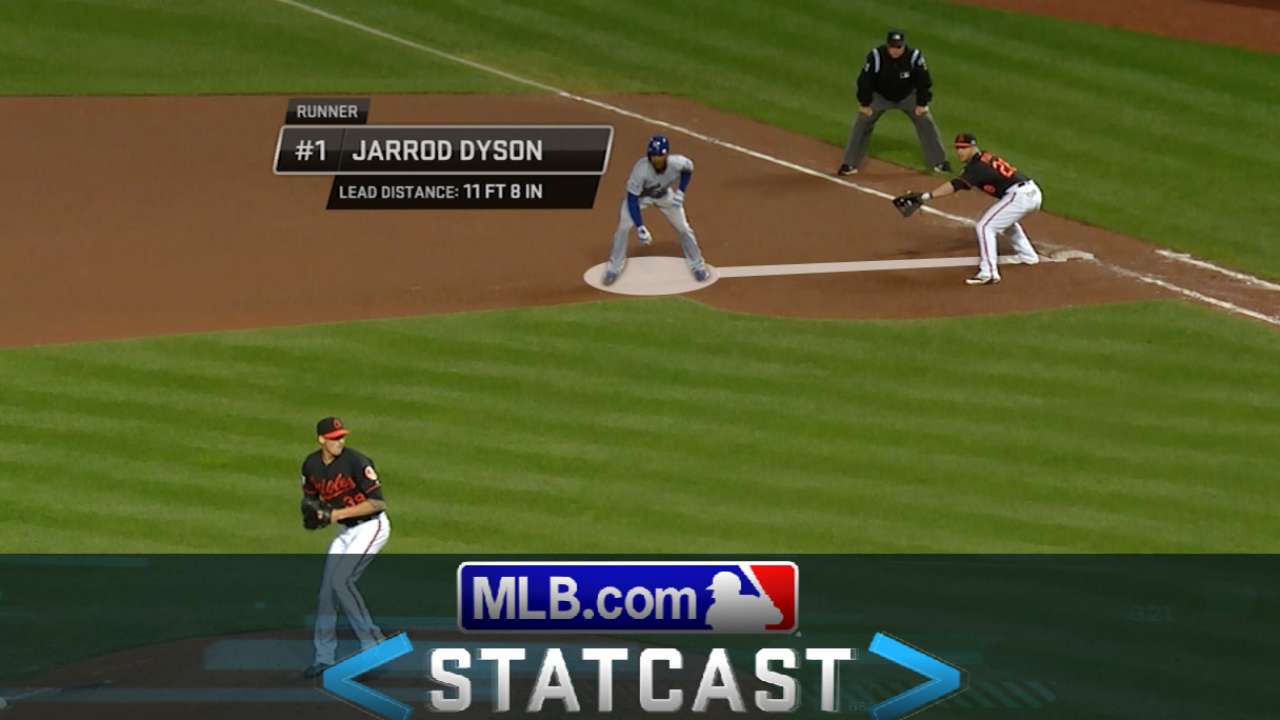 BALTIMORE -- Jarrod Dyson is fast and small, and sometimes opposing middle infielders will nudge at his leg as he slides through the bag, trying to get his foot off the base because it's their only hope of catching him stealing.
It happened again in the Royals' 8-6, 10-inning win over the Orioles on Friday night, in what could've been a costly moment for his club in Game 1 of the American League Championship Series.
"We're so fast and we're small, and there's always a chance you can come off the bag because you're moving so fast," Dyson said. "I just have to learn from that, and try not to make that mistake next time."
Dyson came in to pinch-run for Nori Aoki in the seventh, with none out and the score knotted at 5. After several pickoff attempts by Kevin Gausman, the speedy outfielder took off for second base. According to Statcast, Dyson reached a top speed of 20.1 mph (see video), and had second base stolen easily, hitting the bag well before the one-hop throw of Orioles catcher Nick Hundley. But his foot came off the base for a split second, Jonathan Schoop kept his tag on Dyson's leg and second-base umpire Joe West signaled for the out.
It was Dyson's eighth caught stealing in 38 attempts since Opening Day -- technical as it might have been -- and it loomed large when Eric Hosmer notched what could've been the go-ahead RBI single two batters later.
Dyson said Schoop "kind of pushed me off" with his glove, but he put the onus on himself. Dyson didn't get a good jump and felt he needed to compensate by starting his headfirst slide on the outside part of second base. Doing that, as opposed to sliding to the middle of the bag, leaves him vulnerable to momentarily coming off the base.
It's an important fundamental for a guy who steals bases with such ease.
"He made a play on me right there, but it's not going to stop my aggressiveness," Dyson said. "I'm going to still run if I have to do it again."
Alden Gonzalez is a reporter for MLB.com. Read his blog, Gonzo and "The Show", and follow him on Twitter @Alden_Gonzalez. This story was not subject to the approval of Major League Baseball or its clubs.