Orioles employ Royals' tactics in wild sixth inning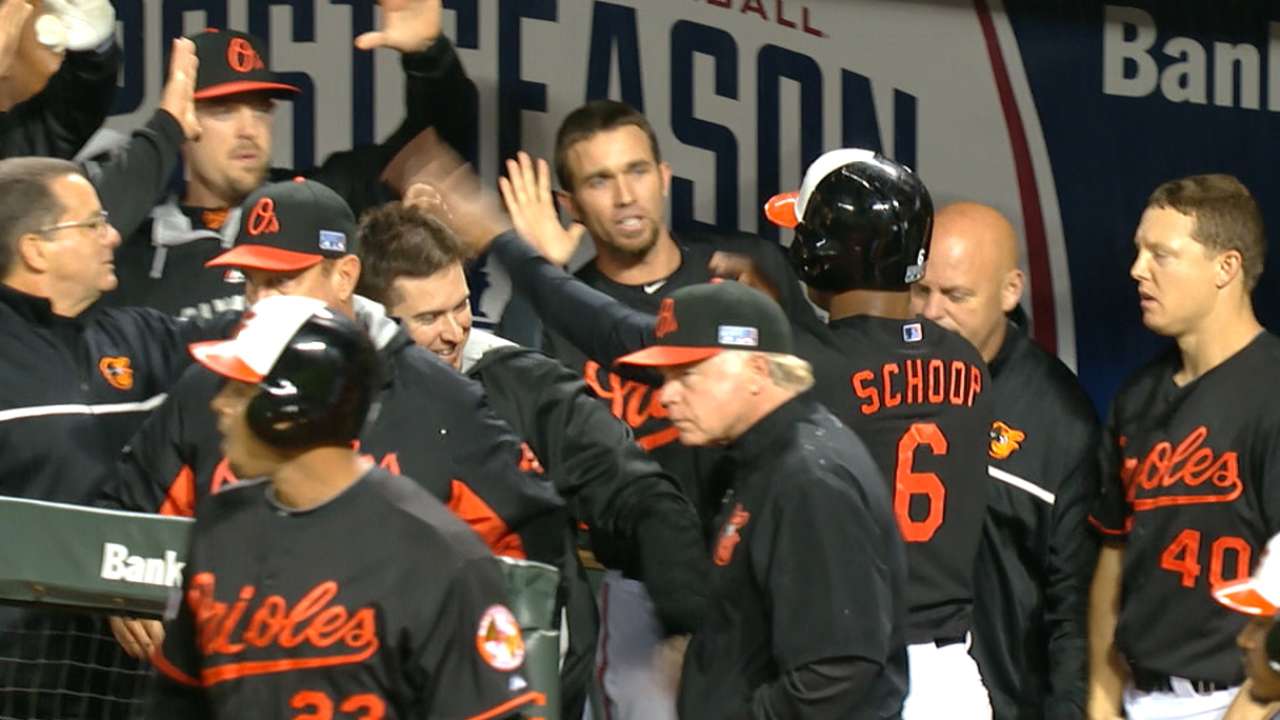 BALTIMORE -- The Royals are supposed to be the team in this American League Championship Series that relies on small ball to push runs across, but in the sixth inning of Game 1, the Orioles flashed their ability to borrow from that toolbox just as well.
A daring display on the basepaths tied things up at 5, with Jonathan Schoop racing around to erase what had been a four-run lead in the Royals' eventual 8-6, 10-inning victory on Friday night at Camden Yards, but reliever Kelvin Herrera restored order and kept Nelson Cruz's power out of the equation by inducing a key double play.
"I know he's a pretty good hitter, but the thing is when you are on the mound ... if you've got confidence in yourself, you're going to be successful in that situation," Herrera said.
Herrera cleaned up a jam created by rookie Brandon Finnegan, inducing Adam Jones to hit into a fielder's choice before tempting Cruz to offer at a hard sinker.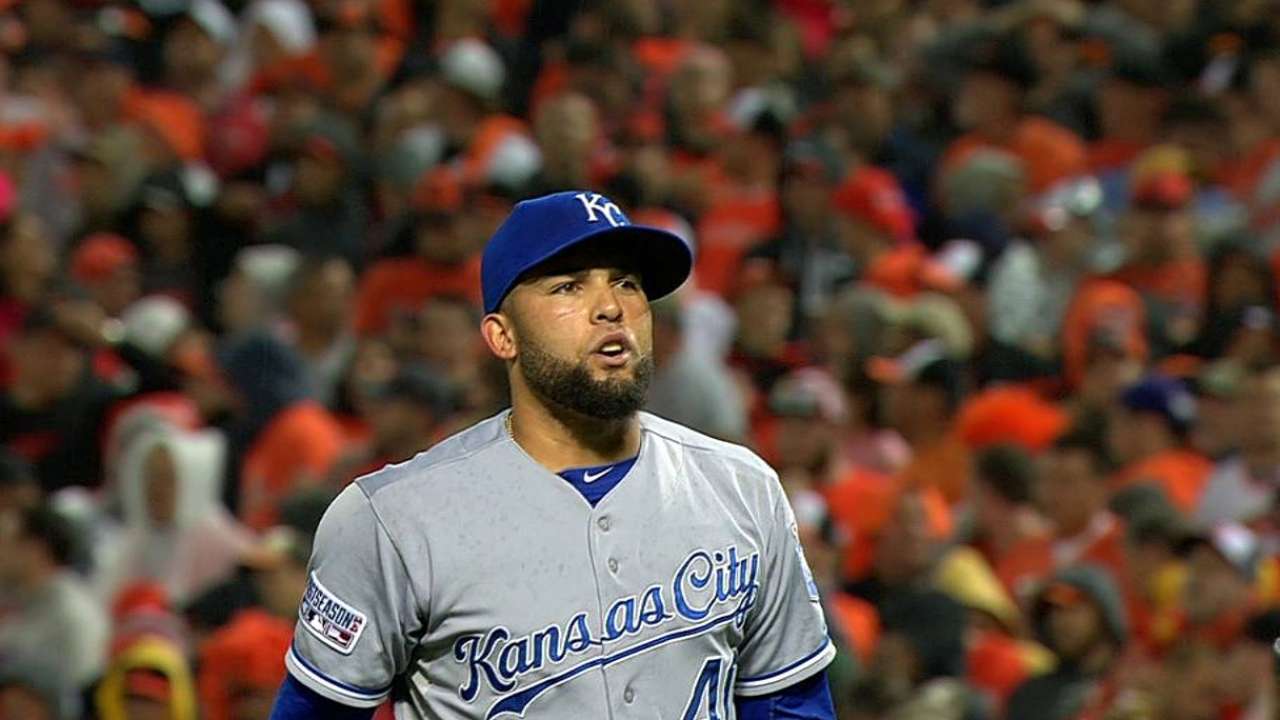 • Video: Herrera gets double play in sixth
Shortstop Alcides Escobar dropped to a knee and snared Cruz's grounder, feeding it to second baseman Omar Infante, who sent it over to first baseman Eric Hosmer for the twin killing.
"Oh, man, that's very important," Escobar said. "A hitter like Nelson Cruz, everybody knows that guy is on fire in the postseason. That's a great, great hitter." Herrera entered the game after
Alejandro De Aza
's soft pop-up between the mound and second base eluded a diving attempt by Escobar, allowing Schoop to scoot home with the tying run.
"I feel like I was close on that one," Escobar said. "When I saw that ball, I think, 'Oh, I could get it.' But it's hard to do."
As he left the field, Herrera thumped his chest and pointed to the sky, working another frame to give the Royals two scoreless innings of hitless, two-strikeout ball.
"We are in a good mood right now," Herrera said. "We're going to do a lot of good things."
The game seemed like it was slipping away from the Royals as a walk and a single put two men on with none out for Baltimore against Finnegan. De Aza squared to bunt at an 83-mph slider that missed his bat, leaving Schoop trapped off second base.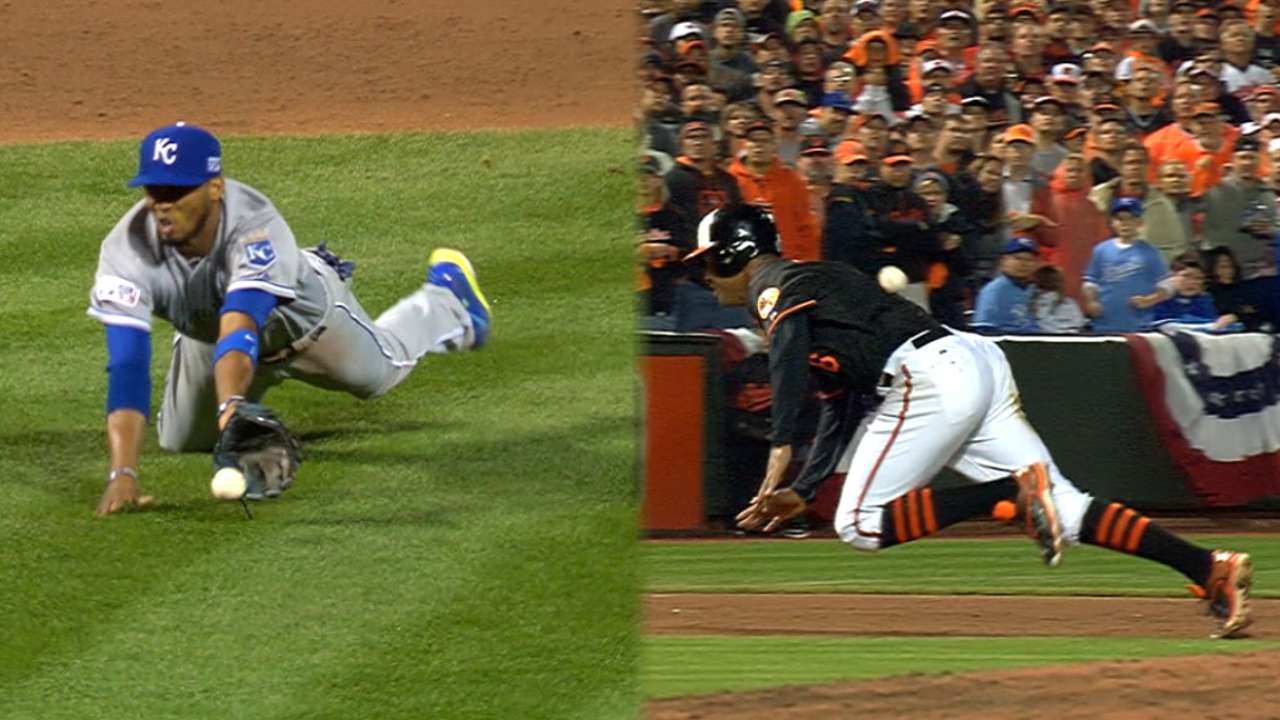 • Video: Must C -- Schoop's odd sequence
Catcher Salvador Perez whipped a throw to Infante at second base and Schoop broke for third base. Infante's throw toward third struck Schoop in the back, allowing Nick Markakis to reach second base on the back end of a very unusual double steal.
Schoop scored the tying run on De Aza's infield bloop, spurring the sellout crowd of 47,124 at Oriole Park at Camden Yards into an orange-towel-waving frenzy.
"It felt like a boxing match," the O's Ryan Flaherty said. "We got knocked down early and clawed our way back in there."
But the Royals got the last word in the end, flipping the script with three homers on Friday, borrowing some of that home run thunder that the Orioles have used so regularly this year.
"That [sixth inning] is tough to come back from, especially on the road," Kansas City's Billy Butler said. "It just shows you the type of intensity this team has. I think that's why we're at where we're at -- we play with no fear. We just keep battling."
Bryan Hoch is a reporter for MLB.com. Follow him on Twitter @bryanhoch. This story was not subject to the approval of Major League Baseball or its clubs.