Gordon's Royal efforts help take down Orioles
All-Star outfielder makes sensational catch and knocks in four runs, including go-ahead homer in 10th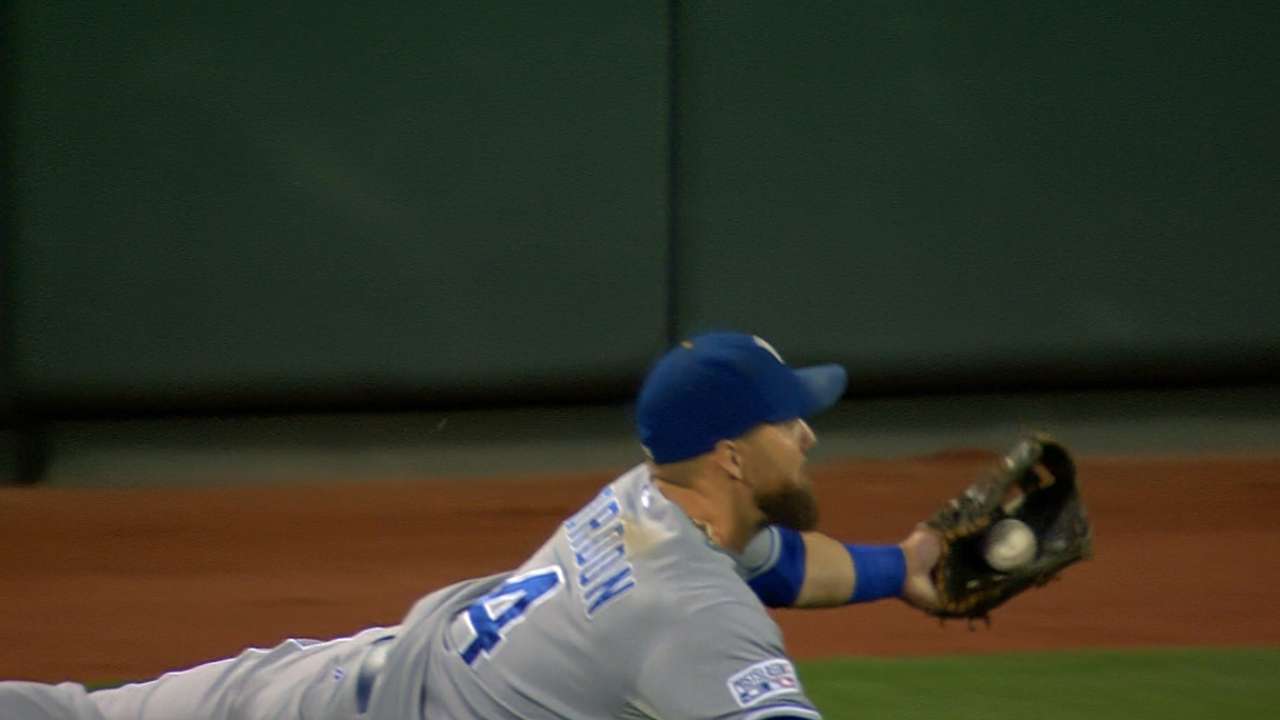 BALTIMORE -- The Royals' first American League Championship Series game since 1985, an 8-6 victory in 10 innings against the Orioles on Friday night, lasted nearly five hours. Alex Gordon starred in each of them.
The homegrown Kansas City left fielder did it all in Game 1, breaking it open with a broken-bat double down the right-field line that plated three runs in the third, saving a run with a tremendous diving grab in the bottom of the same inning, while delivering the go-ahead homer in the 10th after shaking off a welt in his neck from getting tattooed by Andrew Miller's 97-mph fastball in the eighth inning.
"That's what he's capable of doing every game," said Royals third baseman Mike Moustakas, who tacked on a two-run shot in the 10th. "People don't realize how great of a player he really is. He saved us runs defensively and drove in four runs. Unbelievable. That guy is just a phenomenal baseball player. We're lucky to have him in this clubhouse."
"He does that so much that I'm used to it," Billy Butler added. "He's a tremendous player. I'm happy to have played my whole career with him. This has been a fun ride with him, because me and him put in a lot of years of tough times. It's good for us to have some success and to have some team success. That's what it's all about. I'm happy he had a great night, we'll move on to tomorrow, and hopefully he has another one."
Don't put it past him. Gordon, the Royals' first-round pick in the 2005 First-Year Player Draft who has weathered many a losing season in Kansas City, has long waited to play on such a big stage. He was just a year old and in diapers when the Royals last made the playoffs in 1985, and he was crawling all over the most recent, stamping his fingerprints on nearly every crucial inning that defined yet another Royals postseason victory.
Gordon's manager savored all of them, struggling to pick a favorite out of Friday's edition of the Alex Gordon scrapbook.
"All three of them," Ned Yost said. "I think if I had to take my pick, it would probably be the bases-loaded double. But the catch was phenomenal. When that ball was hit, I didn't know if he was going to be able to get there, but he closed ground great and made a great diving play on it. But the home run was huge, too. He had a great night."
The Royals' defensive prowess is nothing new to those who have watched them all season long. But they continue to wow the outsiders, as Gordon did with his inning-ending grab in the third.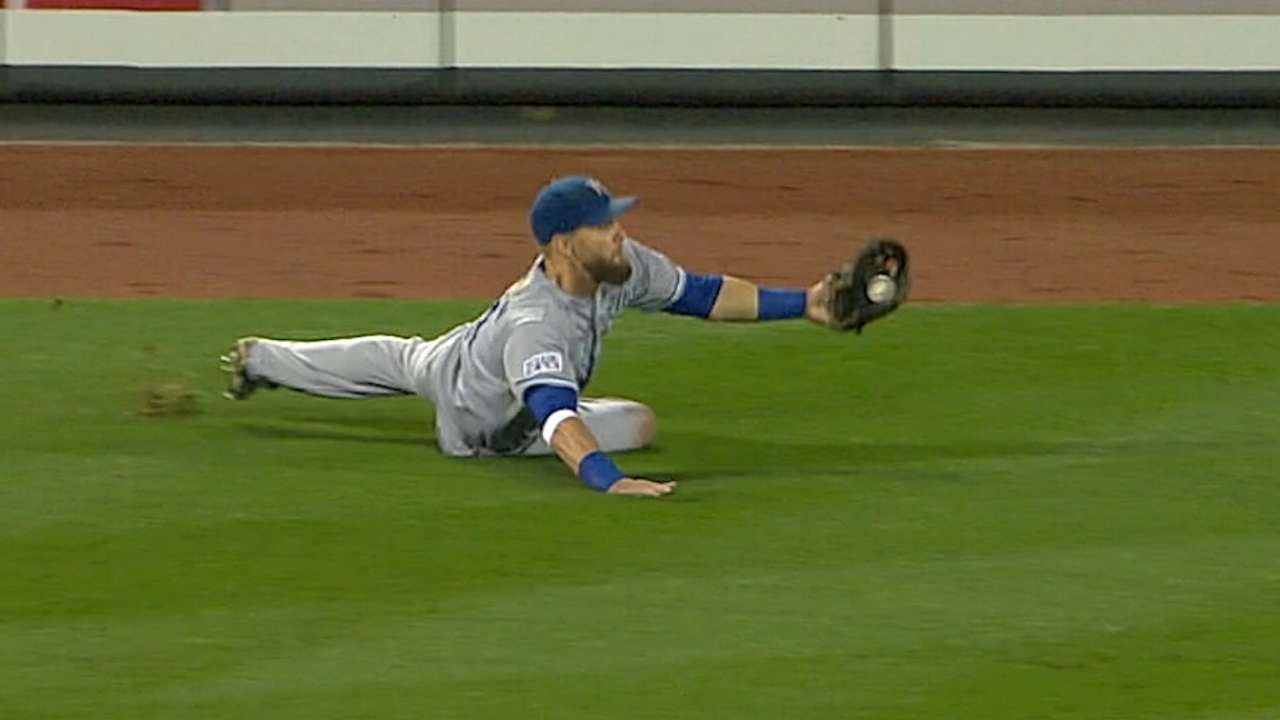 The catch of Steve Pearce's two-out liner in left-center field, with Adam Jones furiously racing from first base, saved a run while simultaneously warranting sounds of disbelief from the Orioles' faithful.
Gordon's teammates just shrugged.
"That's just standard Alex Gordon every single day," first baseman Eric Hosmer said. "Every day, he's doing something to impress somebody, doing something in the outfield that no one thought could be done. It's what we've seen him do all year long, and now more people that are watching are starting to see that."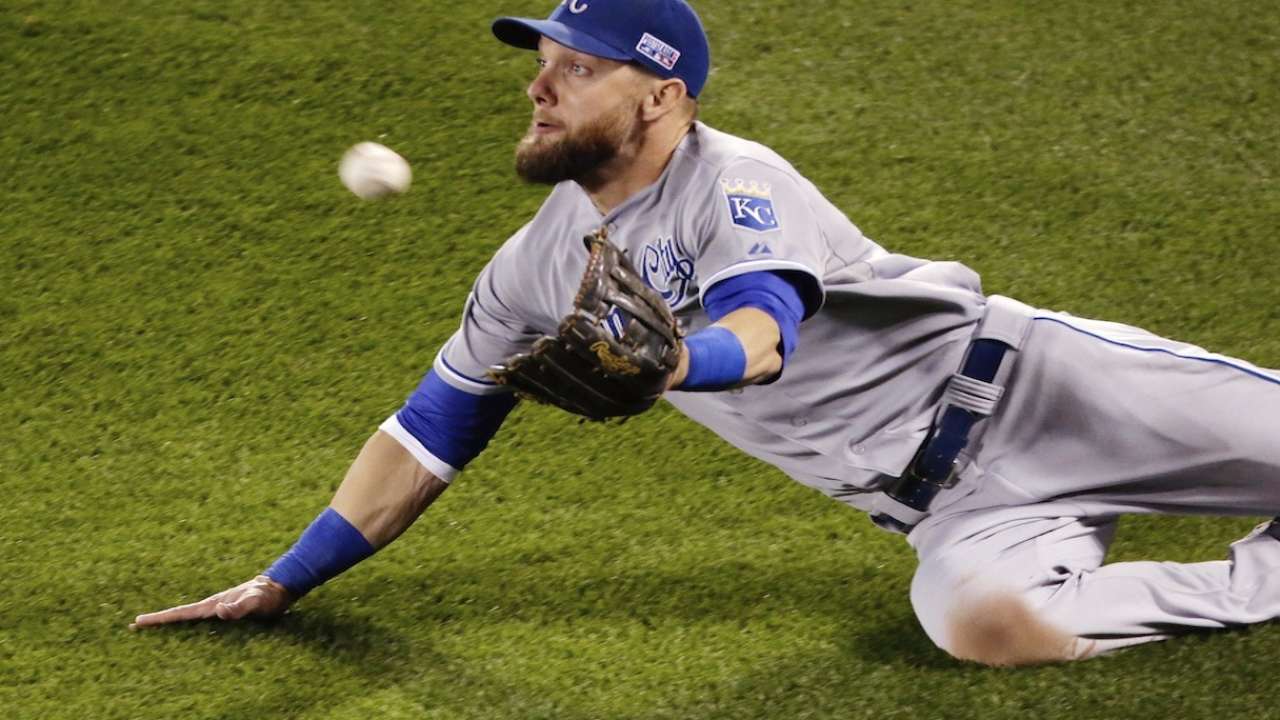 "With the crowd noise, you've really got to double check with your outfielders," said Gordon, a three-time Gold Glove Award winner. "When it was in the gap, I had a look at Lorenzo [Cain] to make sure he wasn't around. When I saw him kind of looking at me, I knew it was my ball. I think it kind of came back to me a little bit and just tried to make the catch at the last second. Our defense has really been doing that all year."
Gordon's efforts silenced the crowd, just as he did with his bat in the top of the inning.
With one run already in courtesy of Alcides Escobar's solo homer, the Royals got singles from Nori Aoki and Butler, and a walk by Cain, bringing Gordon to the plate. He dumped Chris Tillman's 3-2 fastball into shallow right field, just inside the line to clear the bases and give the Royals a four-run lead they would ultimately squander.
The Royals also wasted a prime scoring opportunity in the ninth, loading the bases with none out to no avail. For it was Gordon, again, destined to put his team back on top. His screaming line drive to lead off the 10th against Darren O'Day landed in the left-field seats as he became the third Royals player to hit an extra-inning go-ahead home run this postseason.
"I was just trying to get a base hit, just put a good at-bat together, get on base any way I could," Gordon said. "And sometimes you just get a good pitch to hit and you put a good swing on it, and those things happen."
"That was a huge swing for us," Hosmer said. "That really go the guys going."
Added Cain: "I was pumped up for him. He was pumped up. Definitely a huge homer for the boys."
That Gordon was even still in the game was remarkable, though he never once thought of leaving it after taking a fastball to the neck.
"I don't think that thought ever crossed his mind," Moustakas said. "He just wanted to get his helmet and walk to first base, and he would've told the trainer to go back if he could. That just shows you how tough he is. He's our backbone, he's our heart and soul, he's our leader.
"That guy's such a phenomenal baseball player. Such phenomenal work ethic, such a great leader. For him to have such a great night like he had, defensively, hitting a home run, getting hit in the face and walk to first base, I mean, that just shows you how tough that guy is and how much character he has. I honestly didn't think for a second Gordo was coming out of that game."
Jane Lee is a reporter for MLB.com. This story was not subject to the approval of Major League Baseball or its clubs.