Oct. 10 Ned Yost postgame interview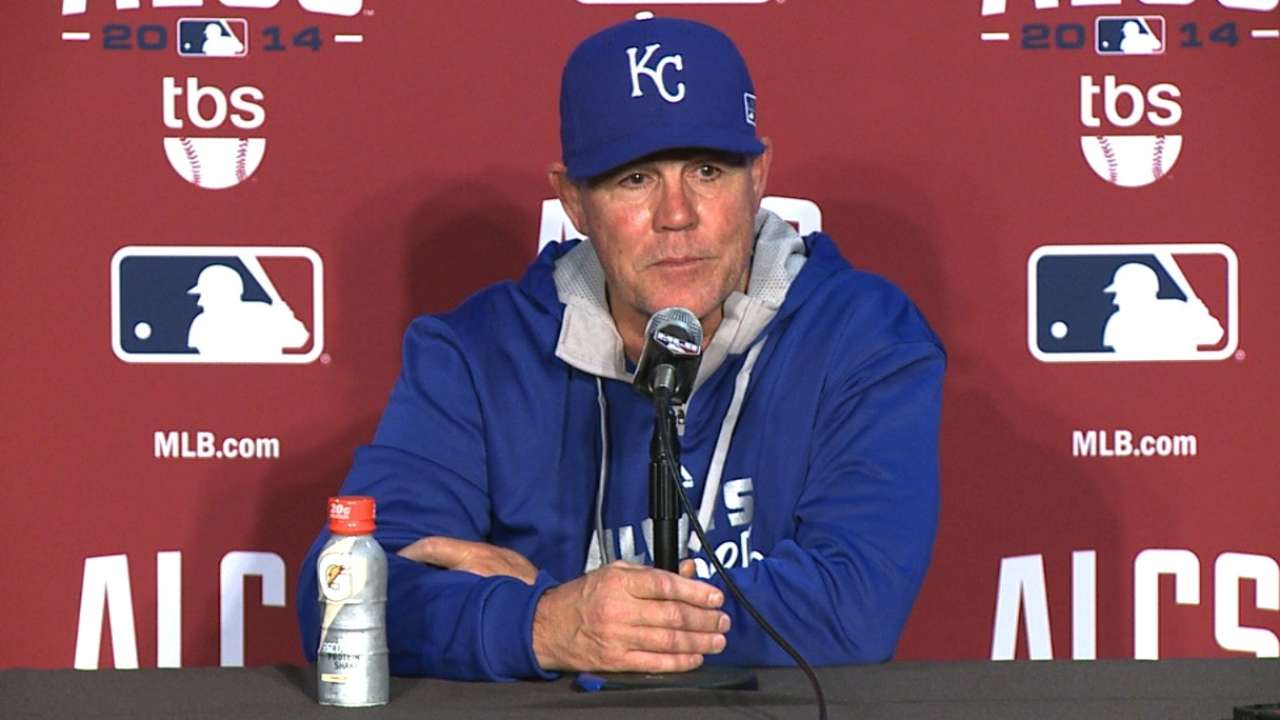 Q. Both Mike and Eric said yesterday that if you put you guys in this park you can become a pretty good home run-hitting team. That showed tonight.
NED YOST: This is a park that's a lot more conducive to hitting home runs than our ballpark is. You put our club in this ballpark, we would have hit a lot more home runs than we ended up hitting. It showed tonight.
Q. Do you think that sort of changes the complexion of the series a little bit by showing something that people haven't seen before?
NED YOST: I don't know. We find ways to win ballgames. And sometimes it's hitting home runs, sometimes it's stealing bases and manufacturing runs. And most of the time it's with good pitching and defense.
But these guys will find a way to get it done.
Q. How big was it that Wade Davis was able to give you two innings and let you use your bullpen the way you did?
NED YOST: It was huge that Kelvin Herrera and Wade Davis could get through two innings and manage their pitch count. Both of them were under 20 pitches, so they'll be fine for tomorrow. Both of them were very, very sharp.
And Kel came in and did a great job of keeping the score tied at that point. And Wade with two big innings, holding the score right there, giving us a shot to get Holly in the game. Big.
Q. Before the game when Gordon was in here he seemed almost calm. What is it about his demeanor in a situation like this that makes you think that he's the guy that's going to respond to this stage?
NED YOST: Well, you know, every one of our guys are really, really loose right now. They've got a lot of confidence.
Gordy just has a lot of confidence in his abilities. And he's a guy that can hit on a pitch and do exactly what he did, drive it out of the ballpark tonight, after getting hit in the neck. So it was a huge hit for us at that point, because we were really trying hard to get Greg Holland in that game and that allowed it.
Q. On Gordon, how scary was that for you when he got hit with that? Which of the things he did tonight did you like best, the bases loaded double, the catch?
NED YOST: All three of them. The bases loaded double, when he first hit it, I thought that ball was going to hook foul. But he really did a nice job of staying inside of it and got English on it, instead of hooking foul it hooked back fair. And actually, I had a great view of it right down the line. When he hit it I thought it was going this way, but came back and ended up down the line.
I think if I had to take my pick, it would probably be the bases loaded double. But the catch was phenomenal. When that ball was hit I didn't know if he was going to be able to get there, but he closed ground great and made a great diving play on it. But the home run was huge, too. He had a great night.
Q. Was it scary for you when he got hit?
NED YOST: A little bit. I thought I heard helmet. And it did clip the helmet and then hit him in the neck. But he's such a tough kid that when we got there you could tell by the look in his eyes that he was going to be go okay.
Q. Do you guys just kind of feel right at home now in these long games that have a weird twist?
NED YOST: Yeah, we do. These games, we've played so many of them that we're kind of used to them a little bit. And we still have a lot of confidence.
When they battled back in the fifth inning and even in the sixth inning there when they tied the score, we felt really, really good going into the seventh inning with Herrera, knowing that we had Herrera, Wade Davis, Holly if we scored a run, Danny Duffy down there, Jason Frasor. We felt we could hold them until we could put some runs on the board. It's a good feeling.
Q. The top of the 9th for that to unfold as it did, how is it not deflating to you, and how is it so easy to bounce back in there?
NED YOST: Our guys ‑‑ we've done that a few times this year, bases loaded, nobody out and not score. We're a little used to that, too. But our guys come in and they stay focused in those situations. They don't get down in those situations. They don't get defeated.
Their whole focus is, Let's go out, let's D up, let's play defense, let's put a zero and come back and score some runs, and that's exactly what they did.
Q. Fifth inning, Shields is in a little bit of trouble, gives up a couple of singles. What was the decision to stick with him in that spot and get out of that jam?
NED YOST: In the fifth inning?
Q. Yes, sir.
NED YOST: We were going to stick with him all the way ‑‑ once we got to Flaherty, we were going to stick with him down to the next two right‑handed hitters, have Finnegan ready if we got there for Markakis. He ended up getting Schoop out to ‑‑ no, he ended up getting Hundley out to end the inning.
We thought at that point, or I thought he was starting to labor, he was starting to get pitches up. Finnegan would be a good matchup for those guys knowing we would back him up with Herrera. Finnegan actually threw the ball pretty good. He ended up walking Schoop, and Markakis did a great job of staying inside the ball and kind of blooping it. And De Aza's hit, he just hit it soft enough where nobody could make the play on him. I thought Finnegan threw the ball pretty good.
Q. If you could just talk a little bit, please, if you would, about stretching Herrera and Wade a little bit and what the meaning of that was in this game?
NED YOST: Well, it was huge. Both of those guys, and we didn't really stretch them. Their pitch counts, they managed their pitch counts great. They both came in really sharp. Herrera and Wade both were under 20 pitches for two innings.
But we felt it was the best opportunity to give us a chance to win the ballgame. We extended both of those guys two innings, but the job they did managing their pitch count was phenomenal. Will allow them to be available tomorrow.