Royals able to flip power script to burn Orioles
Escobar's blast keys four-run third, while Gordon, Moustakas hit clutch homers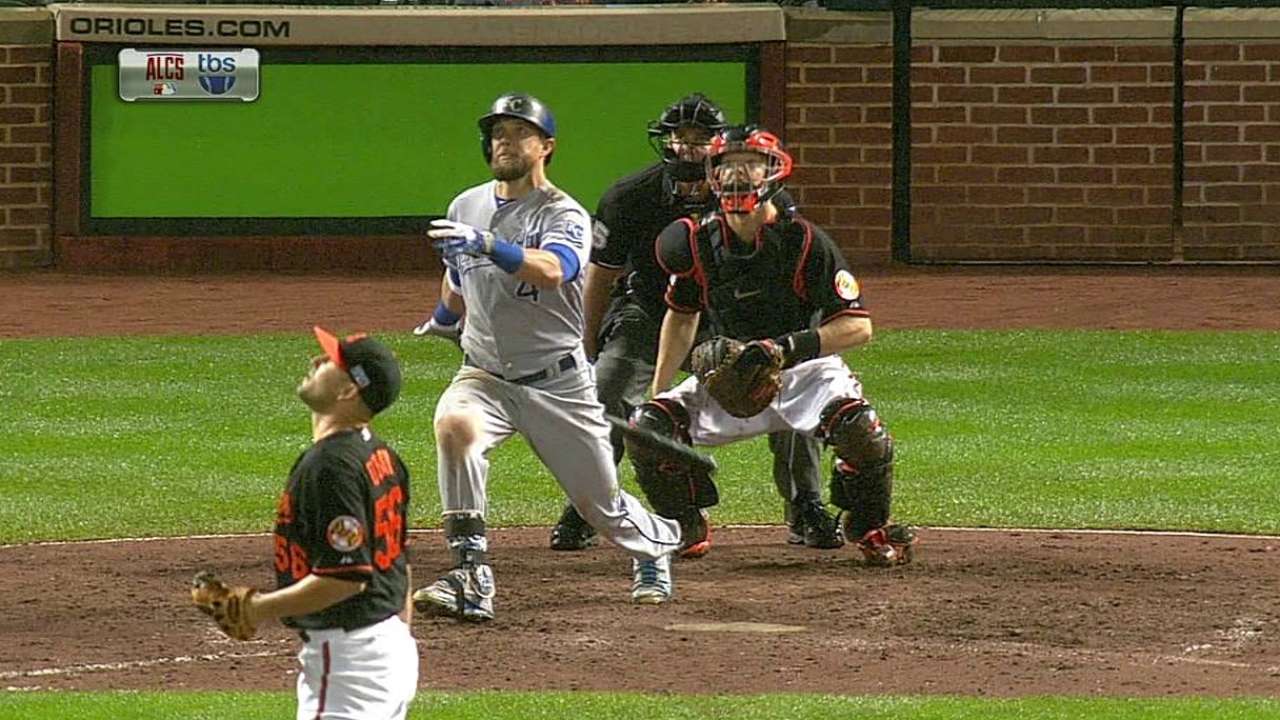 BALTIMORE -- The Royals are taking the narrative and flipping it on its head, then crushing it over the fence.
They mustered 95 home runs during the 162-game regular season, fewer than any other team in baseball, and have amassed seven jacks in their last four postseason games, with three of them showing up huge in their 8-6, 10-inning win over the Orioles in Game 1 of the American League Championship Series on Friday night.
Put another way: The Royals averaged 0.59 home runs per game during the regular season and 1.75 since the AL Wild Card Game. That's nearly three times their rate, and further proof that tendencies often don't apply in the small sample size of a postseason series.
"We can swing the bats on this side, man," third baseman Mike Moustakas said. "We don't always have to play small ball."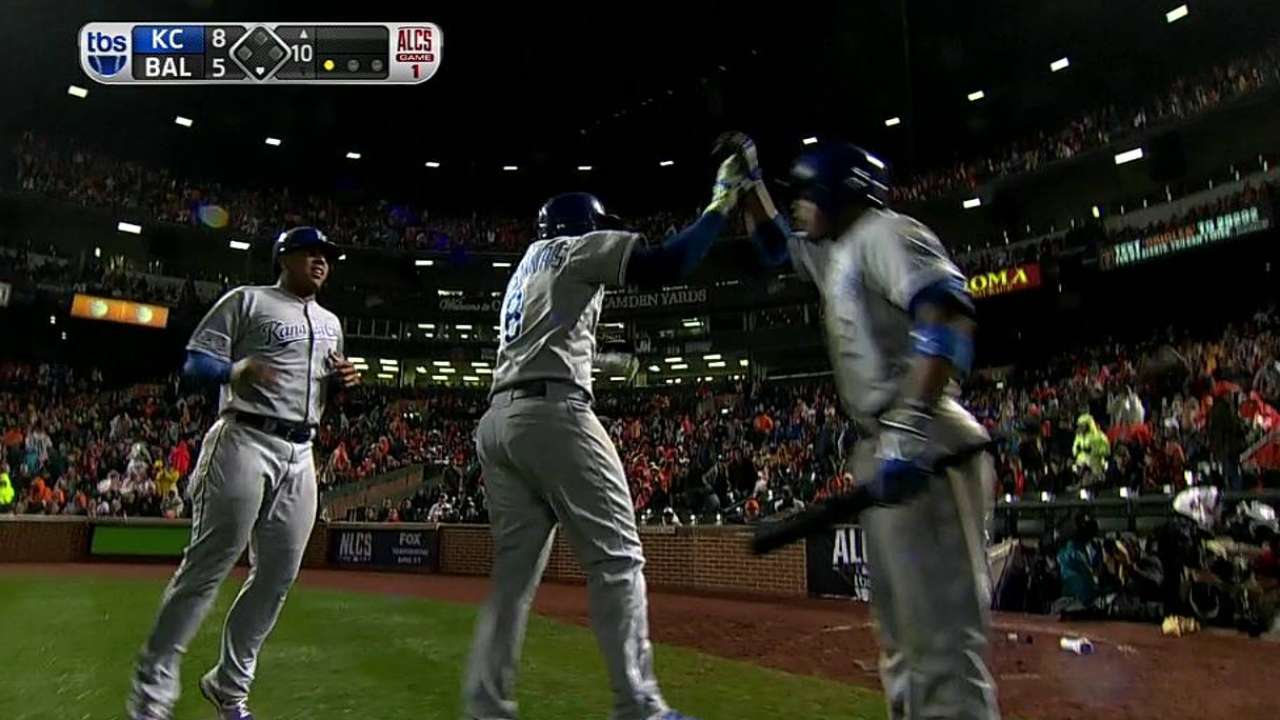 Moustakas capped the onslaught of long balls from Oriole Park at Camden Yards, the launching pad that hosted the Major League leaders in home runs this season. His 10th-inning two-run homer off Brian Matusz was Kansas City's fourth extra-inning homer in that stunning four-game stretch, occurring three batters after Alex Gordon put the Royals on top with a leadoff homer off Darren O'Day and seven innings after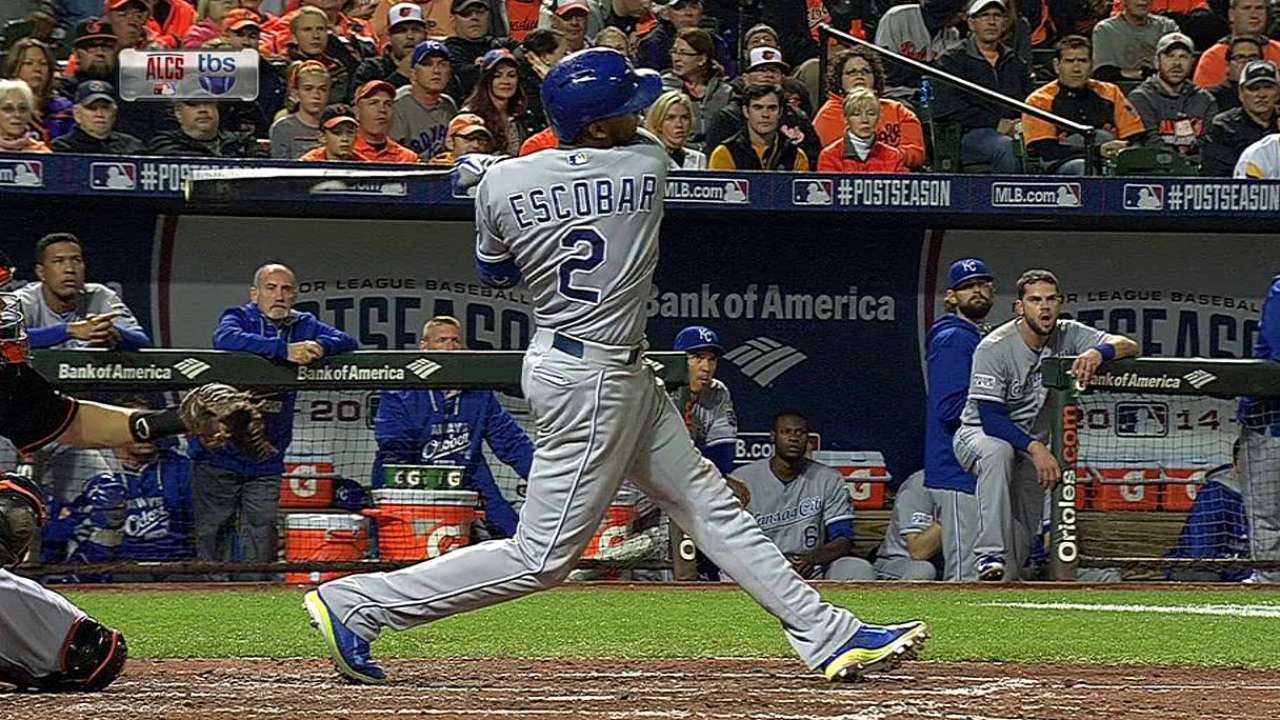 Alcides Escobar cranked out a solo shot of his own.
Yes, that Alcides Escobar -- the same light-hitting shortstop who homered three times despite playing in every single game this season.
"People talk about how we're a team that runs a lot and that we're really not home-run hitters," Escobar said in Spanish, "but I don't think that any of us are changing our approach at the plate. We're staying with the same approach, and sometimes things just go in streaks like that."
Escobar ran through four names: Billy Butler, Eric Hosmer, Gordon and Moustakas. All of them have previously hit at least 19 home runs in a season, but only one of them (Gordon) reached that total in 2014.
It just, you know, happens.
"We know we're capable of hitting home runs," Gordon said. "We didn't do it during the regular season, but it doesn't really matter. This is the postseason, and we're starting to swing the bats better now. It's good to see. I think the last month of the year during the regular season, guys started swinging it well, and our offense started to jell. Up and down the lineup, we're feeling good."
There was surprisingly a very negligible difference in home-run rates between Oriole Park and Kauffman Stadium in Kansas City this year, with the Orioles' ballpark ranking 20th and the Royals' ballpark ranking 22nd. But Baltimore has far more favorable power alleys, the outfield walls measuring 21 feet shorter in left-center and 12 feet shorter in right-center.
"You put our club in this ballpark, we would have hit a lot more home runs than we ended up hitting," Royals manager Ned Yost said. "It showed tonight."
The Royals had no extra-inning postseason homers from 1969 to 2013, and now four of them in one four-game stretch. Only the Cardinals can match their home run output in these playoffs, and they finished second-to-last in homers during the regular season.
Moustakas hit a solo homer in the 11th inning off Fernando Salas at Angel Stadium, giving the Royals a win in Game 1 of the AL Division Series.
Hosmer hit a two-run shot off Kevin Jepsen in the 11th inning of Game 2, providing yet another win over the first-place Angels.
To cap off the sweep in Game 3 -- at Kauffman Stadium, no less -- Hosmer took Hector Santiago deep for a two-run shot in the third and Moustakas hit a solo homer off Mike Morin in the fourth.
Then, the Royals hit three home runs in the ALCS opener -- three more than the team that led the Majors in homers during the regular season.
So much for small ball. So much for the narrative.
"The home runs come when they come," Butler said. "You can't really understand why or even ask the question -- they just come when they come."
Alden Gonzalez is a reporter for MLB.com. Read his blog, Gonzo and "The Show", and follow him on Twitter @Alden_Gonzalez. This story was not subject to the approval of Major League Baseball or its clubs.