Royals' Ventura to unleash high-octane arm in ALCS
Dominican rookie so far unfazed by postseason pressure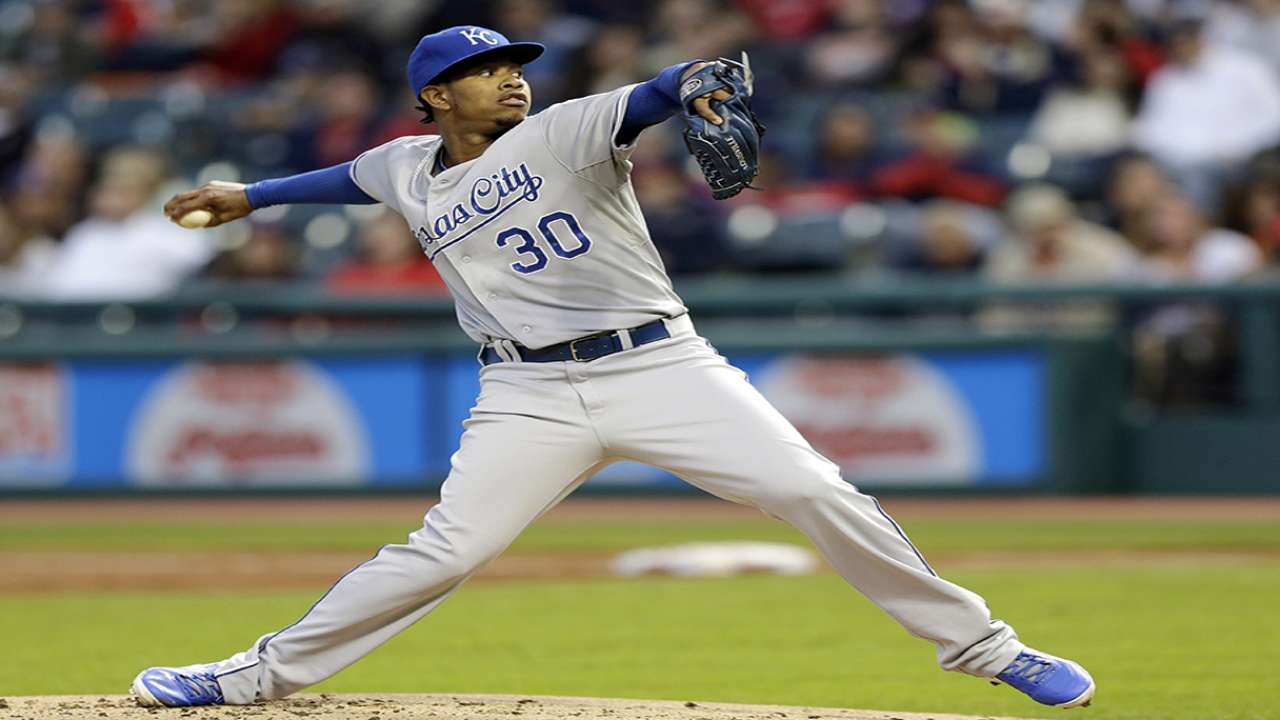 BALTIMORE -- The Royals are fast and fearless, and not just on the bases. So many of their arms radiate these same qualities. Just look to their bullpen, or buckle up and tune in to the Yordano Ventura show Saturday.
The baby-faced flamethrower mows down batters with reckless abandon, and in Game 2 of the American League Championship Series, the right-handed Ventura -- who allowed just one home run in his final 10 regular-season starts -- will greet an Orioles lineup shouldering plenty of right-handed pop.
It's a matchup not to be missed, beginning at 4 p.m. ET on TBS. Orioles manager Buck Showalter waited until after the Royals' 8-6, 10-inning victory in Game 1 on Friday night to announce that he will go with right-hander Bud Norris in Game 2.
Still just a 23-year-old rookie, Ventura has already displayed plenty of mental fortitude this postseason, the type of toughness that often separates frontline pitchers this time of year. That he pushed aside Brandon Moss' go-ahead home run in the exhilarating, 12-inning Wild Card Game against the A's and just three days later dominated a powered Angels lineup with ease for seven innings proves as much.
"That's what we've come to expect of him," his manager, Ned Yost, said.
Now, it's simply a matter of him copying those efforts on an even bigger stage, the biggest this Royals fan base has experienced in nearly three decades, and furthering what he's done all season.
He's ready.
"I'm always ready," Ventura said through his interpreter, teammate Jeremy Guthrie. "I'll always be as prepared as I can and be aggressive whenever they give me the ball."
"He's been almost like that from the first day of the season on," said Yost. "He's a very confident young man. His composure is tremendous when he steps on the mound."
The unfazed Ventura sported an average velocity of 99 mph in Game 2 against the Angels in a Royals sweep of the AL Division Series. He not only dialed it up in the affair but sustained it, routinely topping 100 in the seventh inning, walking just one and fanning five with only one run and five hits allowed.
Ventura isn't just a thrower, though. He's a pitcher who has learned to exploit each of his gifts, which includes a devastating curveball to balance that deadly gas.
"He's got tremendous offspeed stuff," said Billy Butler. "His fastball gets a lot of credit, obviously. As incredible as it is, he's really honed in on his mechanics and his offspeed stuff. He's been able to command it all. And that's the reason why he's been very successful for us."
Ventura went 14-10 with a 3.20 ERA in 31 appearances, all but one of them starts, in the regular season, including 1-1 with a 1.26 ERA in two starts against Baltimore. His ERA was fifth among Major League rookies, and his 183 innings were easily the most among this bunch.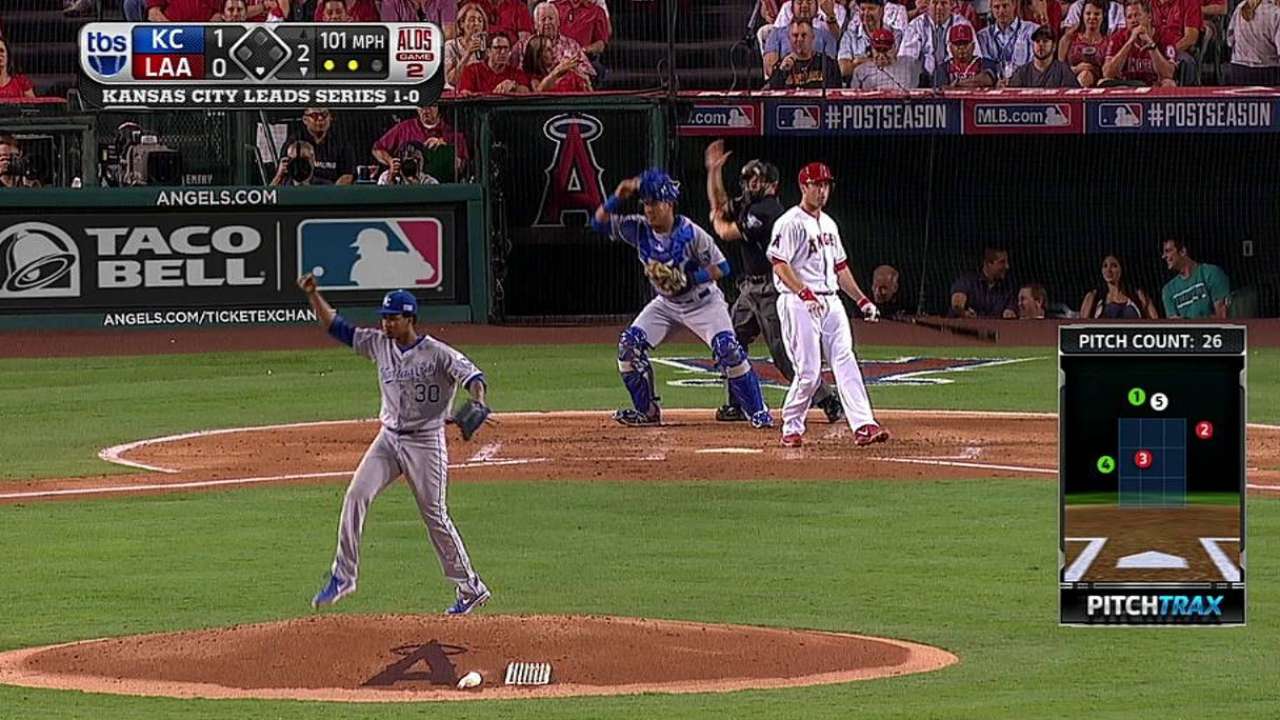 Along the way, he gained a huge fan in Royals great Bret Saberhagen, who, when just 21, starred in his own postseason. This is Kansas City's first since that 1985 World Series championship campaign.
"He's an amazing pitcher, and the times that he struggles is when he loses that control a little bit," Saberhagen said of Ventura. "He seems to get himself into a little bit of a jam. But he's got tons of velocity and he seems to locate pretty much the majority of the time. He's got very good mechanics. He's not a full-max guy, he's got his mechanics under control.
"A lot of times you see these guys that throw hard, and it's full max and they're trying to get everything they can out of it. But he's got a nice smooth delivery -- which I like -- and a good breaking ball, good changeup. I don't think he uses the changeup enough, but when you've got that overpowering fastball and guys can't catch up with it, I guess you don't need to use it that much. He's fun to watch."
Added Yost: "At times, he gets a little ramped up with his stuff, and he's learned how to control that a little bit. And by that I mean he'll waste pitches at times trying to throw too hard, but then always gathers it back in. And those are pitches that he's going to need as he moves further along to get him through the seventh and through the eighth inning. But I think he's just done a tremendous job all year long."
The Dominican right-hander is just as big a weapon as any the Royals have in their quest for the AL pennant, even if others don't know it yet. He's very much at ease in this pressure cooker, with savvy vet James Shields constantly in his ear to help him maintain such a poised demeanor, and any added adrenaline may only help his cause.
"You see him sitting in the high 90s, triple digits all game. I've been watching him all year," said Butler, "and you just feel at some point, is it going to go down a little bit? But it seems like it's stayed there.
"I just think that you forget how young he is. He goes out and competes and does a great job."
Jane Lee is a reporter for MLB.com. Read her blog, Major Lee-ague, and follow her on Twitter @JaneMLB. This story was not subject to the approval of Major League Baseball or its clubs.