Bumgarner brings trademark intensity to Game 1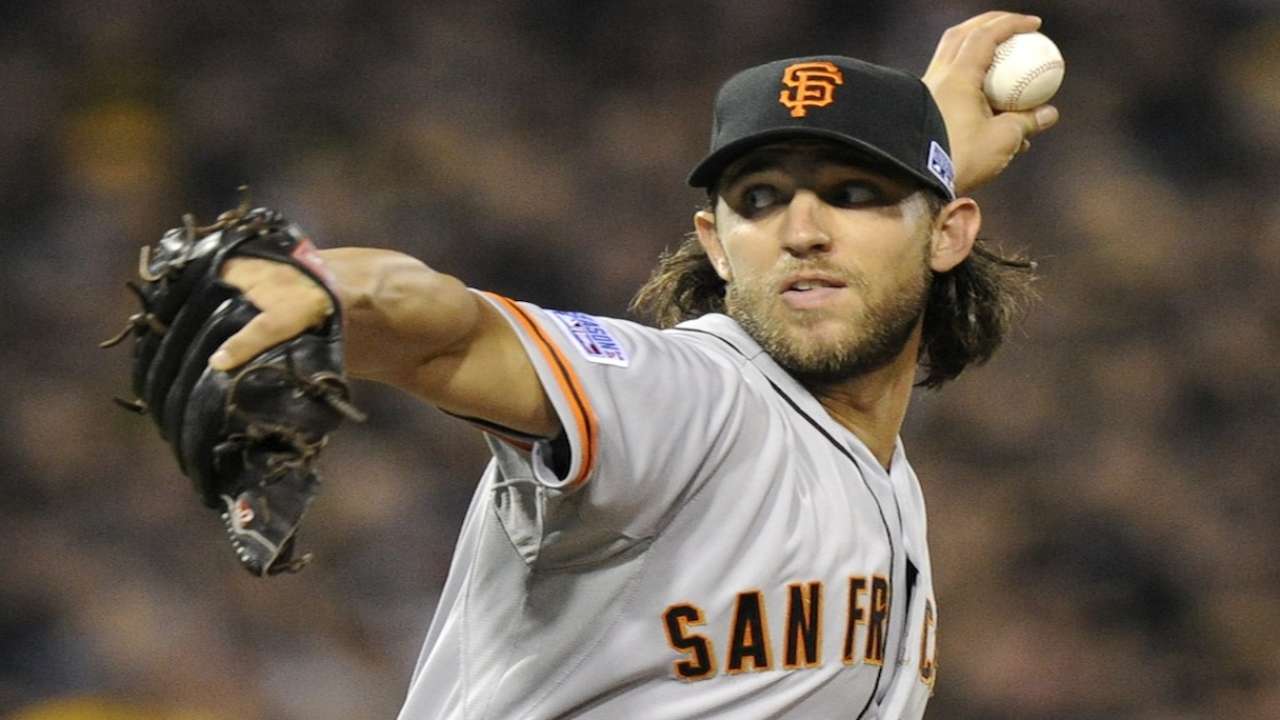 ST. LOUIS -- The sketchy handheld video shows Madison Bumgarner as a Minor Leaguer pitching for the Triple-A Fresno Grizzlies just before he joined the Giants in 2010 reacting to his being thrown out of a game after a dispute with the umpires. It's hard to tell, but the kid wearing No. 40 appears to haul off and throw the ball into the outfield before his teammates escorted him from the field.
It was that kind of fire that the Giants wanted to harness and the type of fire they expect out of Bumgarner when he starts Game 1 of the National League Championship Series at Busch Stadium against Cards ace right-hander Adam Wainwright tonight (5 p.m. on FOX).
Bumgarner, now just 25, is in the NLCS for the third time in his five-year career. Together, the Giants and Bumgarner have already won two World Series titles and are eight wins away from another. That's a good career for most pitchers. These days, the native of North Carolina, who actually grew up in a log cabin, says he likes to stay calm when he's on the mound.
"I don't like anybody to be able to tell how I'm feeling," he said on Friday. "Sometimes, especially this time of year, if a play happened behind you, you get a big out you're going to get excited. There is no way around it. I try to stay even keel, and I don't want you guys or the other team or the fans or anyone knowing where my head is at, at that time, even though sometimes it's probably in some bad places. I like to just try to keep the same demeanor no matter what's happening. It's obviously easier said than done sometimes."
Like two weeks ago when the Giants were playing the Dodgers at Dodger Stadium during the last week of the season and Bumgarner accidently hit Yasiel Puig in the foot. It was the second confrontation with Puig this season. Bumgarner took exception to Puig's reaction and began jawing at the Los Angeles center fielder, challenging Puig to come out on the field. The benches cleared, but in the end, cooler heads prevailed. The message, though, was clear: don't tangle with Bumgarner, who is now the Giants' ace after leading the staff with 18 wins this season.
"I probably said something first," Bumgarner said that night. "He's sitting there staring at me. I don't know how to say this without getting myself in trouble but -- I don't know."
Bumgarner doesn't need much motivation, but he'll have plenty of it when he takes the hill against the Cardinals tonight. The last time the left-hander opened an NLCS two years ago, in Game 1 against the Cardinals, he didn't have much of an outing and never pitched again in a series the Giants came from behind to win in seven games.
There's really no sense looking back, Bumgarner said on Friday.
"I know it wasn't very good," said Bumgarner, reflecting back on that game. "But at the time, I wasn't going very good. I don't think it would have mattered who I was facing. I could have been facing a Double-A team and probably got hit around a little bit. It was a bad point for me. I just wasn't making good pitches and didn't have good stuff. There's no reason for me to look back on that start and try to take anything from it."
Bumgarner was crushed by the Cardinals for six runs on eight hits in that Game 1 loss at AT&T Park, opening the door for Bochy to use left-hander Barry Zito in critical Game 5 with the Giants trailing 3-1 in the best of seven series. Zito authored a 5-0 victory and the Giants came back to win the pennant and sweep the Tigers in the World Series.
Bochy went back to Bumgarner against the Tigers in Game 2 of the World Series at home and he rebounded nicely, twirling seven innings of scoreless, two-hit ball in a 2-0 win that essentially sent the Giants on to the title.
In his short, but fruitful career, Bumgarner has already started eight postseason games and made nine appearances. He's 2-0 and hasn't allowed a run yet in his two World Series appearances, one each against the Tigers and the Rangers. That outing in the 2012 NLCS may have been his playoff low point, but he certainly learned from the experience.
"For me, it's just learning all about what kind of mental preparation I need to have when I go out there," Bumgarner said. "I just like to slow everything down and just treat it like another game and focus on making pitches. That's really it."
This year, Bumgarner was an All-Star, finishing 18-10 with a 2.98 ERA in 33 starts. He was exceptional as the Giants overwhelmed the Pirates 8-0 at Pittsburgh on Oct. 1 in the NL Wild Card Game, pitching a complete-game four-hitter. His throwing error on a sacrifice bunt cost the Giants their only loss in Game 3 of the just-concluded four-game victory over Washington in this year's NLDS.
"I thought he threw the ball very well against Washington and had a great game against Pittsburgh," Bochy said. "We made the one mistake there against Washington that hurt us, but he's throwing the ball well."
Baseball is a funny game, as Joe Garagiola Sr. is fond of saying. So many things change from year to year. In 2012, the preface to Bumgarner's poor NLCS outing was a 9-0 loss to the Reds at home in the second game of that NLDS. He then struggled against the Cardinals, a blip on the radar screen.
"As far as that game you're talking about, I mean, we all have our struggles," Bochy said. "It's really the first time I've even heard it mentioned, to be honest. I know Madison is not talking about it. He's had games, like all pitchers, where he's been off a little bit. But, hey, this is a new year, a new season, a new postseason, and he's ready to go."
Bumgarner was elevated from the Minors in June 2010 and became an integral part of the Giants' run to win their first World Series title since they moved from New York to San Francisco in 1958 and last had won at the Polo Grounds in '54, when they swept the Indians.
He was called up just weeks after that incident happened in Sacramento. Bochy was shown the video. He liked what he saw.
Barry M. Bloom is a national reporter for MLB.com and writes an MLBlog, Boomskie on Baseball. This story was not subject to the approval of Major League Baseball or its clubs.