Story opens Salt River offense in win over Peoria
Rockies prospect hits RBI double to start 11-run inning, ends day with three RBIs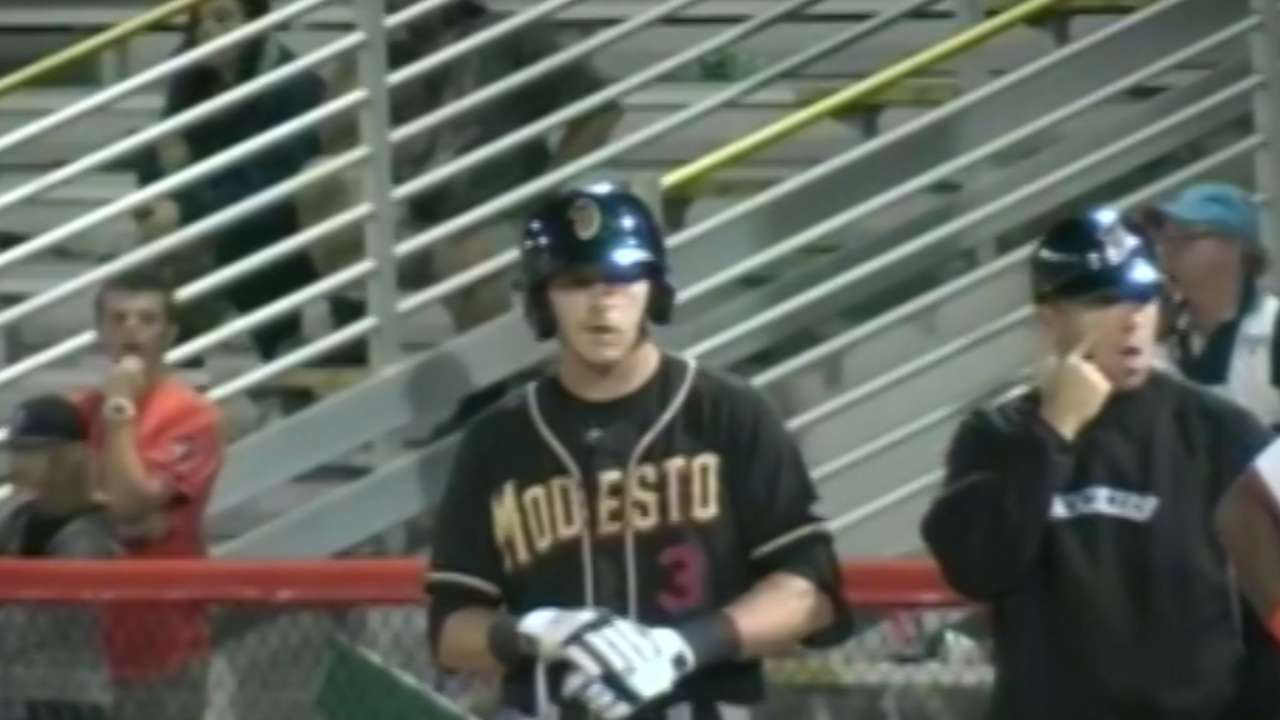 For four innings Friday, right-hander Tyrell Jenkins and left-hander Jayson Aquino traded zeroes on the scoreboard as Peoria faced Salt River in the Arizona Fall League. Jenkins struck out four Rafters and scattered four hits, while Aquino struck out three and held the Javelinas to one hit.
But once Jenkins was relieved to start the fifth inning, the Rafters quickly turned the pitchers' duel into a rout. They scored 11 runs on eight hits and five walks against three pitchers in the inning, and went on to defeat the Javelinas, 12-2. After an Opening Day loss to Scottsdale, Salt River has won three games in a row.
The rally started when first baseman Ryan Casteel and shortstop Trevor Story led off the inning with back-to-back doubles. It continued as the Rafters sent eight batters to the plate before the Javelinas recorded an out. Story added two more RBIs on a bases-loaded, two-out single as Salt River batted around. Outfielder Andrew Aplin struck the final blow with a grand slam before Peoria could finally get the third out.
"We got some guys on and I was able to hit a double to get a run on the board," Story said. "Hitting is contagious and we kind of fed off each other and hit for a long time."
Story, the Rockies' No. 11 prospect, went 2-for-5 with a double, two runs and three RBIs. Aplin finished the game 4-for-5 with four RBIs and two runs. Center fielder Byron Buxton, ranked No. 1 on MLBPipeline.com's Top 100 Prospects list, went 2-for-4 with a walk, two RBIs and a run.
Thanks to the Rafters explosive inning, Aquino picked up the victory. He pitched efficiently in his four innings of work, throwing 42 pitches and inducing six groundball outs.
Story and Aquino were teammates during the regular season, first at Class A Advanced Modesto and then at Double-A Tulsa. Story said Friday was about as good as he's seen Aquino pitch.
"He's the real deal," Story said. "He had all of his pitches working today and he was locating really well. His offspeed pitches were down and sharp. That makes it tough to hit off a guy like that."
Aquino spent most of the regular season with Modesto, pitching in the hitter friendly California League. He went 5-10 with a 5.13 ERA in 18 starts before he was promoted to Tulsa in late August. He made two starts during the regular season for the Drillers and two more in the playoffs, combining to go 0-1 with a 5.06 ERA in 21 1/3 innings.
Friday, Aquino was too much for the Javelinas to solve. They did score two runs off the Rafters bullpen, both driven in by Jacob Wilson. The third baseman hit a ground-rule double in the sixth inning off right-hander Jason Adam to get Peoria on the scoreboard and added another RBI in the eighth with a two-out single off right-hander Brian Ellington.
Wilson, the Cardinals' No. 19 prospect, finished the day 2-for-3 with a walk. Catcher Justin O'Conner, the Rays' No. 14 prospect, went 2-for-4 with a double and a run.
But the rally Story helped start in the fifth inning was insurmountable. The 21-year old has gotten off to a strong start in the AFL, collecting a double and a single in all three games he's played this fall.
Story also began the regular season on a hot streak with Modesto. He hit .332/.436/.582 with five home runs and 20 stolen bases in 50 games for the Nuts before breaking the little finger on his left hand in late May. When he returned from the disabled list, the Rockies promoted him to Tulsa, where he hit .200/.302/.380 with nine home runs and three stolen bases in 56 games.
Spending the second half of the season in Tulsa helped teach him how more advanced pitchers attack hitters, Story said. He hopes to be able to apply those lessons to the AFL, where most players have reached at least Double-A.
"You're not always going to get fastball in fastball counts," he said. "And if you show you're going to chase something, that's probably what you're going to see. It taught me to be more disciplined. I'm looking to take that into the Fall League."
Teddy Cahill is a reporter for MLB.com. Follow him on Twitter at @tedcahill. This story was not subject to the approval of Major League Baseball or its clubs.