Replay paying dividends in tight postseason games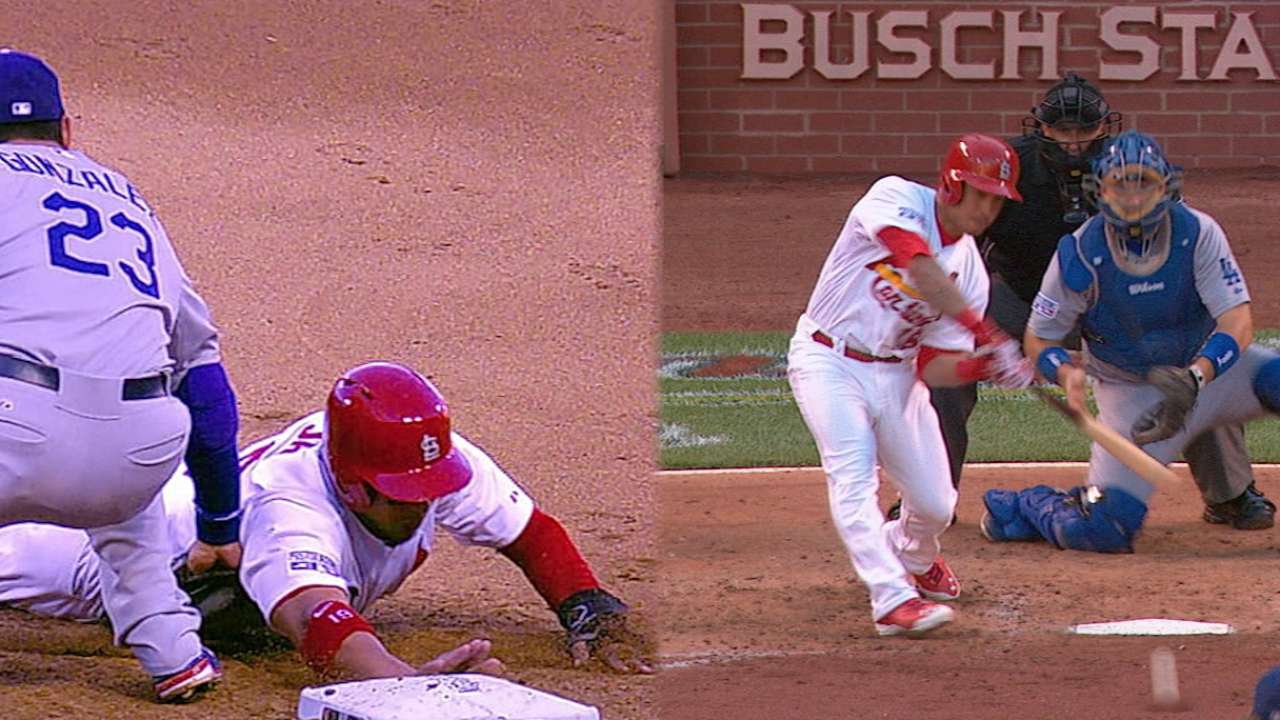 ST. LOUIS -- In a way, Major League Baseball constructed its state-of-the-art instant replay system hoping it would never be used.
"We want our umpires to be right," the league's senior vice president of baseball operations, Peter Woodfork, explained on Friday morning. "But we have a backup system there with replay, which helps us when they're not."
When they're not, baseball has been ready. The system's command center in MLB Advanced Media's Manhattan offices buzzed with activity during Game 4 of the National League Division Series between the Giants and Nationals, when umpires checked to see if pitcher
Aaron Barrett
blocked
Buster Posey
's path home on an intentional ball gone awry. They got that one right. Two days earlier, the replay center came to life when Cardinals second baseman
Kolten Wong
tagged Dodgers pitcher
Zack Greinke
with his empty glove -- not the ball in his throwing hand. After review, umpires got that one right, too.
So it has gone this postseason, which has seen seven replays in 16 total games -- all of them one-run margins of victory -- entering Friday's American League Championship Series Game 1. The stakes are increasing every day; trips to the World Series are on the line this week, and replay reviews could help decide who goes.
"In general, I believe it's been a good move for the game of baseball," Cardinals manager Mike Matheny said. "We're using this technology to help us move forward, and we've seen some big calls reversed that have changed the course of the game. Just getting the call right -- that was the goal from the beginning, and it didn't seem to work for a lot of us very often, early, but I think we're getting to the point now where we're seeing it implemented and executed as the league had planned."
Matheny should know. Despite the technology available to teams in their own clubhouses, Matheny lost 15 of his first 18 challenges this season, openly criticizing the process along the way. But he adapted. This postseason, Matheny won his only challenge, on a pickoff attempt at third base in NLDS Game 4 against the Dodgers.
"I think the umpires and the managers have just become more comfortable with the rhythm of the dance, of going out and how this thing works, and some of the awkwardness of standing out there and asking each other about their families," Matheny said. "That's kind of commonplace now, until we get the information that we need to see if we have enough to challenge."
The process has indeed become largely rote. On close plays, a manager jogs slowly out to the field, then turns to face his dugout. There, one of his lieutenants receives word from an employee inside, and signals for his manager to review or not. If the manager decides to review, umpires call in to the replay center, a brightly lit collage of technology and television screens, where technicians work in tandem with umpires to achieve the goal of never having an incorrect call decide a baseball game.
When it comes to deciding what to review, players can help. On the Game 4 pickoff at third base, for example, Cardinals third baseman Matt Carpenter leapt off the bag and immediately pointed to Matheny in the dugout, imploring him to challenge.
"With each game, guys get a better feel for it," said Carpenter, who correctly thought he tagged out Andre Ethier on the play. "You see guys relaying information before the video even becomes available, saying, 'I think we should take a look at this.'"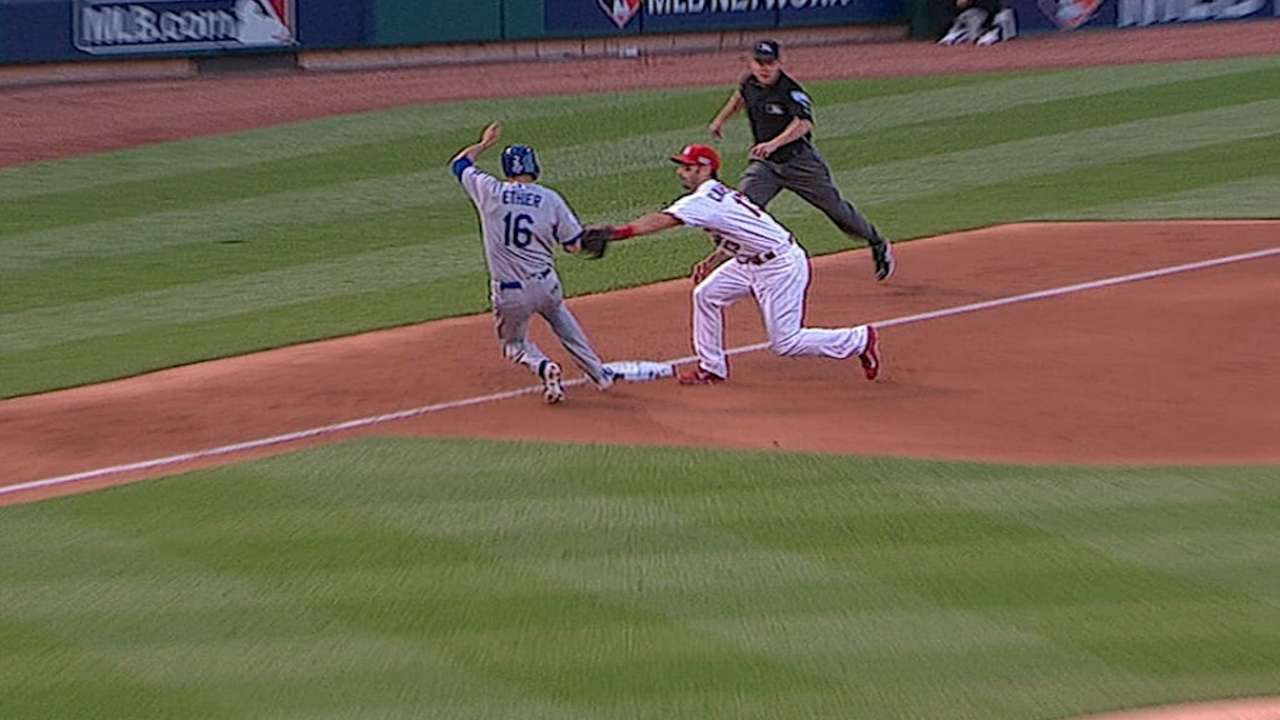 • Video: Safe call overturned at third
Yet implicit trust in players can also be misguided. Giants second baseman Joe Panik recalls multiple instances this season when he felt certain he tagged out a runner, only to see the replay and reconsider.
"There's times where you're like, 'Oh, shoot he's definitely wrong,'" Panik said. "And then you look at it and you're like, 'Wow.' Replay is definitely something that's good to have."
Already this postseason, replays have taken the form of a confirmed home run, multiple tag plays and a blocking call at home plate. Three challenges have resulted in changes; four have not. Not every challenge has directly impacted the outcome of the game, as the Giants can attest. Not every play is reviewable, as Matheny learned after a bizarre foul-ball sequence involving Wong in NLDS Game 4. Balls and strikes can still succumb to human error, as the Dodgers complained after Game 3.
But given that there have already been 10 one-run postseason games in October, threatening the postseason's all-time record of 13, it's reasonable to expect replay to assume a starring role over the next three weeks. In MLB's dream, umpires may be perfect every time, rendering replay superfluous. But with the ALCS underway Friday, the NLCS on Saturday and the World Series on tap, Major League Baseball is pleased with a system that could soon face its most significant tests to date.
"With anything that's new, there is a learning curve, and replay is no exception to that," Woodfork said. "Everyone needed to get comfortable with it. Not surprisingly, over the season, it got smoother and smoother."
Previous replay reviews this postseason
Tigers-Orioles, Game 2 ALDS: Markakis' homer confirmed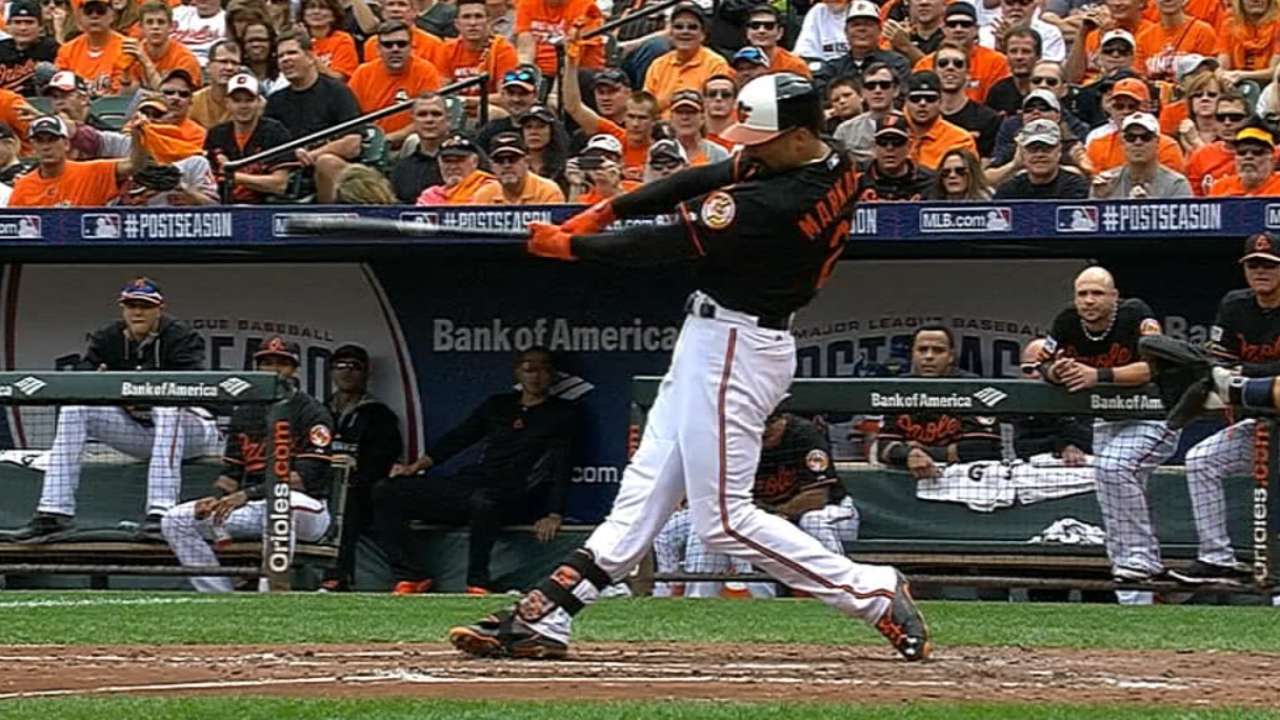 With one out and one on in the third inning of a scoreless game, Nick Markakis launched a fly ball to right field that bounced off the grounds' crew shed roof in right field and came back onto the field of play. Right-field umpire Paul Schreiber signaled it was a home run, but Tigers manager Brad Ausmus requested the play be reviewed. The call on the field was confirmed, correctly according to the Camden Yards ground rules, which state: Fly ball hitting the grounds crew shed roof in right field and bouncing back into play: HOME RUN.
Giants-Nationals, Game 1 NLDS: Ishikawa safe at second after reversal
With no outs and Travis Ishikawa on second, Jake Peavy laid down a sacrifice bunt. Instead of taking the out at first, Nationals first baseman Adam LaRoche threw to second in hopes of gunning down Ishikawa, and umpire Tom Hallion called him out. Bochy challenged the call, and it was overturned after a review of just one minute and one second. Ishikawa would later score in a game the Giants would win 3-2.
Cardinals-Dodgers, NLDS Game 2: Overturned call aids Dodgers win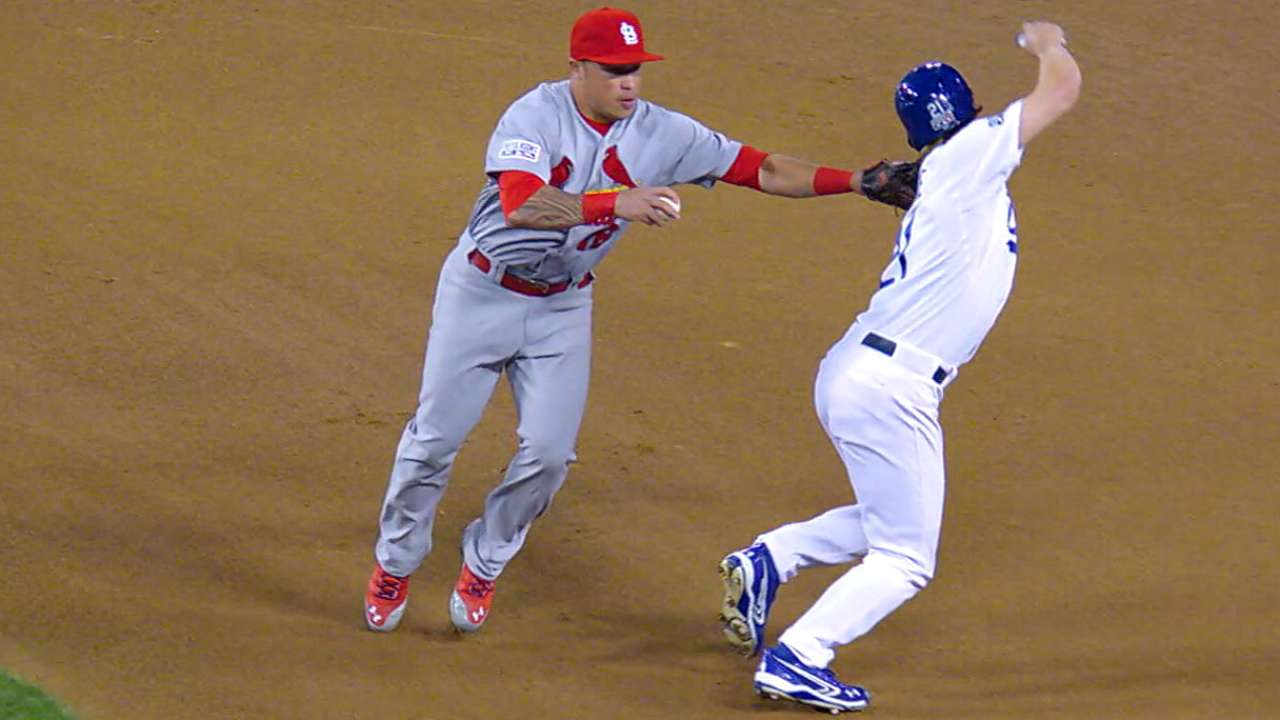 A play on a Dee Gordon grounder to second base that Dodgers manager Don Mattingly challenged in the third inning turned out to be a pivotal play in his club's 3-2 victory. Zack Greinke was on first base when Gordon hit a bouncer to Cards second baseman Kolten Wong, who put the tag on Greinke to get an out call from umpire Eric Cooper. Replays, however, showed Wong had tagged Greinke with his glove while the ball was in his throwing hand, and Greinke was awarded second base after the review. He later scored on an Adrian Gonzalez single.
Orioles-Tigers, ALDS Game 3: Schoop's run-saving scoop confirmed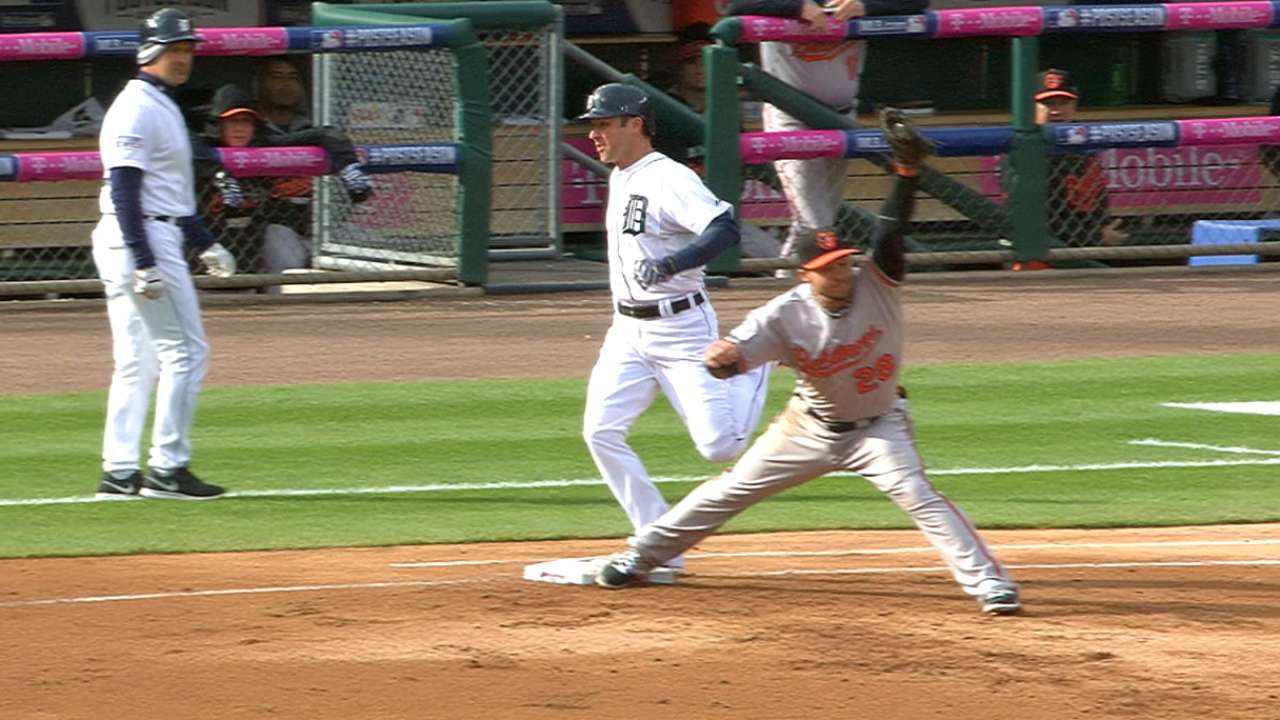 With Tigers catcher Alex Avila at third base and two outs in the second inning, shortstop Andrew Romine bunted toward Orioles second baseman Jonathan Schoop. The ball was deftly scooped up by Schoop, who flipped the ball to first baseman Steve Pearce in one motion, and umpire Jim Wolf called Romine out. With a run at stake, Detroit manager Brad Ausmus challenged the call. After a two-minute, 28-second review, the call on the field stood. The Tigers would lose, 2-1, and were eliminated from the ALDS.
Giants-Nationals, NLDS Game 2: Call stands; Posey out at home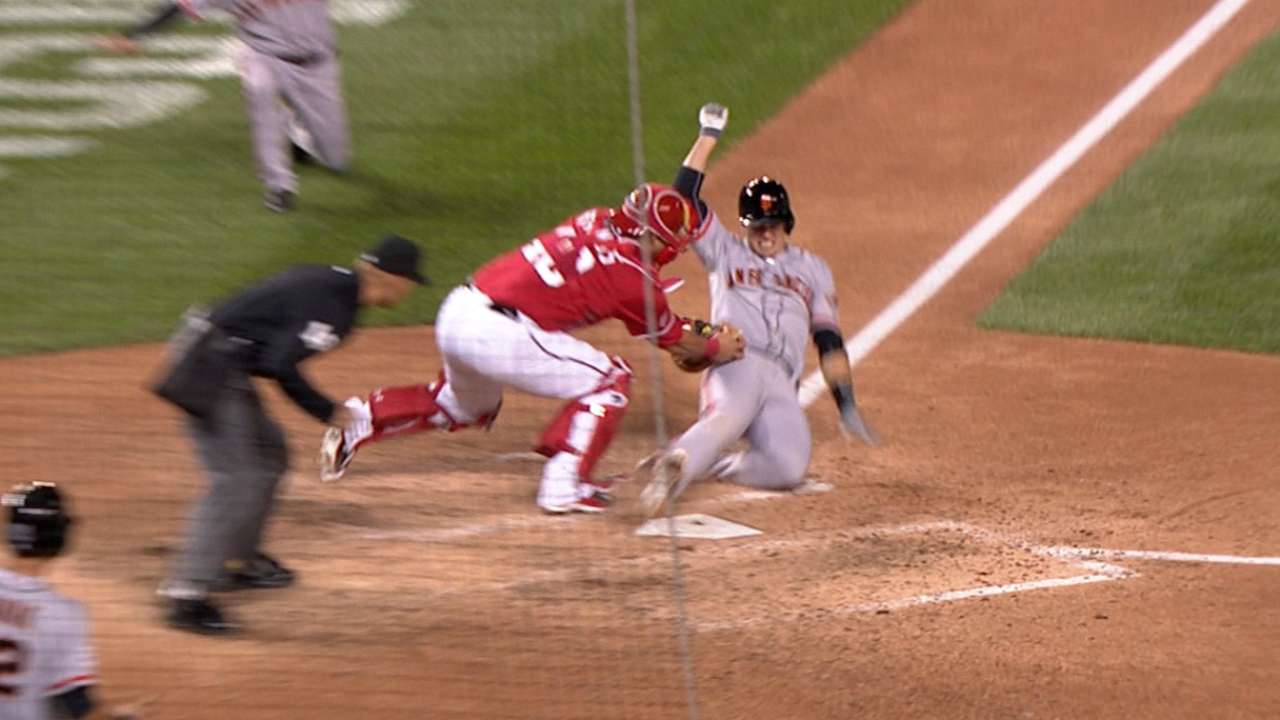 With the Nationals leading, 1-0, with two outs in the bottom of the ninth, Pablo Sandoval sliced a ball to the left-field corner with two runners on. Joe Panik easily scored from second, but Buster Posey was called out by home-plate umpire Vic Carapazza after the relay throw beat him by a split second. San Francisco manager Bruce Bochy immediately challenged the call, but it was upheld due to a lack of conclusive evidence.
Dodgers-Cardinals, NLDS Game 4: Molina's laser throw gets Ethier on overturn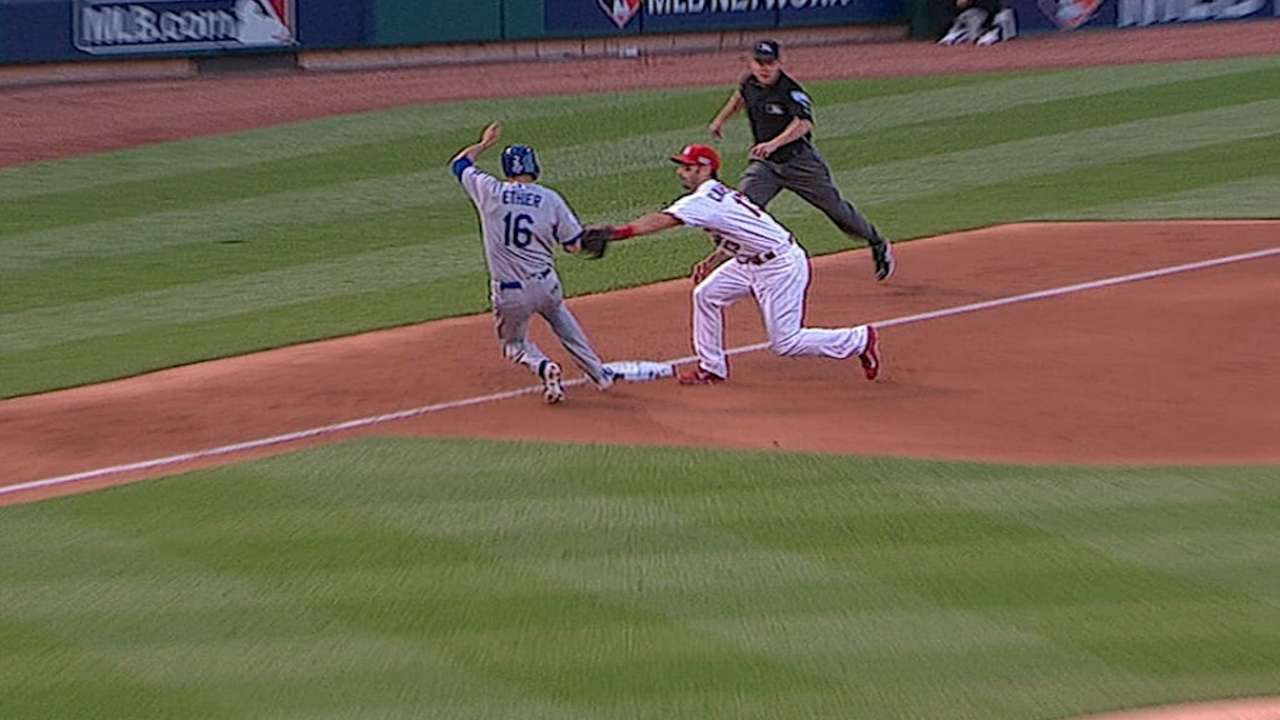 The Dodgers' A.J. Ellis was at the plate with runners on first and third and two out in the sixth inning when Cardinals reliever Seth Maness bounced a pitch just behind All-Star catcher Yadier Molina. Andre Ethier darted off third toward the plate and stopped short as Molina came up with one of his patented laser throws that seemed to beat the Dodgers center fielder as he retreated back to the bag. Third-base umpire Jerry Meals called Ethier safe as third baseman Matt Carpenter applied the tag. St. Louis manager Mike Matheny challenged, and after a 92-second review, the call was overturned, ending Los Angeles' rally.
Nationals-Giants, NLDS Game 4: Wild seventh seals fate for both Nats, Giants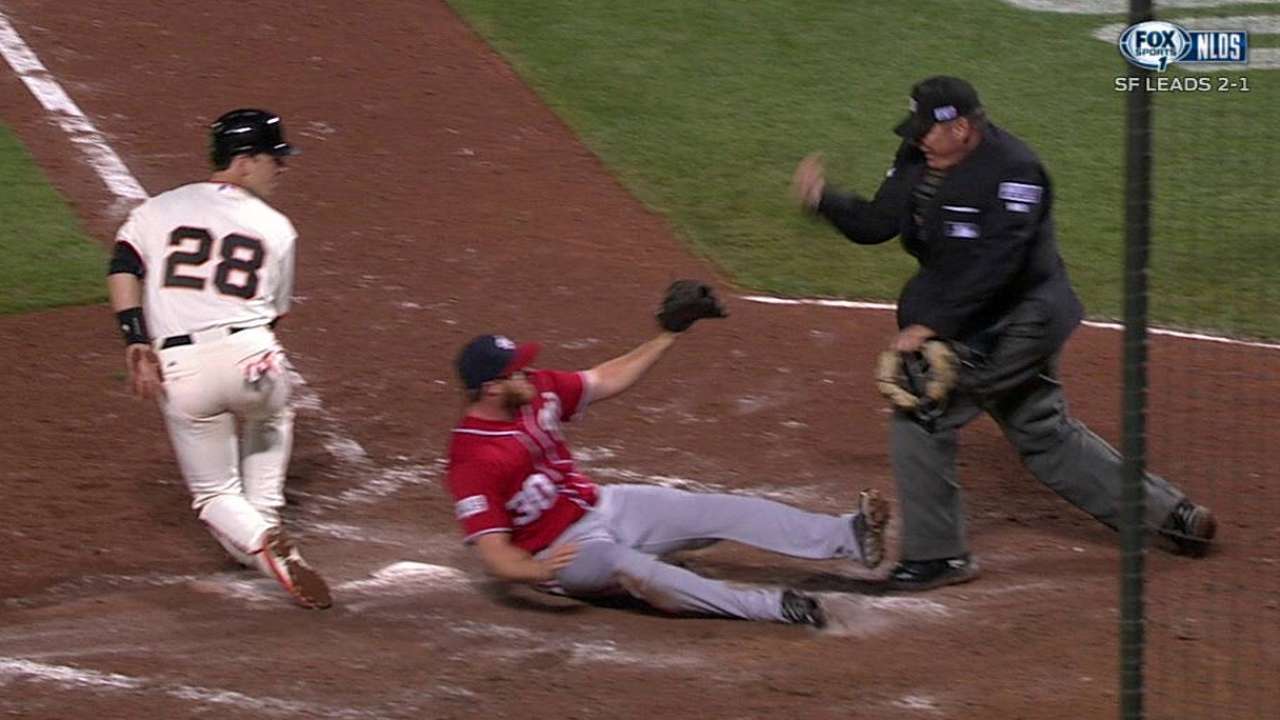 In the act of intentionally walking Pablo Sandoval in the seventh inning of Tuesday's Game 4 of the National League Division Series, which the Giants took from the Nationals, 3-2, Nats reliever Aaron Barrett sailed ball four all the way to the backstop. The result was one of the more bizarre postseason plays in any context. Watching Barrett's mistake from third base, Giants catcher Buster Posey raced home. His counterpart, Wilson Ramos, hustled after the ball, grabbing it after it ricocheted off the wall behind home plate. Then Ramos flipped to Barrett, who tagged Posey while blocking most of the plate with his body. Crew chief Mike Winters called for a review, but the call was confirmed after video replay.
Anthony DiComo is a reporter for MLB.com. Follow him on Twitter @AnthonyDicomo. This story was not subject to the approval of Major League Baseball or its clubs.