Orioles to start Norris in Game 2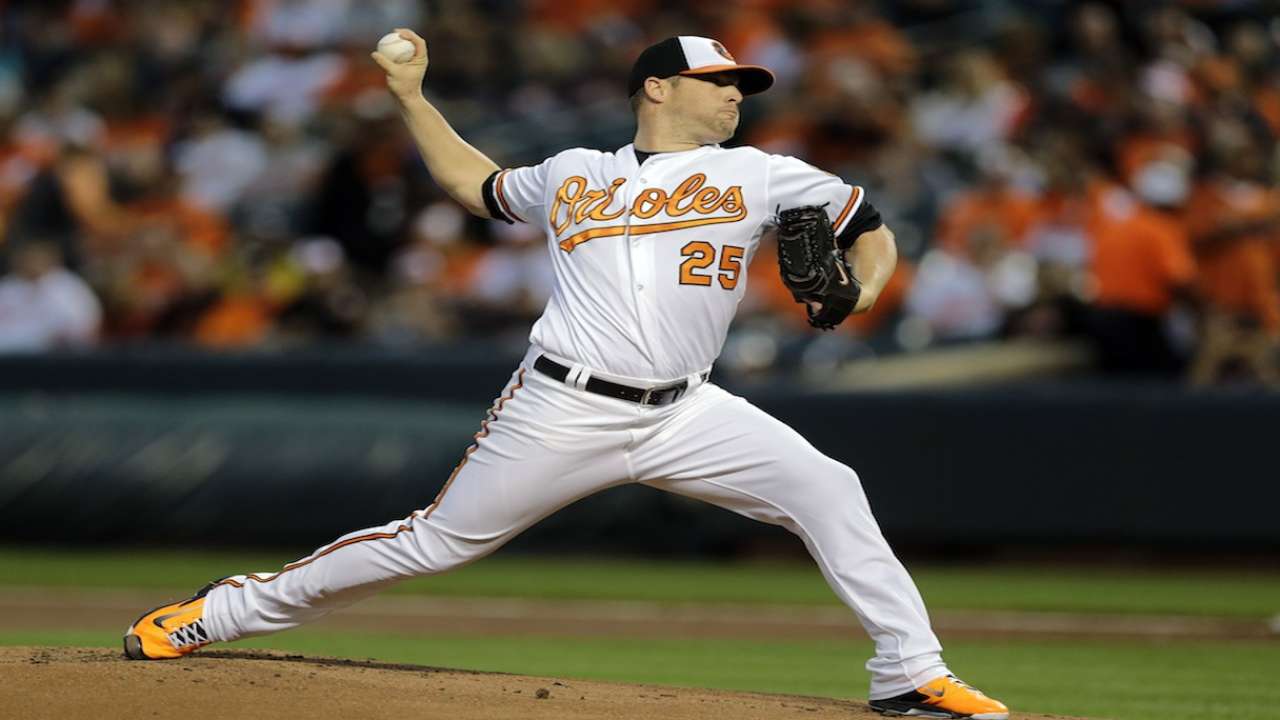 BALTIMORE -- They say Camden Yards is a hitters' haven, but you'd never know it when right-hander Bud Norris takes the ball in home games for his Orioles.
When Norris makes the first home postseason start of his career in Saturday's Game 2 of the American League Championship Series (4 p.m. ET on TBS), he will do it in a venue where he has dazzled this season. And that's a good thing, because he'll be trying to keep the Orioles from falling into an 0-2 hole.
There is a stark difference between the way Norris pitches at home (8-2, 2.44 ERA) and on the road (7-6, 4.80).
But he has never pitched in a Camden Yards like the one in which he'll pitch on Saturday, as fans who are starved for their first World Series in 31 years will be buzzing with every strike he throws. "Just pitching in the regular season in front of this fan base has been outstanding," said Norris. "I've pitched well this year at home. I think that's a testament to the fans and the team. I'm excited to get another opportunity to go out there and do what I do, because these guys have been here all year cheering us on. They've been outstanding. To get this far is great. I know they're going to be pretty excited and loud tomorrow, too."
Though manager Buck Showalter chose not to reveal his starter for Game 2 until after Friday night's series opener, an 8-6 loss in 10 innings, he had been leaning all along toward Norris over Wei-Yin Chen, who stumbled in his Game 2 AL Division Series start against the Tigers.
Chen was also 8-2 at home this season, but his ERA was actually better on the road.
And Norris made the decision even easier by firing a gem against the Tigers in the decisive Game 3 at Detroit, allowing just two hits and no runs while striking out six over 6 1/3 innings. In doing so he outdueled one of the best pitchers in the game, David Price, by a score of 2-1.
One of Norris' mentors -- a guy who won a record seven Cy Young Awards -- thoroughly enjoyed watching the performance.
"After the first couple of innings, he looked like he was very relaxed," said Roger Clemens. "He really used his fastball a lot, attacking the zone, and when he did miss ahead, he missed off the plate, away. That always helps."
That was the first postseason start of Norris' career, and he figures he can carry the momentum into Saturday.
"It definitely helped, just getting your feet wet out there," he said. "I was lucky enough to watch the first two games at home and kind of cherish it for what it was. So to go out and do what I do, to go pitch and to have the nice start I had and get the victory and the sweep, was great."
Now comes the hard part for Norris -- trying to pitch like that in successive postseason starts.
"Just because he pitched well in Detroit, in a 3:45 game, I don't think Kansas City cares," said Showalter. "And it's a constant proving ground for all of us. There's a very short distance between villain and hero, so to speak. I know how this works in this 'What have you done for me lately?' world."
There is also this: Norris is probably the hottest pitcher the Orioles have.
Over his last six starts, Norris is 5-0 with a 1.72 ERA, holding opponents to a .180 batting average while striking out 9.82 batters over nine innings during that span.
"He's been doing it all year long," said slugger Nelson Cruz. "When we needed a big start from him, he would always come up and do it. It's not just him but the whole roster -- the whole set of pitchers has been amazing."
The Orioles have had a surreal ride that Norris doesn't think he'll fully be able to appreciate until it ends.
"When I go home this offseason and see how this ride ends out, I think it will be an opportunity to cherish it more," he said.
Without question, Norris had the best season of his career, posting personal bests in wins (15) and ERA (3.65).
Though he never pitched at this level in his four-plus seasons with the Astros, Clemens could see it coming.
"He was very receptive when he was here with Houston, and he's a great kid. His mechanics are such that he's going to be a strike-thrower," said Clemens. "There's days when he's effectively wild that are going to help him. He's a guy that can add and subtract on his velocity and it wouldn't hurt him at all."
Ian Browne is a reporter for MLB.com. Read his blog, Brownie Points, and follow him on Twitter @IanMBrowne. MLB.com reporter Brian McTaggart contributed to this report from Houston. This story was not subject to the approval of Major League Baseball or its clubs.