Yankees considering first base as option for A-Rod
Team putting contingency plans in place for returning star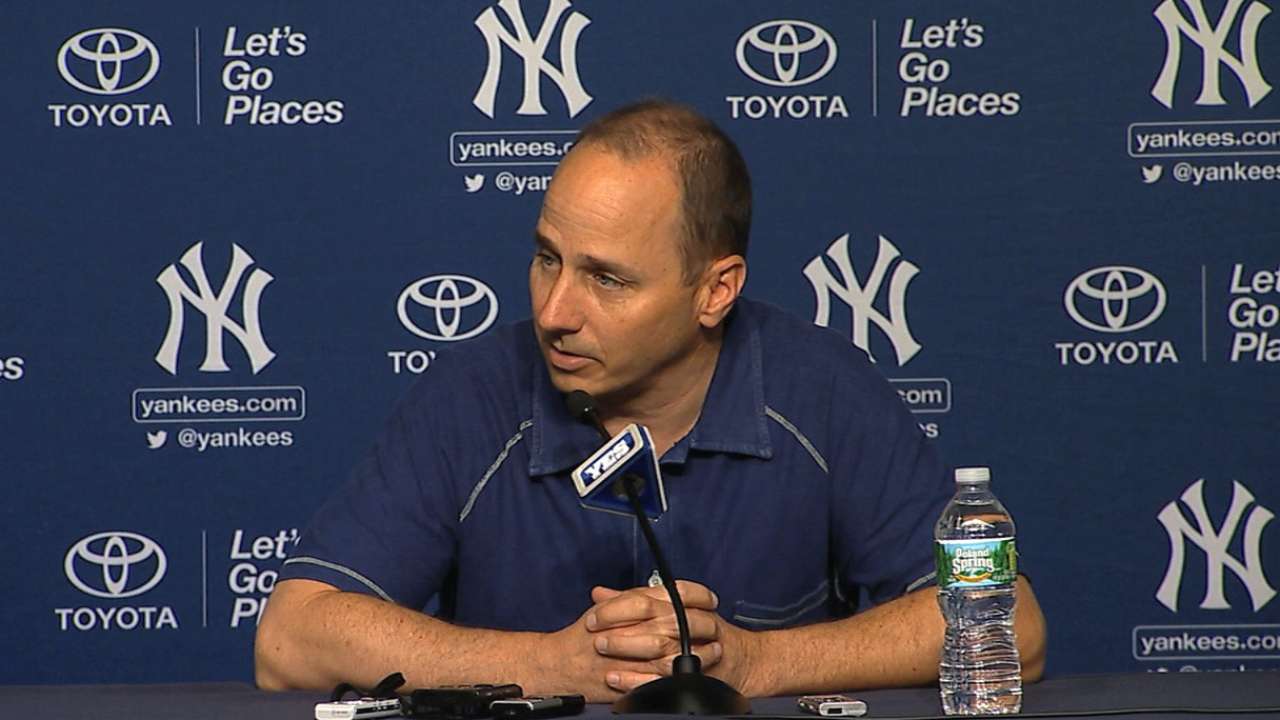 BALTIMORE -- Alex Rodriguez is preparing to put his Yankees uniform back on in 2015, with his season-long suspension served. However, general manager Brian Cashman is making no assumption about the veteran's ability to consistently play third base.
Cashman said that the Yankees will actively seek contingency plans in the event that Rodriguez is not able to play his position. In addition to time as a designated hitter, manager Joe Girardi has spoken to Rodriguez about the possibility of playing some first base.
"I think it's best to assume that we should have contingencies in place," Cashman said. "I don't think it's safe to assume that he can play third base. Obviously Alex has been a third baseman in years gone by. He missed, obviously, a full year."
Cashman said that seeing how Derek Jeter and Mark Teixeira responded this past season after missing most of the 2013 season offers some perspective in the case of Rodriguez, who played in just 44 games in 2013 and will turn 40 in July.
"Until we get to see it on a daily basis, I think it's just hard to assume anything," Cashman said. "I know one thing, obviously he's a great presence in the lineup, when he's healthy. And we look forward to good health and, obviously, production. But to assume anything right now on the front end, I can't do that."
In the event that Rodriguez is no longer a capable third baseman, Cashman suggested that the Yankees could use Martin Prado to help at third base, with prospects Rob Refsnyder and Jose Pirela competing for playing time at second base.
Rodriguez has only played third base and shortstop in his big league career, but Cashman said that the topic of first base has been floated to Rodriguez.
"Joe Girardi conveyed to me that he talked to him recently about getting some work at first base," Cashman said. "Joe had a conversation with him recently about that. How extensive that conversation was, I don't know that he conveyed that to me."
The Yankees have Teixeira under contract as the starting first baseman through 2016, but his injury issues forced the club to use eight other players at the position this year.
Rodriguez's suspension will officially expire at the end of the World Series, but his re-assimilation into the organization has already begun, with Rodriguez recently reaching out to the club and asking to be reconnected with team personnel.
According to Cashman, Matt Krause, the Yankees' strength coach, met with Rodriguez on Thursday in Miami to evaluate Rodriguez's health and described Rodriguez as "motivated and determined."
"We're going to be reconnecting with Alex, all of our staff," Cashman said. "Alex reached out and said, 'Hey, let's start proactively doing that.' That's what Alex is about. He's proactive and trying to put himself in the best position to be successful and hit the ground running when he gets reactivated."
Bryan Hoch is a reporter for MLB.com. Follow him on Twitter @bryanhoch and read his MLBlog, Bombers Beat. This story was not subject to the approval of Major League Baseball or its clubs.