Oct. 10, Moustakas, Hosmer ALCS Game 1 interview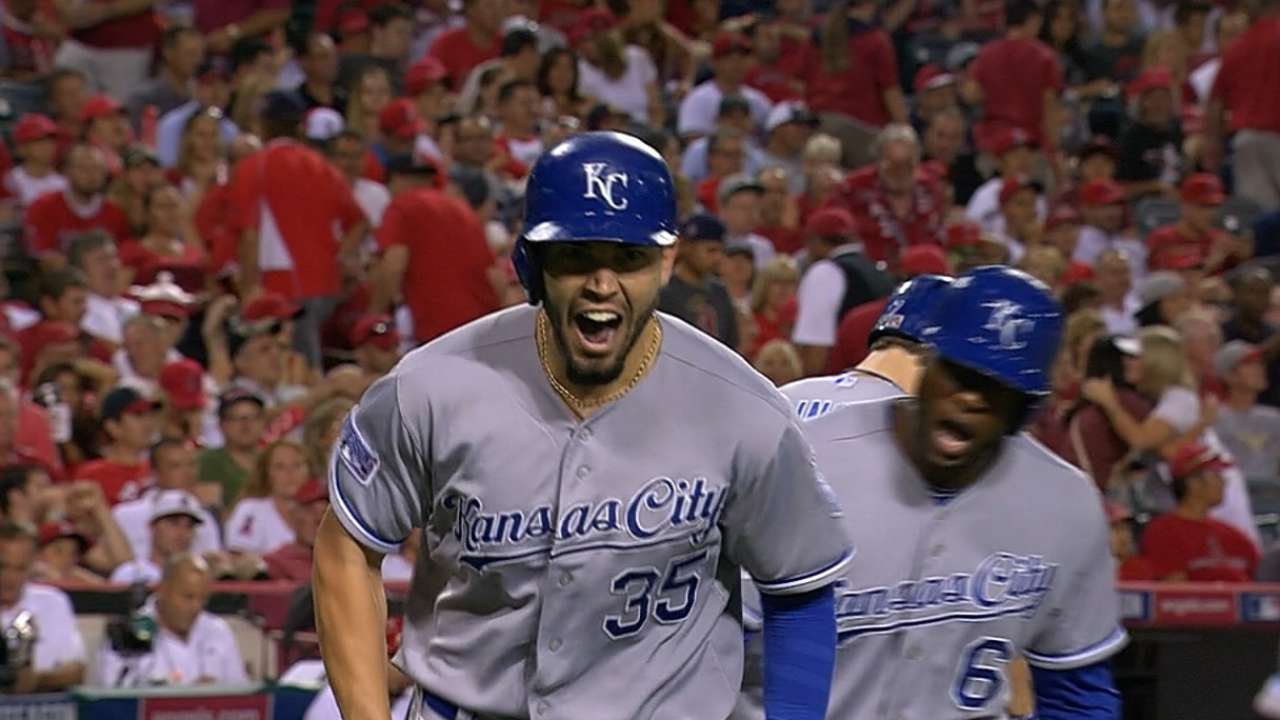 Q. No batting practice today, but how does that affect you?
ERIC HOSMER: It's part of the grinds of the season. We've been through this situation before. And especially here in Baltimore, I think at least in my career I think every series we've been we've had a rain delay or a similar situation to this.
But it's all part of the 162-game grind. It's nothing we've never been through before.
Q. For each of you, obviously you've been associated with each other for a long time coming up in the organization. What have you seen in each other, kind of your observations of the other that has really led to this success you each have had in the past?
MIKE MOUSTAKAS: I mean, I think with Hos, he just steps up in huge situations for us. Anytime there's a big situation, we need a big hit or a big RBI, the kid steps up. It's awesome to watch him perform in clutch situations, because he always gets the job done.
ERIC HOSMER: Same thing with Mous and everybody in that locker room. It seems when the situation gets bigger, these guys, my teammates, just get locked in, especially Mous. When you first come up, the situation gets bigger, you tend to want to do more.
But I think over the course of the couple of years we've been up in the league, that's not the way you've got to go about it. It's almost do less in a situation like that. You can see the concentration just locking in there instead of trying to do more when we first came up.
Q. Is it any different now when you have a seven-game series? Obviously there's slight less urgency with each game, there's a little more leeway as far as it's concerned. Is seven games any different than five?
MIKE MOUSTAKAS: I think this is our first go at the seven-game series. You've got to imagine that every game is important. You can't take any games off. You can't rely on the fact that there's seven games. We've got to go out there and win tonight and find a way to win every game. This is a dangerous team over here.
So going out every night expecting to win a ballgame, preparing to win a ballgame that night, not relying on the fact that there's seven of them.
Q. For both of you, Ned said yesterday that last season he kind of changed his approach, allowing the players to be themselves. Have you noticed that and how much has he helped in the growth of your careers?
ERIC HOSMER: Yeah, he's definitely changed a lot. When Ned first took the job and had all of us come up, it's obviously a lot of work he has to do, not only manage the team, but he's got to teach a bunch of young guys how to go about their business, and how to create that routine everybody has. And over the course of the years, he's put a lot of accountability on us to let us create our routine or basically have the accountability that we're going to be ready for the game, and know what our routine is.
You can definitely see him stepping back and letting us just kind of grow and be ourselves and letting that go on the field. We know what we need to do to prepare ourselves for a game. And now it takes a load off of him, as younger guys come up now we realize what has to be done, you take those guys under your wing and show them how to prepare for a game. So it really makes his job a lot easier.
Q. Eric, people generalizing about this series, look at you guys as a speed-based offense and the Orioles as a power-based offense. The stats back that up, you're a power guy. Are you eager or both of you eager to show you're a multidimensional offense?
ERIC HOSMER: We realize the team we have. We realize the stadium we play in. Obviously the stadium is not as easy as other parks to hit home runs. We realize to generate runs we have to do different things than a normal team would do, whether that's moving guys around, trying to steal an extra base or being aggressive on the bases. We realize the type of team we are. When we're playing in Kansas City, that's the stuff we try to do.
But when you come to a ballpark on the road, and especially one like Baltimore, we feel like our lineup and our team is very flexible. We definitely have the speed guys to play small ball and move guys around and steal bases. But at the same time we have guys that can leave this yard any time.
Q. You guys have known Alex Gordon for a while, wondering his work ethic, the time he puts in, do you feel that sets him apart as a player? Do you feel like he sets the tone in that way?
MIKE MOUSTAKAS: Absolutely. The way Alex goes about his business every single day is unbelievable. I've never seen anybody do what he does on a daily basis. He works just as hard as anybody else, probably harder than anybody else. He's out in BP shagging as hard as he can, getting his work in. He's in the gym every day.
The way he goes about his business just sets the tone for everything that happens in that clubhouse. And Gordo doesn't talk too much, so he leads by example. When that guy speaks, you listen. He's just been a steady force for us ever since he's been here. So having him in this locker room with us, it kind of shows us the way to go.
Q. Eric, Orioles haven't named a Game 2 starter. Does that matter? Do you want to know?
ERIC HOSMER: No, we're just worried about tonight's game. Tillman is the only thing on our mind right now. Obviously every game is crucial, every game is big. Against a team like this, you can't think too far ahead.
They're obviously a dangerous team. And Tillman is obviously a great pitcher. I think both teams are taking similar approaches. I think they might have announced a Game 2 starter, or not. But everyone is in that bullpen, and everyone is ready to go, no matter how the game plays out.
So we just worry about Tillman tonight and try to get the job done. And as soon as this game is done, then you worry about what's going on for Game 2.