Oct. 10 Bruce Bochy workout day interview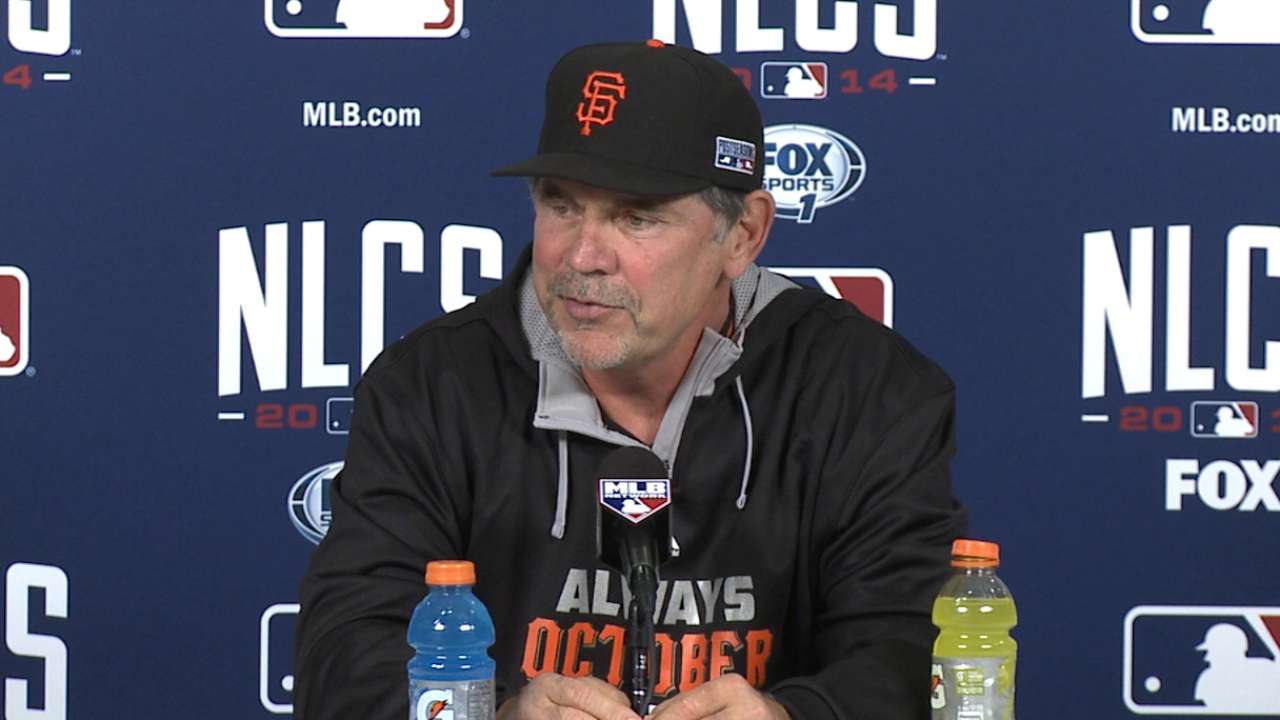 Q: Bruce, do you have your roster set yet? Any changes?
BRUCE BOCHY: We have not completely set the roster yet. The one question was Michael Morse, and he's getting a few at bats down there down there in instructional ball. He got a couple today, so he's on his way, should be landing now. If he feels good, you will see him on the roster, but we just haven't done it officially yet.
Q: Do you have your whole rotation set for the four games? Also about Bumgarner, can you go back and talk about a couple of years ago and the struggles he had in that series against the Cardinals?
BRUCE BOCHY: The rotation right now will be Madison Bumgarner and Peavy, and that's where we will leave it right now. As far as that game you're talking, I mean, we all have our struggles. That's behind us. It's really first time I've even heard it mentioned, to be honest. I know Madison is not talking about it. He's had games, like all pitchers, where he's been off a little bit. But, hey, this is a new year, a new season, a new postseason, and he's ready to go. I thought he threw the ball very well against Washington, great game against Pittsburgh. We made the one mistake there against Washington that hurt us, but he's throwing the ball well.
Q: Bruce, when we talked to you on Wednesday, you said that you needed to get with Tim and talk to him, Tim Lincecum, and talk with him about his role. Have you been able to do that and do you expect to see him in the series?
BRUCE BOCHY: I'm going to talk to him today. Timmy is a swing guy. We use him long relief, possibly middle relief, get a big out or an inning. Also if something happens where it goes extra innings, he's a great guy to give us some innings there, along with Petit. But I'll get with him today. I missed him in the workout in San Francisco. He seems like he's in a good frame of mind, he just wants to do whatever he can to help the club. Like I said, he's done so much for us. I had him up a couple of times, he was coming in in one game in Washington, so he's available and he's ready to go.
Q: Would you talk about the four relievers who have been here for all three of these playoff runs and how your roster has evolved around them, and in general the change you have had and how you keep on going?
BRUCE BOCHY: Talking about Casilla, Romo, and the two leftys, Lopez and Jeremy Affeldt. It's good to have just continuity. They've been postseason tested, they complement each other well. We have made a change a couple times with Casilla and Romo. We did it this year, and it's worked out well. One reason it's worked out well is because Sergio really accepting that and not having any kind of bitterness, whatever. He just wants to do whatever he can to help us win. That's what it takes, especially when you get to this point, are a lot of unselfish players who are willing to do whatever it takes and set aside their own agenda or ego. We can go back to previous postseason when Timmy went to the bullpen. He never complained. He just wanted to help the club. And Sergio has been the same way. The same with my two left handers. I've used Lopez a little earlier this year than what I normally have done, but he's been great with that. Jeremy, both of them, they've been in the fifth and sixth inning and sometimes they've been in the seventh and eighth inning. But it's nice to have these four guys with their experience and calmness they bring to the bullpen.
Q: Bruce, you typically announce three starters deep. Is there any physical reason with Hudson or Vogelsong
BRUCE BOCHY: No, they're fine, they're fine. Right now we're going to leave it at these two, but you can pretty much speculate what it's going to be. I'll leave it with Madison Bumgarner and Peavy right now.
Q: Do you have a better idea of Morse playing a couple of games, how he might be coming off the bench or starting games, how you would use him?
BRUCE BOCHY: Really encouraged with his at bats down there, a home run. Got a lot of live pitching, which he needed just in the games. But the first day he went down, he faced a couple pitchers there, so I think he saw around 30 pitches, which was good for him and got a couple of at bats today, too, before he jumped on the plane. So right now, once we see him and talk to him, all is fine. He is on the roster. Then the first game he will be used off the bench.
Q: Bruce, two years ago the MVP of the series was your second baseman, Marco, unable to go this year. Now you have a rookie out there who has played 50, 60 games. Why do you think this moment isn't too big for him?
BRUCE BOCHY: Well, he has shown that from day one, since he's been called up. I said from the get go, he really looked comfortable and belonged up here. And then as the season went and the games really became a little bit more meaningful, he was the guy that was, I think, probably as consistent as any hitter we had. Then you go to Pittsburgh and Washington, you know, he really has handled the situation very well and really probably, not just offensively, but defensively, has been as consistent as any player we've had through this early postseason play. This kid, he's just so mentally tough and his game, it's not very complicated. His swing, he's not a flashy type guy, but more importantly is the make up of this kid. And he's already shown he can handle this.
Q: This is a quiz. Do you know the name of the guy that the Cardinals in the postseason have been playing in right field?
BRUCE BOCHY: Yeah.
Q: What?
BRUCE BOCHY: I'll mispronounce it.
Q: Give it a shot.
BRUCE BOCHY: I don't know.
Q: Okay. You have stage fright. Who is their second baseman?
BRUCE BOCHY: Wong.
Q: Okay. It's interesting.
BRUCE BOCHY: Grichuk, I don't know.
Q: Some of your players don't know the name of their right fielder, which is kind of interesting?
BRUCE BOCHY: He's a talented player, right handed guy, hit a home run off of Kershaw. He's a very gifted outfielder. He's a center fielder that's playing right field, and our reports are this kid is a talented kid that can do some things with the bat. They're similar to us. They have a lot of young players that have come up through their system and they were developed through their way, and that's how this works. I think when you look at the two teams, they're very similar, how they play and the fact that they have a lot of "homegrown" products, which both clubs do.
Q: Talk about similarities, both really good catchers on these teams, both managers were good catchers. I'm not going to ask you to compare them, but defensively, what are the most important qualities for a catcher to have: receiving, arm, calling balls and strikes? How would you characterize and rank those qualities?
BRUCE BOCHY: For a catcher? Well, I think you have to understand that margin of error is not there. Whether you're more aggressive on making changes or how you're playing the game is going to be a little bit different. You may have a quicker hook on a pitcher. You may go to a match up a little bit sooner. You don't have that concern probably as much as you do during the regular season where you're going to wear somebody down. You don't want to give away any games in the postseason, so you're doing what you can to win every game and worry about tomorrow, tomorrow.
Q: Bruce, this is a much anticipated rematch from 2012 NLCS. How much does that count into your, not your game plan, but do you look at how you came back in 2012, and try to implement that into this series?
BRUCE BOCHY: It's a different year. As I said earlier, both teams know each other well. There are a lot of players from 2012 on both sides, and I think you learn from that. Both clubs, I'm sure, have learned from that, our pitchers, their pitchers, our hitters facing their guys, vice versa. It's a different year, though. Guys learn, they become better players. You got to make adjustments in this game.
Q: Boch, two years ago, the pitching staff was kind of in flux, much like this year where you have Lincecum in the bullpen, you have to make some decisions. Probably your best decision of the series was putting Zito in that game in place of Bumgarner. Do you see anything like that happening again?
BRUCE BOCHY: With Zito? I don't see anything in this series that I'll do different, going back to 2012. If we think there is a pitcher that should be out there, he's going to be out there pitching. I'll go back to Washington, Vogelsong, we felt he was the right guy out there and he goes out and throws a good game. Zito gave us some great games before that point where he won here in St. Louis. I don't see us doing anything different or real surprises, I guess. I don't think that was a big surprise with Zito pitching. The way he was pitching the ball and he had thrown some good games for us down the stretch.
Q: Since you have only identified the first two starters, is there any consideration of Madison Bumgarner going on short rest in Games 4 and 7?
BRUCE BOCHY: We'll cross that bridge when we get to it. That's always a possibility.
Q: The other thing, Bruce, everybody talks about the parity in baseball these days. What is it about your team and the Cardinals that you can both get to this stage as often as you have the past four to five years? What keeps you guys one step above?
BRUCE BOCHY: If I heard you right, I think if you look at, number one, the talent on this club, I'll start with that, which we have, but also the continuity. Brian Sabean has done a great job of keeping our core players here and making some nice moves, get Jake Peavy here, going back to 2012, Scutaro, guys that filled some needs. And you have to look at our scouting system with guys that have come up to help us, whether it's a Panik, Strickland, Susac, and that consistency helps you be consistent on the field. That's why, really, you look at this St. Louis club, they're very similar in this respect, and for them to be playing for a fourth consecutive time, that's incredible. And I complement them on their success.