Oct. 10: Bud Norris, Wei-Yin Chen ALCS interview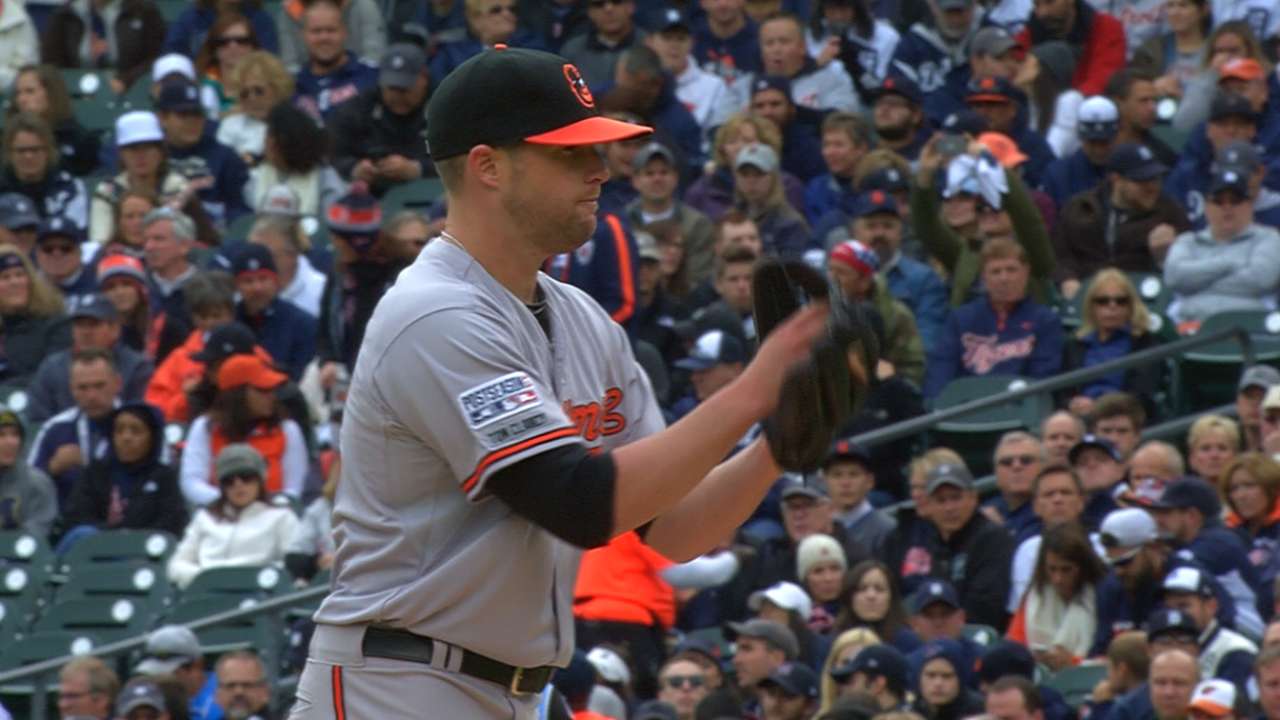 Q. What is it like when you're not on a set schedule where you know definitely when you're going to pitch like you do in the regular season, the postseason has been a little bit different?
BUD NORRIS: I'll go first, I guess.
It's a little different but it goes with the times. You have to understand what all that means to everybody and your collective group and your organization. So understand that you're still a soldier, you're working for a team, just go out there and pitch is all you can focus on. Whoever goes out there tomorrow will be ready to go. That's how our rotation has been the entire year. We're both excited to go out and get the opportunity to pitch again.
WEI-YIN CHEN: Well, I don't think too much about it, I just get ready and whichever game the manager tell me to go out and pitch I'll go out and pitch.
Q. Bud, you didn't get a chance to pitch a playoff game here yet. Is there extra cache to that, does it mean something more or is pitching in the playoffs all that matters?
BUD NORRIS: When I go home this offseason and see how this ride ends out, I think it will be an opportunity to cherish it more.
Just pitching in the regular season in front of this fan base has been outstanding. I've pitched well this year at home. I think that's a testament to the fans and the team.
Excited to get another opportunity to go out there and do what I do. Because these guys have been here all year cheering us on. They've been outstanding. To get this far is great. I know they're going to be pretty excited and high tomorrow, too.
Q. How do you feel about the development of baseball in Taiwan and where do you think it's going in the future?
WEI YIN CHEN: Well, I think we're in the playoff now so I think I hope that this chance I can have a good performance in the playoff so fans can enjoy the Major League playoff games. So if that happens, that will be more fans.
Q. Bud, how much did it help you to have that first career playoff start last time and how much do you think you can build off that going into whatever the next one is for you?
BUD NORRIS: It definitely helped. I think just getting your feet wet out there. I was lucky enough to watch the first two games at home, and kind of cherish it for what it was.
So to go out and do what I do, to go pitch, and to have the nice start I had and get the victory and the sweep, was great. Getting your feet wet, just reminding yourself that it's just a baseball game, go out there and play, and let your guys play defense and so forth.
It's been an exciting time for all of us. We really want to go out there and do the best we can. But we have to remember it's just a game, and give it all we have, and see what happens at the outcome.
Q. Bud, if the game did get suspended in the middle tonight or just got delayed entirely, would that throw off your preparations at all or do you just kind of put that to the side?
BUD NORRIS: I've been playing in Baltimore this year and the weather is part of it. You have to put up an arsenal.
I've had a couple this year, and that's definitely helped in my mindset, my preparation, understanding that the weather is something you cannot control. This year I had a start against the Reds where I had to throw multiple innings in the cage, just trying to stay loose. You put your headphones on and try to stay calm and so forth.
Like I said, the weather is Mother Nature, you can't control her, and what's meant to happen is going to happen.
Q. Bud, Buck was saying how he doesn't know if any one particular player or manager makes a big difference. Can you talk about what Buck has meant to this organization in the time that you've been here?
BUD NORRIS: We could talk about it all day, in honesty. Buck's been amazing from the time he came over to the time we are now. I think all the media writers and fan base can understand exactly what happened and where we are.
Buck's been an interesting character. He's got a great storied career. And we all know him for the personality. But when it comes to baseball and what he gives us players, an opportunity to go out and perform at a high level, he really gets to know each guy on an individual note and gives us the best opportunity to play. That's something you can see when he's moving the rotation around, putting guys in different positions and stuff like that.
It gives him a lot of confidence in us, and proves that he has confidence in us, as well. It's been exciting. Buck's been great. He keeps us calm. He lets us go out there and play baseball, and that's what we're here to do.
Q. Just your opinion of this Royals lineup that you may face tomorrow?
WEI YIN CHEN: Royals have a lot of great hitters. And with their speed we definitely feel some pressure about it. But for me when I get on the mound I just try to consider it as a regular season game. I don't want to put too much pressure on me, I just try to do whatever I did in the season and hopefully I can get a good result out of it.