Moya debuts with a flourish in Arizona Fall League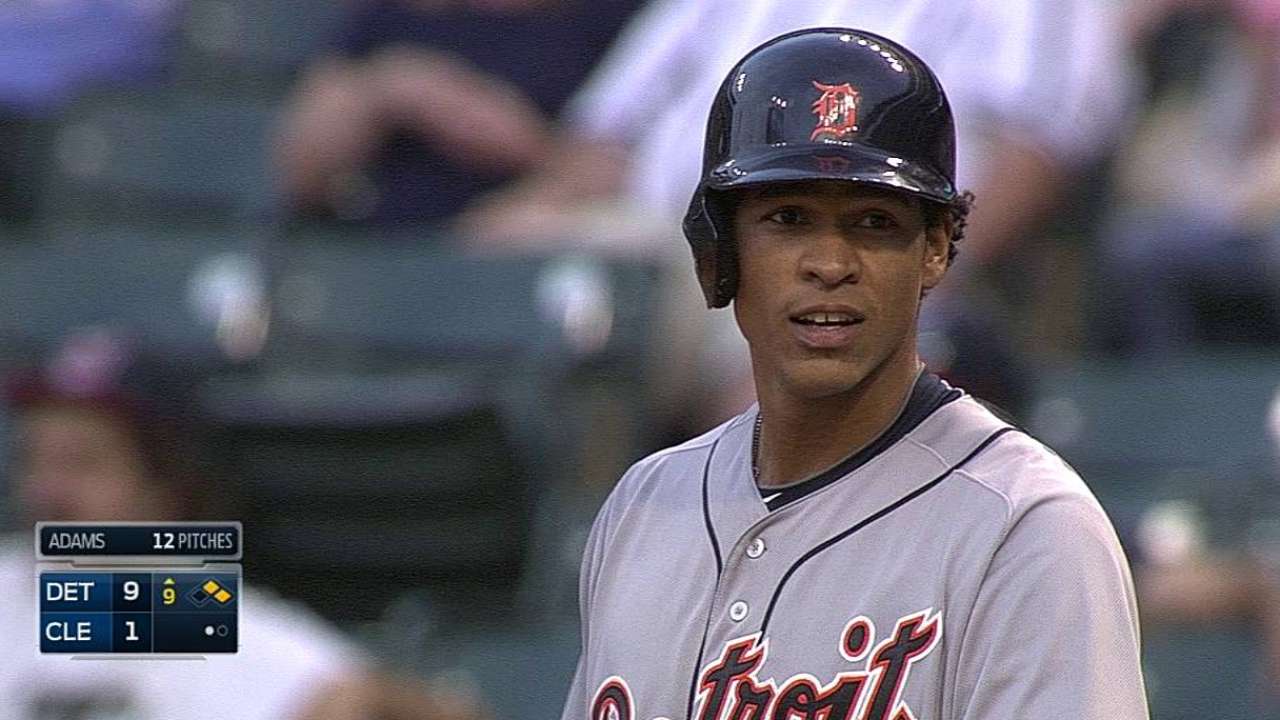 DETROIT -- While the Tigers were packing up and heading home this week, their season having ended far too soon for their liking in the American League Division Series, their best hope for internal improvement in 2015 was opening his next season with a flourish.
And if towering slugger Steven Moya is going to have a chance to make the jump to Detroit next year, his Arizona Fall League campaign will likely play a role in bridging the developmental gap.
The Tigers' recent contributions in the AFL have varied from younger prospects to older guys. They've sometimes sent young players to winter ball for shorter stints rather than six extra weeks of work in Arizona.
This year, their crop of winter ball candidates is small. Their top representative in Arizona, however, is big. After Moya posted his much-anticipated breakout season with 35 home runs, 33 doubles, 105 RBIs and 16 stolen bases for Double-A Erie, the Tigers are extending the learning process for him.
Moya, the Tigers' No. 7 prospect as ranked by MLB.com, opened his Arizona Fall League campaign Tuesday with three hits, including a two-run double, for the Glendale Desert Dogs and manager Lance Parrish in a 9-3 win over Mesa. After a rare Arizona rainout Wednesday, Moya had three more hits Thursday against Surprise, including another double and a stolen base.
In both games, the left-handed-batting Moya had a hit off a lefty. Tuesday's lefty-lefty hit was a line-drive double to right off Nationals prospect Matt Grace, who had retired him twice in as many meetings during the Eastern League season, including an inning-ending strikeout with a runner on third June 11. Thursday's hit was a single off Robby Scott, whose fastball Moya took deep in June for a tape-measure walkoff homer that landed across the street from Jerry Uht Park.
Contrary to expectation, Moya held his own against lefties for Erie, batting .262 (49-for-187) with 13 home runs, nine doubles, six walks and 56 strikeouts.
If Moya is going to challenge for a big league spot out of Spring Training, then six weeks in the AFL could be huge for his development. With bigger rosters and shortened workloads for pitchers, Moya is going to find himself in tougher matchups.
The goal of sending Moya to Arizona, Tigers player development director Dave Owen said Friday, was to get him more at-bats and a higher level of competition. They're also hoping the additional at-bats give the 23-year-old more looks at different pitches, and a chance to improve his plate discipline.
By contrast, fellow Tigers outfield prospect Daniel Fields headed out to Arizona to make up for at-bats he lost while sidelined at Triple-A Toledo with a broken hand. He had been a candidate to play last offseason before a wrist injury forced him to spend most of last winter rehabbing.
Fields made his AFL debut Thursday with a solo home run, picking up where he left off over the final days of the Triple-A season.
The only other Tigers position prospect in the AFL is middle infielder Domingo Leyba, who just turned 19 years old last month and split last season between short-season Class A Connecticut and low Class A West Michigan.
The pitching prospects in Arizona are another mix of high- and low-level prospects, topped by left-hander Robbie Ray, who was scheduled to make his first AFL start Friday night. Ray made a half-dozen big league starts in 2014, going 1-4 with an 8.16 ERA. His extra work, Owen said, is meant to give him a chance to work on his pitching mix, including a slider team officials are encouraging him to throw as a breaking pitch over his curveball.
Sinkerballing reliever Chad Smith made 10 appearances in the Majors in a fast rise up the Tigers' developmental ladder early in the year. With high damage in Detroit as well as Toledo, however, the 25-year-old right-hander is getting more work to try to refine his command and get consistent movement on his sinker.
The other two Tigers pitchers at Glendale are both right-handed relievers out of West Michigan. Zach Reininger had solid numbers with the Whitecaps, going 4-4 with a 2.54 ERA, 42 hits and 58 strikeouts over 56 2/3 innings. Joe Mantiply went 6-3 with a 2.40 ERA at West Michigan, allowing 57 hits over 71 1/3 innings with 76 strikeouts, before getting a late audition at Erie.
Jason Beck is a reporter for MLB.com. Read Beck's Blog and follow him on Twitter @beckjason. This story was not subject to the approval of Major League Baseball or its clubs.