Wainwright elbows aside questions about health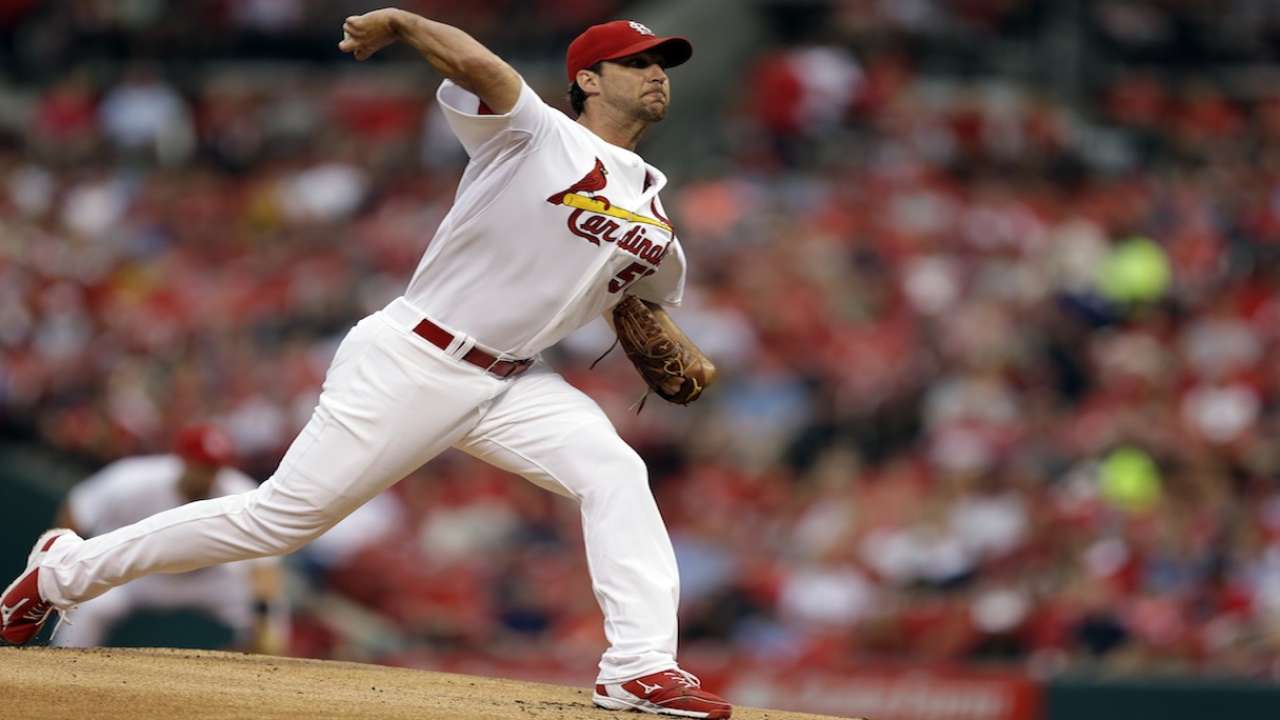 ST. LOUIS -- The most pressing question in St. Louis baseball circles will be answered tonight when Adam Wainwright takes the Busch Stadium mound to start Game 1 of the National League Championship Series against the Giants (7 p.m. CT, FOX), the outcome of which could either allay or confirm the concern that has followed the Cardinals' ace all week:
"How's the right elbow?"
Wainwright, a Tommy John surgery success story (he had the procedure in 2011) was asked the question right off the top Friday, when the Cardinals' scheduled workout was washed out by rain.
"It's fine," Wainwright said, before muddling the matter by adding, "You know what, it's October. Every team is dealing with their individual stuff. The problem that I have is being way overblown. I'll be fine to pitch tomorrow, and I'll go out there and battle like I always do."
Like most Major League pitchers, Wainwright battled bumps and bruises throughout the season. In June, he skipped a start with a sore elbow. In August, he dealt with a "dead arm" phase. In Game 1 of the NL Division Series against the Dodgers, Wainwright surrendered six runs and 11 hits in 4 1/3 innings, matching his shortest start of the season -- which happened to be against these same Giants, a seven-run dud on May 30.
On Friday, six of the first eight questions fielded by Wainwright during an afternoon news conference were either directly or obliquely about the elbow. He confirmed that, yes, he had some discomfort against the Dodgers, but insisted, no, he is not worried about it.
"Here is the positive, I can be very honest about this, because I've been through it," Wainwright said. "When I took a game off after my Tampa start [in June], I aggravated my elbow, and it's the backside of my elbow. So the elbow-fearing world can know it's not my ligament. … And after that, it goes on the mend and gets better and better progressively.
"The other day, I aggravated that same spot on the backside of my elbow, and now I'm on the mend, and I can feel something. I'm very confident about it, because I felt that before, the exact same thing. I was able to recover very well from it. I have no doubts going into [Game 1]."
After taking 10 days off between starts in June, Wainwright returned to beat the Phillies in an eight-inning, one-run, seven-strikeout performance, beginning a five-start stretch in which he posted a 0.96 ERA and pitched at least seven innings each time. It included a July 2 start at San Francisco, in which Wainwright pitched 7 2/3 scoreless innings.
• Video: Wainwright's scoreless start
It was part of Wainwright's second career 20-win season. He finished with a 2.38 ERA, led the Majors with three shutouts and pitched 227 innings in 32 starts.
When the elbow question was raised among Wainwright's teammates on Friday, they chuckled.
"He's our No. 1 for a reason, and when you're going into a Game 1, you want your No. 1 out there," third baseman Matt Carpenter said. "I've kind of been blown away, like, why is that even a topic of discussion? Adam is our ace. He's the guy we want up there."
Said fellow starting pitcher Shelby Miller: "I think he's ready to go. No matter how ready he is or whatever, he's going to be the one to take the ball in Game 1. He's the ace of our staff and he'll be ready to go for sure."
And if Wainwright wasn't ready?
"You would literally almost have to kill him to get the ball out of his hand," Miller said. "But no -- he's healthy. I don't know what all the stuff is with that. If he wasn't ready to go, he wouldn't be doing it."
Considering his connection to Tommy John, Wainwright understands the concern.
"I get it," he said. "When people hear 'elbow,' they think the worst, and, you know, rightfully so. I've obviously had an elbow issue before. I had that fixed. And if you see the amount of stars going down with elbow injuries these days, it's natural to have that reaction. I understand that, so I don't ever scoff at people that worry about elbow problems here or there.
"There's all kinds of sides of your elbow, ligaments and tendons in there that do different things. The only thing I can do is tell people it's not my ligament, my ulnar collateral ligament, and trust that people will believe me. If they don't, that's OK. I'll go out and hopefully prove that I'm OK with my pitching."
Asked whether a part of him likes being doubted, Wainwright said, "It does provide for some extra motivation, not that we need it at this level and especially not in the playoffs. But it's funny to watch. I'm a baseball fan first, and it's funny to watch the shows and watch guys who have never met me on the show saying they're concerned about me and this and this and my arm troubles here and arm troubles there.
"But what can I do about it other than go out and pitch?"
Adam McCalvy is a reporter for MLB.com. Read his blog, Brew Beat, and follow him on Twitter at @AdamMcCalvy. This story was not subject to the approval of Major League Baseball or its clubs.