Gonzales showing veteran's form, poise in October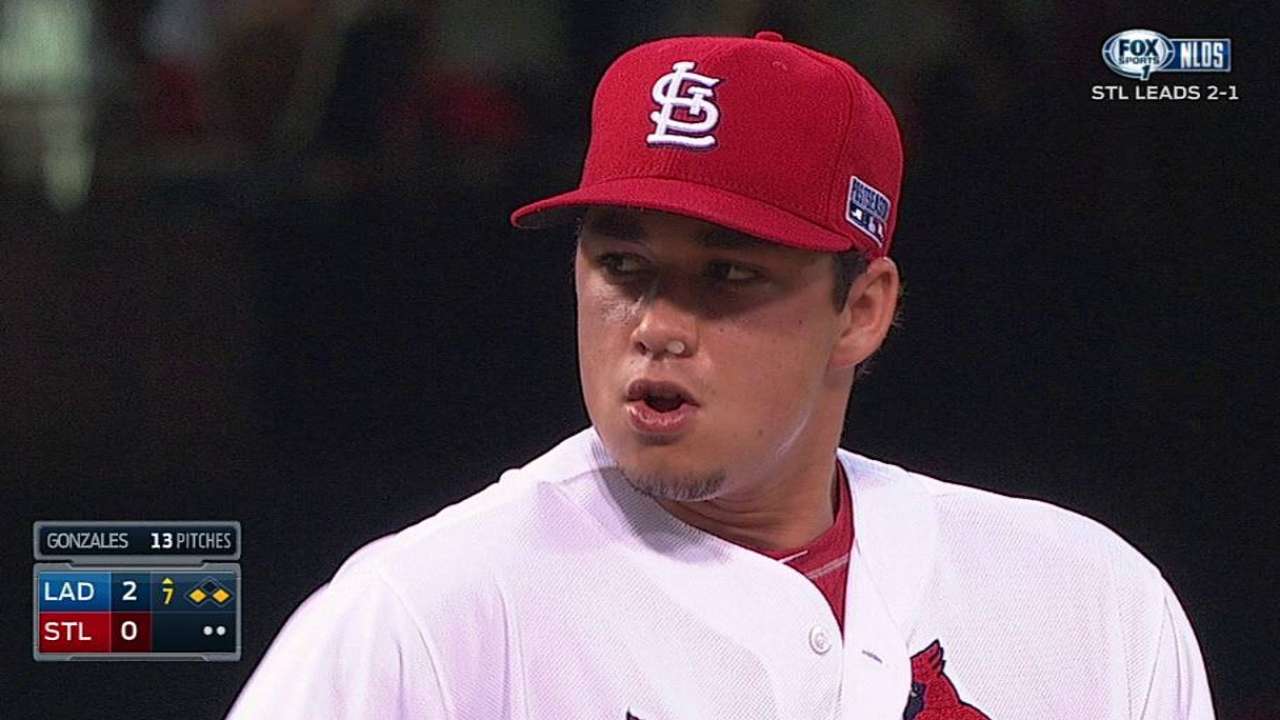 ST. LOUIS -- A mere 16 months after the Cardinals made him a first-round Draft pick, 22-year-old Cardinals pitcher Marco Gonzales owns more career postseason victories than another left-handed pitcher named Clayton Kershaw. Gonzales prefers to mull simpler matters.
For example: When you're standing on the mound in Major League Baseball's postseason, remember to breathe.
"You forget how to breathe," Gonzales said with a smile on the eve of the National League Championship Series (Game 1, Saturday, 7 p.m. CT on FOX). "You forget how to do a lot of things if you're not prepared."
But on the other hand, he said, "It hasn't slowed down for me this whole season, and man, I love it. It doesn't give you a chance to breathe or look around, and you stay in that rhythm. I think that's been a good thing."
If he sounds like the 2014 version of 2013's Michael Wacha, it is because both players followed a similar path to Busch Stadium. Both were drafted 19th overall -- Wacha in 2012 and Gonzales in 2013. Both found themselves in the big leagues barely a year later, playing a significant role for a team moving deeper into the postseason.
While Wacha was a starter last season, Gonzales has found a niche since a shift to relief. He was rewarded with a pair of victories during the Cardinals' NL Division Series win over the Dodgers.
Now Gonzales is poised to play just as prominent a role in the NLCS. When the Cardinals' decided to replace left-hander Sam Freeman on the roster with catcher A.J. Pierzynski, it left them with two left-handed relievers in a seven-man bullpen: Specialist Randy Choate and the more-versatile Gonzales.
"At this time of the year, we're going with the hot hands, and right now he's done a terrific job," Cardinals manager Mike Matheny said. "It's nice to see him take that step forward."
Gonzales has been speed walking. He pitched -- and won -- four consecutive Colorado state championship games before attending Gonzaga University, where he led the way in his junior season with 106 innings, a 2.80 ERA and, for good measure, a .310 batting average.
From Gonzaga, Gonzales advanced to the rookie Gulf Coast League and then the Class A Advanced Florida State league to finish 2013, then up to Double-A, Triple-A and the Majors in 2014. With the Cardinals, he was 4-2 with a 4.10 ERA in 10 games (five starts) during two stints in the regular season. His second time up has been much more effective, with Gonzales using his 90-mph fastball and a growing arsenal of offspeed pitches to log a 1.90 ERA in 10 games, including three scoreless innings in the NLDS.
"I remember talking to our area scout at the time, Matt Swanson, and talking to some of our cross-checkers, and our collective opinion was he was pretty advanced," said Cardinals scouting director Dan Kantrovitz, who was responsible for selecting both Wacha and Gonzales. "And I think you also have to tip your cap to your big league staff here, for putting him in a position to succeed."
Gonzales has filled a variety of positions, beginning with a start against his hometown Rockies in Denver on June 25. Gonzales surrendered five runs in five innings of that game, then could not complete the fifth inning in two subsequent starts before a demotion to the Minors.
"When we did have to send him back, a lot like what we talked about with Shelby [Miller], is trying to figure out what a team is going to do with what they've seen so far," Matheny said. "And he needed to add a couple of weapons to his arsenal and put a little movement on the ball the other way, sink it on the first-base side and be able to cut it on the third-base side, and take advantage of the great changeup he has, trust his curveball a little bit more. All those things he's able to do.
"He's a pitch maker. He knows how to pitch. We've thrown him into some tough situations and he responds very well. So stuff and makeup, and just kind of a toughness for a young pitcher, are all there. There's no reason why we can't throw him into big situations."
Gonzales now begins stretching around the fourth inning, just in case the bullpen phone rings. He will be joined by Wacha in the 'pen for the NLCS, giving Matheny two young arms capable of long relief or entering in a tough spot against a same-handed batter.
At some point, Gonzales will take a moment to soak this in.
"I think I sense the gravity of it, for sure," he said. "When you're out there, you see the fans, you feel the energy. You definitely feel it. But once you start throwing, it's back to baseball. … It's so 'mindless' right now. It's all adrenaline."
Adam McCalvy is a reporter for MLB.com. Read his blog, Brew Beat, and follow him on Twitter at @AdamMcCalvy. This story was not subject to the approval of Major League Baseball or its clubs.