Ever evolving Matheny a worthy leader of Cardinals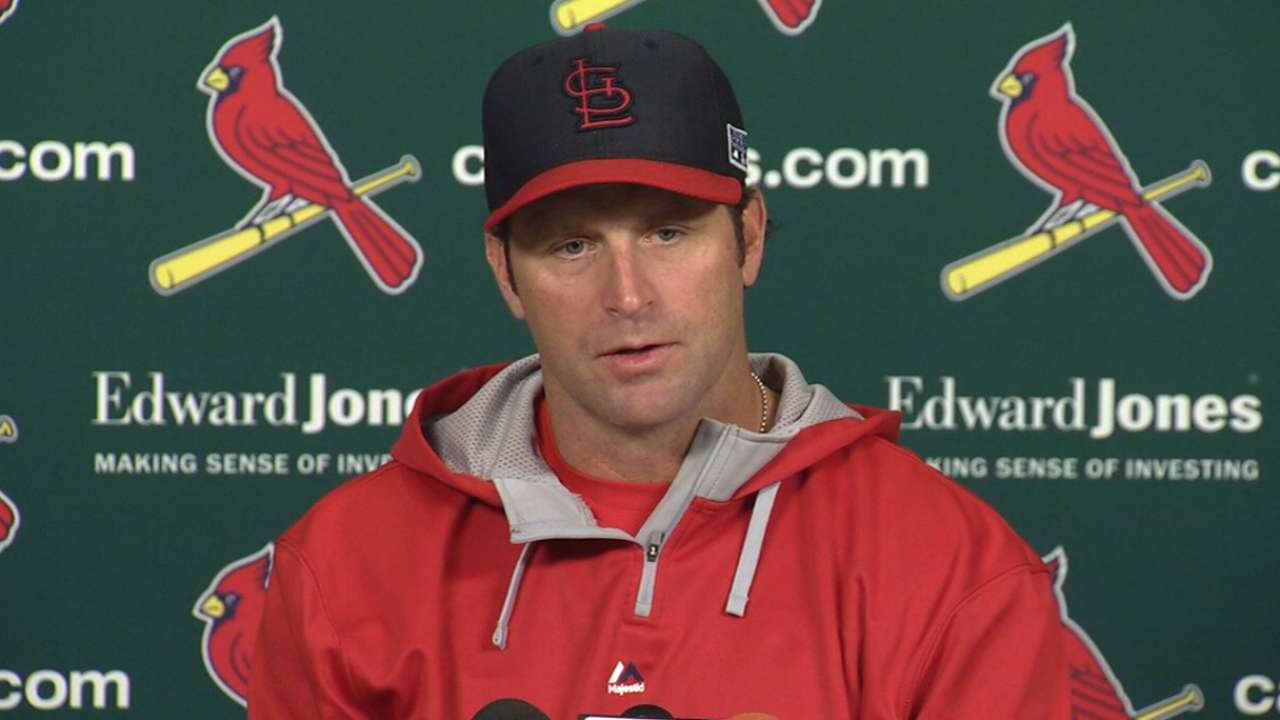 ST. LOUIS -- Asked the formula behind his immediate (and incomparable) success as a first-time manager, Mike Matheny will naturally deflect all credit and pin his ability to continue what Tony La Russa started as the product of working with talented players.
It's an easy answer, sure, and, in many ways, a fine one, too. Without question, Matheny walked into a favorable situation, handed the reins of a World Series winner and an organization with a plentiful farm system about to sprout several new impact players. But taking talent and ensuring that it molds into a team isn't always a given, as evidenced again in 2014, a year in which only one team with an Opening Day payroll in the top 12 is still playing.
There is something to the managing thing, as well, and for all the second-guessing he endures from a forgiving-but-not-forgetting fan base, Matheny has proven himself a solid fit for the job.
"It's something that needs to be talked about all the time," third baseman Matt Carpenter said strongly. "And it's his ability to lead both by example and also in the clubhouse. The respect that he gives to our players and also the respect that he demands [from] our staff is something that's really special. He's a great guy to play for. He's a good man. There's just a lot of trust that's been instilled in here. Guys want to win for him, and that's an important thing."
Matheny, one of five rookie managers in baseball history to advance to the postseason in his first three seasons and the only to have won at least one postseason series in each of those years, stepped into the role with an attitude of servitude. He sees his position as one in which he is charged with the challenge of putting others in a position to succeed.
"He's kind of like [Jim] Leyland," explained Jhonny Peralta, who has now played under both skippers. "He lets us play baseball and doesn't try to bother the players. Matheny has a lot of calm. He's never too crazy, not too loud. He gives you confidence."
A peek into the home manager's office at Busch Stadium reveals a lot about what has molded Matheny along the way.
Framed pictures of his wife and five children dot his L-shaped desk, which often has several books strewn across it. His Bible is always there, a devotional book oftentimes, as well. Throughout the season appear various other novels on great leaders -- in business, in sports and of this nation -- as characteristics of men guiding other men translate across different sectors.
There are usually multiple iPads in use as scouting tools, contemporary Christian music on play and various mementos from this ongoing journey on display in nearby shelves. Two large quotes -- "To Thine Own Self Be True" and "Good is the Enemy of Great" -- are plastered in large, bold print across the walls.
Matheny asked for those particular quotes to be sketched onto the walls, so as to have the daily reminders before each home game.
"I walked into a situation, a team that just won the World Series, so obviously there was a lot going on around here before I showed up," Matheny said. "A great culture put in place already, and it's just trying to keep that moving forward, figure out how we can improve. Get special players with the right kind of makeup, it's a pretty powerful combination."
While he's ever-evolving as an on-field tactician, Matheny was quick to create clubhouse cohesiveness upon arriving in 2012. He fostered an environment in which young players mix seamlessly with veteran ones, and Matheny leans heavily on longtime Cardinals Yadier Molina, Adam Wainwright and Matt Holliday to keep it that way.
A self-described "blind optimist," Matheny was unwavering in his confidence even at the most tumultuous points of the season. Even now, when asked if he ever questioned whether the Cardinals would be here, he insists that he didn't see the adversity as anything more than a few swerves in the road.
Players noticed, too.
"We never sensed any panic from him," Mark Ellis said. "We never thought the sky was falling. He was always very encouraging, and always making sure we were going in the right direction. There were points in the year where we could have gone 180 degrees the other way and fallen flat on our faces -- when Yadi goes down, when Jaime Garcia and Michael Wacha go down. But never once did anybody in this clubhouse use that as an excuse for the way we were playing. He just kept us going in the right direction."
While Matheny called this the most challenging of his three seasons, he was, perhaps surprisingly, also his most relaxed. That difference came as a result of how he adjusted his daily dealings with the media. Admittedly guarded and sometimes adversarial in his mandatory twice-a-day sessions with reporters in years one and two, Matheny was intentional about letting himself be himself this year. That candidness was, in turn, noticed by those tuning in.
"I was so guarded in everything I said, not trusting [the media] at all," Matheny said. "People who know both sides of the business were telling me I wasn't leaving myself much room to be myself. I put up that same facade when I was player and it served me well because I stayed out of trouble. But I'm a joyful person and twice a day, I was going straight blank."
It is all a part of Matheny's insistence for continuous self-evolution. Despite the early success -- and he has enjoyed tons of it -- Matheny considers himself far from a finished project as a third-year manager. What has impressed so many is that he's found a way to win while still finding out more about himself.
"He really follows us and lets us play and then lets us do our thing," Jon Jay said. "He pushes the right buttons to help us succeed."
Jenifer Langosch is a reporter for MLB.com. Read her blog, By Gosh, It's Langosch, and follow her on Twitter @LangoschMLB. This story was not subject to the approval of Major League Baseball or its clubs.