Oct. 10: Adam Wainwright NLCS interview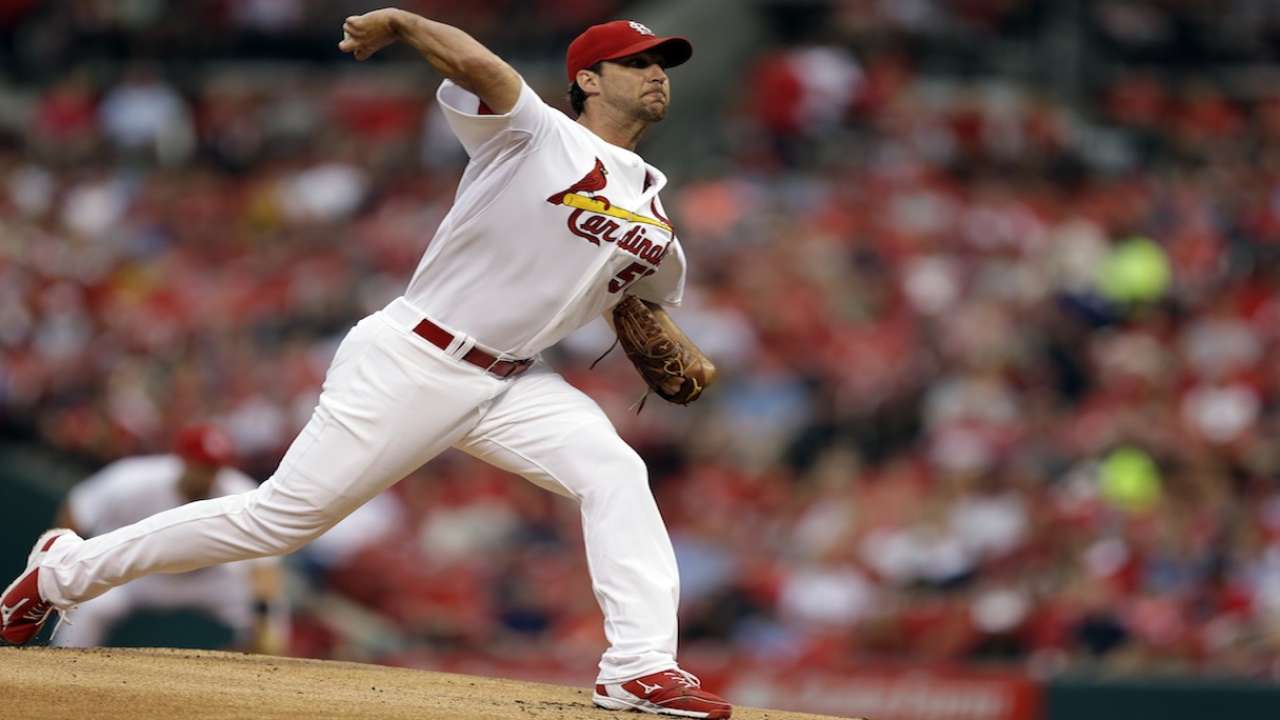 Q. Adam, how is the right elbow?
ADAM WAINWRIGHT: Be the left elbow? Did you want to know about the left elbow? It's fine. You know what, it's October. Every team is dealing with with their individual stuff. The problem that I have is being way overblown. I'll be fine to pitch tomorrow and I'll go out there and battle like I always do.
Q. Adam, Cardinals have been in the LCS four straight seasons. Apart from the obvious talent, what are the characteristics that have set this ballclub part and allowed them to succeed?
ADAM WAINWRIGHT: I'm sorry?
Q. The characteristics that have allowed the ballclub to succeed.
ADAM WAINWRIGHT: I don't know much about what sets us apart, because I haven't been on any other teams. I have been lucky enough to play here my entire career.
I know there are good things going on out there with other organizations. I know there are a lot of guys in the clubhouse that show up with the expectancy and the preparation to win every time. And to a certain level, certain degree, when you win a few times, it gives you more confidence going forward. You believe that you're going to get it done, because that's what you do.
I think the guys in that clubhouse maybe have an edge because we've done it. Largely a lot of the same guys that have been here since 2011, that saw us go through that, and Yadier and I have been here since '06 and seen those winning clubs as well, we've had some history in the postseason. We have had some success and that gives us some confidence.
Q. Adam, seems every time people start to the question in you in a way, maybe like August, for instance, you come back and you're the pitcher of the month in September. You always turn it on. Do you kinda like being doubted?
ADAM WAINWRIGHT: It does provide for some extra motivation, not that we need it at this level and especially not in the playoffs. But it's funny to watch. I'm a baseball fan first, and it's funny to watch the shows and watch guys who have never met me on the show saying they're concerned about me and this and this and my arm troubles here and arm troubles there. But what can I do about it other than go out and pitch?
I'm going to show up tomorrow ready to win a game and hopefully we'll do that.
Q. You had your postseason moment as a rookie back in '06 and the highlights of it are still replaying. I wonder how your appreciation of that moment has grown and what you think the importance of having a playoff moment, whether it's Chris Carpenter's primal scream in '11 or your game in the division series last year, when it comes to defining a player and defining a player's place in an organization?
ADAM WAINWRIGHT: And you got to have a good pose, don't you? That's why I was so proud about last year after my '2005, I love my posture, the double fist, the great knee bend.
I think when you have a moment like that it gives you confidence going forward. And the same thing I was talking about earlier, the success in the postseason breeds future success in the postseason, I really believe that. Gives you confidence, and if you don't have confidence, you don't have anything.
Some of the guys in that room, Patches, big swing the other day. My rookie season is still people talk more about the 2006 NLCS against the Mets and that World Series more than anything else in my career, so you just never know when that's going to be.
I do long for another memory, another World Series clincher at some point where people will ask me about that. But you know what, if I only have that one memory of closing out the World Series, that's a pretty good one.
Q. Yeah, just a quick two parter. When you face San Francisco here, how much was the elbow barking in that game? Second, you faced Madison Bumgarner in that game. When you face Madison Bumgarner, going over your reports, do you almost have to treat him like another hitter as compared with some other pitchers that you have faced?
ADAM WAINWRIGHT: Yeah, he's a very tough hitter. He's got tremendous power. And obviously if you look at his numbers, if I'm not mistaken, he's hitting .256 with four bombs and 15 RBIs this season.
I have seen him, faced him, I know he's prolific at the plate and can hit a home run as far as anybody I have seen. He's a big, strong fellow, so I will respect him.
The other part of the question was what?
Q. I ...
ADAM WAINWRIGHT: Facing the Giants. My elbow did not hurt at all.
Q. It didn't?
ADAM WAINWRIGHT: No, no, that was just a bad game. And if I'm not mistaken, I had several great games right before that and several great games right after that. I said in the paper afterwards that was just one of those games where you just throw it away because it was terrible.
I went right back to executing pitches the next time out. That happens occasionally. Also, if I'm not mistaken, I pitched a very good game against San Francisco later on.
If you're executing your pitch and doing things like you should on the mound, it's going to be very tough for any team to hit.
Q. Another elbow question. Thrilled. Did the discomfort or whatever you want to call it, was this a factor in Game 1 of the NLDS? And, two, you have had a lot of extra rest, obviously. Is this something that you feel will help you if indeed there is something to be remedied?
ADAM WAINWRIGHT: Yeah, it was a factor in Game 1. Here is the positive, I can be very honest about this because I've been through it. When I took a game off after my Tampa start earlier this season, I aggravated my elbow, and it's the backside of my elbow. So the elbow fearing world can know it's not my ligament.
But on the backside of my elbow I aggravated something that when I did that, it got to its worst. And after that, it goes on the mend and gets better and better progressively.
The other day I reaggravated that same spot on the backside of my elbow and now I'm on the mend, and I can feel something. I'm very confident about it because I felt that before, the exact same thing. I was able to recover very well from it. I have no doubts going into tomorrow.
Q. I wonder how much you learned from Carpenter, and maybe somebody else, about how to pitch at your best when you're not physically at your best, and how you recall the risks he took physically to perform on this stage?
ADAM WAINWRIGHT: Carp is going through some much graver issues than I was, thankfully.
But he is such a warrior, and he taught me a lot about that. His big message to me was you always have to find a way to get the job done. No matter what it is, no matter what you feel, you have to find way to get the job done.
And if you ask any pitcher in baseball, there are only a few starts where you feel amazing, ready to rock, nothing is bothering you from your head to your toes.
You have to find a way to get the job done when you're not feeling like that in the regular season, and even more so in the postseason. This team needs me to go out and deliver a quality game tomorrow and that's what I plan on doing.
Q. Are you surprised at the size of the elbow fearing world and that they seem to like this narrative about your elbow a lot more than facts would indicate they should?
ADAM WAINWRIGHT: No, I understand it. I get it. When people hear "elbow," they think the worst, and, you know, rightfully so. I've obviously had an elbow issue before, I had that fixed. And if you see the amount of stars going down with elbow injuries these days, it's natural to have that reaction. I understand that, so I don't ever scoff at people that worry about elbow problems here or there.
There's all kinds of sides of your elbow, ligaments and tendons in there that do different things. The only thing I can do is tell people it's not my ligament, my ulnar collateral ligament, and trust that people will believe me. If they don't, that's okay. I'll go out and hopefully prove that I'm okay with my pitching.
Q. Adam, this is supposed to be the era of parity. Every team is supposed to have a pretty good chance. How do you explain the NLCS? It's either you and the Cardinals and the Giants. What is it about the Cardinals that takes you a notch above?
ADAM WAINWRIGHT: I don't know how to put that without making 13 other teams mad in the National League. It's a tricky thing. But I do really believe when you get through the postseason, you win a couple of tough series, it gives you a greater edge and confidence going into the next time you're in the postseason.
And the Giants have obviously, like we have, have put themselves in positions to be in the postseason over the years. They have great pitching, they have winning players over there. And when you have that confidence that you're gonna get the job done, you a lot of times do get the job done.
You have just two winning organizations that believe they're going to win and get the job done, so you see that both teams are doing that.
Q. Adam, with the pitching staffs in general, how much extra stress and strain is there when you go to the postseason that many times in a row having all the extra innings? Do you do anything different in Spring Training?
ADAM WAINWRIGHT: This last year, I didn't start throwing until about two weeks after I normally would. I normally start January 1st, and if I'm not mistaken, I think it was around January 16th or so where I started this last year. That two weeks was great for rest, but it also gave me plenty of time to be ready for Spring Training, and I'll do the same thing again this year.
Q. How good of a feeling is it to have a former catcher like Mike Matheny as your manager?
ADAM WAINWRIGHT: He was the first guy I ever threw a bullpen session to in a St. Louis Cardinals jersey in the off season of 2003, Spring Training 2004. He caught my very first bullpen session and great confidence in me then. And he still continues to do that with me and the other team members now.
We believe in him and he believes in us, it's a good team.
Q. This is a much anticipated rematch from the 2012 NLCS. How much more does that fuel you? What's the feeling in the clubhouse right now to fuel you to beat the Giants? Is it added to it because it's a rematch of the 2012 NLCS?
ADAM WAINWRIGHT: May add to it a little bit. We were up 3 1, and they came back and pitched three very good games and scored some runs to win that series.
But at the same time, there doesn't need to be a whole lot more added incentive to beat the Giants and get to the World Series to have a rematch. We're more interested in winning a World Series than we are in beating the Giants.
Now we have to beat the Giants to do that, and first things first. We will take every game seriously and be ready and prepared every game.
Q. I wonder if this at all compares to back in '12, when you had the start in Washington that was a little similar to Game 1 this year, and then came back quickly, six days later to face the Giants, if there are similarities here
ADAM WAINWRIGHT: And pitched a very good game!
Q. Well, that part of the similarity I wondered, but the fact that it's not in the middle of that series that you have the opportunity here to have more influence over this series, if that meant something to you.
ADAM WAINWRIGHT: Yeah, you know, the differences were in 2012, I would show up it was the year after I had Tommy Johns surgery and until the halfway point I wasn't quite myself yet. Halfway on, I started pitching better, but there would be days I would show up and my arm would not react. I wouldn't be able to throw anything with any kind of life and get anybody out.
In 2012, when I pitched Game 1 against the Nationals, I had very good stuff and I struck out some guys. In Game 5, my arm didn't respond and I had no life in the tank. I got shelled all over the place and lucky we were able to win that game.
I went into with the same mindset every time, my arm was just not ready to react. This year there have been times throughout the season where I have had to battle through tendonitis and other things that every pitcher has to battle there. But "battle" is the key word. You get through it and find a way to do it. I have no doubts that my arm will respond next time out.
THE MODERATOR: Thank you, Adam.