Long, Kelleher out as Yankees coaches
Staff changes made to help club find higher ground, Cashman says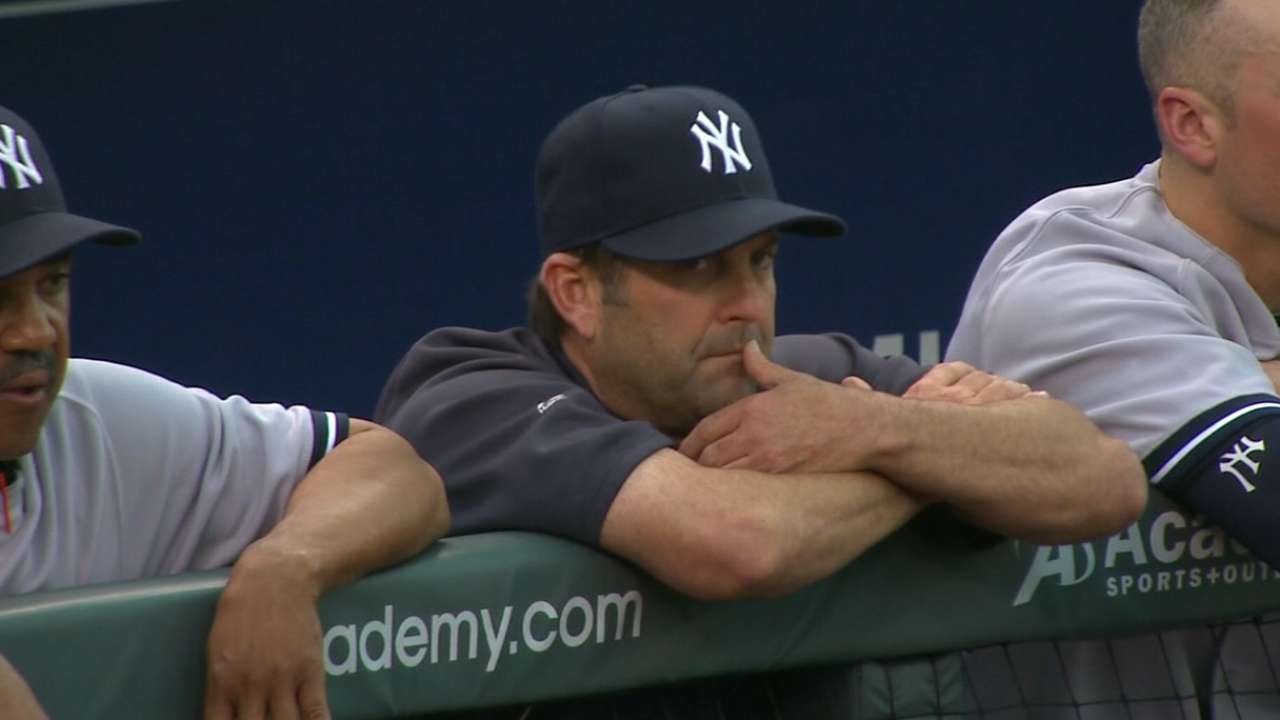 BALTIMORE -- In response to a disappointing season during which they ranked near the bottom of the American League in runs scored, the Yankees shook up their coaching staff on Friday by dismissing hitting coach Kevin Long and first-base coach Mick Kelleher.
General manager Brian Cashman confirmed on a conference call that neither coach will return to manager Joe Girardi's staff next season. Long and Kelleher were both under contract through 2015, and Cashman said that the team has not yet identified their replacements.
"We just wanted to make some changes in the staff, which will put us in position to find higher ground as we move forward," Cashman said. "Those guys have been assets for us, they've helped us and they're good baseball people."
The Yankees scored 633 runs in 2014, third-fewest in the American League. They ranked among the league's worst teams in average (.245, 11th of 15), on-base percentage (.307, 14th), slugging percentage (.380, 10th) and home runs (147, seventh).
"We let the season play out and let everybody put all hands in," Cashman said. "We were able to fix a number of issues, but the one issue we couldn't fix was the offense."
Cashman said that the remainder of the coaching staff is expected to be "status quo," with the jobs of pitching coach Larry Rothschild, bench coach Tony Pena, third-base coach Rob Thomson and bullpen coach Gary Tuck thought to be safe.
Long recently finished his eighth season as the Yankees' hitting coach. New York led the Majors in runs in three of those eight years (2007, '09-10) and finished second twice (2011-12).
But Long was frustrated by trying to solve what ailed the Yankees in 2014, a season when the lineup was sapped by injuries and underperformance for a second straight year.
Key veterans Carlos Beltran, Mark Teixeira and Brian McCann were all disappointed by their production, prompting a late August players' meeting that included Long's input, in which infielder Chase Headley said the general theme was "enough is enough."
"I think he tried everything in his power," Cashman said. "By his own assessment, I know when I talked to Kevin today he told me, 'Cash, I wouldn't do anything different, because I tried everything.'
"I think Kevin can sleep at night knowing he tried every tool in the toolbox. I know that he publicly stated late in the year that he did everything and tried everything. It wasn't sufficient, but the effort was sufficient. The results just weren't."
Kelleher had been the club's first-base coach and infield instructor since 2009 and spent 16 years in the Yankees organization. The Yankees' infield defense struggled early in the season, but while Cashman said that he did not want to pin those issues on Kelleher, a change was still deemed to be necessary.
"I think Mick is good at what he does, he's a good infield instructor and he's very positive, but there are some more things that I want to add to the staff with Joe Girardi," Cashman said. "In my dialogue with Joe, we look forward to interviewing some personnel that can bring those things to the table."
Adam Berry is a reporter for MLB.com. Follow him on Twitter at @adamdberry. This story was not subject to the approval of Major League Baseball or its clubs.