MLB.com Columnist
Bill Ladson
Nationals' bench set for overhaul in 2015
Williams 'proud' of team's accomplishments, but tweaks have to be made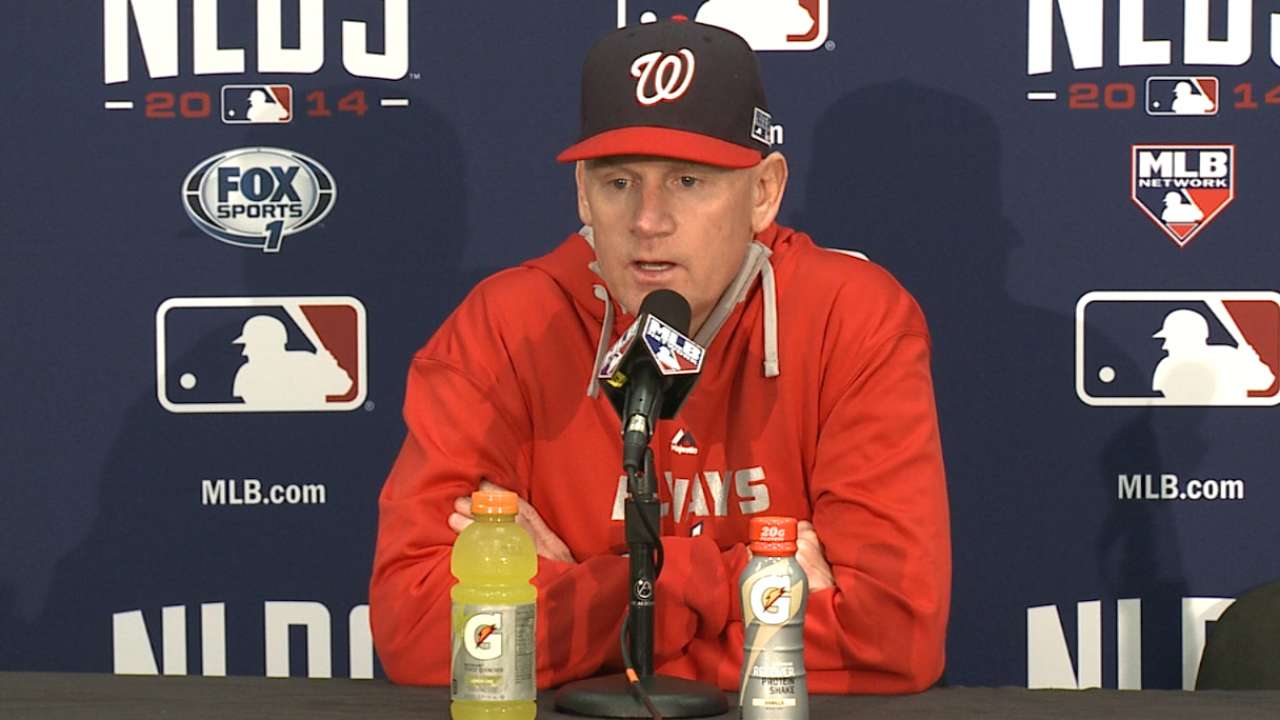 WASHINGTON -- After watching his players lose to the Giants in the National League Division Series, Nationals manager Matt Williams told his players how much he appreciated their effort during the season.
"We established a way to go about this game in Spring Training, and we accomplished that goal," Williams said. "We played the way we wanted to play and did a lot of things right. So, you know, it's tender and it's bitter and all of those things, but I'm proud of them. I'm proud of the way they went about it."
Although the Nats finished with the best record in the NL, they have to make some changes to their roster. For example, they have to overhaul their bench. Pinch-hitters hit .144 in 2014. They may need to tweak the bullpen, which didn't do well in the postseason.
One thing is certain, general manager Mike Rizzo will be busy trying to make the Nationals championship contenders for 2015.
Arbitration-eligible: LHP Jerry Blevins, RHP Tyler Clippard, LHP Ross Detwiler, 2B Danny Espinosa, INF/OF Kevin Frandsen, RHP Doug Fister, RHP Craig Stammen, RHP Stephen Strasburg, RHP Drew Storen, C Wilson Ramos
Free agents: 2B Asdrubal Cabrera, 1B Adam LaRoche, OF Scott Hairston, OF Nate Schierholtz, RHP Rafael Soriano, RHP Ross Ohlendorf
Rotation: It's set with Strasburg, Fister, Jordan Zimmermann, Tanner Roark and Gio Gonzalez. The biggest question is, can the Nationals sign Zimmermann and Fister long-term? They are free agents after the 2015 season. Before Opening Day, according to two sources, the Nationals tried to sign Zimmermann to a five-year deal at $17 million per season, but both sides settled for a two-year, $24 million deal. One could argue that Zimmermann was their best pitcher this past season, and it may take a lot more to sign him. Fister led the team in wins despite missing more than a month with a lat strain. It will be interesting to see what happens before Opening Day.
Bullpen: Soriano is not expected back. After not doing so well in the postseason, it will be interesting to see if Storen will be the closer next year. Some people in the Nationals organization see Blake Treinen as a future closer, although he has done well as a starter. Clippard will continue to be the setup guy, but he is also a free agent after 2015. Blevins, Stammen, Aaron Barrett, Matt Thornton and Detwiler are expected to be back in the bullpen next year.
Catcher: Ramos is expected to remain the No. 1 catcher, but he has to show the Nationals that he can remain healthy for a full season. The last time he avoided the DL was 2011. This past season, Ramos broke a hamate bone and had hamstring problems. Jose Lobaton will be the backup catcher. He had a good rapport with Fister and Strasburg. Lobaton wasn't bad with the bat during the final two months of the season, hitting .305 in that span.
First base: LaRoche is not expected back. Right now, the plan is for Ryan Zimmerman to play the position. His days as a third baseman are over. Zimmerman has to stay healthy, something he didn't do in 2014. Besides breaking his thumb, he missed most of the second half because of a hamstring injury. Zimmerman was eligible for the NL Division Series, but he was limited as a pinch-hitter because of the hamstring problems. Frandsen most likely will be the backup first baseman.
Second base: It's hard to say who will play the position in 2015. Cabrera is a free agent. After Game 4 of the NLDS, Cabrera said he was willing to stay with the Nationals as their second baseman. This comes over month after he said he wanted to play shortstop in the future. Espinosa is an excellent defender, but he seemed to have lost his way as a hitter, especially from the left side of the plate. The Nationals could put Anthony Rendon back at second base while they pursue a third baseman.
Shortstop: Ian Desmond is the guy, but can they sign him to a long-term deal? According to published reports, Desmond turned down a six-year, $90 million deal and settled for a two-year, $17.2 million contract. He says he wants to be a member of the Nationals for a long time. We'll see what happens during the offseason.
Third base: Rendon was more than just the team's best hitter this past season, he played Gold Glove Award-caliber defense at third and second base. He could see himself back at second base if the Nationals acquire a third baseman this offseason.
Outfield: The first order of business was picking up Denard Span's $9 million option, which the Nats did the day after the World Series. Span had his best season as a leadoff hitter and set career highs in hits and stolen bases. Bryce Harper and Jayson Werth are set in the corners. If the postseason means anything, Harper could have his best season at the plate in 2015. Werth is always consistent on offense and is expected to hit third in the order. Provided that he is healthy, Nate McLouth should be the fourth outfielder. He missed the most of the second half because of a shoulder injury.
Bill Ladson is a reporter for MLB.com and writes an MLBlog, All Nats All the time. He also could be found on Twitter @WashingNats. This story was not subject to the approval of Major League Baseball or its clubs.