Bochy quietly building Hall of Fame career as skipper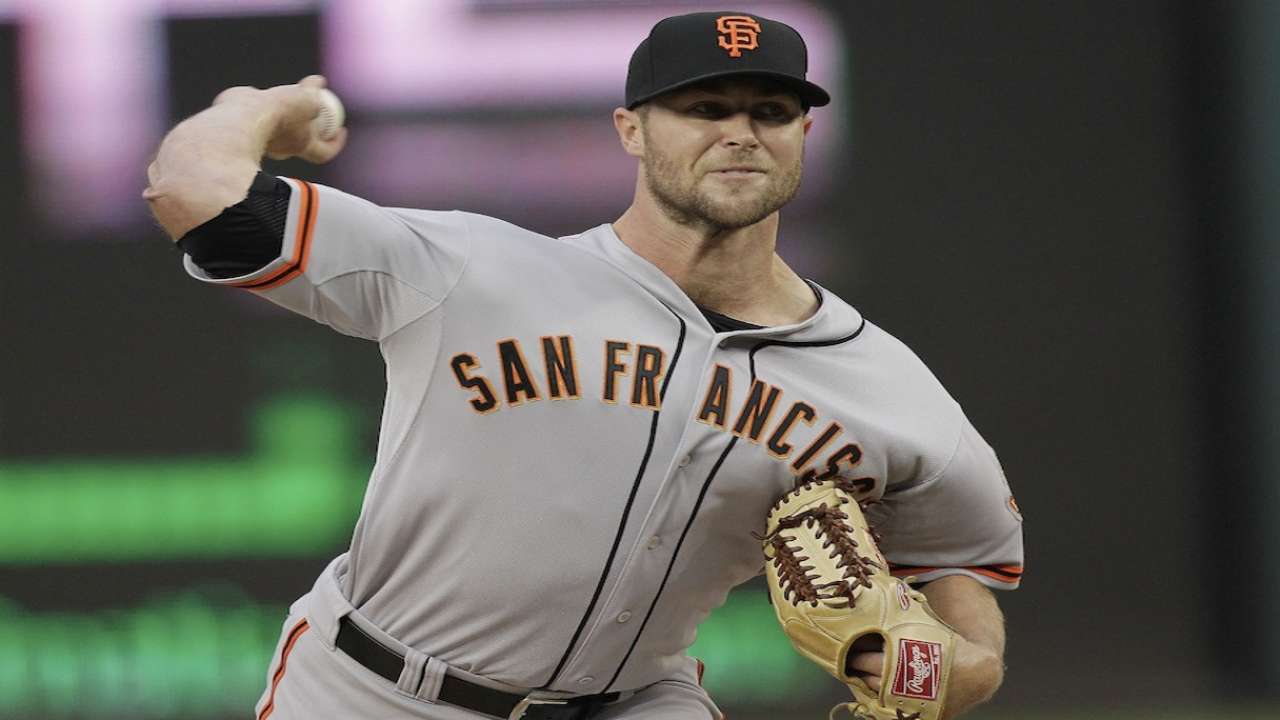 ST. LOUIS -- Modest and understated, Bruce Bochy will never sing his own praises. Fortunately, the rest of the baseball world isn't tone-deaf to his managerial skills.
Bochy ranks as Major League Baseball's premier manager among the sport's cognoscenti. Tactically, Bochy always seems to be ahead of the game. He consistently elicits the best from his players, whether they're All-Stars or journeymen. He also wins. In 2010 and 2012, Bochy guided the Giants to their only World Series conquests since the franchise moved to San Francisco in 1958, and he has brought the club to the brink of another title by leading it to the National League Championship Series, opening tonight with Game 1 (5 PT, FOX) against the St. Louis Cardinals.
Bochy and the Giants have experienced an arduous climb this season. San Francisco owned a Major League-best 43-21 record before enduring a pronounced slump and settling for the NL's second Wild Card with an 88-74 mark. But the Giants have excelled since the postseason began. They ousted the Pittsburgh Pirates, whose 17-9 September record was among baseball's best, with an 8-0 rout in the NL Wild Card Game. Then San Francisco topped the favored Washington Nationals -- whose 96-66 regular-season record was the league's best -- in the NL Division Series.
The Giants accomplished all this while performing for much of the season without three projected regulars -- center fielder Angel Pagan, second baseman Marco Scutaro and first baseman Brandon Belt -- depending on a starting rotation that weathered Matt Cain's season-ending elbow injury in July, Tim Lincecum's demotion to the bullpen in late August and sub-.500 finishes by Tim Hudson and Ryan Vogelsong; enduring Pablo Sandoval's .739 OPS, the second-lowest mark of his career; and switching closers from Sergio Romo to Santiago Casilla in June.
Bochy's ability to fashion a winning team from such a flawed roster enhanced his reputation as a leader who, as football coach Bum Phillips reputedly said of Don Shula and Bear Bryant, "can take his'n and beat your'n and take your'n and beat his'n."
Under Bochy, the Giants own a 26-10 postseason record. However, he deflects any suggestion that he's an October wizard.
"I'm fortunate that I have a gritty club with a lot of character that plays to win," Bochy said. "They just seem to thrive on these types of games."
However, Bochy did share some of his helpful hints for managing in the postseason.
"You definitely want to be more prepared and be able to make a move that you feel is right and don't worry about what's going to be scrutinized," he said. "Because ... you know every move, whether it works or not, is probably going to be questioned. ... You cannot ever forget [the players are] human beings and you've got to go with your feel."
Bochy also attributed the Giants' postseason prowess to general manager Brian Sabean's ability to assemble talent and the autonomy that ownership grants the Giants' baseball operations staff.
"They've given me the tools," Bochy said.
The veteran skipper of 20 big league seasons proved again that he's a master craftsman. Putting players in position to succeed is a manager's primary responsibility. Twelve seasons at the helm of the Padres and eight leading the Giants have sharpened Bochy's judgment.
For example, the Giants needed a left fielder in September after an injured left oblique sidelined Michael Morse for virtually the entire month. They entered the postseason with Travis Ishikawa, who played primarily first base throughout his 13-year professional career, in left. But Bochy started Ishikawa in left field in three late-season games to make sure he could handle the position adequately.
"I trust him 100 percent," Ishikawa said. "I think my confidence was raised because of his confidence in me."
While managing San Diego from 1995-2006, Bochy gained renown for handling his relievers expertly. He has maintained that reputation in San Francisco by thriving with old-fashioned strike-throwers.
"Since I've been here, he really has driven this bullpen to succeed," said left-hander Javier Lopez, who joined the club in 2010. "We don't have the kind of bullpen that you see now, where everybody's throwing 95-plus and it's power arm after power arm. We do have a lot of finesse, and I think that's what makes us click. What we lack in velocity, we make up for in deception and arm angles."
A premier instance of Bochy's in-game expertise occurred in Game 6 of the 2010 NLCS at Philadelphia. Starter Jonathan Sanchez lasted only two batters into the third inning, but Bochy used a sequence of relievers -- which included starters Madison Bumgarner and Tim Lincecum -- that blanked the Phillies for the final seven innings. The Giants advanced to the World Series with a 3-2 victory.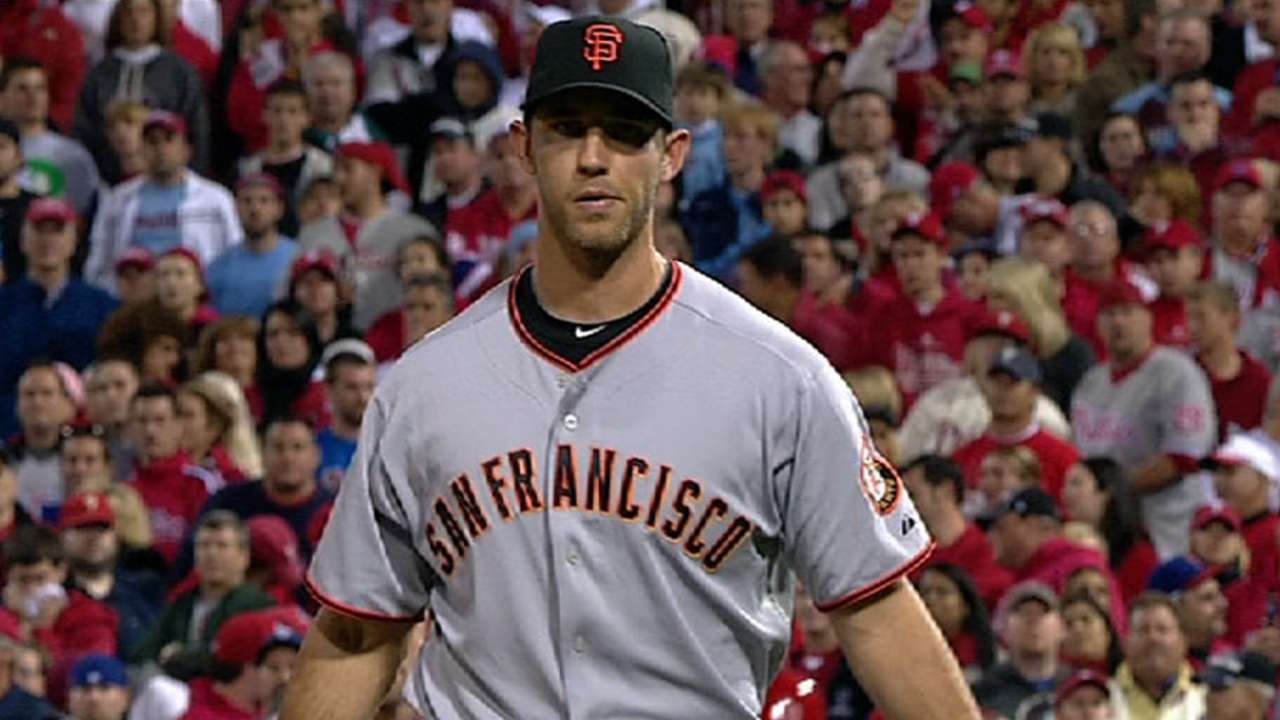 "He ran that game like it was the seventh or eighth inning instead of the fourth," said left-hander Jeremy Affeldt, the first Giants reliever to appear that night.
Though Bochy occasionally growls at umpires, he typically maintains a calm exterior.
"He has that 'never let them see you sweat' kind of persona," Lopez said.
Bochy displays the same demeanor in the clubhouse, rarely raising his voice, even when he calls team meetings.
"They're kind of low-key," shortstop Brandon Crawford said, "but he gets his message across."
Since Bochy trusts the Giants to sustain a sincere effort, he rarely feels compelled to be demonstrative.
"He just kind of lets us do our thing," Crawford said. "He knows that we have that attitude already, so he really doesn't have to do a whole lot. But I think by him doing that, it helps us."
The Giants' excellence has helped Bochy's longevity. With a 1,618-1,604 career record, he ranks 18th on the all-time list for managerial victories. Of the 17 individuals ahead of him, all but five -- Gene Mauch, Lou Piniella, Jim Leyland, Dusty Baker and Ralph Houk -- are enshrined in baseball's Hall of Fame, and Bochy's two World Series rings are matched only by Houk in that group of five.
If he were to win a third World Series title, Bochy would become one of only 10 men to have achieved that many titles, and all are in the Hall of Fame. Either way, it's widely believed that Bochy also will climb the steps into Cooperstown. If it were entirely up to his peers, he'd be a shoo-in.
"I've never been shy in saying he's a manager I have a lot of respect for," St. Louis manager Mike Matheny said. "People who get to see him day in and day out ... they see somebody that is a constant source of leadership on that club."
Chris Haft is a reporter for MLB.com. Read his blog, Haft-Baked Ideas, and follow him on Twitter at @sfgiantsbeat. This story was not subject to the approval of Major League Baseball or its clubs.