Cashman signs three-year deal to continue as GM
Yankees will maintain strengths, attack weaknesses, he says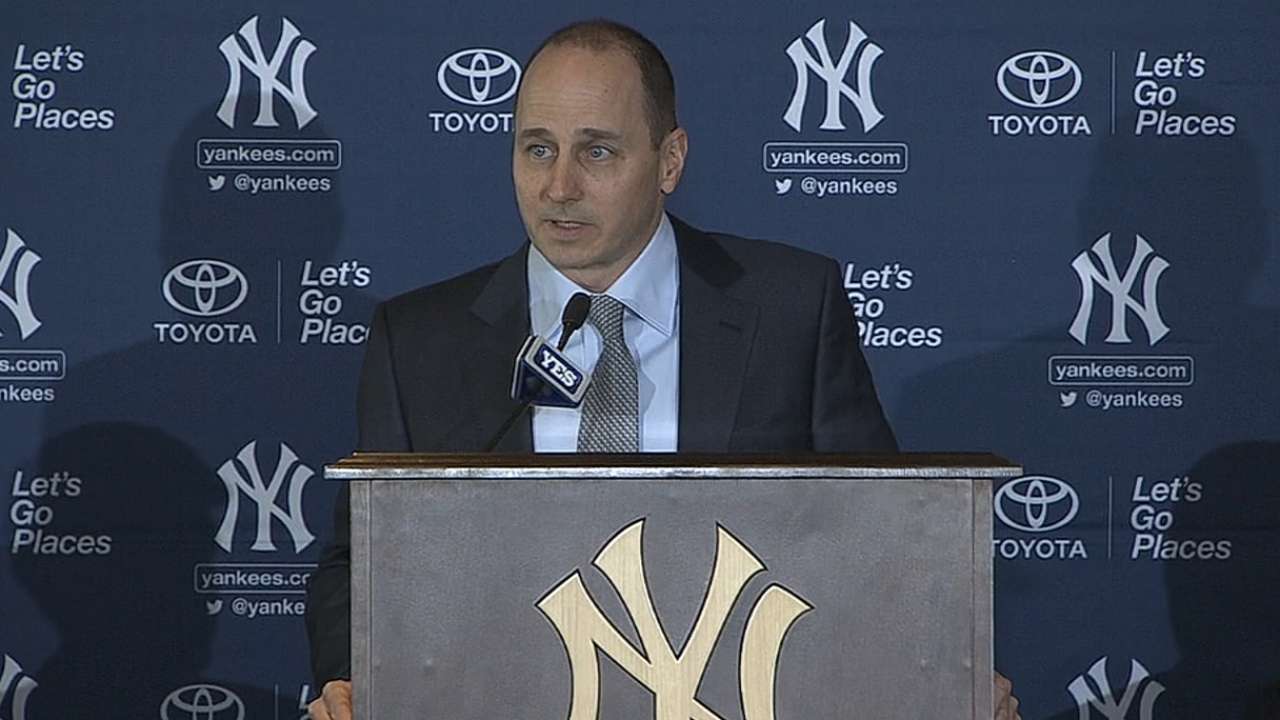 BALTIMORE -- The offseason is officially underway for the Yankees, who checked off an important piece of business on Friday by finalizing a three-year contract extension with Brian Cashman, who will continue to serve as the club's senior vice president and general manager.
Cashman's expected return marks the first domino to fall in what promises to be a busy winter for the Yankees after missing the playoffs for a second consecutive season. New York won 84 games and finished second in the American League East.
"Being in this chair for 17 years, I'd say every winter has got its challenges," Cashman said. "I don't feel that this one is any different in terms of challenges. The bottom line is, we want to maintain our strengths and attack our weaknesses."
Financial terms of Cashman's agreement were not disclosed. In an initial order of business, Cashman announced that the Yankees have dismissed hitting coach Kevin Long and first-base coach Mick Kelleher, both of whom were under contract through 2015.
The Yankees scored just 633 runs this past season, ranking 13th among the 15 American League clubs, and while Cashman lauded Long as an "exceptional hitting coach," he indicated that a change in voice and approach could be beneficial for the team's hitters.
"I think trying to bring a new perspective in will better serve us with the personnel as we continue to move forward," Cashman said.
In Kelleher's case, Cashman said that the dismissal was more about changing the dynamic of the coaching staff and not related to the Yankees' shaky infield defense, pinning that on the players that the team fielded -- particularly in the first half of the season.
"I would not hold Mick Kelleher responsible for any defensive deficiencies. That was personnel-related," Cashman said.
Cashman said that he does not have replacements for Long and Kelleher, but that he has some candidates in mind for those positions that the organization would like to speak to.
"I think the overall direction of the staff as we move forward will be better served with some personnel that we're going to interview," Cashman said.
The active roster also presents work to be done, beginning with decisions about how to accommodate Alex Rodriguez's return from a season-long suspension.
"I don't know what to expect in terms of production from Alex," Cashman said. "With that in mind, I think we obviously have to pursue all options and alternatives just to be safe, and we'll see where that takes us."
Cashman said that the Yankees must identify contingency plans in the event that Rodriguez can no longer play third base, and revealed that manager Joe Girardi has reached out to Rodriguez about the idea of playing some first base in 2015.
"To assume what Alex can or can't do right now would be foolish," Cashman said.
Managing general partner Hal Steinbrenner has said that the Yankees will obtain a shortstop to replace retired captain Derek Jeter and need a starting pitcher with right-hander Ivan Nova not expected to be ready for Opening Day.
The Yankees also need to address the situation of closer David Robertson, who is set to file for free agency and could merit a $15.3 million qualifying offer. If Robertson does not return, All-Star setup man Dellin Betances may be promoted to the ninth inning.
"We still have our closer in David Robertson right now, and we have some decisions clearly to make," Cashman said. "I'm sure he's anxious to find out as well. Clearly he's been awesome and clearly special at doing the job."
In evaluating Cashman's construction of the 2014 roster, Steinbrenner has stood by the signings of free agents Brian McCann, Jacoby Ellsbury, Carlos Beltran and Masahiro Tanaka, stating that he approved those deals and believes they will work out in the future.
Steinbrenner also has noted that Cashman was able to rebuild the Yankees on the fly in midseason after several injuries, triggering deals to import Brandon McCarthy, Martin Prado and Chase Headley, among others.
"Despite even turning the roster over at the Trade Deadline and bringing in upgrades, we still struggled from an offensive standpoint in the end," Cashman said.
The game's third-longest tenured GM behind Brian Sabean of the Giants and Billy Beane of the A's, Cashman joined the Yankees organization in 1986 as a 19-year-old intern in the Minor League and scouting department.
As GM, his clubs have made the postseason in 14 of 17 seasons, claiming 12 division titles, six American League championships and four World Series titles.
"Obviously we know from our fan base's perspective that we need to do better than we've done for the past two years," Cashman said. "I say that for myself as well. Being in my chair, I'm responsible for it all -- offense, defense and pitching.
"I've got to find a way to get our fan base back to enjoying October sooner than later."
Bryan Hoch is a reporter for MLB.com. Follow him on Twitter @bryanhoch and read his MLBlog, Bombers Beat. This story was not subject to the approval of Major League Baseball or its clubs.