Weiss likes position switch for prospect Herrera
Manager also pleased with progress of pitcher Freeland, top hitters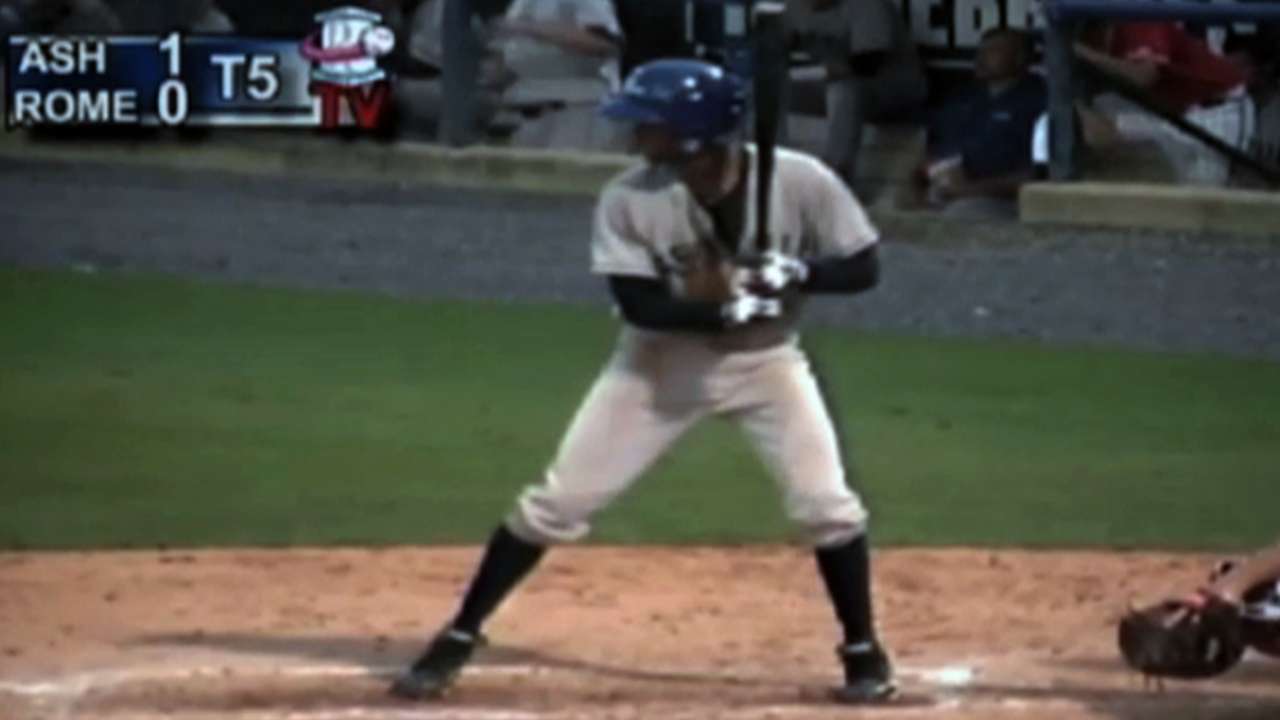 DENVER -- The move of the Rockies' lanky, switch-hitting prospect Rosell Herrera from the infield to center field switched into high gear during the Rockies' recent fall instructional program, and manager Walt Weiss likes the early results.
Weiss spent several days at the Rockies' training center in Scottsdale, Ariz. He also left impressed with the top pick this year, left-handed starting pitcher Kyle Freeland, and a quartet of hitters who helped lift Asheville to the Class A South Atlantic League championship -- David Dahl, Correlle Prime, Raimel Tapia and Ryan McMahon.
Herrera, who turns 22 on Oct. 16, led the South Atlantic League in batting at .343 and had a .419 on-base percentage at Asheville in 2013. This year at Class A Advanced Modesto, a wrist injury limited him to 72 games and helped create a statistical dropoff -- .244 average, .302 on-base. However, he was regarded highly enough to be invited to the SiriusXM Futures Game during All-Star weekend.
Herrera, listed at 6-3 and 190 pounds, played shortstop and third base this year, but he began practicing at center last fall and might have moved during this season if not for the injury. Weiss came away from Scottsdale understanding why the organization believes he is an impact player in the making.
"I saw a live bat," Weiss said. "I saw a kid with a ton of energy. It's a very athletic body. He's tall and wiry and runs very well -- a toolsy kid. He's quite projectable, when you look at him and his age."
The injury might have been a benefit. The problem bothered Herrera -- the Rockies' No. 6 prospect according to MLB.com -- during his big year in Asheville, but he hid it until it finally curtailed his offense. Scouts have wondered about his durability because of the whispy frame, but Weiss notes that Herrera's body is changing.
"He has a smaller frame, but I think that's going to change," Wiess said. "I can see he's already pretty tall, but I think he's still growing and he has room for growth physically. It's a live body and a live arm. He can play, that's for sure."
Freeland, a Denver native and former University of Evansville star taken by the Rockies with the No. 8 overall pick, made 10 professional starts, five at Rookie League Grand Junction and five at Asheville. He was 3-0 with a 1.15 ERA and held opponents to under one baserunner per inning (0.92 WHIP, or walks plus hits per inning pitched). He struck out 33 and walked six in 39 professional innings. Freeland is MLB.com's No. 4 prospect in the system.
"The Freeland kid looked good during the year, and how he looked when I saw him was very impressive," Weiss said. "It's a big-time arm, and his track record says he's always been a strike-thrower who doesn't walk people.
"Guys like that could be on the fast track, if they add polish to their game. Pitching is never an exact science. Our player development staff has a program for him. It's a matter of getting stronger, pitching and building up innings. There aren't any secrets to preparing a big league pitcher. It'll be interesting. He's a talented kid."
The right-handed hitting Prime, 20, a 12th-round Draft pick in 2012 out of Manatee High School in Bradenton, Fla., hit 21 home runs and drove in 102 runs for an Asheville squad that, according to scouts from outside the organization, possessed the highest volume of talent of any club in the Rockies' system. Prime was not a high pick, and he spent two seasons at Grand Junction, but he could find himself on prospect lists going into next season.
"He's a big kid [6-5, 222] with power, a big first baseman with a lot of raw ability," Weiss said.
Dahl, 20, a left-handed hitting center fielder and the No. 3 prospect on MLB.com's list, had a bounce-back year. After the Rockies took him with their top pick in 2012, Dahl hit .379 at Grand Junction and was named Pioneer League Most Valuable Player. But in 2013, Dahl was sent from Asheville to extended Spring Training because of a conduct issue, and after returning suffered a severe hamstring injury. He played just 10 games. This season, however, Dahl hit a combined .299 with a .355 OBP at Asheville and Modesto with 14 home runs, 55 RBIs and 28 stolen bases.
"Dahl is an athletic kid that can run and hit," Weiss said.
The Rockies have seen Tapia, 20, as a potential impact left-handed hitter since signing him out of the Dominican Republic. This season at Asheville, he finished with a .326 average -- after hitting just .244 in the first month -- with 32 doubles, 33 steals and a .382 OBP. He played left field.
"Tapia has a lightning bat," Weiss said. "He has terrific bat speed. We're talking about a pretty dynamic hitter."
McMahon, a left-handed hitting third baseman who turns 20 on Dec. 14, hit .282 with 18 home runs and tied Prime for the Asheville team lead in RBIs with 102. McMahon was a supplemental first-round Draft pick in 2013, meaning he accomplished all that offense in his first full professional season. He ranks seventh on the MLB.com prospect list.
"He's a good-looking player with rhythm and bat speed," Weiss said.
Thomas Harding is a reporter for MLB.com. Read his blog, Hardball in the Rockies, follow him on Twitter @harding_at_mlb, and like his Facebook page, Thomas Harding and Friends at www.Rockies.com. This story was not subject to the approval of Major League Baseball or its clubs.